Introduction
In the ever-evolving landscape of business and technology, enterprises are experiencing a seismic shift in their operations with the advent of Advanced Intelligence Automation. This transformative force is not merely a trend, but a strategic imperative for organizations seeking to thrive in the digital age. By harnessing the power of automation and artificial intelligence, machine learning, and data analytics, enterprises are unlocking unprecedented efficiency, agility, and innovation. This article delves deep into the manifold Benefits of Advanced Automation Intelligence for Enterprises, shedding light on how this paradigm shift is reshaping industries, enhancing customer experiences, and propelling businesses toward a future defined by unparalleled success and competitiveness.
Challenges/Problems faced while implementing Advanced Intelligence Automation for Enterprises: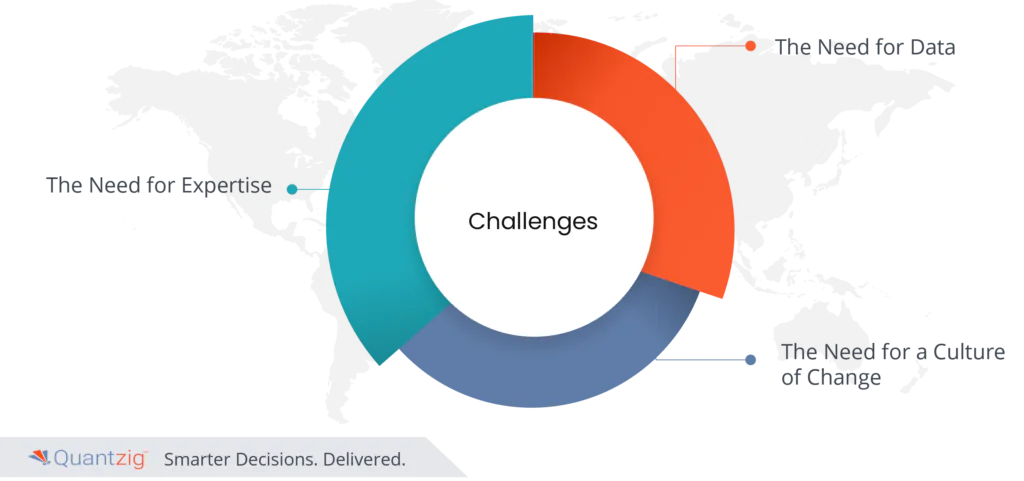 The Need for Expertise: Implementing Advanced Intelligence Automation (AIA) within an enterprise necessitates a profound understanding of AI, ML, and related technologies. These cutting-edge tools and methodologies require specialized expertise to navigate successfully. Skilled professionals are needed to design, develop, and maintain artificial intelligence automation-driven systems. Moreover, expertise in data science and analytics is crucial for interpreting the insights generated by these systems. Without the right talent pool, an organization may struggle to harness the full potential of AIA, potentially leading to ineffective implementations and missed opportunities for innovation.
The Need for Data: AIA relies heavily on data—vast amounts of it. To create robust artificial intelligence automation and ML models, organizations must feed these systems with extensive and high-quality data for training and testing. This data enables machines to learn patterns, make predictions, and continuously improve their performance. Collecting, curating, and managing this data require robust data infrastructure and governance practices. Without access to sufficient and relevant data, AIA initiatives can falter, producing inaccurate or biased results, and limiting their practical utility.
The Need for a Culture of Change: AIA can be a disruptive force within an organization, challenging established processes and workflows. To fully embrace AIA's potential, a culture of change is essential. Employees need to adapt to new ways of working, where AI augments decision-making and automates routine tasks. Leaders must foster an environment that encourages experimentation, innovation, and learning. Resistance to change can hinder AIA adoption and the realization of its benefits. Therefore, cultivating a culture that embraces change is a critical prerequisite for successful AIA integration within an enterprise.
Benefits of implementing Advanced Intelligence Automation for Enterprises:
Improved Efficiency: Advanced Intelligence Automation (AIA) is a powerful tool for enterprises seeking to optimize their operations. By automating repetitive and time-consuming tasks, such as data entry, report generation, or routine customer inquiries, AIA liberates human resources from these mundane activities. This newfound efficiency translates into significant time savings, enabling employees to redirect their efforts toward more strategic and value-added endeavors. Consequently, businesses can streamline processes, accelerate task completion, and ultimately enhance their competitive edge.
Increased Accuracy: Human error is an inherent risk in manual tasks. AIA systems, on the other hand, execute tasks with unparalleled precision. Whether it's data entry, complex calculations, or data validation, AIA ensures a high degree of accuracy. This not only minimizes errors but also boosts the quality of outputs, reducing the need for costly error rectification and maintaining the integrity of critical data.
Enhanced Productivity: AIA's ability to automate and optimize processes is a catalyst for enhanced productivity. By reducing the need for manual intervention, AIA allows workflows to operate seamlessly, resulting in faster task completion and improved resource utilization. This increased productivity directly contributes to cost savings and better resource allocation.
Improved Decision-Making: AIA is a valuable ally in data analysis and decision-making. By swiftly processing vast volumes of data and identifying patterns and trends, AIA systems provide actionable insights. This empowers organizations to make informed decisions, anticipate market changes, and respond more effectively to evolving circumstances, ultimately driving business growth and competitiveness.
Reduced Costs: AIA offers tangible cost-saving benefits by automating tasks that would otherwise require human effort. These savings can manifest in various ways, including reduced labor costs, decreased error-related expenses, and optimized resource allocation. By trimming operational expenditures, organizations can reallocate funds to strategic initiatives or invest in further AIA enhancements.
Improved Compliance: In industries subject to stringent regulations, AIA plays a crucial role in ensuring compliance. By automating tasks related to compliance monitoring, reporting, and documentation, AIA reduces the risk of oversights and errors, helping organizations adhere to regulatory requirements more effectively.
Enhanced Security: Data security is a paramount concern for enterprises. AIA can bolster security by automating tasks related to data protection, threat detection, and risk management. Through continuous monitoring and rapid response capabilities, AIA systems contribute to a robust cybersecurity posture, safeguarding sensitive information and mitigating potential risks.
In summary, the adoption of Advanced Intelligence Automation promises a multitude of automation benefits for enterprises, ranging from efficiency gains and cost reductions to improved decision-making and enhanced security. By harnessing the power of automation and AI-driven technologies, organizations can position themselves for long-term success and competitiveness in an increasingly digital and data-centric business landscape.
Conclusion
In conclusion, the implementation of Advanced Intelligence Automation (AIA) heralds a transformative era for enterprises, offering a myriad of automation advantages that extend beyond mere operational efficiency. As discussed, AIA optimizes resource allocation, enhances data accuracy, and fosters a culture of data-driven decision-making. It not only reduces costs but also fortifies compliance and security measures. By integrating AIA, organizations position themselves to thrive in an increasingly dynamic and competitive business landscape. Embracing the possibilities of AIA is not merely an option but a strategic imperative, enabling enterprises to unlock new avenues of growth, innovation, and resilience. In this era of digital evolution, those who harness the power of AIA are poised to emerge as leaders in their respective industries, equipped to navigate and excel in the complex challenges of the future.
Success Story
"Elevating Enterprise Efficiency: How Quantzig Empowered a Retail Client with the Benefits of Advanced Intelligence Automation"
Client Details:
A leading retail company operating in 14 markets globally.
The challenge faced by the Client:
The client faced several challenges in their lead management process prior to automation. First, manually qualifying and prioritizing leads consumed valuable time and resources, leading to delays in engaging high-potential prospects. Second, their unique sales workflow required a tailored solution, which was difficult to achieve with standard CRM configurations. Additionally, human error in lead assessment introduced inconsistency and inaccuracies. Lastly, the absence of automation hindered the scalability of their sales operations, limiting their ability to efficiently handle a growing lead database. Addressing these challenges with a Salesforce automation solution became imperative to streamline operations, improve accuracy, and align with their unique sales methodology.
Solutions offered by QZ:
Quantzig played a pivotal role in assisting the client with the implementation of a transformative solution for their lead management challenges. Firstly, our team facilitated the creation of a tailored layer above Salesforce using a no-code Advanced Intelligence Automation (AIA) solution within Microsoft Power Platform. This layer was meticulously designed to seamlessly align with the client's unique sales workflow, ensuring a harmonious integration with their existing CRM system.
Secondly, we leveraged the power of Azure Synapse to host and integrate sophisticated AI models. The key components were the auto-qualification engine, which intelligently categorized leads into five distinct warmth levels, and the lead prioritization engine, which employed advanced predictive analytics to rank leads based on their conversion probability. By automating these critical processes, our solution not only increased efficiency but also significantly improved lead segmentation and resource allocation.
The outcome was remarkable, resulting in a remarkable uplift of up to 60% in Salesforce effectiveness. This transformative approach empowered the client to realize substantial improvements in lead conversion rates, ultimately driving revenue growth and enhancing their competitive edge. Quantzig's expertise in AIA and data analytics proved instrumental in delivering this impactful solution.
Impact Delivered: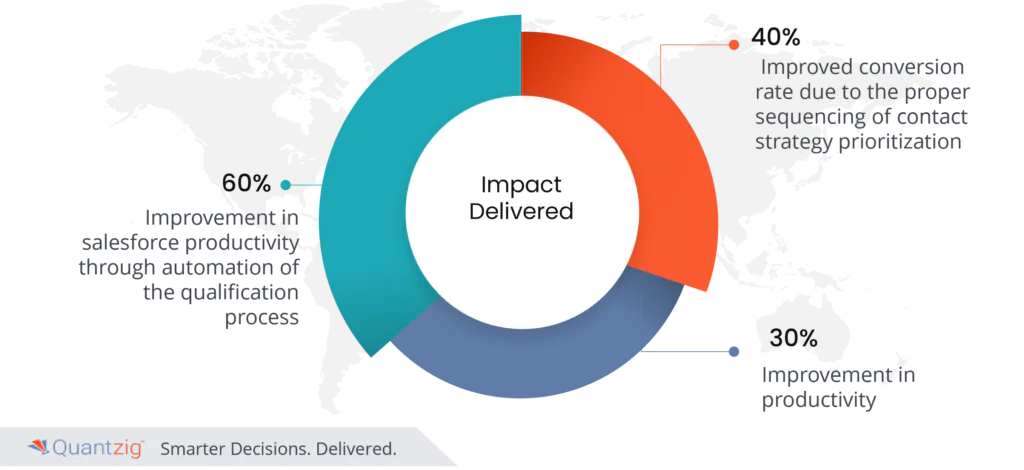 60% improvement in salesforce productivity through automation of the qualification process
40% improved conversion rate due to the proper sequencing of contact strategy prioritization
30% improvement in productivity
Ready to unlock the full potential of Advanced Intelligence Automation for your enterprise? Contact Quantzig today to explore how we can tailor an AIA solution to supercharge your sales and drive exceptional business growth.