Introduction
A supply chain business encompasses the intricate network of processes involved in the seamless flow of goods, from raw materials to the hands of eager customers. Like a synchronized symphony, it involves strategic planning, procurement, logistics, production, and distribution, all aimed at optimizing efficiency, minimizing cost, and delivering superior customer satisfaction. Now, imagine having an AI-powered ally that optimizes every step of this complex journey. AI inventory management is a transformative approach that combines the power of artificial intelligence and data analytics to revolutionize how businesses handle their inventory. In this article, we will delve into the realm of ai inventory management and uncover its transformative impact on your supply chain business.
Connect with us for tailor-made solutions.
The challenges in supply chain business without AI:
In the intricate tapestry of the supply chain business, the absence of Artificial Intelligence (AI) unfurls a series of daunting challenges that demand innovative solutions for sustainable growth. Let's delve into the gripping hurdles faced without the aid of AI:
1. Manual Demand Forecasting:
Relying on manual methods for demand forecasting exposes businesses to the risk of errors and inaccuracies. Anticipating customer demand becomes a high-stakes gamble, leading to either stockouts or surplus inventory. The lack of precision in forecasting hampers overall operational efficiency.
2. Lack of Real-Time Insights:
Operating without real-time insights plunges businesses into the dark abyss of uncertainty. The absence of timely data analytics impedes informed decision-making, causing companies to miss out on opportunities and hindering their ability to stay ahead in a competitive landscape.
3. Inefficient Inventory Management:
Without AI, inventory management takes center stage as a challenging ordeal. Businesses resort to manual guesswork and spreadsheet juggling, leading to frequent stockouts, increased carrying costs, and frustrated customers. The inefficiencies in managing inventory have a cascading effect on the entire supply chain.
4. Supply Chain Disruptions:
In today's interconnected global marketplace, supply chain disruptions are inevitable. Without AI-powered analytics and predictive capabilities, businesses struggle to proactively identify potential disruptions. The lack of foresight results in customer dissatisfaction, increased costs, and a compromised competitive position.
5. Ineffective Supplier Management:
Sourcing and managing suppliers without AI become herculean tasks. Manual processes often lead to poor communication, suboptimal supplier selection, and difficulties in maintaining delivery timelines and consistent quality. Supplier-related challenges can ripple through the supply chain, affecting overall performance.
6. Limited Optimization Opportunities:
Maximizing cost savings and operational efficiency becomes a significant challenge without the guiding hand of AI. Complex optimization tasks, such as inventory allocation, capacity utilization, and route planning, require data-driven insights and intelligent algorithms. Manually achieving such optimization is resource-intensive and often falls short of the precision offered by AI.
Amidst these challenges lies an opportunity for transformation. Stay tuned as we unravel the game-changing potential of AI-powered inventory management, where businesses can unlock agility, efficiency, and a competitive edge that propels them into the future of supply chain excellence.
The advantages of supply chain business with AI inventory management: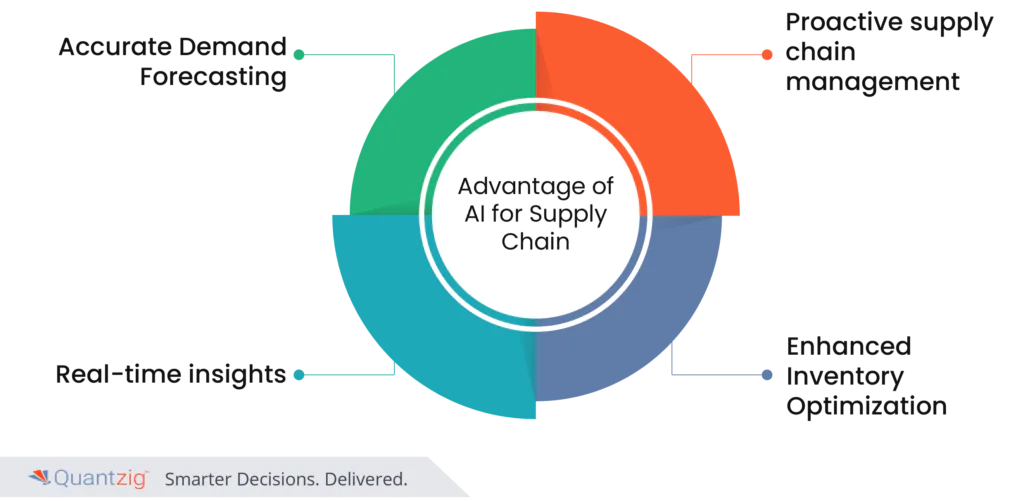 In the dynamic landscape of supply chain management, integrating Artificial Intelligence (AI) unfolds a realm of possibilities. Let's explore the transformative impact of AI on various facets of supply chain operations:
1. Accurate Demand Forecasting:
With the infusion of AI, businesses elevate their demand forecasting capabilities to unprecedented levels of accuracy. Smart algorithms meticulously analyze extensive datasets, enabling businesses to foresee market trends, optimize inventory levels, and mitigate the risk of stockouts. The precision offered by AI-driven forecasting reshapes the way businesses plan and strategize for future demand.
2. Real-time insights:
AI empowers businesses with real-time visibility across the entire supply chain spectrum. Access to up-to-the-minute data on supplier performance, customer demand, and inventory levels enables agile, data-driven decision-making. The ability to respond swiftly to market dynamics ensures that businesses stay ahead of the curve, making informed decisions that align with real-world scenarios.
3. Enhanced Inventory Optimization:
AI serves as the catalyst for optimized inventory management. Intelligent algorithms tirelessly work to minimize excess stock, streamline inventory levels, and reduce carrying costs. This not only optimizes operational workflows but also enhances overall efficiency. AI's proactive approach to inventory management sets the stage for streamlined processes and cost-effective operations.
4. Proactive supply chain management:
Bid farewell to supply chain disruptions as AI steps in as a vigilant guardian. Through predictive analytics and machine learning, AI detects potential risks and bottlenecks well in advance. This foresight allows businesses to maintain uninterrupted operations and implement preventive measures, ensuring a resilient and robust supply chain.
5. Streamlined Supplier Collaboration:
AI becomes the cornerstone for strengthening collaboration between businesses and suppliers. From automated order processing to real-time tracking and performance monitoring, AI facilitates seamless communication and collaboration. This heightened level of interaction ensures timely deliveries, improves supplier relationships, and maintains consistent product quality.
6. Optimization of Logistics and Route Planning:
AI's optimization prowess extends to logistics, revolutionizing route planning and transportation efficiency. Intelligent algorithms craft the most efficient routes, minimizing costs and maximizing capacity utilization. Businesses leveraging AI experience improved last-time delivery, streamlined transportation processes, and ultimately, heightened customer satisfaction.
In essence, AI emerges as a transformative force, reshaping supply chain dynamics and positioning businesses for a future of unprecedented efficiency and resilience.

Conclusion:
Prepare to be amazed as ai inventory management revolutionizes supply chain operations, elevating businesses to unprecedented levels of cost savings, efficiency, and customer satisfaction. Get ready to embrace the future of supply chain management, where AI reigns supreme and success knows no bounds. With AI as your ally, you can propel your supply chain business to new heights of success, delight customers with timely deliveries, and outshine competitors in the market.
Success Story:
From Chaos to Control: How Quantzig Revolutionized AI Inventory Management for a US-based Retailer's Supply Chain Business
We recently engaged with a leading player in the US-based retail industry, with operations spanning multiple countries and a diverse product portfolio across industries. With a complex supply chain network, they faced increasing pressure to optimize their inventory management and drive operational excellence.
Challenges: 
The client grappled with several critical challenges that hindered their supply chain efficiency:
Demand uncertainty: Manual demand forecasting methods led to inaccurate predictions, causing stockouts and missed sales opportunities, jeopardizing customer satisfaction.
Inefficient inventory management: They struggled to optimize their inventory levels, resulting in increased carrying costs, excess stock, and a drain on profitability.
Lack of Real-Time Insights: The absence of real-time visibility hindered their ability to make informed decisions, leading to reactive responses to market changes and missed optimization opportunities.
Connect with us for tailor-made solutions.
Solutions:
We collaborated closely with the client, delivering innovative ai inventory management solutions to address their unique challenges:
AI-Driven Demand Forecasting: By leveraging AI algorithms and advanced data analytics, Quantzig transformed demand forecasting for the retail client, minimizing stockouts, enabling accurate predictions, and optimizing inventory allocation.
Optimized Inventory Management: Our team implemented AI-Powered models that dynamically adjusted stock levels based on real-time demand signals, improving order fulfillment rates, and reducing excess inventory.
Real-time analytics and insights: We provided the client with a real-time analytics dashboard, empowering them with actionable insights into inventory performance, market trends, and demand patterns, enabling proactive decision-making.
Impact Delivered:
30% reduction in excess inventory
40% improvement in operational efficiency
70% accuracy in demand forecasting
Harness the power of AI with Quantzig and embark on your journey toward supply chain success. Contact us today to start your own success story.