Introduction
In today's fast-paced business landscape, the strategic integration of artificial intelligence in supply chain operations marks a pivotal turning point. With the potential to revolutionize the way businesses manage their logistics, inventory, and demand forecasting, artificial intelligence promises unparalleled efficiency and agility. By harnessing AI-driven predictive solutions and real-time insights, organizations can optimize resource allocation, proactively respond to market shifts, increase supply chain visibility, and make data-driven decisions that fuel success. Embracing this cutting-edge innovation is the key to unlocking unprecedented growth, resilience, and competitiveness in the dynamic global market.
Importance of ai supply chain:
Artificial intelligence is crucial in addressing the complexities of multi-echelon systems and mitigating the impact of market shocks and supply chain volatilities. With the growing need for hybrid decision support approach, combining centralized and decentralized decisioning, AI-driven supply chain visibility empowers businesses to make real time & accurate decisions. By leveraging artificial intelligence in their supply chain, businesses can gain deeper insights into inventory planning and demand forecasting, minimizing the bullwhipping variances across supply chain operations. A data-driven approach enhances responsiveness, streamlines inventory management, and ensures optimal supply chain performance, ultimately leading to improved customer satisfaction and enabling a competitive edge in the dynamic market landscape.
Challenges in a lack of ai supply chain management:
The lack of a robust AI-driven supply chain visibility solution exacerbates the multiplicative effect of forecast bullwhips, magnifying critical issues across the network. Without accurate demand planning and forecasts, businesses struggle to navigate demand variations, logistics limitations, and order level fluctuations, leading to inefficiency risks and missed opportunities. The absence of dynamic adjustment mechanisms impedes the timely response to macro shifts, market shocks, and competitive impacts, leaving businesses ill-prepared to adapt swiftly. AI provides real-time insights, enables businesses to make data-driven decisions, optimizes inventory management, and enhances overall supply chain agility to meet ever-changing market demands.
Benefits of artificial intelligence in supply chain management:
In the realm of supply chain management, unforeseen scenarios pose complex challenges due to the interdependencies and interactions among various elements as well as the need for quicker contingency plans & remediation. Today cutting-edge system dynamics solutions are being leveraged by industry leaders to address this. These simulation solutions offer a comprehensive approach by considering the synergic effects of costs, risks, and volatility across the supply chain, enabling the derivation of optimal configurations simultaneously.
Industry-leading simulation tools excel in their ability to dynamically model multi-constrained, process variants, and muti-objective systems in a parameterized manner. This ensures a more accurate representation of real-world complexities, allowing businesses to make well-informed decisions.
The importance of ai in the supply chain lies in its potential to revolutionize operations. By considering multiple factors at once, businesses can achieve superior planning, streamlined processes, reduced costs, and increased resilience. As supply chains become more intricate and global, embracing AI-driven simulations can provide a competitive edge, ensuring adaptability and success in a rapidly evolving market. It can lead to more agile and responsive supply chains, reduced lead times, and better customer satisfaction, ultimately driving higher profitability and market share for companies that adopt this technology.
Conclusion:
In summary, the integration of system dynamics simulations and AI-driven logistics optimization represents the next big thing in the supply chain. By considering various costs, risks, and complexities simultaneously, businesses can achieve optimal configurations, enhanced efficiency, and reduced costs. Embracing this cutting-edge technology will empower companies to build agile, resilient, and customer-centric supply chains, gaining a competitive advantage in the rapidly evolving global market. The future of supply chain visibility and transparency lies in harnessing the power of AI to drive success and growth in this critical juncture.
Success Story:
Spirit Manufacturer's Secret to Success: AI-Driven Supply Chain Optimization by Quantzig!
Client Details: A European spirits manufacturer with revenue of $1Bn+.
Challenges: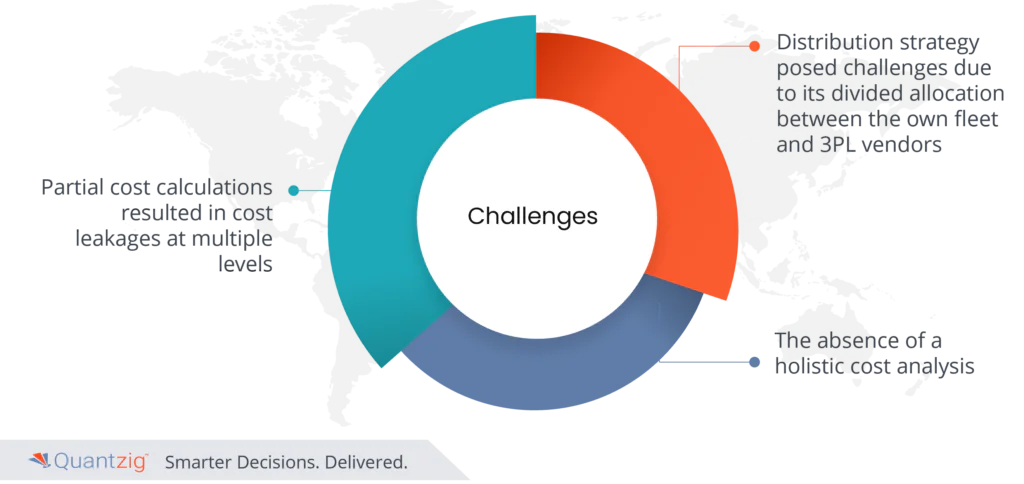 The client's existing distribution strategy posed challenges due to its divided allocation between its own fleet and 3PL vendors. Besides use of partial cost calculations resulted in cost leakages at multiple levels. This approach lacked a comprehensive view of the supply chain, leading to inefficiencies, redundancies, and increased expenses. Furthermore, the absence of a holistic cost analysis hindered accurate decision-making, affecting resource utilization and overall profitability. They faced difficulties in optimizing the distribution network, aligning capacity with demand, and achieving cost-effectiveness.
Solutions:
At first, Quantzig developed a robust ML framework for accurate total cost calculations pertaining to self-deliveries, enhancing the client's shipment process. Leveraging data from its delivery management system, Quantzig efficiently prioritized deliveries, resulting in the identification of order consolidation opportunities. This streamlined approach led to improved cost-effectiveness and optimized logistics operations, ultimately benefiting the client's overall supply chain management.
Our data analytics team implemented a comprehensive comparative platform that enabled the client with intelligence decision support regarding delivery options mainly in recommendation of whether to utilize own fleet or opt for 3 PL services. This intelligence platform provided real-time insights, enabling swift and well-informed choices. By analyzing various factors like delivery timelines, cost structures, and service levels, the platform facilitated efficient and effective decision-making, optimizing the overall delivery process.
To further enhance self-deliveries, our team designed an AI based advanced order dicing algorithms. This algorithm efficiently dissected and evaluated order combinations to determine the most cost-effective and streamlined delivery routes. By identifying optimal order delivery routes, the client achieved significant savings on transportation expenses, reduced delivery times, and enhanced customer satisfaction through prompt and reliable services.
Impact Delivered: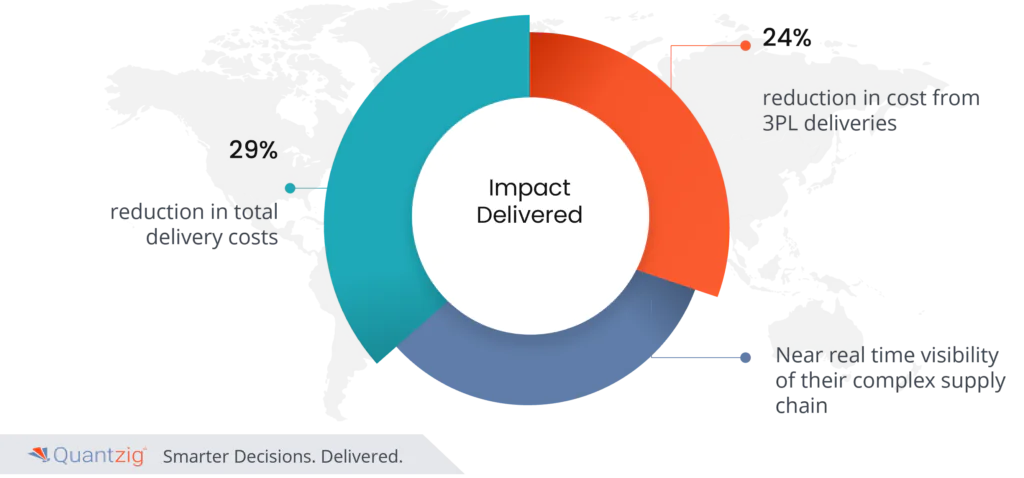 29% reduction in total delivery costs.
24% reduction in cost from 3PL deliveries
Near real-time visibility of their complex supply chain.
Raise your spirits! Embrace AI for a seamless supply chain. Schedule a consultation with Quantzig today.