Introduction
In an era marked by relentless technological innovation and digital transformation, the landscape of enterprise operations is poised to undergo a profound and unprecedented shift. The article delves into the dynamic and rapidly evolving realm of Generative Artificial Intelligence (AI) and its transformative potential for businesses. As we navigate beyond the year 2023, this article provides a comprehensive exploration of how Generative AI, characterized by its ability to generate content, images, and even code autonomously, will play an increasingly pivotal role in reshaping industries, streamlining processes, and driving innovation. With a keen focus on the latest advancements, industry trends, and practical applications, this article serves as an insightful roadmap for enterprises seeking to harness the full potential of Generative AI in the coming years, ensuring they remain competitive and adaptive in an ever-evolving business landscape.
Importance of Generative AI for Enterprises:
In today's fast-paced digital landscape, businesses increasingly demand dynamic and programmatic content creation tailored to their specific needs and localized for diverse markets. Generative AI offers a transformative solution by enabling the automated generation of content, whether it be written, visual, or even code, that can be fine-tuned to resonate with the company's unique context and the nuances of different regions. This capability not only enhances efficiency but also ensures that businesses maintain a consistent and personalized presence in an ever-expanding global marketplace.
Moreover, a forward-thinking Generative AI strategy is essential for enterprises to remain adaptable and competitive in the face of evolving business requirements. By creating a roadmap and strategy that is future-proofed, organizations can harness the full potential of Generative AI not only to meet current demands but also to anticipate and address the dynamic challenges of tomorrow. This strategic foresight empowers businesses to stay at the forefront of innovation, streamline operations, and maintain relevance in an ever-changing competitive landscape, ultimately securing their long-term success and growth.
Potential challenges during the implementation of Generative AI Solutions in Enterprises:
In today's fiercely competitive business environment, establishing brand differentiation is paramount. To achieve this, it's imperative that companies integrate brand distinctiveness into their AI learning and content creation strategy. Generative AI Services can play a pivotal role in this endeavor by producing content that not only aligns with a brand's values but also highlights its unique selling points, setting it apart from competitors and resonating with target audiences.
However, embedding Generative AI within existing processes represents a systemic and foundational shift. This transformation demands meticulous planning and program design. Enterprises must carefully consider how to seamlessly integrate AI into their workflows, ensure data privacy and security, and adapt organizational structures and culture to leverage AI effectively.
Despite its immense potential, implementing generative AI services also presents challenges. Enterprises may encounter issues related to data quality and availability, ethical considerations in content generation, and the need for ongoing monitoring and fine-tuning of AI models. Additionally, there may be resistance to change within the workforce, requiring a robust change management strategy to ensure successful adoption. Navigating these challenges is essential to realizing the full benefits of Generative AI in brand differentiation and content creation.
Top Benefits of Generative AI Solutions for Enterprises: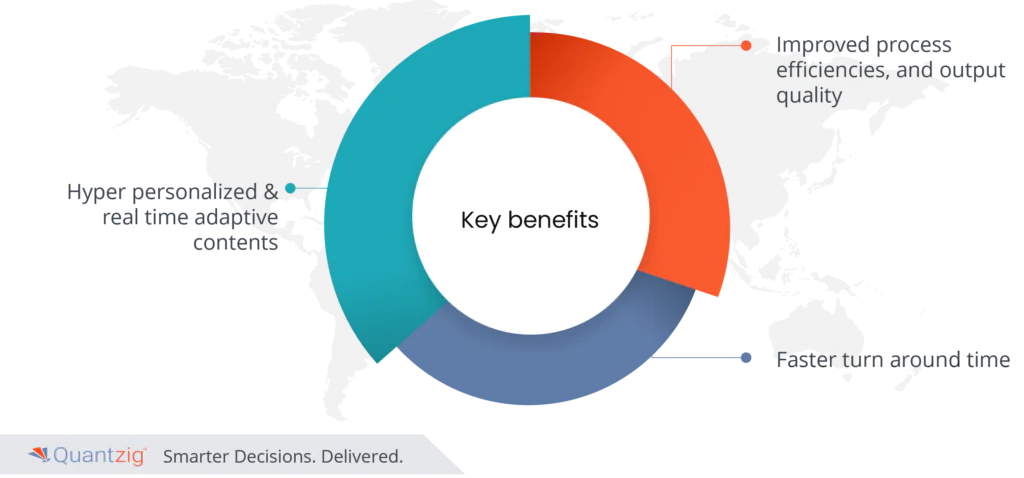 Generative ai for customer service holds the potential to revolutionize how enterprises engage with their customers by offering hyper-personalized and real-time adaptive content customized to individual customer sessions and integrated seamlessly across various customer journeys. This level of personalization not only enhances customer satisfaction but also fosters brand loyalty and increases conversion rates. By tailoring content to specific user preferences and behaviors in real-time, enterprises can create a highly engaging and relevant customer experience.
Furthermore, generative AI services offer improved process efficiencies, elevating output quality and turnaround time. It automates content creation, reducing the manual effort required while maintaining or even enhancing the quality of the generated content. This streamlined approach boosts productivity and enables enterprises to respond quickly to market demands and changing customer preferences. It ultimately leads to cost savings, greater agility, and a competitive edge in a rapidly evolving business landscape.
Conclusion
In conclusion, the future of Generative AI beyond 2023 promises to be a transformative journey for enterprises worldwide. This innovative technology, with its capacity to generate dynamic, personalized content and streamline processes, represents a powerful tool for staying competitive and adaptive in the ever-evolving business landscape. As businesses navigate the complexities of digital transformation and seek to distinguish themselves in a crowded marketplace, embracing generative AI solutions is not merely an option but a strategic imperative. By carefully crafting and implementing forward-thinking Generative AI strategies, enterprises can not only meet current demands but also position themselves for sustained growth and success in the years to come, shaping a more efficient, responsive, and customer-centric future.
Success Story
Revolutionizing Retail: Transforming Customer Engagement with Generative AI Solutions
Client Details: A leading retail company located in the United States
Challenges
The client faced several critical challenges in the wake of a relaunch across multiple e-commerce websites. Firstly, there was a lack of a centralized mechanism to track performance across these websites, resulting in fragmented data and an inability to obtain a holistic view of their operations. This made it challenging to monitor and optimize performance effectively.
Secondly, the revenue generated by their products fell significantly short of their goals, and the client struggled to pinpoint the underlying reasons. Without a comprehensive performance tracking system, identifying the specific issues affecting product sales became a formidable task.
Additionally, the client received third-party data that was incomplete, rendering it inadequate for conducting in-depth root-cause analyses. This data limitation hindered their ability to uncover the precise factors impacting their revenue, leaving them with insufficient insights to drive strategic improvements. These combined challenges underscored the critical need for a robust data analytics and performance monitoring solution to drive informed decision-making and address the issues at hand effectively.
Solutions
Quantzig provided the client with comprehensive solutions to address their challenges effectively. Firstly, we developed an AI-based framework equipped with a sophisticated crawling engine to systematically capture data from multiple e-commerce websites. This framework collected critical information related to pricing, discounts, product positioning, and stock availability, and enabled the client to maintain a real-time and centralized database of crucial data points.
Furthermore, Quantzig implemented an automated Data Quality Management (DQM) system to ensure the accuracy and reliability of the collected data. This helped in maintaining data integrity and enhancing decision-making processes.
To facilitate actionable insights, we created interactive tools to visualize key performance indicators (KPIs) across different regions and product categories. These tools enabled the client to identify performance lags, pinpoint key issues, and formulate strategic actions effectively. By socializing and presenting data-driven insights, we empowered them to make informed decisions, optimize their e-commerce operations, and achieve their revenue goals with precision and confidence.
Impact Delivered:
Centralized view of portfolio & near real-time reporting.
22% Increase in sales through decisions enabled.