In the dynamic landscape of artificial intelligence (AI), the demand for Large Language Models (LLMs) has surged, prompting a paradigm shift in the way organizations approach language-centric tasks. At the forefront of this transformation is Quantzig, leveraging advanced AI technologies to develop specialized LLMs that cater to the specific needs of industries grappling with vast datasets and intricate language nuances.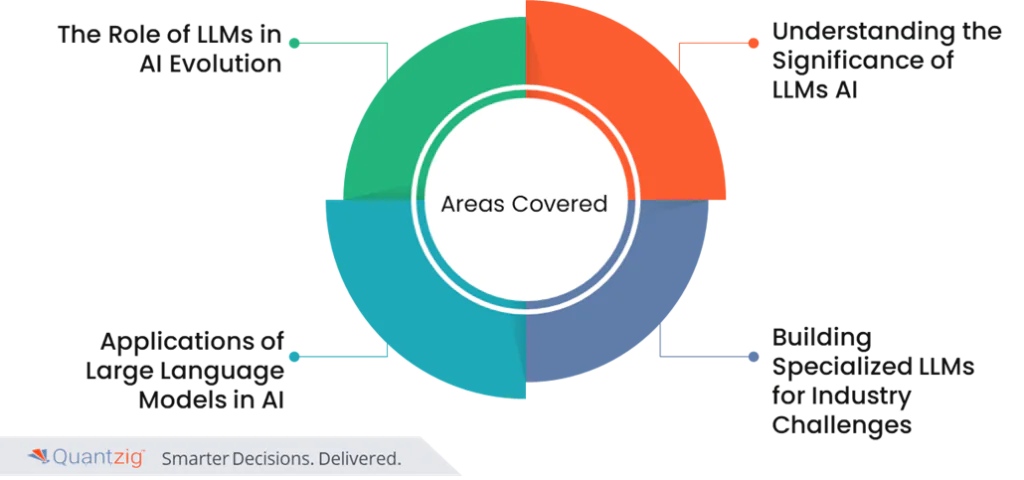 The Role of LLMs in AI Evolution:
Large Language Models (LLMs) in AI are no longer a novelty but a necessity, especially as organizations seek solutions that can comprehend, analyze, and generate human-like language. Quantzig's foray into the development of specialized LLMs marks a strategic move to address the evolving requirements of industries ranging from finance to healthcare.
Understanding the Significance of LLMs AI:
Quantzig's LLMs AI stands as a testament to technical innovation, offering organizations a potent tool for natural language processing, understanding contextual nuances, and extracting meaningful insights from vast datasets. The primary objective is not just to build large language models but to craft specialized solutions tailored to the unique demands of various sectors.
Applications of Large Language Models in AI:
The applications of Large Language Models in AI extend across diverse domains, from customer interactions to data analysis. Quantzig's expertise in developing Large Language Models AI ensures that these models go beyond conventional language processing to provide advanced capabilities, including:
Language Learning Models: Tailored solutions for language learning, facilitating a more personalized and efficient learning experience.
Deep Learning Language Models: Leveraging deep learning methodologies to enhance the depth of language comprehension and pattern recognition.
AI Language Model Applications: Crafting applications that harness the power of AI language models for tasks like sentiment analysis, document summarization, and content generation.
Building Specialized LLMs for Industry Challenges:
Quantzig's approach to LLMs involves a meticulous understanding of industry-specific challenges. By delving into the intricacies of each sector, Quantzig crafts specialized LLMs that not only comprehend language but also contextualize it within the unique demands of the industry.
The Technical Edge of Quantzig's LLMs AI:
Quantzig's technical prowess in the development of LLMs AI lies in the integration of advanced algorithms, deep learning methodologies, and a comprehensive understanding of linguistic structures. The focus is not merely on building large language models but on creating sophisticated tools that can adapt to the dynamic language landscape.
Quantzig's Perspective: A Visionary Transformation
In the realm of AI, where language is the conduit for data interpretation and decision-making, Quantzig's AI-Powered Specialized LLMs emerge as a pivotal force. These models, meticulously crafted to meet industry-specific challenges, signify a technical leap into a future where language processing goes beyond comprehension to offer nuanced insights. As organizations navigate the intricate landscape of data analytics, the strategic integration of AI-Powered LLMs becomes a crucial differentiator, propelling them into a realm where language is not just processed but comprehensively understood and leveraged for unparalleled growth. Step into the era of AI-Powered Specialized LLMs with Quantzig, where technical innovation meets the evolving needs of industries seeking precision in language-centric tasks.