In the intricate world of data analytics, where precision and speed are paramount, Power BI Copilot emerges as a virtuoso, conducting an intricate symphony of artificial intelligence. With its seamless integration of advanced AI capabilities, Power BI Copilot transforms raw data into a harmonious arrangement of actionable insights, revolutionizing the way businesses perceive and interpret their data.
Top Benefits of Power BI and its AI Integration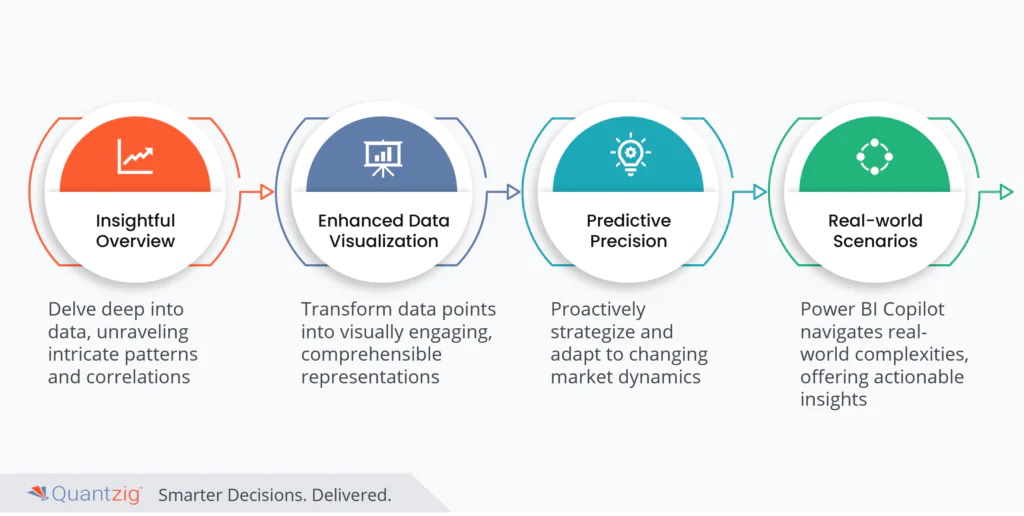 Unleashing the Power of AI in Data Analytics
Power BI, fortified by cutting-edge AI integration, represents a leap into the future of data analysis. At its core, Power BI Copilot is a robust toolkit, enhancing the analytics landscape. Through AI algorithms, it offers an insightful panorama of data visualization, predictive analytics, and trend forecasting, providing decision-makers with unparalleled foresight. Real-world scenarios come alive as AI integration amplifies the value of data analysis, predicting market trends, identifying consumer preferences, and foreseeing operational bottlenecks with remarkable accuracy.
Insightful Overview: Power BI Copilot's AI-driven features delve deep into data, unraveling intricate patterns and correlations, illuminating the path for informed decision-making.
Enhanced Data Visualization: AI algorithms transform data points into visually engaging, comprehensible representations, enabling quick and precise analysis.
Predictive Precision: Power BI Copilot predicts trends and future outcomes, empowering businesses to proactively strategize and adapt to changing market dynamics.
Real-world Scenarios: Through AI integration, Power BI Copilot navigates real-world complexities, offering actionable insights derived from complex datasets.
Seamless Integration and User-Friendly Interface
Beyond its powerful capabilities, Power BI Copilot boasts an intuitive interface tailored for industry leaders and data professionals. Its seamless integration of AI algorithms into existing Power BI workflows simplifies complex analytical tasks, ensuring a frictionless experience. This effortless synergy between technology and usability accelerates the adoption process, empowering businesses with swift, data-driven decision-making capabilities.
Intuitive Interface: Power BI Copilot's interface is meticulously crafted for simplicity, ensuring effortless navigation and interaction, even for the most intricate data analyses.
Efficient Workflow Integration: Copilot seamlessly integrates AI algorithms into existing Power BI workflows, amplifying the platform's analytical prowess without disrupting established processes.
Quick Adoption: The user-friendly design facilitates rapid adoption, allowing businesses to harness AI-powered insights swiftly, enhancing operational efficiency and strategic planning.
Enhanced Driving Experience with Gen AI
The integration of Generative AI has ushered in an era of unparalleled driving experiences. Automotive enhancement with Generative AI goes beyond aesthetics, focusing on safety, decision-making, and personalization. AI algorithms power autonomous driving technologies, analyzing real-time data to make split-second decisions, ensuring both driver and passenger safety. Moreover, in-car personalization has reached new heights with Generative AI, tailoring vehicle settings and infotainment systems to individual preferences.

Autonomous Precision: Generative AI algorithms enable precise autonomous driving, analyzing environmental data to navigate complex road conditions.
Personalized Interactions: AI-driven enhancements in in-car systems offer personalized recommendations, from music playlists to climate control settings.
Decision-Making Intelligence: Generative AI enhances vehicle safety by predicting potential hazards and facilitating proactive responses, minimizing accidents.
Elevating Data Intelligence: A Symphony of Insightful Transformation
In the harmonious convergence of data and artificial intelligence, Power BI Copilot orchestrates a transformative symphony of insights. As C-level executives, subject matter experts, and execution-focused professionals, embracing this technology transcends a mere adoption; it signifies a strategic elevation of data intelligence. With Power BI Copilot, businesses embark on a transformative journey, one where data is not just analyzed, but comprehended, envisioned, and strategized upon. Welcome to the future of data analytics, where insights are not just derived but catalyzed into actions, shaping industries and fueling unprecedented growth.
Power BI has been in the industry for a long time, however its AI integration provides us with opportunities to take your organization to the next level! Connect with our experts to understand what can be achieved through these capabilities!