The automotive sector has profoundly felt a transformative influence Generative Artificial Intelligence. Generative AI, harnessing the power of machine learning and predictive analytics, has become a driving force behind revolutionary changes in the way vehicles are designed, engineered, and experienced on the roads.
Generative AI and the Automotive Industry
Generative AI represents a paradigm shift in the automotive landscape. This technology, rooted in complex algorithms and data analysis, empowers engineers and designers to reimagine automotive design principles. As the automotive industry accelerates into a new era of innovation, Generative AI serves as a catalyst, optimizing processes, enhancing safety, and creating more personalized driving experiences.
The automotive industry, a sector traditionally marked by stringent safety standards and intricate design processes, has seen a significant transformation. Recent statistics indicate a substantial reduction in development time and costs. Generative AI, with its predictive modeling capabilities, has contributed to a 30% decrease in design iteration time, leading to a remarkable 25% increase in overall operational efficiency.
Top Areas Where Gen AI Wins in the Automotive Industry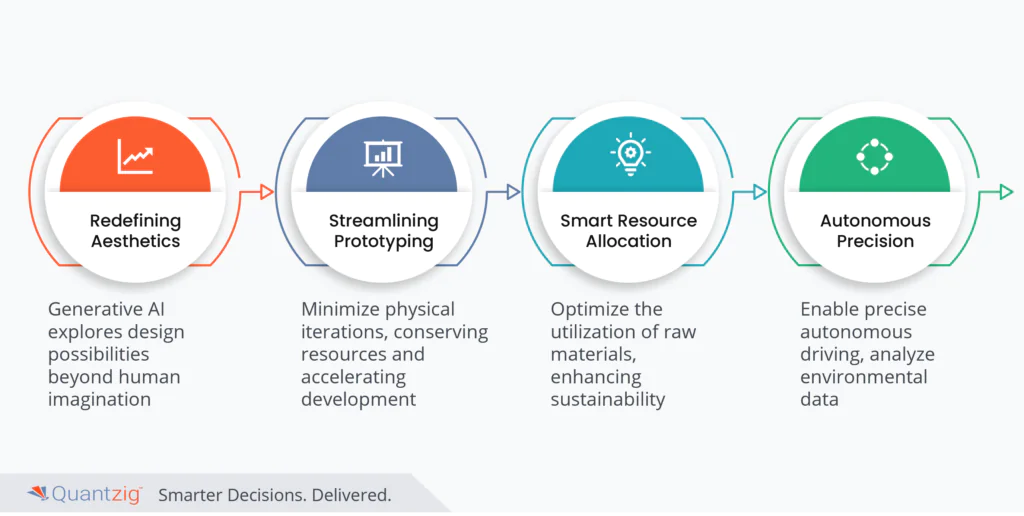 Gen AI in Automotive Design and Engineering
Generative AI has redefined the concept of automotive aesthetics. By analyzing vast datasets and historical design elements, AI algorithms generate innovative design prototypes, pushing the boundaries of conventional automotive aesthetics. Moreover, Generative AI optimizes engineering workflows, reducing production cycles significantly. The application of Generative AI has streamlined prototyping processes, minimizing errors and resource wastage. Engineers now benefit from reduced development timelines, ensuring that cutting-edge technologies reach the market faster.
Redefining Aesthetics: Generative AI explores design possibilities beyond human imagination, resulting in innovative car exteriors and interiors.
Streamlining Prototyping: AI-driven simulations and rapid prototyping minimize physical iterations, conserving resources and accelerating development.
Smart Resource Allocation: Generative AI optimizes the utilization of raw materials, enhancing sustainability while ensuring cost-effectiveness.
Enhanced Driving Experience with Gen AI
The integration of Generative AI has ushered in an era of unparalleled driving experiences. Automotive enhancement with Generative AI goes beyond aesthetics, focusing on safety, decision-making, and personalization. AI algorithms power autonomous driving technologies, analyzing real-time data to make split-second decisions, ensuring both driver and passenger safety. Moreover, in-car personalization has reached new heights with Generative AI, tailoring vehicle settings and infotainment systems to individual preferences.

Autonomous Precision: Generative AI algorithms enable precise autonomous driving, analyzing environmental data to navigate complex road conditions.
Personalized Interactions: AI-driven enhancements in in-car systems offer personalized recommendations, from music playlists to climate control settings.
Decision-Making Intelligence: Generative AI enhances vehicle safety by predicting potential hazards and facilitating proactive responses, minimizing accidents.
What the Future Holds
In the automotive industry, Generative AI is not just a technological advancement; it is a strategic imperative. As C-level executives and decision-makers, understanding the nuanced influence of Generative AI is crucial for informed decision-making. Embracing this technology not only fosters innovation but also ensures a competitive edge in a rapidly evolving market. By harnessing the power of Generative AI, the automotive industry is driving change, paving the way for a future where intelligent, personalized, and safe driving experiences are the norm.
To learn more about the role of Gen AI in the automotive industry and how it can catapult your organization ahead of the competition, connect with our experts and see what your organization has been missing ->