Introduction
In the fast-paced and ever-evolving world of marketing, the pursuit of achieving optimal Marketing Return on Investment (MROI) is an ongoing challenge that can be both daunting and rewarding. To unlock the full potential of MROI, a multifaceted approach is essential, combining the art and science of marketing. Marketing Mix Modeling (MMM) and Multi-Touch Attribution (MTA) are at the forefront of this transformative journey, offering unprecedented opportunities to measure, analyze, and enhance the effectiveness of marketing strategies. However, as the realm of MROI optimization, MMM, and MTA expands, it is accompanied by an array of challenges that marketers must confront. This article delves deep into the intricate landscape of MROI, offering insights into the hurdles and opportunities that lie ahead in the quest to refine and revolutionize marketing strategies for a new era.
Importance of MROI Optimization, MMM & MTA:
In the dynamic realm of modern marketing, the need for a unified and integrated Marketing Management System is paramount. Often, companies grapple with a disparate landscape of data sources that exist in isolated siloes, frequently structured around various agencies and disconnected platforms. This fragmentation poses a significant challenge, making it difficult to gain a comprehensive view of marketing activities.
To tackle this issue, a unified system is essential, one that can seamlessly integrate these diverse data sources. By doing so, it enables a holistic understanding of the marketing ecosystem. This unified approach is particularly crucial in attributing causal relationships between marketing efforts and performance, allowing companies to measure the impact of their investments accurately.
Moreover, a well-integrated system provides the foundation for optimizing budget allocation across channels. It empowers businesses to make data-driven decisions, ensuring that resources are allocated to the most effective marketing strategies and channels, thereby enhancing ROI. In summary, a unified and integrated Marketing Management System is a strategic asset that harmonizes disparate data sources, attributes causality, and optimizes budget allocation, enhancing a company's marketing effectiveness and overall performance.
Challenges/Problems faced while implementing MROI Optimization, MMM & MTA:
Marketing automation and intelligence solutions represent a critical component of modern marketing strategies. However, ensuring their effectiveness and transparency is of utmost importance. To achieve this, these solutions should be finely crafted with a focus on transparency, particularly in the often complex realm of digital attribution.
Transparency is vital to avoid the "black box effect," where marketers are unable to discern how decisions are made or understand the underlying algorithms. A transparent system provides clarity, enabling users to comprehend the rationale behind recommendations or decisions.
Smart design is equally essential, as it streamlines operations, offering a blend of automation and human oversight. While automation speeds up processes and reduces manual labor, it should leave room for expert judgment. This balance allows marketers to make critical decisions based on data insights while minimizing the time and effort required for interpretation.
In summary, effective marketing automation and intelligence solutions should prioritize transparency, strike a balance between automation and human intervention, and empower experts to make informed decisions with minimal oversight. This approach enhances efficiency, effectiveness, and overall marketing performance.
Benefits of implementing MROI Optimization, MMM & MTA: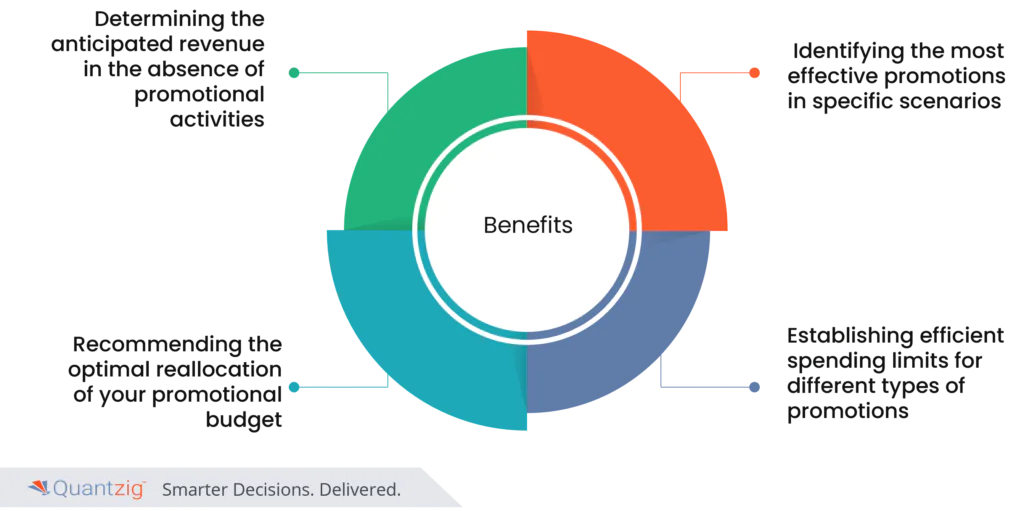 Our Unified Marketing Decision Management (MDM) initiative commences with a comprehensive approach to measure and attribute the impact of your marketing expenditures. Our primary focus is to dissect your revenue data in order to provide precise answers to critical questions. These questions encompass:
· Determining the anticipated revenue in the absence of promotional activities.
· Identifying the most effective promotions in specific scenarios.
· Recommending the optimal reallocation of your promotional budget.
· Establishing efficient spending limits for different types of promotions.
To accomplish this, we employ a structured, multi-stage attribution model, which enables the isolation of various influences of commercial activities on your sales volume. By breaking down these effects, we can effectively gauge their combined impact and provide you with valuable insights that empower data-driven decision-making, maximizing the efficiency and effectiveness of your marketing strategies.
About our solutions:
Our Unified Marketing Decision Management (MDM) framework offers a comprehensive approach to quantify and optimize the impact of your marketing activities. It begins with a holistic measurement and attribution of your marketing spending, utilizing a multi-stage attribution model to dissect the various effects of commercial activities on sales volume, enabling the measurement of their combined impact.
Incremental revenue growth is then meticulously analyzed, considering contributions from pricing, promotions, marketing, and other factors like pantry loading and sales execution correction. We adopt a laddered approach for marketing impact measurement, combining both top-down and bottom-up methods to provide insights into commercial aspects, digital attributions, and consumer behavioral impacts.
Our planning simulators offer the capability to break down your revenue into controllable and non-controllable factors, allowing you to understand the ROI for each channel. This multifaceted approach empowers data-driven decision-making, optimizing marketing strategies for maximum efficiency and effectiveness across multiple brands.
Conclusion
In the ever-evolving landscape of marketing, the challenges and opportunities in MROI optimization, Marketing Mix Modeling (MMM), and Multi-Touch Attribution (MTA) are as intertwined as they are dynamic. These methodologies have redefined how brands measure, analyze, and enhance the effectiveness of their marketing strategies, offering unprecedented insights into the complex world of consumer behavior.
While challenges persist, from data fragmentation to the evolving regulatory landscape, the opportunities are equally compelling. The potential to maximize ROI, fine-tune marketing strategies, and drive growth has never been greater. As brands adapt and embrace the latest technologies and methodologies, they position themselves to thrive in a data-rich, customer-centric era.
In conclusion, the pursuit of MROI optimization through MMM and MTA is an ongoing journey marked by hurdles and triumphs. The success of brands lies in their ability to navigate these challenges, seize the opportunities, and continue evolving in step with the ever-changing marketing landscape.