Introduction
In today's dynamic business landscape, business analytics services have emerged as a game-changer, empowering industry leaders to make informed, data-driven decisions. By harnessing the power of data analytics, industry leaders can gain comprehensive insights into customer behavior, market trends, and competitive landscapes, allowing them to make informed choices in near-real time. The integration of marketing analytics services empowers organizations to optimize marketing resource/budget allocation, refine customer segmentation, and tailor marketing campaigns to meet individual preferences. In this comprehensive article, we delve into the cutting-edge realm of data-driven decision-making, exploring how businesses are harnessing the power of strategic marketing analytics to transform their marketing strategies. 
Make the most of your data!
Connect with us for tailor-made solutions
Importance of Strategic Analytics for Industry Leaders:
In the era of escalating customer volatility and market dynamism, staying ahead of the competition and attaining market leadership is paramount. Strategic marketing analytics empowers industry leaders with real-time insights into the latest trends, customer preferences, and market shifts. By harnessing these data-driven decisions, businesses can proactively adapt their marketing strategies, optimize marketing resource/budget allocation, and deliver personalized experiences to customers. Embracing strategic analytics ensures businesses remain agile and responsive, enabling them to outmaneuver competitors and secure their position as market leaders. 
In the age of information abundance, customers extensively research before making purchase decisions, accessing multiple channels for insights. Strategy for industry leaders is indispensable as it helps map the ever-changing market landscape and identify actionable steps to drive progress. By connecting data from diverse sources, businesses gain a wholistic understanding of customer behavior and preferences and track competitor's movements. Armed with these insights, they can optimize their marketing efforts, create targeted campaigns, and deliver personalized experiences, thus enhancing customer satisfaction and gaining a competitive edge in the market. 
Challenges of industry leaders for a lack of strategic analytics:
The siloed data repositories fail to provide a comprehensive customer 360 view, hindering businesses from understanding their customer's journey with the brand. Without this complete perspective, companies struggle to identify customer preferences, anticipate changing needs, and deliver personalized experiences. Consequently, decision-making becomes less informed, hindering marketing strategies and customer engagement efforts. Embracing predictive marketing analytics bridges these gaps, enabling businesses to unlock valuable insights, foster data-driven decision-making, and ultimately cultivate lasting customer relationships for sustained growth and success by following a customer centric approach. 
With limited knowledge of competitor actions, businesses are blindsided to competitor strategies they need to counter. This hampers their ability to benchmark against rivals, identify gaps in the market, and respond effectively to emerging trends. The lack of insights into competitors' strengths and weaknesses impedes the formulation of proactive counter marketing strategies, potentially leading to missed opportunities and diminished market share. Embracing strategic marketing analytics equips industry leaders with crucial competitor intelligence, empowering them to make informed decisions and gain a competitive edge in the ever-evolving market. 
Benefits of Strategic Analytics to revolutionize marketing:
Strategic analytics involves customer value analytics, that offers industry leaders invaluable benefits in delivering an omnichannel experience. By leveraging this powerful tool, marketers can gain a comprehensive understanding of customer preferences, behaviors, and needs across various channels. This insight allows businesses to create personalized, targeted campaigns that resonate with customers on every platform and identify the best platform for the next marketing tactic deployment. As a result, companies can increase customer acquisition and retention, enhance customer satisfaction, improve engagement, and foster brand loyalty.
Analytics for strategic management provides industry leaders with the essential benefits of improved customer responsiveness through personalized marketing. By leveraging customer data and preferences, businesses can tailor their messages to create a "feel good/feel important" meta-message for individual customers. This personalization fosters stronger emotional connections, enhancing customer loyalty and satisfaction further. With strategic marketing analytics tools, businesses can identify customer pain points and preferences, allowing them to proactively address needs, provide relevant recommendations, and deliver a seamless, personalized experience across channels. The result is a heightened sense of importance for customers, driving brand advocacy and long-term customer relationships. 
Conclusion:
In conclusion, strategic analytics unveils the transformative potential of data-driven decision-making in the modern business landscape. By harnessing the power of strategic analytics, industry leaders can optimize marketing strategies, tailor customer experiences, and stay ahead of competitors in today's volatile markets. Embracing cutting-edge marketing analytics tools for strategic management is imperative for businesses striving to become market leaders and secure long-term success in an increasingly competitive and dynamic environment. 
Success Story:
We helped a USA retail industry to drive marketing success and regain market share through Strategic Analytics 
Client Details:
A leading player in the USA retail industry 
Challenges: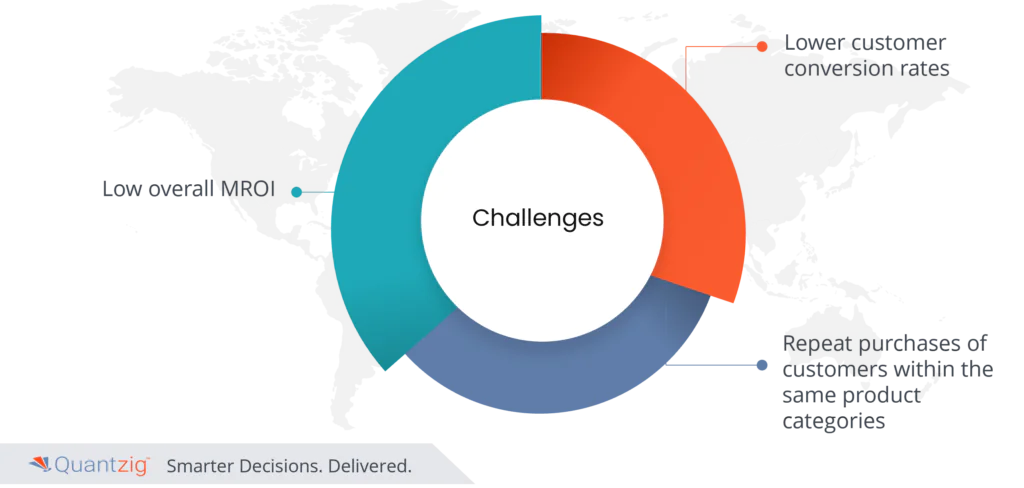 Low overall MROI: Our client was facing challenges in optimizing their marketing efforts effectively. Despite employing multiple marketing tactics across various channels, they encountered low overall Marketing Return on Investment (MROI). The company struggled to understand customer preferences and behaviors across channels, leading to suboptimal customer targeting and low conversion rates. The lack of insights into the customer journey hindered their ability to deliver personalized experiences and retain loyal customers. 
Lower customer conversion rates: The client faced challenges in maintaining its market share against aggressive competitors. Despite running multiple marketing promotions, the company observed lower conversion rates and traction in the market, while competitors' share in the same product category continued to grow. They struggled to understand competitor's moves and lacked insights into price sensitivity in various product categories, leading to suboptimal pricing strategies and decreased revenue growth. 
Repeat purchases of customers within the same product categories: They faced stagnating revenue share by customers and observed that customers predominantly made repeat purchases of similar value within the same product categories. The company struggled to identify opportunities for cross-selling and up-selling, leading to limited revenue growth per customer. The lack of insights into customer microsegments hindered their ability to tailor personalized offers and effectively target customers with relevant products and promotions. 
Facing similar challenges?
Connect with us for tailor-made solutions
Solutions:
Quantzig, a renowned data analytics and strategic consulting firm, devised a comprehensive solution to address the client's challenges. Leveraging strategic marketing analytics techniques, our team implemented customer fingerprinting techniques to trace customer journeys across different touchpoints. By analyzing data from various channels, including online and offline interactions, we created a 360-degree view of each customer. This enabled the identification of the most effective marketing touchpoints and the next-best action to increase conversion probability and enhance customer retention. 
Competitor promotion tracking was implemented to identify competitor tactics and anticipate market trends effectively. This enabled our client to develop a strong counter-strategy to stay ahead in the competitive landscape. Additionally, price sensitivity analysis was conducted to understand category elasticities, allowing the company to identify optimal price points by category. This strategic pricing approach boosted revenue generation while maintaining profit margins. 
Our team segmented the customer base into microsegments based on individual preferences, behaviors, and purchase history. By understanding customer needs and behaviors at a granular level, the company could identify untapped cross-selling and up-selling opportunities. This allowed them to deliver personalized product recommendations and targeted promotions to each customer segment, significantly increasing the chances of additional purchases. 
Impact Delivered: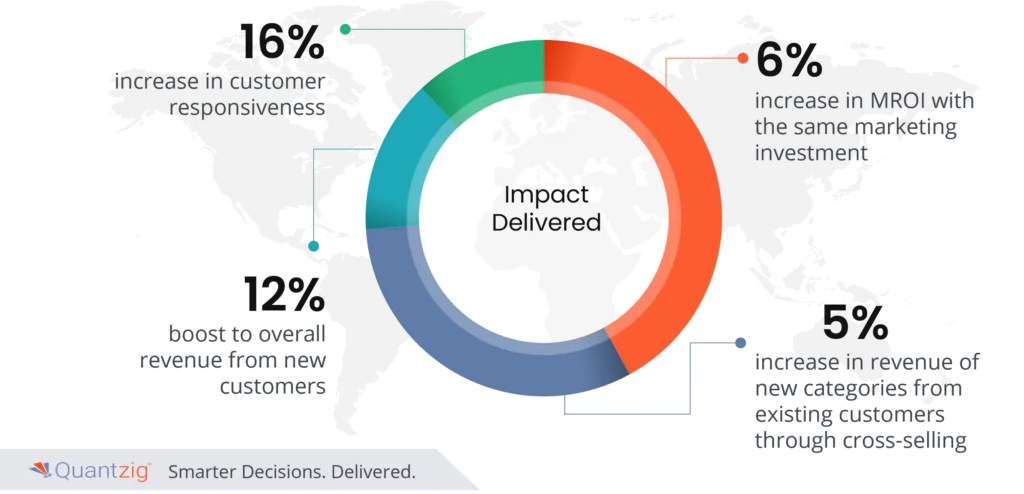 16% increase in customer responsiveness 
6% increase in MROI with the same marketing investment 
12% boost to overall revenue from new customers 
5% increase in revenue of new categories from existing customers through cross-selling 
Embrace the power of Strategic Analytics with Quantzig and propel your organization toward unprecedented growth. Contact us today to discover how strategic analytics can transform your business.