Introduction
Supply chain analytics is analyzing a vast amount of data collected in the supply chain management process through different tools and getting real-time insights from those data to improve the SCM environment and logistics. The three core components of supply chain analytics tools are data analytics, data visualization, and the tech platform. It helps supply operations managers draw conclusions from massive data generated by supply chains and unlock critical patterns and trends from those insights. To help organizations with rapid demand shifts, and complex supply chains, and combat competition, integrating analytics into the existing supply value chains can make a long-term impact to get desired outcomes. This article unveils the core facets of potent supply chain analytics—unveiling the synergy of processes, technology, and foresight that drives resilient, agile, customer-centric supply chains.
Make the most of your data!
Connect with us for tailor-made solutions
Importance of effective supply chain analytics for businesses:
In the landscape of supply chain analytics, a robust data ecosystem is the linchpin for success. By cultivating a comprehensive data environment encompassing real-time insights, historical data, and external factors, businesses gain the foundation for informed decisions. This ecosystem fuels predictive models, enhances risk assessment, and amplifies agility, all vital for navigating complex supply chains. In essence, the right data ecosystem acts as the compass guiding organizations through uncharted territories, enabling strategic maneuvers and propelling competitive advantage.
Every business is different. Even the same business across geographies sometimes needs to operate differently to abide by local norms. Thus, ensuring the global to local challenges are considered while taking supply chain decisions is key to success. Acknowledging diverse landscapes enhances adaptability, resilience, and streamlined operations. The global-to-local approach guides businesses through dynamic terrains, turning challenges into opportunities. Understanding distinctions and leveraging them unlocks accomplishments, propelling businesses toward long-term success in a diverse and complex market.
Challenges present in a lack of supply chain analytics for businesses:
Data is scattered across nodes and multiple decision makers involved lead to long and complex decision-making cycles. Multiple decision-makers lacking synchronized information elongate decision cycles, that cause delays and inefficiencies. Overcoming these challenges mandates strategic planning, investment, and organizational commitment to effectively harness the power of supply chain analytics and realize sustained operational improvements.
Most off-the-shelf products have quicker implementation cycles but cannot be customized to the client's specific challenges. These products are expensive and take a long time to realize a return on investment in software. Such products are designed for broad applications, missing tailored solutions that precisely address specific business needs. Customization demands considerable time and expense, delaying ROI. Despite the quicker setup, the compromise in addressing specific challenges often lengthens the ROI period.
Benefits of supply chain analytics for businesses:
Single source of truth for quick and efficient decision-making. Ability to connect global views to most granular views because of a single data thread. Access to accurate real-time analytics helps organizations avoid stockouts, reduce late shipments, adapt to shifting customer demands, and gain a better grasp on profitability. This information guides businesses to optimize their resource deployment which leads to cost savings. In the absence of accurate data, many decisions rely only on historical, basic data, and are left to guesswork.
Custom solutions to answer 100% of client questions help clients make decisions that are right for their business based on the current situation. This customization yields accurate insights and elevates decision-making precision. The supply chain analytics platform has predictive capabilities that enable proactive strategies, enhance efficiency, and risk mitigation. Overall, supply chain analytics harmonizes actions with the present landscape, and fosters agility, resilience, and competitive edge. The result is enhanced ROI and client satisfaction, as decisions resonate with immediate demands and long-term goals.
Conclusion:
In conclusion, effective supply chain analytics tools rely on a combination of robust data collection, and integration, advanced analytics tools, real-time monitoring, predictive modeling, and collaboration across departments. By leveraging these components, businesses can gain valuable insights, optimize their operations, enhance decision-making, and ultimately achieve a more efficient and responsive supply chain. Supply chain analytics solutions uncover opportunities for various process improvements and call attention to many problems operations leaders may not have seen coming. The ability to identify existing supply chain risks is the most valuable benefit of supply chain analytics because these disruptions have a long-time impact on the bottom line.
Success Story:
How Quantzig revolutionized the e-commerce supply chain with data-driven precision
Client Details: A leading e-commerce retailer in the USA
Challenges: 
The client was grappling with challenges stemming from a complex supply chain network characterized by multiple nodes. This intricacy hindered their ability to pinpoint interdependencies and operational inefficiencies, which resulted in diminished profitability. The lack of visibility across processes impeded effective decision-making and optimization efforts, making it crucial for the client to address these challenges to enhance overall supply chain performance and regain lost profitability.
Make the most of your data!
Connect with us for tailor-made solutions
Solutions:
We built a supply chain visibility solution using cutting-edge supply chain analytics software that helped trace the movement of goods across supply chain nodes, identify root causes of inefficiencies, and identified the next-best actions to improve supply chain performance. This solution empowered the client to make informed decisions, streamline operations, and achieve significant improvements in their overall supply chain efficiency.
Impact Delivered: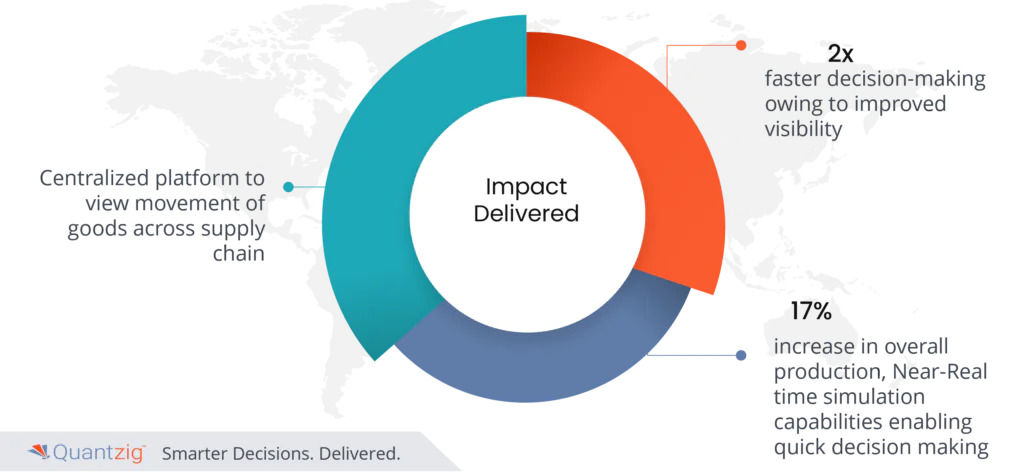 Centralized platform to view the movement of goods across the supply chain.
2x faster decision-making owing to improved visibility
17% increase in overall production, Near-Real time simulation capabilities enabling quick decision-making.
Ready to optimize your supply chain excellence? Connect with Quantzig today!