Introduction
In the dynamic landscape of modern businesses, customer analytics is the systematic examination and interpretation of customer data to glean invaluable insights into their behaviors, preferences, and needs. By harnessing the power of advanced data analytics techniques, businesses can unearth hidden patterns and trends that shape customer interactions, enabling them to make informed, data-driven decisions. Customer analytics tools
serve as a compass that guides businesses toward tailored strategies to attract and retain loyal customers. By understanding customer preferences and pain points, organizations can personalize their offerings, create targeted marketing campaigns, and optimize their customer service, enhancing overall customer satisfaction and loyalty. Furthermore, the ability to predict future customer behavior allows businesses to proactively adapt to evolving trends and market demands, maintaining a competitive edge. 
Make the most of your data!
Connect with us for tailor-made solutions
Importance of customer analytics for business success:
Customer analytics is pivotal in achieving business success by understanding the right customers and meeting their needs effectively at the right time. Through comprehensive data analysis, businesses can identify their target audience, segment them based on demographics, behaviors, and preferences, and align their product development and enhancement roadmap accordingly. By grasping what drives customer behavior and expectations, companies can prioritize features, improvements, and innovations that resonate with their clientele. 
Moreover, Customer analytics solutions enable businesses to tailor their marketing outreach with precision. Understanding positive triggers that captivate customers and negative stimuli that lead to dissatisfaction empowers companies to craft personalized and persuasive marketing campaigns. This data-driven approach maximizes customer engagement, enhances brand loyalty, and accelerates conversion rates, resulting in more efficient and faster customer acquisition. 
The customer analytics platform is the cornerstone of data-driven decision-making, enabling businesses to optimize resources, drive customer-centric innovation, and deliver tailored experiences that ultimately lead to higher customer satisfaction and loyalty. In a competitive landscape, the ability to leverage customer insights to refine strategies and align offerings with evolving demands becomes a critical determinant of sustained business success. 
Challenges present in a lack of customer analytics: 
1. Siloed customer demographics data and lack of sequential information about customer's interaction across marketing channels:
The challenges posed by a lack of customer analytics stem from siloed data and GDPR restrictions, hindering a comprehensive understanding of customers. Customer interaction data is scattered across various systems and departments, making it challenging to create a unified view of customer demographics and interactions across marketing channels. This lack of integration hampers the ability to understand customer journey to make informed decisions. 
2. GDRP rules restrict the usage of customer identification further limiting the scope of customer understanding:
Additionally, GDPR rules impose strict regulations on customer data usage to protect privacy, which can restrict businesses from utilizing certain customer identification information. Consequently, organizations might struggle to gain a deep understanding of individual customers, limiting the scope of personalized marketing efforts and tailored customer experiences. 
The combination of siloed data and GDPR constraints leads to a fragmented view of customers, hindering the ability to identify patterns, preferences, and pain points accurately. Businesses may miss opportunities for targeted marketing, efficient resource allocation, and data-driven product enhancements. Addressing these challenges requires investing in data integration, anonymization techniques, and Customer analytics solution, to unlock the true potential of customer insights and drive business growth in a compliant and customer-focused manner. 
3. Limited Understanding of Customer Behavior:
One of the primary challenges associated with a lack of customer analytics is the limited understanding of customer behavior. Without the ability to analyze and interpret customer data, businesses are left in the dark regarding the preferences, buying patterns, and interactions of their customer base. This absence of insights makes it challenging to anticipate customer needs, tailor marketing strategies, and optimize product offerings. In a competitive market where customer expectations are constantly evolving, a lack of understanding of customer behavior can result in missed opportunities for personalized engagement and targeted marketing efforts.
4. Ineffective Decision-Making and Strategy Development:
The absence of customer analytics hampers effective decision-making and strategy development. Without data-driven insights, businesses may rely on intuition or outdated assumptions to make crucial decisions related to product development, marketing campaigns, and overall business strategies. This lack of evidence-based decision-making can lead to misaligned efforts, inefficient resource allocation, and suboptimal customer experiences. In an era where data-driven decision-making is a cornerstone of successful businesses, the absence of customer analytics puts organizations at a disadvantage, hindering their ability to adapt to market trends and meet evolving customer expectations.
Benefits of customer analytics:
1.Improved understanding of customer needs to help identify opportunities for acquisition, cross selling and upselling.
Customer fingerprinting and near-real-time customer analytics is a powerful tool that offers a deep understanding of customer needs, enabling businesses to identify valuable opportunities to boost business. By analyzing customer data, behavior, and preferences, companies gain insights that drive informed decision-making and personalized marketing strategies. This leads to enhanced customer satisfaction, increased retention, and improved loyalty. Moreover, it helps identify areas of product innovation/modifications that are most relevant to customers. Ultimately, by leveraging customer analytics, organizations can cultivate stronger customer relationships, stay ahead of competitors, and adapt quickly to evolving market demands, fostering sustainable success.
2. Personalized Customer Experiences:
One of the primary benefits of customer analytics is its ability to enable personalized customer experiences. Through the analysis of customer data, businesses can gain a deep understanding of individual preferences, purchase history, and engagement patterns. Armed with this information, they can tailor their interactions with customers, providing personalized product recommendations, targeted marketing messages, and customized promotions. This level of personalization not only enhances customer satisfaction but also increases the likelihood of repeat purchases and brand loyalty. Customers appreciate and respond positively to personalized experiences, fostering a stronger connection between the brand and the consumer.
3. Improved Customer Retention and Loyalty:
Customer analytics plays a pivotal role in improving customer retention and fostering loyalty. By analyzing customer behavior and identifying key touchpoints in their journey, businesses can proactively address pain points and enhance positive interactions. Predictive analytics models can forecast customer churn by identifying signs of disengagement or dissatisfaction. Armed with this foresight, businesses can implement targeted retention strategies, such as personalized incentives, loyalty programs, or proactive customer support. This not only helps in retaining existing customers but also in creating brand advocates who are more likely to recommend the business to others. Improved customer retention is a cost-effective strategy, as it is generally more expensive to acquire new customers than to retain existing ones.
Conclusion:
Customer analytics services play a pivotal role in business success by providing 360-degree customer view. Armed with this data-driven understanding, companies can make informed decisions, optimize marketing efforts, and enhance customer experiences. The ability to identify opportunities for change and growth allows businesses to stay competitive, adapt swiftly to market trends, and cultivate long-lasting customer relationships. Ultimately, leveraging customer analytics services leads to increased customer satisfaction, loyalty, and profitability, making it an indispensable tool for achieving sustainable success in today's dynamic business landscape.
Success Story:
Quantzig's data-driven Customer analytics Solutions Propelled a CPG company to New Heights of Business Success 
Client Details: A CPG giant headquartered in Europe  
Challenges: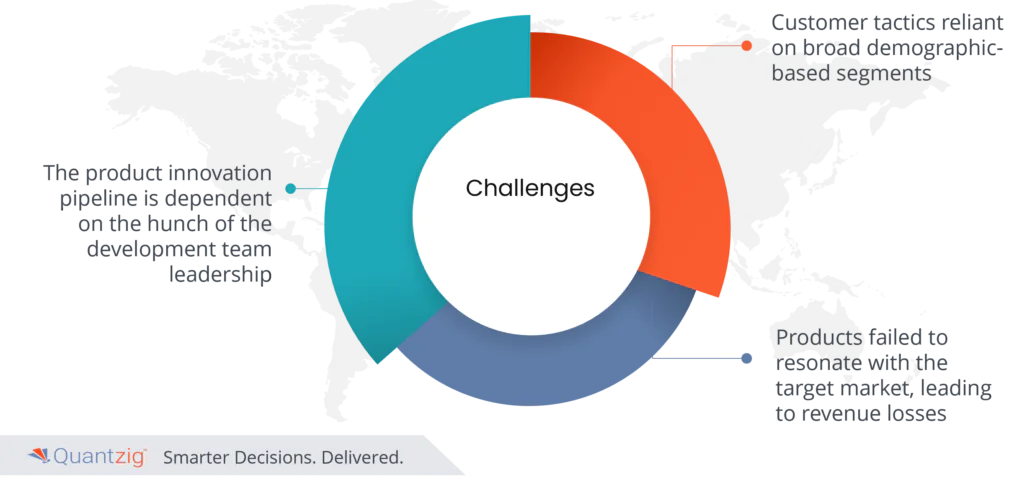 The product innovation pipeline is dependent mostly on the hunch of the development team leadership and is agnostic to customer needs and demands in recent times.
The client was confronted with significant challenges related to their product innovation pipeline. Relying primarily on the hunches of development team leadership rather than changing customer needs and demands posed a series of detrimental consequences. This led to effort and resource investment in creating products that failed to resonate with the target market, leading to poor sales and revenue loss. Further, neglecting customer needs resulted in missed opportunities for addressing real market demands, hindering the potential for sustainable growth and competitive advantage. Customer-centricity is crucial in today's business landscape, and overlooking it causes the client to fall behind competitors who prioritized data-driven innovation.
Make the most of your data!
Connect with us for tailor-made solutions
Solutions:
Quantzig played a pivotal role in aiding the client with their customer sentiment and chatter analysis solution. Leveraging advanced analytics and machine learning techniques, Quantzig processed vast amounts of customer data to identify trending topics among diverse customer segments. By deciphering customer sentiments and preferences, the solution provided actionable insights that refined the client's product development pipeline. This data-driven approach empowered them to align their offerings with emerging market demands, optimize resource allocation, and enhance customer satisfaction. The tailored solution not only improved decision-making but also enabled the company to stay ahead of competitors by proactively identifying potential future trends. Through Quantzig's expertise, the client achieved a customer-centric, competitive advantage that spurred business growth and success.
Quantzig provided invaluable assistance to the client by meticulously mapping the customer journey with the brand through precise customer fingerprinting across multiple channels. By harnessing cutting-edge analytics and AI technologies, our team comprehensively analyzed customer interactions and behaviors to gain deep insights. These insights enabled the identification of potential next-best actions for enhancing customer retention and conversion rates. The data-driven approach empowered them to deliver personalized experiences, targeted marketing, and timely interventions, bolstering customer satisfaction and loyalty. With Quantzig's expertise, the client achieved a profound understanding of their customers, streamlined their strategies, and ultimately, achieved remarkable improvements in retention and conversion rates, solidifying their position in the competitive market.
Impact Delivered: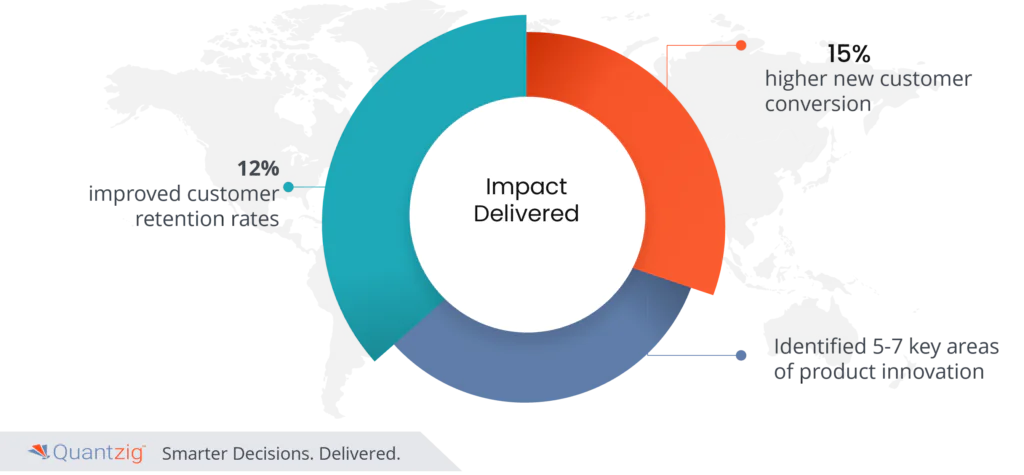 12% improved customer retention rates
15% higher new customer conversion 
Identified 5-7 key areas of product innovation 
Our expert team mapped the customer journey, analyzed customer fingerprints across channels, and identified the next-best actions for enhanced retention and conversion rates. Unlock actionable insights to optimize marketing, boost customer satisfaction, and stay ahead of competitors. Join Quantzig today and elevate your customer-centric strategies to achieve sustainable business excellence!