Supply chain integration refers to the use of shared management information systems for closely aligning and coordinating activities within a supply chain. More and more companies are now looking at adopting supply chain integration to keep up with slimming margins, increasing competition, and a decreasing amount of differentiation between brands. Integrated supply chain solutions help companies to compete better on cost, by eliminating wasted time and materials. They also allow for shorter life cycles by having fewer links in the supply chain from back to front, and tighter coordination between delivery, warehousing, and transportation.
Get in touch to learn how our supply chain analytics solutions can help you innovative and drive better outcomes.
What is Integrated Supply Chain Management?
Integrated Supply Chain Management (ISCM) is a comprehensive and strategic approach to managing and optimizing all activities and processes within a supply chain. It encompasses the coordination and integration of sourcing, production, distribution, and logistics while utilizing technology and collaboration with partners to enhance overall supply chain efficiency.
Why Integrated Supply Chain Management is Important?
The need for integration in supply chain management arises from the evolving demands of today's global business landscape. Companies must address various challenges, including increased customer expectations, globalization, rapid technological advancements, and supply chain disruptions. ISCM provides a structured framework to tackle these issues and offers several key benefits:
Efficiency: ISCM eliminates redundancy, reduces lead times, and minimizes excess inventory, resulting in cost savings and improved resource utilization.
Customer Satisfaction: By ensuring products are available when and where customers need them, ISCM enhances customer service and loyalty.
Adaptability: ISCM enables organizations to quickly respond to changing market conditions, supply chain disruptions, and unforeseen events, enhancing resilience.
Cost Reduction: Optimizing supply chain operations through ISCM leads to reduced operating expenses and improved profitability.
Competitive Advantage: Companies that embrace ISCM gain a competitive edge by delivering better service, faster delivery, and competitive pricing.
In a complex and interconnected business environment, ISCM is indispensable for achieving operational excellence, sustainability, and delivering superior value to customers and stakeholders.
Top barriers to Supply Chain Integration
Supply Chain Integration, while highly beneficial, faces several formidable barriers that can hinder its successful implementation: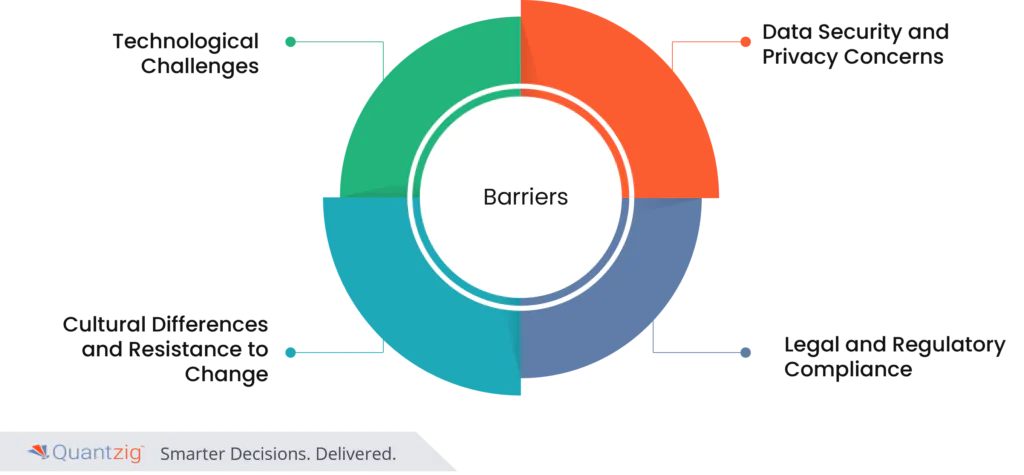 Technological Challenges: Integrating diverse and often legacy systems across supply chain partners can be technologically complex. Ensuring compatibility and connectivity among different software and hardware platforms is a major hurdle. This often requires substantial investments in IT infrastructure and the adoption of standardized communication protocols.
Data Security and Privacy Concerns: Sharing sensitive data across the supply chain raises concerns about data security and privacy. Organizations need to establish robust data protection measures and secure access controls to mitigate the risk of data breaches or unauthorized access.
Cultural Differences and Resistance to Change: Aligning the diverse cultures and priorities of various supply chain partners can be challenging. Resistance to change within organizations is also common, as employees may be apprehensive about new processes and technologies associated with integration.
Legal and Regulatory Compliance: Complying with complex legal and regulatory requirements, especially when operating across multiple regions, can pose a significant barrier. Navigating trade regulations, intellectual property laws, and data protection rules requires careful attention and resources.
Overcoming these barriers demands a combination of technology investments, cultural alignment, data security measures, and legal expertise. Successful supply chain integration can yield substantial benefits, including enhanced efficiency, cost reductions, and competitive advantages in today's global business landscape.
Critical Elements of Supply Chain Integration
Effective supply chain integration relies on several critical elements that work together to streamline processes, enhance collaboration, and improve overall efficiency:
Information Sharing: A fundamental element of supply chain integration is the seamless exchange of real-time information and data among all stakeholders in the supply chain, from suppliers to end customers. This enables better visibility into the entire supply chain, facilitates accurate demand forecasting, and supports decision-making at every stage.
Collaborative Relationships: Establishing and nurturing collaborative relationships among supply chain partners is essential. These partnerships are built on trust, shared goals, and mutual benefits. Effective collaboration encourages open communication and shared responsibility for success, leading to more efficient and responsive supply chain operations.
Technology and Infrastructure: Employing advanced technology, such as Enterprise Resource Planning (ERP) systems, Internet of Things (IoT) devices, and cloud-based platforms, is crucial for the smooth flow of data and information throughout the supply chain. These technologies enable real-time monitoring and tracking, fostering integration and visibility.
Standardized Processes and Practices: To ensure consistency and efficiency, it's essential to standardize processes and practices across the supply chain. This includes everything from procurement and production to inventory management and order fulfillment. Standardization minimizes errors and waste while promoting uniformity and synchronization among supply chain partners.
By focusing on these critical elements, organizations can achieve a highly integrated and agile supply chain. This integration leads to improved operational efficiency, reduced costs, enhanced responsiveness to market changes, and, ultimately, better customer satisfaction. In today's dynamic business environment, these elements are fundamental for a competitive edge and sustainable success.
Key Benefits of Supply Chain Integration
Certainly, here are detailed explanations for each of the key benefits of supply chain integration: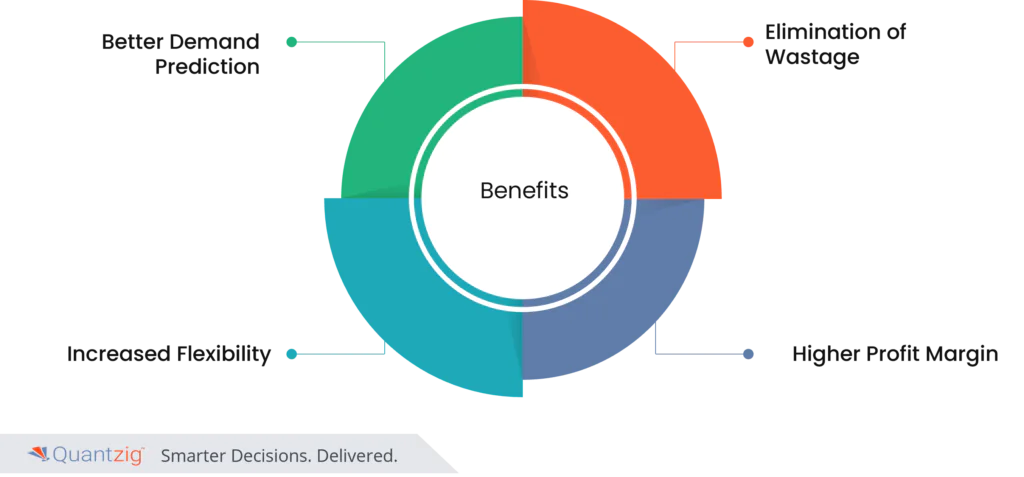 Better Demand Prediction
Supply chain integration enhances an organization's ability to predict customer demand accurately. By sharing real-time data and insights across the supply chain, businesses can respond more effectively to market fluctuations, emerging trends, and changing customer preferences. This foresight allows companies to align production and distribution strategies, reducing the risk of overstocking or understocking products. In a global supply chain, where product life cycles are often shorter and economies are more volatile, this capability is invaluable for staying competitive and meeting customer expectations.
Increased Flexibility:
Supply chain integration results in improved operational flexibility. It enables businesses to quickly adapt to external events such as shifts in customer demand or actions taken by competitors. By gathering and analyzing data from various points within the supply chain, organizations can gain insights into their competitors' activities and adjust their strategies accordingly. This flexibility is a strategic advantage that allows companies to stay agile and responsive in a dynamic market.
Elimination of Wastage:
Integrating lean practices into the supply chain helps identify and eliminate waste, resulting in a more efficient and sustainable operation. Lean practices promote the efficient use of resources and the reduction of unnecessary costs. This increased agility allows organizations to respond effectively to unforeseen challenges or disruptions, ensuring the supply chain remains robust in the long term. Combining agile and lean supply chain practices is ideal for minimizing waste and achieving sustainability.
Higher Profit Margin:
A well-integrated supply chain streamlines operations, leading to increased revenue and higher profit margins. By leveraging product and portfolio management software and supply chain management (SCM) solutions, companies can accelerate product development and delivery processes. This efficiency not only reduces production costs but also allows products to reach the market more rapidly. As a result, businesses can capture market opportunities more effectively, maximize their sales, and achieve better profitability through a seamless and collaborative supply chain.
In summary, supply chain integration empowers organizations with enhanced demand prediction, flexibility, waste reduction, and improved profitability. It's a strategic approach that optimizes operations and ensures that businesses can thrive in a rapidly changing and competitive business environment.
In conclusion, the significance of supply chain integration cannot be overstated. It is a pivotal strategy that offers organizations four compelling advantages. Firstly, it enhances demand prediction, enabling businesses to adapt swiftly to market dynamics. Secondly, it fosters increased flexibility, allowing organizations to respond promptly to external influences and competitive forces. Thirdly, it aids in waste elimination through lean practices, ensuring sustainability and efficiency. Lastly, it contributes to higher profit margins by streamlining operations and expediting product delivery. Supply chain integration is not just a trend but a fundamental driver of success in today's dynamic and interconnected business landscape.