As new digital technologies emerge and evolve at breakneck speed, media companies across geographies have been witnessing major disruptions. Factors such as these have also resulted in a three-fold increase in online media consumption opening new doors for advertisers to reach their target audiences through personalized messages that resonate with their needs.
To analyze the current scenario and shed light on the challenges facing media companies, our sales analytics experts conducted a detailed analysis centered around investigating the role of ad inventory forecasting, key challenges faced by ad sellers, media companies' overall maturity in adopting new technology, and their plans for the future. As part of this effort, we interviewed C-level executives and stakeholders from leading US media companies to better understand their challenges.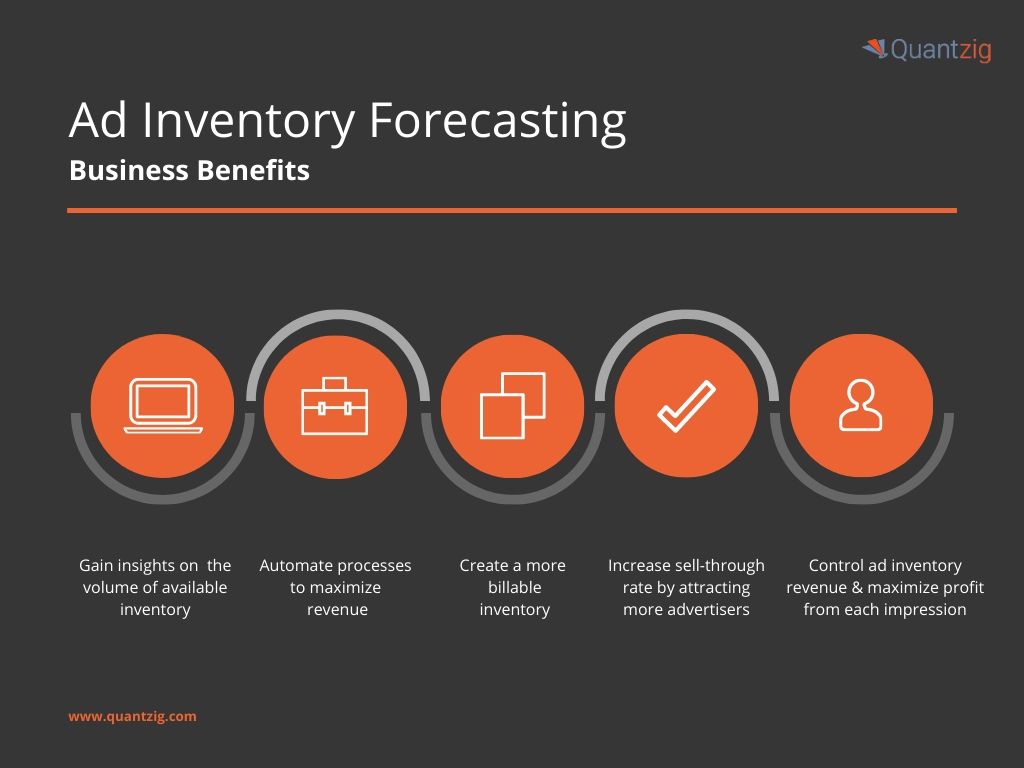 Quantzig has helped leading media companies tackle the most pressing challenges around ad inventory management. Request a FREE proposal to learn how we can help you grow sales by unlocking the true potential of ad inventory forecasting.
Our analysis revealed that despite increasing their focus on the adoption of new technologies, effective ad inventory forecasting and optimization remain an uphill task for the following reasons:
Proliferation of Consumer Touchpoints
Media companies face several challenges when it comes it managing different channels due to the proliferation of touchpoints and an explosion on data sets.
Increasing Demand for Personalization of Ads
Consumers today expect customized content, making it crucial for media companies to extract insights to target and deliver relevant ads to the right cohorts.
Rising Advertising and Marketing Costs
The 'cost factor' is another challenge that is prompting media companies to automate ad inventory forecasting and monetize on digital ad growth.
The accuracy of ad inventory forecasts has a significant influence on a seller's ability to optimize sales and revenue. Get more information now.
Ad Inventory Forecasting: Business Benefits
A reduction in the number of penalties for under-delivered campaigns will, in turn, increase retention rates
The ability to sell more ads will improve the sell-through rate helping media companies to attract more advertisers
Identifying and selling inventory to the most valuable clients can help drive revenue
Why Choose Quantzig's Ad Inventory Optimization Solutions?
The huge volumes of data available for ad campaign planning and targeting make traditional forecasting methods obsolete. Media companies that rely on spreadsheets and traditional ad inventory forecasting tools are no longer able to produce reliable forecasts that they can act on. However, it's crucial to note that when more data is being generated, the more inaccurate these approaches can become, and this is only aggravated by the increased use of third-party data targeting and frequency capping solutions.
Quantzig's advanced ad inventory forecasting and optimization solutions can help media companies analyze media consumption patterns, device preferences, and market trends to identify the optimal slots and prices for ad spaces. Leveraging our solutions can help media managers tackle the biggest challenge- improving profits while ensuring better returns on the advertising investments made by the clients.
Our ad inventory forecasting solutions also empower media companies to:
Identify potential risk factors before they turn into real problems
Analyze the effectiveness of sales, optimize ad inventory, and forecast risks of latency
Increase revenue and improve performance by acting on personalized recommendations
Control ad inventory revenue and work towards maximizing profits
We offer innovative analytics solutions that empower media and entertainment companies to achieve their revenue targets. Get in touch for more information.