With the ongoing advancements in technology and the rapidly transforming business environments, it's essential for businesses to revamp their customer retention strategies to boost sales. To succeed in today's complex business scenario businesses must not only focus on enhancing customer relationships but must also optimize and revamp their customer retention strategies on an ongoing basis. Since there's so much noise out there about customer retention strategies, our analytics experts have curated a list of top customer retention strategies that have helped our clients improve their profit margins.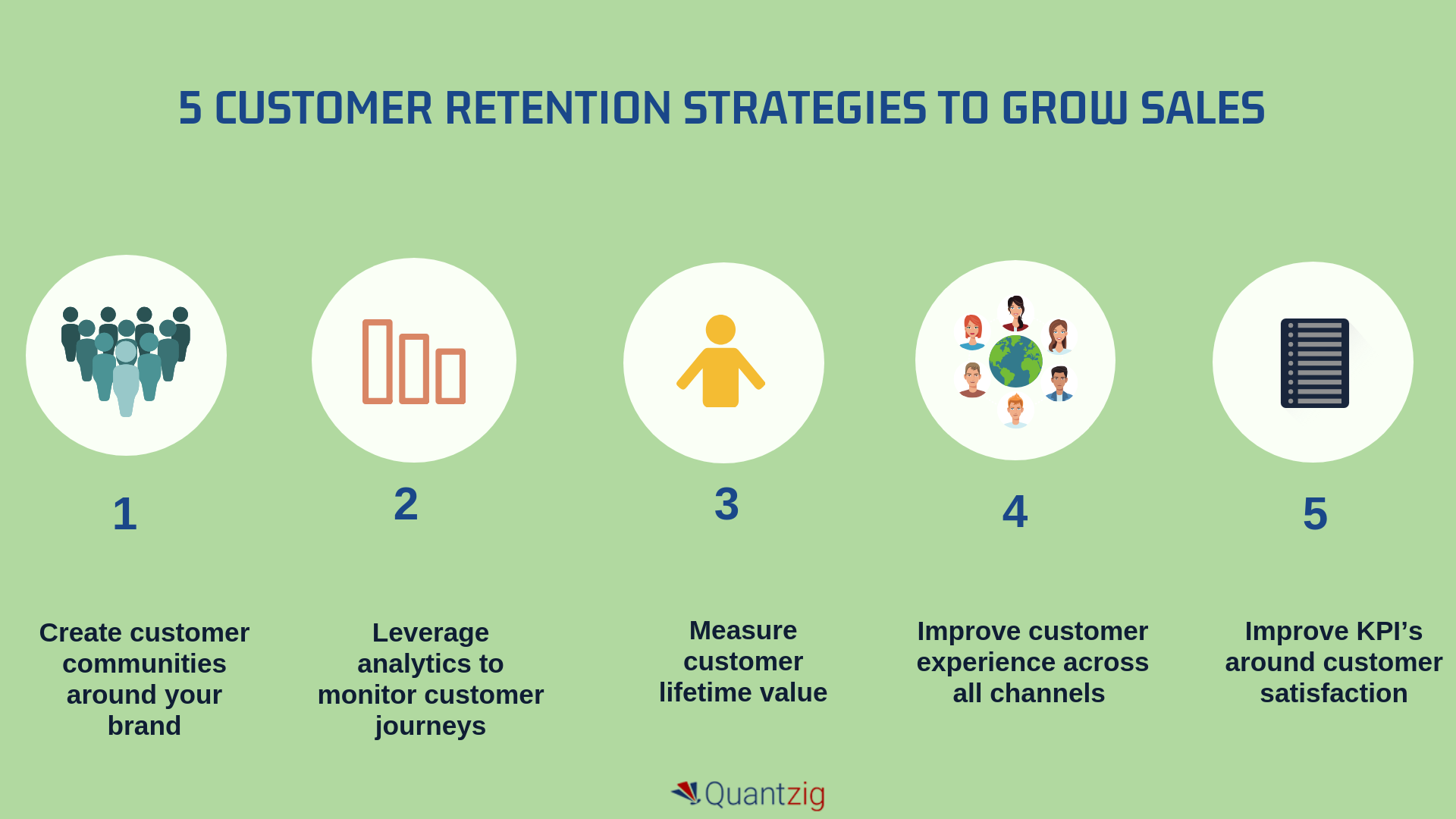 Request for a free proposal to learn how customer retention strategies can help you step up your game by improving customer satisfaction.
5 Customer Retention Strategies to Grow Sales
Create a Customer Community Around Your Brand
Today customers don't just connect with a brand, they prefer connecting with other people that connect with your brand. Give such customers a voice on your website or online communities where like-minded people share their opinions and feedbacks. This helps ensure that the clients are not just buying a product but are buying their way into a community of like-minded people.
Leverage Analytics to Effectively Track and Monitor Customer Behaviors
Customer behaviors are key indicators of brand affinity. Businesses that track customer behaviors can detect the early signals of customer churn and devise effective strategies to retain customers. Advanced analytics dashboards can help businesses to effectively track and analyze customer sentiments.
Measure Customer Lifetime Value
Customer lifetime value is a key performance indicator that helps businesses to understand the value of a customer. Performing an in-depth customer lifetime value analysis can help you determine the worth of every single customer in terms of the value they add to your business.
Improve Customer Experience Across All Channels
With the proliferation of digital channels and rising customer expectations, it's essential for businesses to keep abreast with the evolving demands and technologies to offer exceptional customer experiences across channels. To succeed in delivering unique customer experiences businesses should consider moving away from legacy systems by adopting advanced analytics-based customer retention strategies.
Get in touch with our analytics experts to learn more about the customer retention strategies that'll help you drive loyalty and sales.
Improve KPIs Around Customer Satisfaction
Key performance indicators act as roadmaps for organizations that set targets to measure their success. The use of analytics dashboards makes it easier to track and visualize KPI's, helping businesses gauge future scenarios. A detailed analysis of key performance indicators helps businesses to better understand customer sentiments and reasons for churn.
Major Benefits of Customer Retention
Customer retention impacts nearly every aspect of a business. And to build a successful organization, it's essential to effectively manage your biggest asset, i.e, 'customers'. But before devising customer retention strategies, it's essential to understand the importance of customer retention from a business perspective.
Here are a few benefits of customer retention:
• Low marketing cost
• Improves brand affinity
• Turns customers into brand advocates
• Boosts sales and drives business growth
Retaining old customers is arguably more important than acquiring new ones. Request for a free demo to understand why customer retention strategies play an incredibly important role in driving business value.