The European entertainment industry is growing at an unprecedented rate, and several companies are finding it difficult to keep up with the pace. Challenges arise due to the growing pressures to keep the costs down while trying to improve revenues and the highly fragmented media consumption habits of customers. The trend of one big company dominating the market is gradually fading away, providing an opportunity for small players to complete successfully. One of the most significant trends observed in the media and entertainment industry is the shift in media platforms from traditional channels to online mediums. As a result, it paves the way for the European entertainment industry to implement big data analytics technology to gain more profound audience insights.
Quantzig's big data analytics solutions help companies in the media and entertainment industry to develop the best promotional and product marketing strategies to attract and retain customers. Request a free brochure of our analytics solutions right away to gain better insights!
With new sources of data available to the media and entertainment companies every day, they can efficiently understand customer needs and deliver the right content to address the needs of the audience. However, with the rapid adoption of digital technologies, the entertainment industry is poised to face critical challenges that may slow down their progression. In this article, we have listed major challenges facing the European entertainment industry, a knowledge of which can help media and entertainment companies to adopt a smart approach and stay ahead of the curve.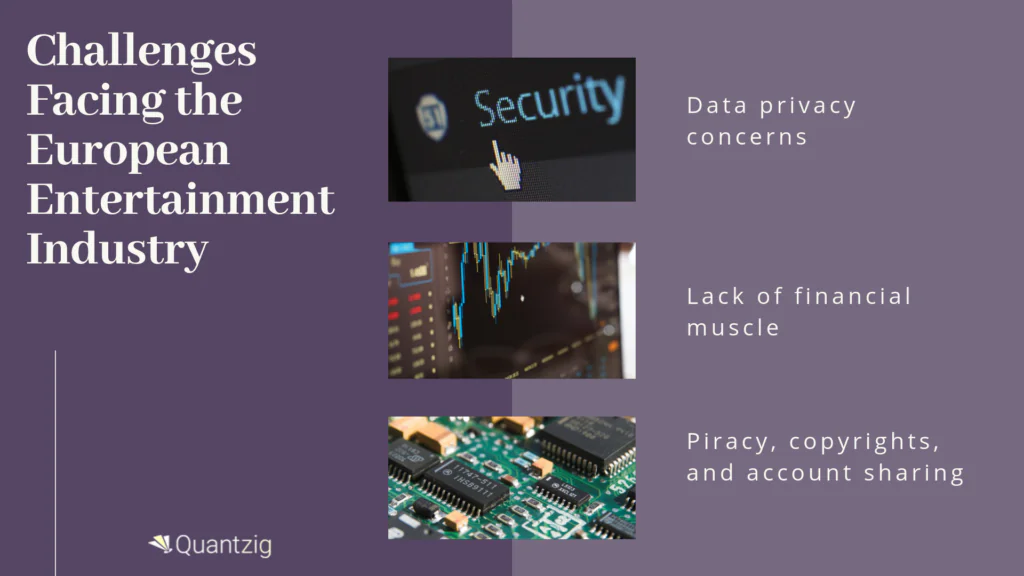 Challenges in the European Entertainment Industry
---
Data Privacy Concerns
Today consumers are being more sensitive towards their data and are concerned about how their data is being used. Additionally, policymakers have also addressed their issues and have implemented regulations for businesses that handle personal data. Such challenges can pose problems when it comes to accumulating sufficient user data, without which accurate analysis cannot be performed.
We can help you analyze digital media consumption patterns and behavioral data that can help you provide a personalized experience to your consumers. Talk to our analytics experts for more details.
Lack of Financial Muscle
One of the most significant challenges in the European entertainment industry is the lack of financial muscle for media start-ups and SMEs. While accounting for cost factors to implement data analytics, companies in the European entertainment market need to look at various factors including data storage costs, infrastructure costs, data processing costs, and human resource costs. Although it is easy to start a new company producing content, games, or apps, it can be tough to scale up without significant investments. Thankfully, the advent of cloud storage and SaaS solutions have provided a way out for start-ups and SMEs.
We offer customized analytics dashboards that can help media and entertainment companies increase digital conversion rates by offering micro-segmentation of customers to their advertising networks and exchanges. Gain limited-period complimentary access to our analytics platform to get started.
Piracy, Copyrights, and Account Sharing
Piracy and copyright issues have been a major area of concern in the media and entertainment industry for a long time. However, the advent of the digital medium has created a new challenge of account sharing. For the majority of video streaming sites, a large number of people gain access by sharing account information and passwords. Analysts will have a tough time performing analysis on customer preferences as they cannot pinpoint the demographic details of the user. Both the child and the adult may be using the same account, so an effective judgment is impossible on whether the child or the adult prefers a specific genre.