Propensity score matching (PSM) is a widely used statistical method in clinical research, which leverages the power of natural language processing, statistics, and data science to generate meaningful insights by connecting thousands of data points. With clinical research becoming increasingly multifaceted, the corresponding data sets have also become more intricate, posing multiple challenges to the estimation and use of propensity scores. Though the growing use case for propensity analysis in this field can be attributed to several factors, the primary reason revolves around the availability of huge volumes of randomized, unstructured data.
Notably, its popularity also stems from the need to analyze data and compare treatment groups with the confounding baseline variables. Propensity score matching also aims to compare treatment groups with measured baseline variables to achieve an apples-to-apples comparison while reducing the bias due to confounding.
Leading businesses prefer Quantzig due to its ability to instantly discover niche areas where data and analytics can drive growth. Request a free proposal today.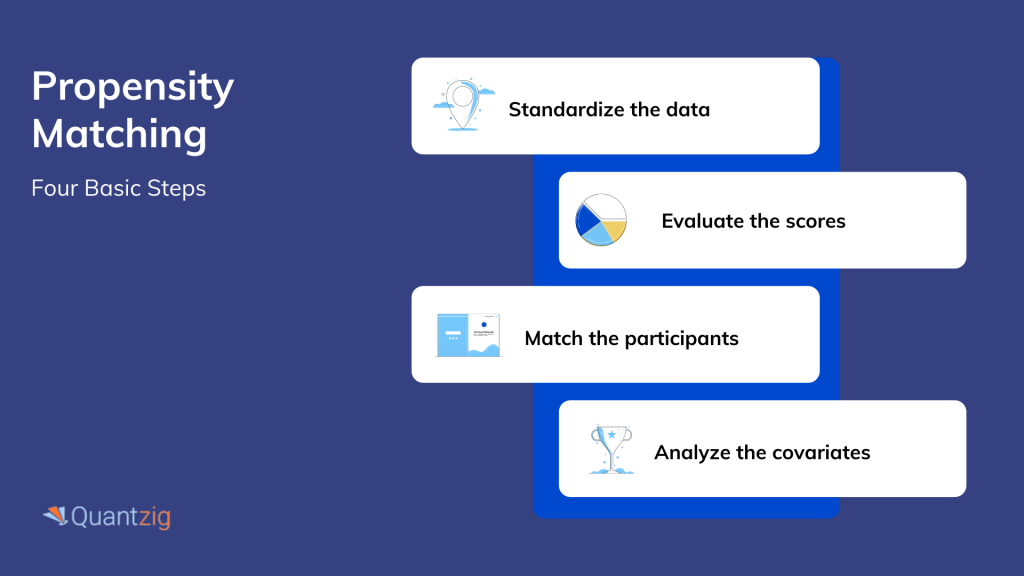 Advantages and Limitations of Propensity Score Matching
Enhance process transparency: Propensity score matching primarily aims to compare treatment groups with covariates, making it easier to communicate the results through graphical representations and interactive dashboards. Besides, propensity analysis offers insights into the quality of data, ensuring complete transparency of end to end processes.
Gauge the impact of treatments and drug formulations: Propensity score matching enables researchers to accurately gauge the impact of treatments or new therapies, which may otherwise be deemed invalid due to the imbalance between treatment groups.
A significant limiting factor is that propensity score matching only accounts for observed and observable covariates. Since it only controls observed variables, any hidden bias due to latent variables may go unnoticed post the analysis. Another quantifiable issue is that it requires large samples, resulting in the considerable overlap between various aspects of treatment and the control groups.
Applications
Among all the techniques that leverage propensity scores, propensity score matching is gaining prominence due to its ability to reduce the impact of selection bias when estimating the treatment effects in observational and randomized controlled trials. Few applications of this frequently used method are listed below –
Treatment analysis
Estimation of randomized controlled trials
Clinical outcome analysis
Creating a dynamic, scaleable propensity score model that is capable of demonstrating ROI is crucial to succeeding in the long run. Get in touch to learn how we can help you build one.
Undeniably propensity modeling solutions that leverage techniques like Propensity Score Matching (PSM), Propensity Score Stratification (PSS), and Propensity Score Weighting (PSW) are turning out to be useful in generating data-driven insights across industries. These insights are also opening up new opportunities that enable businesses to improve customer retention, enhance marketing campaigns, minimize risks, and reduce spend while driving decision-making.
As far as propensity score matching is considered, it can help analyze the underlying implications of factors that impact engagement rate, customer behavior, churn, and the willingness to pay for certain services. However, the successful implementation of propensity score models is deep-rooted and depends on the use of efficient data acquisition strategies, availability of high-quality data, and an impactful use case. This plays a crucial role since the lack of useful data makes it hard to find associations and patterns that drive consumer behavior and decision-making. Therefore, the successful application of propensity score matching can be fully realized when companies gradually transition to a data-driven culture with operations and decision-making based solely on innovative technologies and proprietary tools.
Quantzig's approach to propensity analysis is unique in every aspect and can help you make the most of your investments, request a demo for detailed insights.