Managing inventory turns out to be a complicated process for many retailers, given the rising competition and complexity of the environment in which they operate. Factors such as these have made inventory management a top priority for product-oriented businesses like retail. Retail inventory management is categorized as a complicated process because on the one hand, you need to have an array of products and enough stock to satisfy your customers, and at the same time, overstocking could lead to surplus inventory that you're going to have to liquidate.
Inventory management which was as easy as maintaining a hand-written document has now evolved to be a key aspect of supply chain management. To meet the increasing demand in a highly competitive environment, retailers are now adopting an omnichannel approach, to showcase different types of products and offer more fulfillment options to their customers. Given the rapid pace of development within the retail industry, adopting a more sophisticated approach to retail inventory management isn't just crucial, but imperative. Today, there are tons of different retail inventory management methods that can help retailers to avoid stocking up on surplus inventory. If you're someone who is just starting, inventory management will undoubtedly be one of the major challenges that you are bound to face. In this article, we've curated a list of top retail inventory management techniques to help you get started.
Enhance inventory control and avoid overstock scenarios using advanced inventory management analytics solutions. Request a FREE proposal for personalized insights.
Retail Inventory Management Methods That Can Help Manage Surplus Stocks
#1 First-in, First-Out (FIFO)
One of the easier methods to control inventory stocks and implement them in your business is – FIFO. This approach is more straightforward and doesn't require retailers to manipulate stocks, as long as they purchase the right amount to meet the demand. Adopting such an approach helps retailers to drive profits by avoiding out-of-stocks and improving inventory control.
#2 Last-in, First-Out (LIFO)
The last in first out retail inventory method approach is based on the principle that the stocks sold should carry the cost of the most recent purchase, though, the real-world physical flow might vary. Also, this method assumes that the most recent cost (the approximate cost to replace the consumed units) is most significant in matching cost with revenue in the income determination procedure.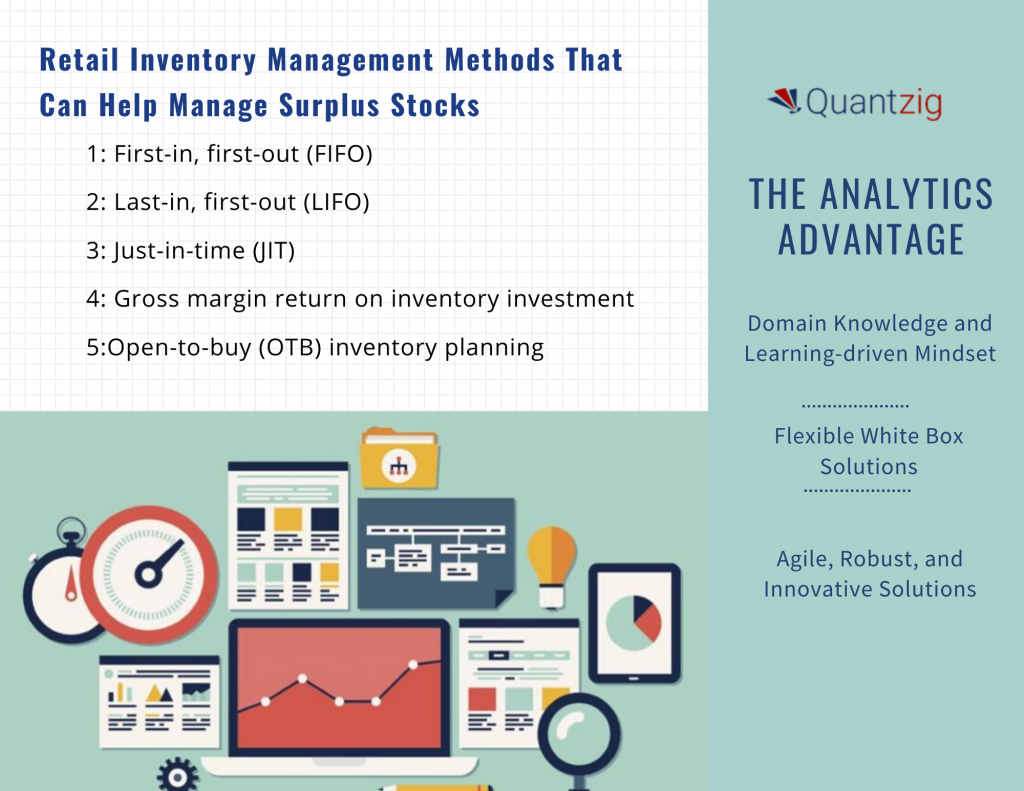 To learn more about the inventory management techniques and strategies to improve inventory control, contact our supply chain analytics experts.
#3 Just-In-Time (JIT)
Just-in-time or JIT is another retail inventory management method that has gained industry-wide acceptance in the retail community over the past few decades. This approach revolves around a needs-based approach to effectively manage and control inventory stocks.
# 4 Gross Margin Return on Inventory (GMROI)
Gross margin return on inventory is a percentage that helps you determine the margin for every dollar spent on products. GMROI can also be used to assess store-level, department-level, and product-level profitability and identify key areas in your business where you can make changes to improve returns.
#5 Open-To-Buy (OTB) Inventory Planning
Open-to-buy is a retail inventory management method that helps you gauge the stocks you can acquire to meet demand without any risk. In other words, it helps determine the amount of inventory required to meet customer demands while maintaining positive cash flow. Open to buy plans also account for other inventory planning issues around sales and promotions, market demand, and current and planned stock levels.
---
Request a free demo to understand the benefits of inventory optimization solutions in retail.
---