Operating in a highly dynamic market, retail and CPG brands face increasing competition from channels ranging from traditional brick & mortar stores to B2C and B2B sales channels. Given the rapid pace of technological advancements, it's no secret that CPG industry trends are inclined towards the digital landscape, and with more and more consumers preferring digital sales channels amid the crisis, data is being generated at a breakneck speed. The data generated includes sales and demographic data, which when analyzed using advanced web crawling and scraping techniques, can offer a holistic view of customer preferences, unlock opportunities for product personalization, and drive conversion rates.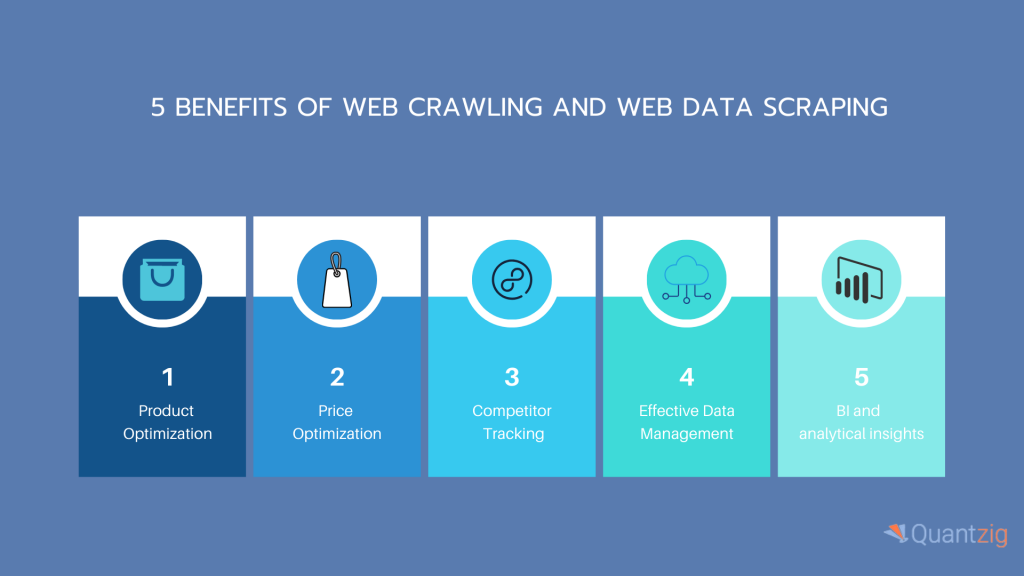 Notably, the COVID-19 crisis has provided new opportunities for CPG manufacturers to diversify their product lines and expand market share. But with the constant fluctuations in market dynamics, CPG manufacturers find it challenging to analyze data and understand brand perception without using advanced web crawling and scraping techniques. In such a situation, businesses need to empower themselves with advanced BI frameworks and analytical insights that enhance decision-making.
---
Our expertise in turning complex, unstructured web data into actionable insights has helped leading CPG brands gain a foothold in the market. Request a FREE proposal to know how we make it possible through our customized web crawling and scraping solutions.
---
3 Key Use Cases for Web Crawling and Scraping in the CPG Industry
CPG companies are on the road to recovery, and to accelerate the process most businesses are looking to capitalize on new opportunities that can help them push the growth curve higher within a short span. In an effort to do so, CPG companies have started banking on web data to create innovative business strategies. Web crawling and scraping can come in handy for CPG companies looking to tackle the disruptions induced by the crisis. Web crawling solutions enable businesses to extract data from a website and transform it into meaningful patterns and statistics that form the basis of decision making in the CPG sector. We've listed the top three use cases of web crawling and scraping in CPG, take a look.
Use Case 1: Proactive Identification of Market Opportunities
The use of web crawling and scraping solutions helps tap into the voice of the customer and respond with greater precision. Adding sentiment analysis to the mix can help identify key areas and new opportunities to cater to the diverse needs of customers. Besides, acting on these insights can help CPG companies to create marketing campaigns to target potential consumers.
Use Case 2: Competitor Price Monitoring
Using advanced web crawling techniques, retail and CPG brands can gain a more holistic view of how specific entities or customer groups feel about not only their pricing but also that of their competitors' product pricing strategies. Leveraging and acting on this data can help them optimize pricing and promotions to coincide with market and customer expectations.
Request a FREE demo to get a glimpse of our web crawling dashboard.
Use Case 3: Product Catalog Monitoring
Web scraping and crawling also enable businesses to crawl and extract information from product catalogs and listings. The ability to monitor and analyze huge volumes of product data available on different websites gives CPG brands an opportunity to address customer concerns and meet their expectations regarding product specifications, accuracy, and design. This can help businesses in better targeting the audience through personalized offerings, leading to increased customer satisfaction and MROI.
Why Choose Quantzig as Your Web Crawling Services Provider?
When it comes to web crawling and scraping, we offer a wide spectrum of services that enable CPG companies to make the best use of web data. Our offerings include- data harvesting solutions, web data scraping, and web crawling solutions.
Over the past few years, we've worked on several projects to help CPG clients keep track of the trends in their niche market and increase their competitiveness.
Developed and implemented a data harvesting and collection solution for a US-based CPG company that needed to streamline its processes.
Devised an automated web data scraping dashboard for a consumer packaged goods manufacturer based out of Germany to save time and costs involved in data acquisition and analysis.
Amid the crisis, CPG companies are struggling to bounce back to normalcy. We can help you adapt to today's challenges and plan for future disruptions with confidence. Contact our experts right away!