Introduction
Business Process Automation Consulting is a specialized service provided by our experts who assess, analyze, and optimize your organization's business processes through cutting edge, codeless automation technologies. We work closely with you to customize your unique workflows, identify inefficiencies, and streamline operations using platforms such as Microsoft PowerAutomate. By implementing BPA strategies and technologies, your team can eliminate manual and repetitive tasks, improve productivity, reduce errors, cut operational costs by upto 75%, and enhance overall efficiency. Our BPA consulting solution aims to empower your teams with the tools and knowledge needed to achieve higher levels of performance and execute your processes 75% faster, thus buying them time to improve your business decisions rather than spend time in manual processes. In this comprehensive article, we'll deep dive into a range of benefits of business process automation consulting, its best practices, and what the upcoming future holds.
Make the most of your data!
Connect with us for tailor-made solutions
Importance of business process automation consulting for enterprises:
Embracing BPA Consulting empowers organizations to reclaim valuable resources, stay competitive, and achieve higher levels of efficiency and success in today's competitive market. The consultants help to track progress, determine performance metrics, and optimize business processes continuously. Studies reveal that a staggering 40-75% of efforts are squandered in labor-intensive processes that can easily be automated. Our expert BPA consultants are adept at pinpointing these inefficiencies and crafting tailored automation solutions. By streamlining workflows, BPA Consulting enhances productivity, minimizes errors, and slashes operational costs.
Elevate your business's performance with Business Process Automation (BPA) Consulting. The impact is profound: automating manual processes not only boosts efficiency but also fuels employee morale. Liberated from repetitive tasks, employees channel their potential into value-driven initiatives and propel business growth. The adept BPA consultants orchestrate this transformation, refine workflows, and reduce errors. By embracing BPA Consulting, you can streamline operations, save time and resources, and heighten productivity.
The key advantages of Business Process Automation Consulting for Enterprises: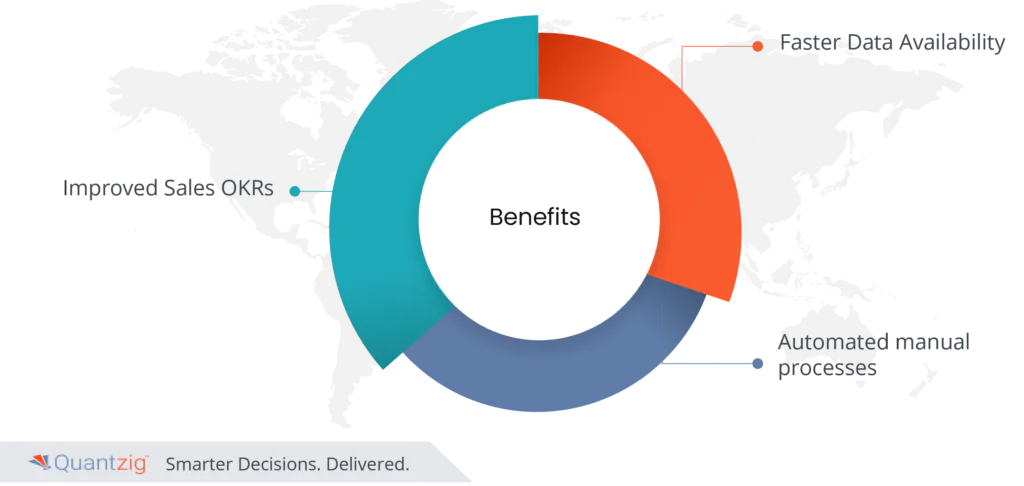 Business Process Automation (BPA) Consulting offers paramount advantages. By automating tasks, teams can divert attention to strategic business outcomes, and enhance production OKRs. This liberation from manual processes fuels efficiency and precision. BPA consultants craft tailored solutions, refine workflows, and minimize errors. You can experience streamlined operations, reduced costs, and amplified productivity. Embrace BPA Consulting for innovation-driven success, empowering teams to achieve remarkable business outcomes.
Business Process Automation (BPA) Consulting offers a pivotal advantage: expedited data availability. Through automation, data is swiftly accessible for analysis and informed decision-making. BPA consultants architect solutions that streamline processes and reduce delays and errors. This translates to accelerated operations, minimized downtime, and heightened efficiency. Embrace BPA Consulting to leverage advanced technology, ensuring agility in a competitive landscape. Experience faster, data-driven decision-making, resulting in enhanced outcomes and potent market advantage. 
Conclusion:
In conclusion, Business Process Automation (BPA) Consulting emerges as the transformative catalyst for organizational excellence. It ushers in unparalleled advantages by expediting data availability, enhancing decision-making, and propelling operational efficiency. BPA consultants engineer tailored solutions, streamlining workflows and reducing errors, resulting in elevated productivity and reduced costs. This holistic approach fosters a culture of innovation, empowering teams to focus on strategic business outcomes. Embracing BPA Consulting empowers organizations to lead with agility, harness cutting-edge technology, and secure a competitive edge in the ever-evolving market. Experience the paradigm shift toward success through BPA Consulting's strategic prowess.
Success Story:
How we revolutionized the business operations of a leading manufacturer with strategic business process automation consulting
Client Details: We recently partnered with a leading US-based manufacturing company with a dedicated workforce of 4000 employees and a vast product portfolio. Manual production planning, resource allocation, and lack of real-time insights were hampering their operational efficiency and growth potential.
Challenges: 
The client faced significant challenges due to the presence of a lot of manual operations such as demand smoothening, multiple approvals over emails, data consolidation and cleaning, etc. despite implementing a new third-party production planning platform. Manual estimation of demand, altering MRP, and creating manufacturing schedules led to inefficiencies. Errors in these labor-intensive tasks were prone to occur, causing delays, inaccuracies, and operational bottlenecks. The absence of streamlined processes hindered agility and responsiveness to market changes. Valuable time and resources were squandered on repetitive tasks, impeding productivity and growth. With BPA Consulting, these challenges could be identified and mitigated, driving accuracy, reducing costs, and fostering a more competitive and efficient business environment.
A lack of Business Process Automation (BPA) presented significant challenges for the client. The manual compliance monitoring of production and tracking planning across 85 products proved to be a laborious and error-prone endeavor. This approach hindered accuracy, leading to potential compliance issues and inefficiencies. The sheer complexity of managing multiple products exacerbated the problem, consuming valuable time and resources. Without streamlined processes, the client struggled to maintain pace with market demands and ensure regulatory adherence. BPA Consulting could have alleviated these challenges, enhancing accuracy, reducing errors, and fostering a more efficient and compliant operational landscape.
Make the most of your data!
Connect with us for tailor-made solutions
Solutions:
We created an integrated production planning solution that encompassed a demand planning module, capacity planning module, and manufacturing scheduling module to streamline the production process. This integration ensured efficient resource allocation, minimized bottlenecks, and optimized manufacturing timelines. The result was enhanced operational agility, reduced costs, and improved on-time delivery. Real-time data insights facilitated data-driven decision-making and fostered quicker adaptations to market changes. Our cutting-edge solution fortified the client's competitive stance by enhancing accuracy, reducing manual intervention, and empowering them to lead a rapidly evolving market, driven by a future-ready approach to production excellence.
We created alert systems whenever human intervention is required for business analysis and decision-making so that the end users are notified of process readiness and predictable outcomes. By receiving timely alerts, the client's teams could focus on critical tasks, reducing delays and bottlenecks. This proactive approach led to quicker decision-making, improved collaboration, and optimized resource allocation. Ultimately, the client benefited from increased efficiency, minimized errors, and elevated productivity, enabling them to seize opportunities and navigate challenges with agility and precision.
Impact Delivered:
100% data and process compliance
75 % improvement in workforce productivity
40% improvement in process completion time
Ready to transform your business? Contact us today to embark on your journey toward efficiency, innovation, and growth. today.