Introduction
Smart Automation is the effective use of many automation technologies such as artificial intelligence (AI), robotic process automation (RPA), and business process management (BPM) to scale and streamline decision-making processes across organizations. Our smart automation technology in integrated manufacturing processes revolutionizes productivity within pharmaceutical companies by seamlessly amalgamating cutting-edge technologies. This transformative approach optimizes production cycles, reduces errors, and ensures regulatory compliance through real-time data analytics, AI-driven quality control, and robotic precision. By synergizing human expertise with automated systems, pharmaceutical companies can expedite drug development, enhance operational efficiency, and elevate overall output, thereby fostering innovation and advancement in the industry. 
Importance of automation in pharmaceutical industry in the integrated manufacturing process:
Manufacturing process automation is a game-changer for pharmaceutical clients. Traditionally, capacity, schedule, and production planning tasks consume time and resources. Automation in pharmaceutical industry revolutionizes these processes by leveraging real-time data, AI, and robotics to eliminate labor-intensive inefficiencies. This ensures optimal resource utilization, reduces errors, and maintains regulatory compliance. The result is accelerated production cycles, minimized downtime, and faster time-to-market for critical drugs. By liberating personnel from mundane tasks, automation empowers them to focus on innovation and strategic growth. In essence, it enhances productivity, agility, and competitiveness, fostering success in the dynamic pharmaceutical landscape.
A substantial 40-75% of the valuable effort is lost in tasks that demand extensive labor, despite their potential for automation. These tasks suffer from prolonged timelines, errors, and resource drain. Smart automation offers a transformative solution by unlocking precision and speed while minimizing human intervention. It not only mitigates the requirements to hire new employees to perform repetitive, and the most labor-intensive tasks within your business but also improves the accuracy and speed with which work is carried out. By automating these processes, industries can reallocate human resources to strategic initiatives, enhance productivity, reduce costs, and accelerate overall growth.
Key benefits of smart automation in the integrated manufacturing process for pharmaceutical companies: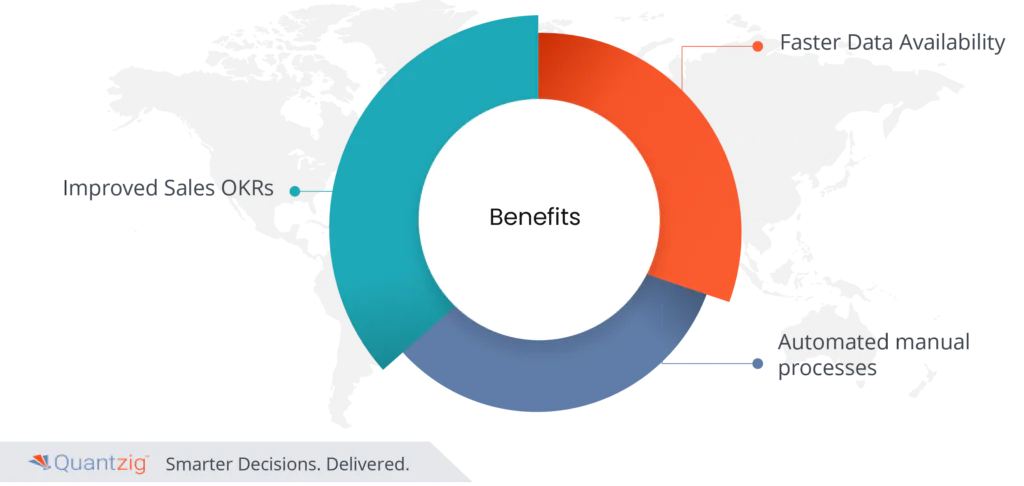 Manual processes such as data input process, demand planning process, shift planning, and production rescheduling can be sped up by 40%. By eliminating human error, enabling real-time adjustments, and swiftly analyzing data, smart automation optimizes these workflows. Besides, this technology rapidly translates to efficient resource allocation, timely responses to market changes, and enhanced overall productivity.
The production OKRs can improve since the team focuses more on business outcomes. By automating tasks, teams can divert attention to strategic business outcomes, and enhance production OKRs. This alignment of effort with key objectives leads to improved productivity, enhanced efficiency, and better utilization of resources. As a result, production objectives are not only met more effectively but also exceeded, as the team harnesses their expertise for driving innovation and delivering substantial value to their businesses.
Conclusion:
In conclusion, we can state that the key advantage of implementing automation in pharmaceutical industry in an integrated manufacturing process is saving on labor costs. By seamlessly blending cutting-edge technology, real-time data analysis, and adaptive algorithms, it eradicates inefficiencies, accelerates processes, and enhances precision. This not only optimizes resource allocation but also empowers skilled professionals to focus on innovation. The result is a streamlined, agile, and highly productive ecosystem that propels industries toward unprecedented levels of efficiency, competitiveness, and growth. Smart automation is not just a choice, it is the cornerstone of modern manufacturing excellence and drives industries into a future where possibilities are limitless, and success is inevitable.
Success Story:
Elevating Pharmaceutical Manufacturing: Quantzig's Smart Automation Success Story
Client Details: A leading pharmaceutical company located in the US.
Challenges: 
The clients manually received the sales projections and purchase orders from retail partners through emails, creating data issues, potential mistakes, and data version control solutions. These consequences collectively resulted in delayed responses to market changes, missed opportunities, strained relationships, and reduced competitiveness. Urgent intervention was imperative to restore accuracy, streamline processes, and regain a competitive edge in the business landscape.
The client faced significant challenges due to the presence of a lot of manual operations such as demand smoothening, multiple approvals over emails, data consolidation and cleaning, etc. despite implementing a new third-party production planning platform. Manual estimation of demand, altering MRP, and creating manufacturing schedules led to inefficiencies. These consequences collectively triggered excess costs, missed market opportunities, compromised customer satisfaction, and hindered competitiveness. As a result, the production team needed support in moving from the traditional process to the digitized version to alleviate these challenges and foster streamlined, agile operations.
Make the most of your data!
Connect with us for tailor-made solutions
Solutions:
At first, we created a consumption campaign to successfully implement the solution. Our visual workflow-based data management tool automatically received data from the retail partners, standardized the data, and managed data issues by automatically identifying the nature of the issue and sending an email to the retail partners automatically. These improvements led to precise demand forecasts, efficient MRP adjustments, and optimized manufacturing schedules. The result was enhanced operational efficiency, minimized errors, strengthened partnerships, and improved competitiveness, enabling the client to seize market opportunities swiftly and excel in their industry.
We created an integrated production planning solution that encompassed a demand planning module, capacity planning module, and manufacturing scheduling module to streamline the production process. This pharmaceutical automation ensured efficient resource allocation, minimized bottlenecks, and optimized manufacturing timelines. The result was enhanced operational agility, reduced costs, and improved on-time delivery. Real-time data insights facilitated data-driven decision-making and fostered quicker adaptations to market changes. Our cutting-edge solution fortified the client's competitive stance by enhancing accuracy, reducing manual intervention, and empowering them to lead a rapidly evolving market, driven by a future-ready approach to production excellence.
Impact Delivered: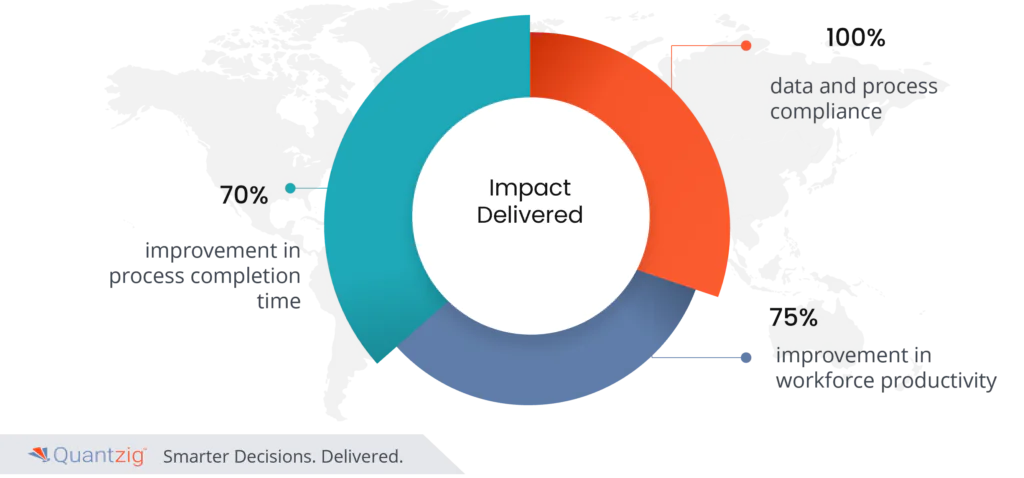 70% improvement in process completion time
100% data and process compliance
75% improvement in workforce productivity 
Dive into the transformative journey as Quantzig empowered a pharmaceutical industry leader with cutting-edge smart automation, revolutionizing integrated manufacturing processes. Explore the future of efficiency and innovation today!