Introduction
In this ever-evolving competitive business landscape, business process automation is considered an effective practice of using software to automatically execute many repetitive tasks associated with a company's essential procedures. It can streamline businesses for simplicity, improve service quality, achieve digital transformation, and improve service delivery or contain costs. You can utilize business automation processes in every aspect of your business and optimize processes for everything from marketing and sales to HR, training, compliance, and beyond. While you can use business process automation to optimize business processes, the benefits of business process management can involve tactics outside of automation to enhance and streamline procedures. This comprehensive article explores the pivotal benefits that automated business processes bestow upon enterprises of all sizes.
Importance of business process automation on enterprises:
Business process automation (BPA) plays a pivotal role in modern organizations, complementing ERP systems and planning software to overcome manual inefficiencies. By automating repetitive tasks like data cleansing, error corrections, and approval workflows, BPA accelerates processes, increasing productivity and agility, and automating business processes. This results in reduced turnaround times, faster deal closures, and enhanced customer satisfaction. Moreover, the business process automation strategy minimizes human errors, ensuring data accuracy and compliance with standardized procedures. Employees can redirect their efforts to strategic initiatives, fostering innovation and growth. Embracing BPA empowers businesses to optimize resource utilization, boost operational efficiency, and gain a competitive edge in a rapidly evolving market, leading to sustainable success.
Business process automation is vital for optimizing efficiency, reducing wastage, and staying competitive. Automating labor-intensive tasks slashes costs, accelerates workflows, and minimizes errors, allowing resources to focus on strategic initiatives. This streamlined approach enhances productivity, customer service, and overall performance. To automate business processes, businesses can adapt swiftly to market demands, driving innovation and scalability. By harnessing business process automation technologies to handle repetitive processes, companies gain a competitive edge, fostering growth and success. With increased agility and precision, organizations can thrive in today's fiercely competitive landscape, ensuring long-term viability and delivering top-notch solutions to their clients.
Challenges present in a lack of business process automation solutions:
The absence of business process automation solutions presents several challenges that impede organizational efficiency and competitiveness. Firstly, manual processes are prone to errors and inefficiencies, leading to data inaccuracies and delays. Inaccurate data hampers decision-making, hindering the ability to respond quickly to market changes. Without automation, employees spend valuable time on repetitive tasks, limiting their capacity to focus on strategic endeavors. Consequently, innovation and productivity suffer, hindering business growth.
Additionally, the lack of business process automation tools delays data availability, reducing the speed of analysis and decision-making. This slow response time can result in missed opportunities and reduced customer satisfaction. Furthermore, a manual approach restricts scalability and adaptability, limiting the organization's ability to cope with increasing demands and complexities. Embracing business process automation is crucial for achieving operational excellence, accelerating growth, and empowering employees to drive the organization toward lasting success in a fiercely competitive landscape.
The benefits of process automation for enterprises:
Business process automation (BPA) offers a plethora of key benefits that revolutionize the way companies operate. By streamlining repetitive tasks and workflows, BPA enhances operational efficiency, reducing human errors and costs. This increased productivity allows employees to focus on high-value tasks, fostering innovation and growth. Moreover, BPA ensures consistency and compliance by enforcing standardized procedures, leading to improved quality and customer satisfaction. Real-time data insights provided by automation enable data-driven decision-making, enhancing agility and responsiveness in a rapidly changing market. Ultimately, business process automation tools empower businesses to gain a competitive edge, optimize resource utilization, and achieve higher levels of success in today's dynamic and demanding business landscape.
Business process automation (BPA) holds immense importance in boosting employee morale and empowering them to make meaningful contributions to the organization. By automating repetitive and time-consuming manual tasks, BPA liberates employees from mundane activities, allowing them to focus on high-value, strategic initiatives. This fosters a sense of purpose and accomplishment, elevating job satisfaction and motivation. Additionally, BPA streamlines workflows, reducing stress and burnout caused by manual errors and delays. With more time and energy available, employees can unleash their creativity and innovation, driving continuous improvement and value addition to the business. In this competitive landscape, BPA becomes a catalyst for nurturing a dynamic, engaged workforce, propelling the organization toward sustainable growth and success.
Conclusion:
In conclusion, business process automation methodology offers a multitude of key benefits that significantly impact an organization's success. By automating labor-intensive tasks, companies can reduce wastage, improve efficiency, and cut operational costs. Increased accuracy and streamlined workflows lead to enhanced productivity and superior customer service. The ability to adapt swiftly to changing market demands fosters agility and scalability while freeing up resources for strategic initiatives drives innovation. Embracing automation provides a competitive edge, ensuring long-term viability and growth. Ultimately, business process automation empowers enterprises to optimize performance, stay ahead in a dynamic business landscape, and deliver exceptional results for the client.
Success Story:
How Quantzig's business process automation consultant Transformed a Leading Manufacturing company's Efficiency and Accuracy
Client Details: Quantzig recently partnered with a leading manufacturing company headquartered located in the USA. They specialize in producing industrial equipment and have a vast network of suppliers and distributors.
Challenges: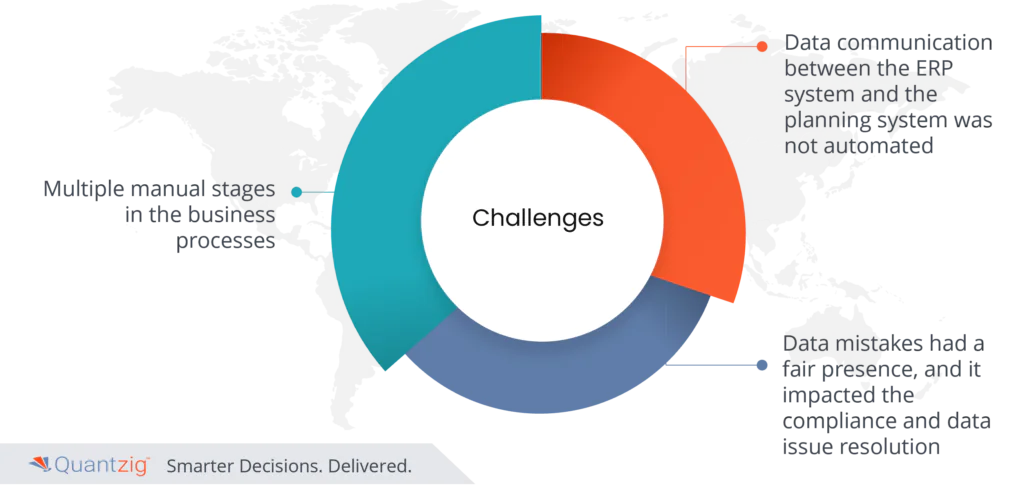 Multiple manual stages in the business processes
The client grappled with numerous manual stages in their business processes, burdened by vendor data arriving via email attachments. The painstaking task of tracking information from multiple vendors, followed by data cleaning and Excel operations, led to significant time consumption. Sending the processed data for approvals further added to the challenges. The absence of automation heightened the risk of errors and caused substantial delays in approvals, culminating in an alarming 80% drop in productivity. To remain competitive, the client urgently needed streamlined workflows and automated solutions to optimize efficiency and accuracy in their business operations.
Data communication between the ERP system and the planning system was not automated
They faced significant challenges due to the lack of automation in data communication between their ERP and planning systems. Manual processes for version control, data quality checks, and data coordination among team members consumed a substantial portion (60-70%) of their resources and bandwidth. This manual approach resulted in potential data discrepancies, increased error rates, and hindered overall efficiency. Moreover, it made tracking changes and ensuring data accuracy difficult, leading to potential delays and operational inefficiencies.
Data mistakes had a fair presence, that impacted the compliance and data issue resolution
The client encountered significant challenges with data mistakes, which had a notable impact on compliance and data issue resolution. Manual data handling processes led to an increased occurrence of errors and inaccuracies, affecting the accuracy and reliability of the data. As a result, compliance with regulations and industry standards became more difficult to achieve, potentially leading to legal and operational consequences. Additionally, the resolution of data issues became time-consuming and complex due to the lack of automated data validation and error detection mechanisms.
Solutions:
Quantzig conducted structured end-user discussions to quickly discover process inefficiencies and collaboration automation opportunities. Through this, we created a solution blueprint to improve each business process. Our team created custom-built automation applications such as demand planning automation, NLP, and OCR-based invoice data flow and setup alert and workflow automation so that collaboration becomes easier.
The automation of data gathering through Excel and Emails, along with automated quality control and data transformation processes, significantly benefited the client. By streamlining these operations, the client experienced enhanced efficiency and accuracy in data handling, leading to reduced errors and improved data reliability. The creation of a standardized UI facilitated seamless collaboration and data sharing across global teams, promoting consistency and better communication. Overall, the automation and standardization efforts not only saved time and resources but also allowed the client to make better-informed decisions, optimize workflows, and achieve higher levels of productivity and performance.
Impact Delivered: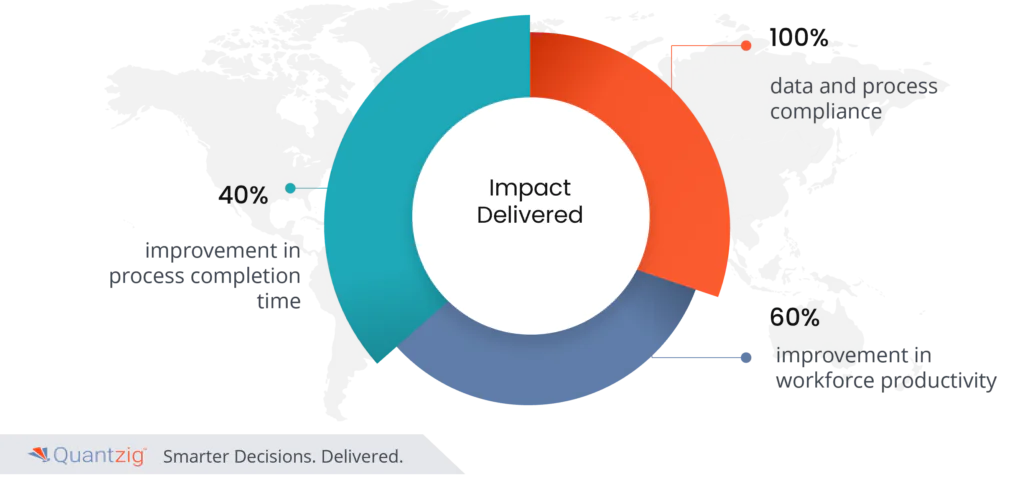 40% improvement in process completion time
100% data and process compliance
60% improvement in workforce productivity