Introduction
In today's fast-paced business landscape, where efficiency and productivity are paramount, manual workflows can often hinder progress. However, a game-changing solution lies in the realm of Business Process Automation (BPA). By seamlessly integrating technology and human expertise, BPA empowers organizations to automate business processes, streamline their operations, enhance accuracy, and drive innovation. This transformative approach liberates valuable human resources from mundane tasks, allowing them to focus on higher-value activities. Join us on a journey to explore the boundless possibilities of BPA, as we unlock unprecedented levels of productivity and unleash the full potential of your enterprise. Embrace the future of automation and unlock a world of limitless possibilities for your business.
Make the most of your data!
Connect with us for tailor-made solutions
Importance of Business Process Automation to automate manual workflows:
In an era where time is money, harnessing the power of Business Process Automation (BPA) can revolutionize your business. By automating manual workflows like customer fingerprinting, order fulfillment, data QC, processing approvals, and more, you can elevate workforce efficiency and capacity utilization. BPA enables seamless integration, reduces errors, and accelerates task completion, unlocking greater productivity and cost savings. Moreover, automation liberates your workforce from repetitive tasks, empowering them to focus on strategic initiatives and fostering innovation. Embrace the transformative potential of BPA, and propel your business toward a streamlined, agile, and competitive future. Let automation be the catalyst for your success.
In the dynamic landscape of modern business, the untapped potential of Business Process Automation (BPA) shines as a beacon of efficiency. Manual workflows, consuming a staggering 40-70% of effort, present a prime opportunity for automation. By embracing BPA, organizations can liberate their workforce from labor-intensive tasks, unleashing their full creative and strategic potential. The transformative power of automation not only minimizes errors but also accelerates task completion, leading to heightened productivity and cost-effectiveness. As businesses journey toward the future, the choice to automate manual workflows becomes an imperative step in unlocking newfound agility, innovation, and competitive advantage. Embrace BPA, and let it catalyze your path to success.
Benefits of Business Process Automation for Enterprises: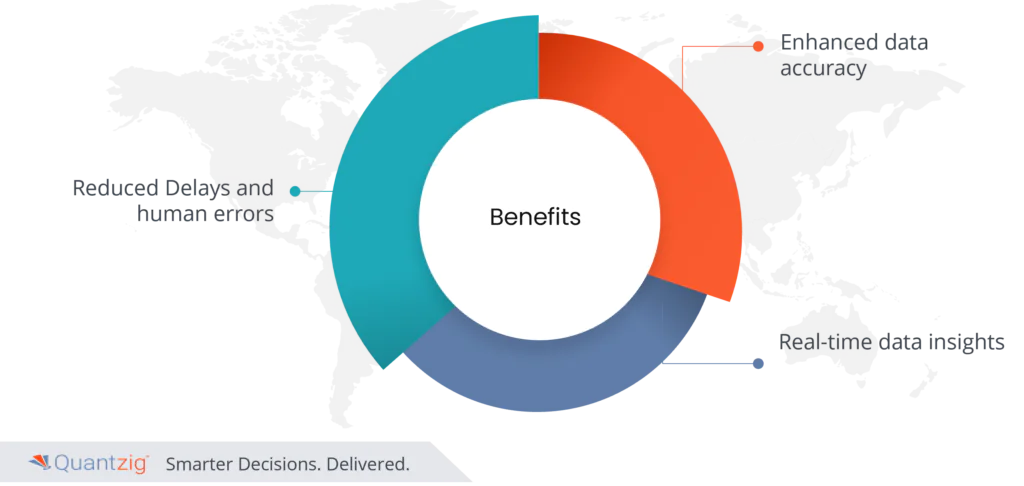 Embracing the transformative potential of Business Process Automation (BPA) offers businesses a fast track to success. Manual workflows that once consumed valuable time, like data input, demand planning, shift planning, and production rescheduling, can now be accelerated by an impressive 40%. By automating these processes, organizations unlock a plethora of benefits. Efficiency soars as errors diminish, enabling faster decision-making and streamlined operations. With workforce efforts freed from mundane tasks, they can focus on strategic endeavors and innovation. Productivity skyrockets, costs are optimized, and agility becomes second nature. Embrace BPA, and witness your business thrive amidst the boundless opportunities' automation has to offer.
Manual workflows, often plagued by delays and human errors, hinder timely data availability for analysis and decision-making. However, by embracing the transformative power of business process automation tools, organizations can unlock a plethora of benefits. With automation streamlining data input, processing, and reporting, information becomes readily accessible at lightning speed. Real-time insights empower decision-makers to act swiftly and decisively, gaining a competitive edge in the fast-paced business landscape. Moreover, automated workflows ensure data accuracy, enhancing the reliability of analyses. Witness your businesses thrive with BPA as the catalyst, as faster data availability becomes the cornerstone of informed and strategic decision-making, driving success and growth.
Conclusion:
In conclusion, the transformative power of Business Process Automation (BPA) has become imperative for businesses seeking to thrive in the digital age. Manual workflows, once hindrances to efficiency and growth, can now be seamlessly automated, unleashing a world of possibilities. BPA not only accelerates processes and minimizes errors but also empowers organizations to reallocate valuable human resources toward strategic innovation. Embracing automation is not merely a choice; it is a necessity for businesses aspiring to stay agile, competitive, and relevant. As technology continues to advance, the path to success lies in harnessing BPA to unlock unparalleled efficiency, productivity, and potential.
Success Story:
Revolutionizing Retail Operations-How Quantzig Empowered an E-commerce Retailer in the USA with Manual Workflow Automation
Client Details: The US-based E-Commerce Retailer, with more than $1 Bn market capitalization and a strong workforce of 3000 employees.  
Challenges: 
After completing a successful digital transformation journey, the client sought to further optimize their processes for enhanced efficiency. Eager to identify areas of improvement, they sought a reliable partner to scrutinize their workflows and tackle micro-inefficiencies that, when combined, resulted in suboptimal process utilization. These seemingly minor bottlenecks had a cascading effect, hindering overall productivity and preventing the client from fully capitalizing on the benefits of their digital transformation. Addressing these challenges required a keen eye for detail, an understanding of complex interdependencies, and a tailored approach to drive significant enhancements in their operational ecosystem.
The planning team grappled with the arduous task of manually estimating demand, planning MRP changes, and creating manufacturing schedules. This labor-intensive process posed significant challenges, including time-consuming efforts, increased likelihood of errors, and limited flexibility in adapting to dynamic market conditions. The absence of automation hindered real-time insights, leading to suboptimal decision-making and potential delays in meeting customer demands. Moreover, the team's valuable expertise was disproportionately invested in repetitive tasks, diverting attention from strategic initiatives. Seeking a transformative solution, the client yearned to embrace Business Process Automation, to unlock newfound efficiency, accuracy, and agility, propelling them toward a future of streamlined planning and operational excellence.
Make the most of your data!
Connect with us for tailor-made solutions
Solutions:
Quantzig, armed with expertise and innovation, presented the client with a comprehensive digital transformation blueprint. Our meticulous analysis identified a multitude of automation opportunities across the organization. Leveraging the latest technology stack, we crafted agile and scalable solutions, promising rapid deployment within a few months. By embracing automation, we empowered the client to swiftly extract efficiencies from their processes. Through seamless integration and cutting-edge tools, we unlocked a world of streamlined operations, real-time insights, and enhanced decision-making capabilities. The solutions we provided became the cornerstone of the client's journey towards optimized efficiency, cost savings, and a future-ready, digitally transformed enterprise.
At Quantzig, we crafted bespoke automation solutions that seamlessly integrated with the client's existing processes, ensuring a smooth transition for end users. Our innovative approach focused on designing a new user interface that retained familiarity, eliminating alienation concerns. By harnessing the power of automation, we revolutionized mundane processes, drastically reducing manpower requirements and liberating the client's workforce from repetitive tasks. This transformative solution not only optimized operational efficiency but also empowered the client to redirect valuable resources toward strategic initiatives and higher-value activities. The result was a harmonious blend of cutting-edge technology and user-centric design, laying the foundation for an agile, efficient, and future-ready organization.
Impact Delivered: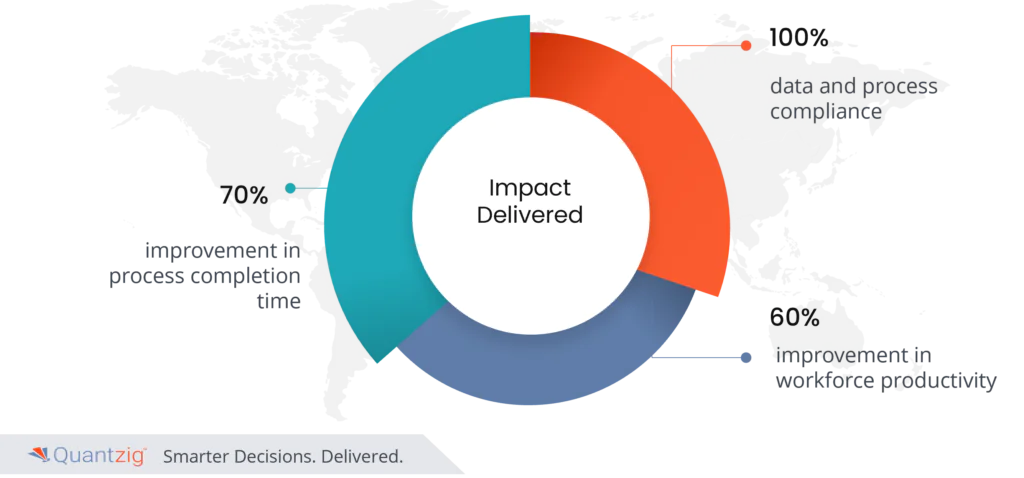 70% improvement in process completion time
100% data and process compliance 
60% improvement in workforce productivity
Discover how automation can revolutionize your business. Contact Quantzig today for a transformative consultation. Let's unlock your true potential together!