Introduction
In today's fast-paced digital landscape, staying at the forefront of application management services is imperative for businesses seeking a competitive edge. As technology continues to advance, so too do the strategies and trends that define the management of applications critical to an organization's success. This article explores the "Top Trends in Application Management Services," shedding light on the dynamic landscape shaping the way businesses deploy, monitor, and optimize their applications. From the growing influence of AI and automation to the increasing emphasis on security and scalability, this comprehensive guide delves into the strategies and innovations that will define the future of application management. Join us on a journey through the evolving realm of AMS, where staying informed is the key to staying ahead.
Importance of Application Management Services:
The landscape of Application Management Services (AMS) is evolving at an unprecedented pace, with several key trends reshaping the way organizations deploy, manage, and optimize their applications. These trends not only offer efficiency gains but also empower businesses to stay competitive in today's digital-driven marketplace. Here, we delve into the top trends in AMS that are driving innovation and transforming application management practices.
1. Cloud-Native Application Management:
Cloud-native applications, designed from the ground up for cloud deployment, have become a cornerstone of modern IT. AMS providers are increasingly embracing cloud-native technologies to facilitate the deployment and management of applications. This approach offers scalability, agility, and cost-efficiency benefits. By leveraging a cloud-based AMS provider, organizations can streamline their application management processes, reduce costs, enhance agility, and seamlessly scale their applications to meet fluctuating demands. It empowers businesses to harness the full potential of the cloud, optimizing both operations and economics.
2. DevOps and Agile Methodologies:
DevOps and agile methodologies have revolutionized software development by fostering collaboration, automation, and iterative practices. Today, these methodologies are not confined to development teams but are also integral to AMS providers. By adopting DevOps and agile principles, AMS providers can significantly enhance the efficiency and effectiveness of their services. This translates into accelerated application development and delivery, reducing time-to-market by a remarkable factor of 10x. Moreover, the risk of errors can be mitigated by up to 60%, ensuring the reliability and quality of applications.
3. Artificial Intelligence and Machine Learning:
Artificial intelligence (AI) and machine learning (ML) have found their way into the heart of AMS, enabling intelligent automation and predictive capabilities. AI can identify and address performance issues proactively, while ML can predict and prevent potential outages. An AMS provider leveraging AI and ML can automate routine tasks, enhancing process efficiency and reducing operational costs by up to 60%. Additionally, the predictive nature of these technologies helps improve application reliability and user experience and reinforces an organization's competitive advantage.
4. Security and Compliance Focus:
With the ever-growing importance of data security and regulatory compliance, AMS providers are developing advanced solutions to address these concerns. Organizations partnering with AMS providers that prioritize security and compliance can safeguard their applications from unauthorized access and ensure adherence to industry regulations. This not only protects sensitive data but also shields organizations from costly fines and penalties associated with compliance violations, reinforcing trust and reputation.
5. Serverless Computing Adoption:
Serverless computing is a transformative cloud model that liberates organizations from server management hassles. AMS providers are increasingly incorporating serverless computing into their service portfolios, enabling organizations to run applications without the burden of server infrastructure management. This approach slashes costs significantly while improving agility by up to 70% and allows organizations to focus more on innovation and core business activities.
In conclusion, the top trends in AMS represent a seismic shift in how organizations approach application management. These trends empower businesses to harness the full potential of their applications, reduce operational costs, enhance agility, ensure security and compliance, and expedite the delivery of innovative solutions to market. To remain competitive in today's digital era, organizations must embrace these trends and seek AMS providers that align with their strategic goals and technological aspirations.
Benefits of implementing application management services:
Implementing Application Management Services (AMS) in business applications yields a myriad of tangible benefits, positioning organizations for enhanced operational excellence and competitiveness in the digital era.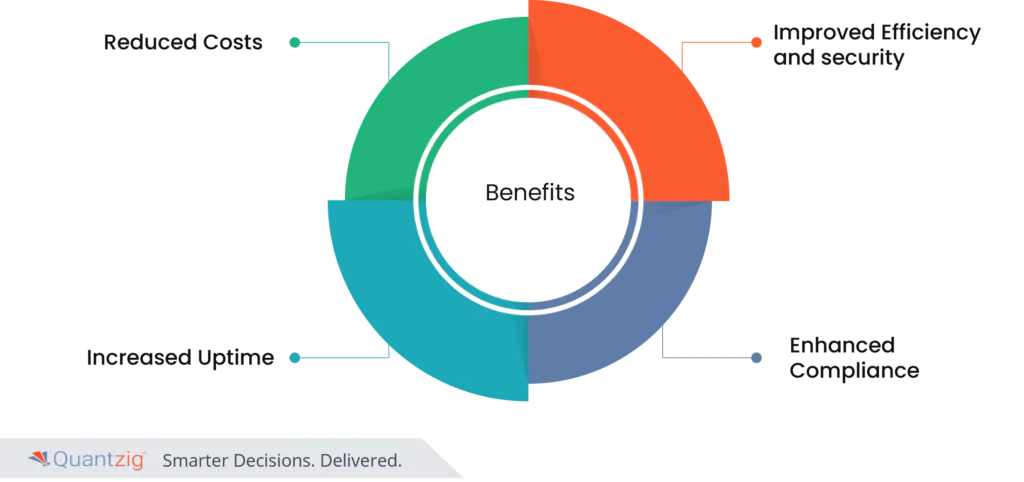 1. Reduced Costs:
AMS substantially reduces the financial burden associated with managing applications. It minimizes expenses related to hiring and training in-house staff, the procurement and maintenance of hardware and software infrastructure, and the costs incurred during application downtime. By outsourcing application management to experts, organizations can streamline their budgets and allocate resources more strategically.
2. Improved Efficiency:
AMS optimizes the efficiency of application management processes. It facilitates rapid provisioning of new applications, seamless deployment of updates, and efficient incident resolution. This ensures that applications remain up-to-date and operational, reducing delays and improving overall productivity.
3. Increased Uptime:
AMS providers offer round-the-clock monitoring and support, guaranteeing increased uptime for critical applications. 24/7 vigilance ensures that issues are identified and addressed promptly, minimizing disruptions and downtime. This heightened availability is crucial for businesses reliant on uninterrupted services.
4. Improved Security:
Security is paramount in the digital landscape, and AMS plays a vital role in fortifying application security. AMS providers implement robust security best practices, conduct security monitoring, and perform regular audits. This proactive approach shields applications from vulnerabilities, threats, and breaches, safeguards sensitive data, and maintains customer trust.
5. Enhanced Compliance:
Regulatory compliance is a growing concern for businesses in various industries. AMS providers help organizations navigate complex regulatory landscapes by offering compliance reporting and implementing best practices. This ensures that applications adhere to industry-specific regulations, reducing the risk of non-compliance penalties and reputational damage.
In conclusion, the implementation of Application Management Services not only alleviates the financial burden of application management but also significantly enhances operational efficiency, application availability, security, and regulatory compliance. By entrusting these critical aspects to specialized AMS providers, organizations can focus on their core competencies, drive innovation, and remain competitive in an ever-evolving digital landscape.
Conclusion
In the ever-evolving realm of Application Management Services, adaptation is the key to resilience and success. As we conclude our exploration of the "Top Trends in Application Management Services," it is abundantly clear that these trends are more than just technological advancements—they are the blueprint for a competitive future. Embracing cloud-native solutions, harnessing the power of AI-driven automation, and prioritizing efficiency and security are no longer options; they are imperatives. Those who embrace these trends stand to gain a significant competitive edge, offering seamless, secure, and agile solutions that drive business growth and innovation in an increasingly digital world.
Success Story
"Elevating Operational Excellence: A Transformational Journey with Quantzig's Application Management Services"
Client Details:
A leading chemical manufacturing company located in the US.
Challenges
A significant challenge faced by a large chemical manufacturer was the imperative need to develop a cloud-native application. This application's primary purpose was to efficiently catalog their extensive data resources, thereby enabling swift and seamless referencing for their application development endeavors.
Solutions
Quantzig successfully delivered an end-to-end solution for one-click data cataloging using Microsoft Power platforms. Leveraging PowerApps, we crafted a user-friendly application interface that seamlessly integrated with PowerBI for robust data visualization. Additionally, Power Automate was harnessed to drive efficient backend processes and automation, ensuring a streamlined and efficient data cataloging solution for our client, enhancing their data management capabilities, and facilitating more agile and informed decision-making.
Impact Delivered: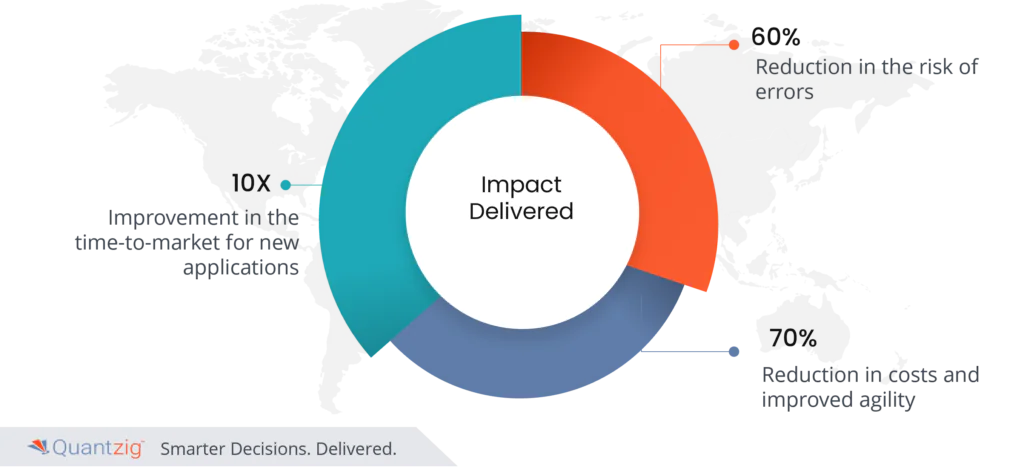 Improve the time-to-market for new applications by 10x.
Reduce the risk of errors by up to 60%.
Reduce costs and improve agility by up to 70%
"Discover How Our AMS Solutions Transformed Our Client's Business. Read the Full Case Study Now!"