Introduction
In the fast-paced world of Consumer-Packaged Goods (CPG), staying ahead of consumer demands is paramount for success. Traditional demand planning methods are no longer sufficient in today's dynamic market landscape. Enter demand sensing, the revolutionary upgrade that is transforming the CPG industry. This cutting-edge approach leverages real-time data, advanced analytics, and machine learning to predict and respond to shifts in consumer preferences and market trends with unprecedented accuracy. In this article, we delve into the essential role demand sensing plays in enhancing supply chain efficiency, reducing costs, and ultimately, satisfying the ever-evolving demands of today's consumers in the CPG sector.
Importance of demand sensing in the CPG industry:
In today's digital ecosystem, the Consumer-Packaged Goods (CPG) industry faces unprecedented challenges. Macro events, such as global economic fluctuations or unexpected supply chain disruptions, coupled with rapid changes in consumer preferences, create an environment of constant volatility. Furthermore, consumers now have multiple fulfillment options, from online shopping to in-store purchases, further complicating supply chain planning.
To navigate these complex dynamics, CPG companies require advanced demand-sensing solutions. These tools utilize real-time data analytics, machine learning, and predictive algorithms to anticipate market shifts and demand fluctuations far in advance of traditional human judgment. By leveraging data-driven insights, these solutions enable companies to adapt their supply chain operations with high precision to align with these anticipated variances.
In essence, demand-sensing solutions empower CPG companies to build resilient and streamlined supply chains capable of withstanding a wide range of scenarios. They enhance operational efficiency, reduce costs, minimize stockouts, and optimize inventory management. In an era where adaptability and responsiveness are paramount, these technologies are the key to staying competitive and meeting consumer demands effectively.
Challenges/Problems faced while implementing demand sensing:
Traditional demand planning systems predominantly rely on historical data to forecast future demand patterns. While these methods have been effective to some extent, they are inherently backward-looking. They base predictions on past performance and may not adequately account for rapid shifts in consumer behavior and market dynamics. Demand-sensing modules, on the other hand, employ advanced analytics and real-time data to anticipate future demand. This forward-looking approach acknowledges that historical accuracy is not always a reliable indicator of future trends, especially in today's dynamic marketplace.
However, demand-sensing does face challenges in terms of data quality. Sources of data beyond historical records, such as consumer conversations, news articles, forums, and publications, often lack the rigor and consistency of structured historical data. This makes it challenging to effectively incorporate them into predictive models. Additionally, these sources can be highly subjective and may not always provide actionable insights. Unforeseen disruptions, such as global crises or natural disasters, reliance on such data sources can be limited, as they may not adequately capture the scale or impact of these events. Balancing the benefits of forward-looking demand sensing with the limitations of non-traditional data sources remains a critical challenge for supply chain professionals.
Benefits of implementing demand sensing in the CPG sector:
Legacy solutions in demand planning predominantly rely on historical data, making them past-focused and less capable of accurately predicting future market dynamics. In contrast, demand-sensing solutions embrace a current and future-oriented approach. They leverage real-time data, advanced analytics, and machine learning algorithms to anticipate shifts in consumer demand and market trends. This not only enhances their accuracy for day-to-day operational decisions but also provides invaluable strategic insights for medium to long-term planning.
Moreover, modern demand-sensing solutions continuously adapt and calibrate themselves in response to changing market conditions. They can swiftly incorporate new data inputs, react to emerging trends, and adjust their forecasts, making them highly actionable at an early stage. This agility is crucial in today's rapidly evolving business landscape, where market disruptions, competitive pressures, and consumer preferences can change swiftly. By providing real-time insights and the ability to pivot strategies promptly, demand-sensing solutions empower companies to proactively respond to market shifts, optimize inventory management, reduce costs, and ultimately gain a competitive edge in the ever-changing business environment.
Conclusion
In the dynamic realm of Consumer-Packaged Goods (CPG), the adoption of demand sensing is not just an upgrade; it's a necessity for survival and success. This revolutionary approach, driven by real-time data and advanced analytics, equips companies with the agility needed to navigate unpredictable consumer demands and market fluctuations. Demand sensing's power lies in its ability to provide not just immediate operational benefits but also a strategic edge, enabling CPG businesses to proactively shape their future. In a landscape where adaptability and precision are paramount, embracing demand sensing is not an option; it's the essential compass guiding CPG companies toward resilience, efficiency, and enduring relevance.
Success Story
"Elevating CPG Excellence: Quantzig's Demand Sensing Transformation"
Client Details:
A leading CPG company located in the USA.
The challenges faced by the Client:
The existing demand forecasting solution employed a one-size-fits-all methodology, which proved inadequate for capturing the nuanced signals emerging from the marketing department. This limitation led to a disconnect between marketing strategies and demand predictions, resulting in suboptimal inventory management.
The consequences of this forecasting inaccuracy were substantial. The client encountered two critical issues: first, a surplus of certain Stock Keeping Units (SKUs), leading to a pile-up of excess inventory, tying up valuable capital and warehouse space. Second, there were stockouts for other SKUs, causing missed sales opportunities and customer dissatisfaction. Collectively, these challenges incurred significant financial losses, exceeding $200 million.
Recognizing the urgent need for a more effective solution, the client sought to implement a demand forecasting system capable of delivering at least a 20% improvement in overall accuracy. This targeted improvement aimed to address the issues of overstock and stockouts, optimizing inventory levels, reducing costs, and ultimately enhancing customer satisfaction, thereby safeguarding the client's profitability and market competitiveness.
Solutions offered by QZ:
Quantzig delivered valuable assistance to the client through a multi-faceted approach, aimed at enhancing deal conversion rates and optimizing salesforce performance.
Firstly, our team harnessed its expertise by aggregating data from diverse knowledge forums and platforms to identify critical influencing factors for deal conversion. These factors encompassed deal size, incumbent vendor, business segment, opportunity type, product, period, and seasonality. This data-driven approach provided the client with a comprehensive understanding of the various elements shaping their sales outcomes.
Secondly, we implemented an objective Key Evaluation Driver (KED) framework, tailored to the client's specific needs. This framework served as a structured guide for evaluating salesforce performance against key performance indicators (KEDs). By aligning sales activities with these KEDs, they gained greater visibility into their team's strengths and areas for improvement.
Finally, Quantzig leveraged advanced modeling techniques to construct a win/loss predictor. This predictive model enabled them to anticipate the outcome of potential deals with greater accuracy, enhancing their decision-making process. By dissecting historical data and considering the identified influencing factors, the win/loss predictor empowered the client to proactively strategize and allocate resources effectively, ultimately driving higher deal conversion rates and optimizing their salesforce's overall performance.
Impact Delivered: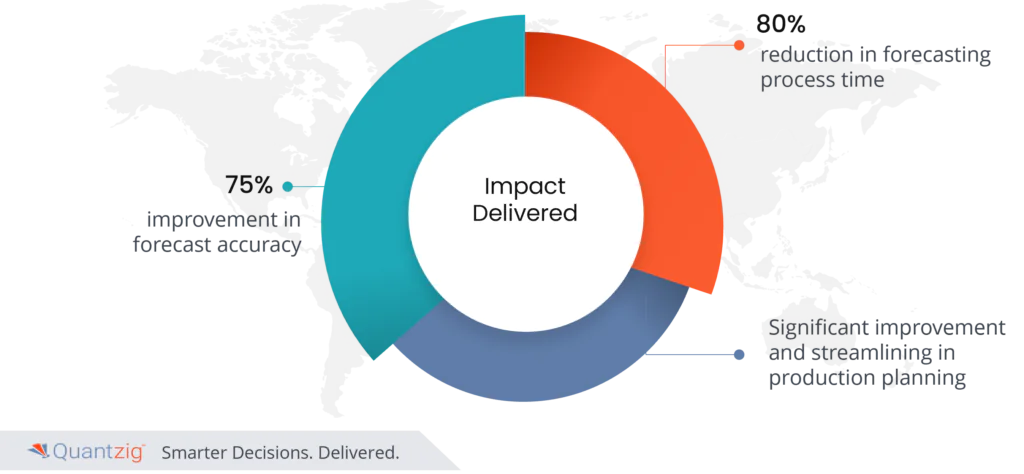 75% improvement in forecast accuracy
80% reduction in forecasting process time
Significant improvement and streamlining in production planning.
"Ready to Enhance Your CPG Demand Planning? Discover How Quantzig Can Help!"