Introduction
The New Product Development Process (NPD) in the consumer electronics industry covers all the critical requirements of the dynamic electronics market and makes the electronic products saleable. NPD in the consumer electronics industry is not just about batteries and motherboards, it involves a wide range of consumer-focused goods driven by trends in fashion and style. Even the latest advanced technologies need to have some innovations in products designs elements to inspire and connect people to want to use them.
This article delves into the intricate relationship between innovations in products and the successful deployment of new product development processes within the consumer electronics industry. By scrutinizing the strategic approaches, market dynamics, and technological advancements that underpin this synergy, readers will gain valuable insights into how pioneering companies effectively navigate this terrain. From conceptualization to market launch, we explore the pivotal strategies of product development, emphasizing the role of innovation in not only meeting customer demands but also reshaping and redefining the industry's competitive landscape.
Why does the new product development process in the consumer electronics industry require?
Discover consumer trends for the next 3 years:
Over the next 3 years, consumer trends are poised to undergo significant transformations. Sustainability will remain paramount, with eco-friendly products and sustainable practices. The digital realm will continue to shape shopping habits, as e-commerce and virtual expenses gain prominence. As remote work becomes a norm, demand for high-quality remote work tech will persist, including advanced video conferencing equipment and home office setups. With health-conscious consumers on the rise, wearable health tech, biometric monitoring, and digital fitness solutions will gain momentum. Success in consumer electronics will hinge on a proactive embrace of these trends, with companies focusing on agility, sustainability, and consumer-centric innovation to remain competitive.
Identify key product novelties and features of importance for consumers:
In the realm of consumer electronics, the relationship between product innovation and success is defined by consumer-centric features. Key novelties include cutting-edge technology that delivers faster processors, and enhanced displays and ensures products stay ahead of the curve. Seamless connectivity across devices and platforms is now a non-negotiable expectation, necessitating innovative integration solutions during product development. Incorporating these consumer preferences within the new development process is instrumental in achieving success in the competitive consumer electronics landscape, aligning innovation with consumer demands.
Market share capture through early introduction:
Market share capture through early introduction is a strategic imperative in the consumer electronics industry because being among the first to introduce innovative products to the market is a powerful success driver. Early adopters gain a competitive edge by capitalizing on consumer excitement and curiosity. When a consumer electronics company consistently pioneers groundbreaking products, it builds trust and attracts a loyal customer base. To sum up, the synergy between innovation, swift product development, and early market entry is pivotal for achieving and maintaining market leadership in the fast-paced world of consumer electronics.
Challenges of the consumer goods industry during the implementation of the new product development process:
No reliable access to consumer insights and trends:
A lack of reliable access to consumer insights and trends poses significant challenges in the consumer electronics industry's new product development processes. Without accurate data and understanding of evolving consumer preferences, companies risk several detrimental consequences. Firstly, they may develop products that fail to resonate with the target audience, leading to costly product flops and inventory write-offs. Secondly, the absence of consumer insights hampers the ability to identify emerging trends, making it difficult to stay competitive in a rapidly evolving market. Companies may miss opportunities to address specific pain points or desires of consumers, which results in suboptimal product features. Moreover, marketing efforts become less effective, as messages may not align with what consumers truly seek.
Discovered trends can be fads resulting in poor ROI:
The consumer electronics industry faces substantial challenges when trends are mistaken for enduring fads, leading to poor ROI. Without a robust new product development process, companies may hastily jump on trending technologies or features without a deep understanding of their long-term viability. This can result in rushed product development, suboptimal investments, and marketing campaigns that may not align with consumer preferences once the novelty wears off. Consequently, the products can become obsolete or fail to meet evolving consumer demands, which leads to financial losses and damaged brand credibility. Furthermore, a lack of careful trend analysis can divert resources away from genuinely innovative developments and hinder a company's ability to differentiate itself in the market.
Lack of prioritization on innovative product ideas:
This industry grapples with challenges when it fails to prioritize innovative ideas in the new product development process. Without a structured approach to idea prioritization, companies may find themselves overwhelmed with numerous concepts, that result in unfocused R&D efforts and resource misallocation. This lack of prioritization can stifle true innovation, as promising ideas may languish while resources are squandered on less impactful projects. Furthermore, the absence of a clear prioritization strategy can lead to "me-too" products that merely mimic competitors', eroding a brand's distinctiveness and competitive advantage.
Key benefits of product development innovation in consumer electronics: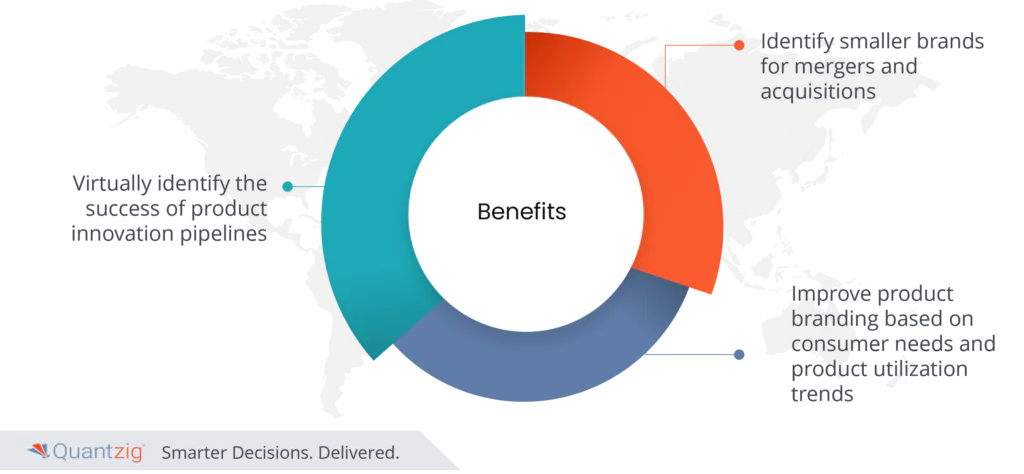 Virtually identify the success of product innovation pipelines:
A well-defined product development process enables companies to consistently introduce cutting-edge electronics and help position them as industry leaders. It fosters a culture of continuous improvement by allowing companies to adapt swiftly to emerging technologies and consumer preferences. Delivering innovative features and cutting-edge technology not only attracts new customers but also cultivates brand loyalty among existing ones.
Identify smaller brands for mergers and acquisitions:
The NPD process in the consumer electronics industry serves as a strategic lens for identifying smaller brands ripe for mergers & acquisitions. By closely monitoring the innovation landscape, established players can spot emerging brands with unique technologies, and promise product portfolios, or disruptive innovations that align with their growth strategies. Through NPD, larger companies gain insights into the agility and potential of smaller brands. This process often reveals the hidden gems that, when integrated into the larger entity, can expand the product range, boost market share, and drive competitive advantages. Smaller brands, on the other hand, benefit from the resources, distribution channels, and market reach of their acquirers.
Improve product branding based on consumer needs and product utilization trends:
The NPD process also serves as a vital tool for innovating products branding by aligning offerings with consumer needs and utilization trends. By rigorously researching and analyzing these aspects, companies can bring innovation in product design that precisely caters to user preferences and bolster their brand image as customer-centric innovators. Through continuous market research and trend analysis within the NPD process, companies gain insights into evolving consumer desires and usage patterns. This knowledge informs innovation in product design, feature selection, and marketing strategies that result in products that resonate with consumers and meet their evolving expectations.
Conclusion
In conclusion, the symbiotic relationship between innovative products and the success of consumer electronics, facilitated by a well-structured new product development process, is paramount in navigating the competitive landscape of this dynamic industry. By constantly pushing the boundaries of technologies and aligning innovations with consumer needs, companies cannot only thrive but also lead the market. The strategic integration of cutting-edge features, seamless connectivity, sustainability, and user-centric design is pivotal. In this relentless pursuit of innovation, businesses can ensure brand loyalty, capture market share, and solidify their position as pioneers in delivering the next generation of consumer electronics.
Success Story
Elevating consumer electronics success: how Quantzig revolutionized product innovation process with new development strategies.
Client Details: A leading consumer electronics company located in the North America
Challenges
No reliable access to consumer insights and trends:
Firstly, the absence of reliable access to consumer insights and trends left them in the dark regarding evolving consumer preferences and market dynamics. This lack of data hindered their ability to make informed decisions during the innovation in products and services, risking the development of products that might not align with actual consumer demands.
Discovered trends can be fads resulting in poor ROI:
The client faced the predicament of discovered trends potentially being short-lived fads, that led to poor ROI. Without a robust method for distinguishing between fads and ensuring trends, they risked investing resources in innovation and product development that might not yield long-term profitability.
lack of prioritization on innovation ideas:
Moreover, the lack of prioritization of innovative ideas further compounded their challenges. Without a clear strategy for identifying and pursuing the most promising concepts, they struggled with resource allocation, potentially stifling their ability to bring truly innovative products to market.
Solutions
Innovation discovery platform that uses LLM and NLP methods to identify upcoming product trends:
The innovation discovery platform utilizing LLM (Language Model) and NLP (Natural Language Processing) methods proved instrumental for the client by providing them with valuable insights into upcoming product trends. By analyzing vast amounts of textual data, this platform enabled the client to pinpoint emerging consumer preferences and market shifts with precision. Then, they were able to make informed decisions during new product development, reducing the risk of investing the fleeting fads and optimizing resource allocation.
Marketplace validation to quantify the success of the innovation if implemented:
By gauging consumer response and demand for the newly developed products, the client gained critical insights into their market viability. This validation process enabled them to fine-tune product features and marketing strategies, reducing the risks of launching unsuccessful products.
Quarterly product innovation management tool to prioritize key topics for innovation, marketing, and branding:
By systemically prioritizing key topics for innovation, marketing, and branding every quarter, it ensured a laser-focused approach. It enhanced the client's ability to allocate resources effectively, concentrate efforts on high-impact areas, and stay ahead of market trends.
Impact Delivered: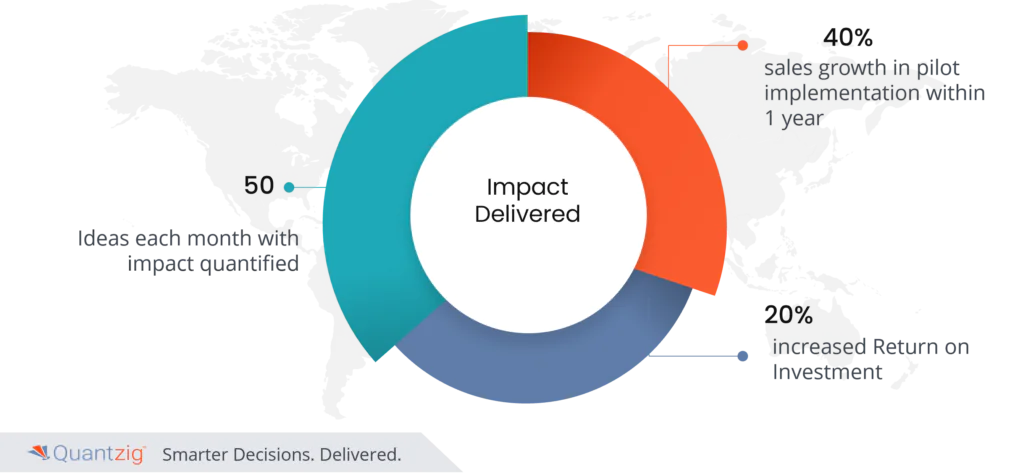 50 Ideas each month with impact quantified
40% sales growth in pilot implementation within 1 year
20% increased Return on Investment
Ready to achieve consumer electronics success through groundbreaking new product innovation and a streamlined new development process? Contact Quantzig today!