Introduction
In today's rapidly evolving business landscape, fostering meaningful and enduring customer relationships is paramount to an organization's success. In this era of Customer Analytics 3.0, where data-driven insights steer decision-making, the role of omnichannel 360° customer engagement takes center stage. This article explores the transformative power of Omnichannel 360° in enhancing customer analytics, delving into how it empowers organizations to not only understand their customer's preferences, behaviors, and needs but also to proactively engage with them across diverse touchpoints. As businesses increasingly recognize the pivotal role of omnichannel strategies, this article serves as a comprehensive guide to harnessing its potential for driving customer satisfaction, loyalty, and sustainable growth in an ever-competitive marketplace.
Importance of Omnichannel 360° in Customer Analytics 3.0:
The evolving landscape of consumer behavior has fundamentally altered the way marketers approach their strategies. Firstly, changing consumer information discovery and purchase decision hierarchies have necessitated a shift towards granular customer insights. This means that marketers must delve deeper into understanding individual preferences, behaviors, and needs to effectively cater to a diverse consumer base.
Secondly, statistics reveal that an overwhelming 77% of customers embark on their purchasing journey by researching online, examining inventory, and assessing product designs before physically visiting a store. This signifies the crucial role of digital touchpoints in influencing purchase decisions. On average, consumers engage with a staggering 7 digital touchpoints before finalizing a purchase. However, a significant challenge arises in that only 10-15% of these consumer journeys can be accurately mapped, creating hurdles in activating seamless omnichannel targeting strategies.
Lastly, it's imperative to note that 27% of sales originate from omnichannel consumers, a group that also demonstrates 13% higher engagement, 7.5% higher sales, 55% improved retention rates, and a remarkable 30% increase in lifetime value. This underscores the immense value of omni-channel marketing approaches in not only driving sales but also fostering long-term customer loyalty and profitability. These insights emphasize the critical importance of adapting marketing strategies to align with evolving consumer behaviors in the digital age.
Challenges/Problems faced while implementing Omnichannel 360° in Customer Analytics 3.0: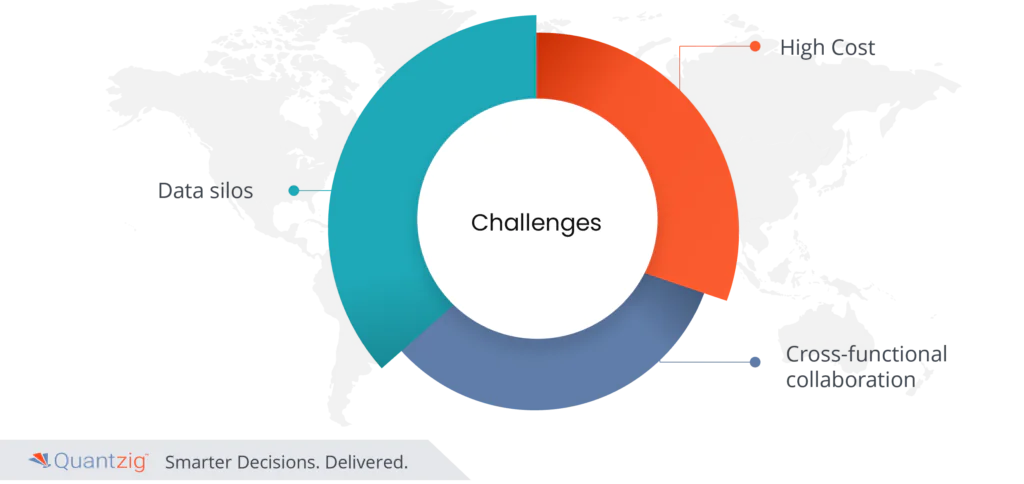 Data silos: Firstly, the presence of data silos represents a significant challenge for organizations aiming to understand and map customer journeys comprehensively. Disparate data sources with siloed formats create barriers to integrating and analyzing data from various touchpoints, resulting in an incomplete view of the customer. Moreover, this fragmentation often leads to lower data quality, as it becomes challenging to maintain data accuracy and consistency across systems. Processing such complex, siloed data requires substantial effort and resources.
High Cost:
Secondly, the cost associated with implementing omnichannel strategies can be prohibitive, particularly for organizations with limited resources. These strategies demand significant financial investments in technology infrastructure, data analytics tools, and skilled personnel. Analyzing and interpreting customer data, a crucial component of successful omnichannel initiatives necessitates specialized skills that may not be readily available within the organization, further adding to the cost and complexity.
Cross-functional collaboration:
Lastly, achieving success in omnichannel customer analytics hinges on cross-functional collaboration and co-creation. To break down data silos and extract meaningful insights, teams from various departments must work together seamlessly. This collaborative approach ensures that the organization can leverage its collective expertise to develop and execute effective omnichannel strategies that meet customer expectations and drive business growth.
Benefits of implementing Omnichannel 360° in Customer Analytics 3.0:
Maximized LTV of each consumer: Omnichannel customer analytics 3.0 empowers organizations to extract maximum value from every customer by understanding and nurturing behaviors that yield higher returns on investment (ROI). By leveraging comprehensive data insights, businesses can tailor their marketing efforts to individual preferences, influencing purchase decisions across all channels. This personalized approach not only enhances customer satisfaction but also extends the lifetime value (LTV) of each consumer, fostering long-term loyalty and sustained revenue growth.
Omni-channel activation: One of the key advantages of Omnichannel 3.0 is the ability to activate channels and touchpoints instantly and independently. This means that organizations can respond dynamically to customer interactions in real-time, ensuring a seamless and consistent experience across various platforms. Whether a customer engages via a website, mobile app, social media, or in-store, the organization can adapt and provide relevant information or offers, enhancing engagement and conversion rates.
Dynamic Intent-based action: Unlike traditional segmental intelligence, Omnichannel 3.0 focuses on dynamic intent-based actions. It analyzes recent customer behavior to determine their current intent rather than relying on broad segments. This real-time approach allows organizations to offer tailored recommendations and incentives that are highly relevant to a customer's immediate needs and preferences, increasing the likelihood of conversion.
Guidance along the path to purchase: Omnichannel customer analytics 3.0 recognizes that the customer's journey is not confined to the last touchpoint before a sale. Instead, it aims to guide customers at every stage of their path to purchase. By providing valuable information, assistance, and personalized content throughout the journey, organizations can build trust and engagement, ultimately leading to more conversions and improved customer satisfaction.
AI-powered recommendations strategy: To achieve scale, speed, and accuracy in customer interactions, Omnichannel 3.0 relies on AI-powered recommendation systems. These systems analyze vast amounts of data in real-time to deliver personalized product suggestions, content, and promotions. This automation not only enhances the customer experience but also optimizes marketing efforts, ensuring that the right message reaches the right customer at the right time, driving higher conversion rates and revenue.
Conclusion
In conclusion, the era of Customer Analytics 3.0 underscores the indispensable role of Omnichannel 360° strategies in reshaping customer engagement. As businesses adapt to changing consumer behaviors and demands, harnessing granular insights, breaking down data silos, and fostering cross-functional collaboration become imperative. The potential for maximizing customer lifetime value, enabling real-time omnichannel activation, and embracing dynamic, intent-based actions is profound. Moreover, guiding customers along their entire path to purchase and leveraging AI-powered recommendations offers scalability and precision. In this dynamic landscape, Omnichannel 360° stands as a powerful tool, not only for enhancing customer experiences but also for driving sustainable growth, loyalty, and competitive advantage in a digitally driven marketplace.
Success Story
"Revolutionizing Customer Engagement: Unleashing the Power of Omnichannel 360° with Quantzig's Expertise in Customer Analytics 3.0"
Client Details:
A multinational Athleisure brand headquartered in Germany, with an annual revenue exceeding $8 billion.
The challenges faced by the Client:
The multinational Athleisure brand headquartered in Germany, with an annual revenue exceeding $8 billion, faced a critical need to enhance its customer analytics capabilities. Their primary objective was to gain a deeper understanding of their customer base and to leverage this insight to drive repeat customer engagement through personalized strategies.
However, a significant roadblock was the suboptimal maintenance of customer data. The absence of a well-structured and organized customer data repository meant that the brand could not establish connected intelligence about its customers beyond individual sessions or interactions. This disjointed data landscape hindered their capacity to develop comprehensive customer profiles and derive meaningful insights about behavior, preferences, and trends.
To address this challenge, the brand recognized the imperative of implementing a robust customer analytics solution. Such a solution would not only enable them to rectify data maintenance issues but also empower them to unify customer data from various touchpoints, creating a holistic view of each customer's journey. By doing so, they aimed to drive more effective and personalized marketing initiatives, ultimately fostering increased customer loyalty and driving revenue growth in the highly competitive Athleisure market.
Solutions offered by QZ:
Quantzig provided invaluable assistance to the client by employing a systematic and data-driven approach to enhance their customer analytics and engagement strategies. The journey began with the construction of a comprehensive Customer 360 Datamart, consolidating data from various sources, including demographic, transactional, channel, and behavioral data. This Datamart served as the foundation for understanding customer attributes, purchase choices, marketing engagement, and channel behaviors.
Our expertise extended to identifying potential attributes that influence purchase behavior, both positively and negatively, enabling the client to refine their targeting and messaging strategies effectively.
Furthermore, our team utilized advanced techniques such as decision trees and look-alike modeling to identify customer segments with higher propensities and the specific attributes driving these propensities. This segmentation provided actionable insights into key customer groups, enabling the client to tailor their marketing efforts more precisely.
The identification of critical inflection points within customer journeys and the collaborative development of activation plans for both inner loop (website) and outer loop (campaigns) journeys were pivotal achievements. This approach ensured that the client could engage with customers at the right moments with relevant content and offers, thus maximizing the impact of their marketing initiatives.
In essence, Quantzig's data-driven solutions empowered the client to make informed decisions, optimize customer engagement, and drive business growth through a more personalized and effective approach to customer analytics and activation.
Impact Delivered: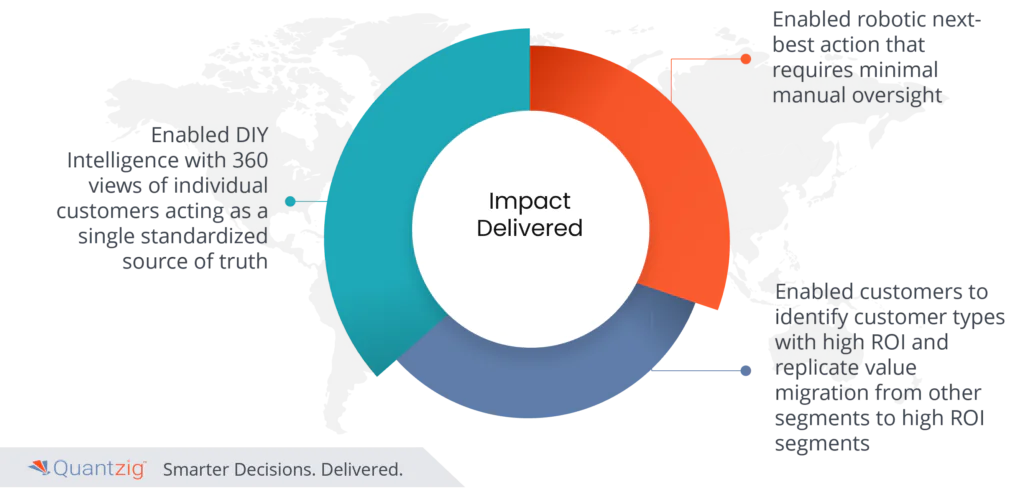 Enabled DIY Intelligence with 360 views of individual customers acting as a single standardized source of truth.
Enabled robotic next-best action that requires minimal manual oversight.
Enabled customers to identify customer types with high ROI and replicate value migration from other segments to high ROI segments.
"Unlock Your Full Customer Engagement Potential Today! Discover How Quantzig Transformed a multinational Athleisure brand into a Customer-Centric Dynamo with Omnichannel 360° Insights. Contact Us for a Tailored Solution."