Introduction
In the fast-paced world of Consumer-Packaged Goods (CPG), achieving sustainable revenue growth is both a paramount challenge and an ultimate goal. In this era of digital transformation and evolving consumer preferences, mastering sales execution and commercial excellence has become the linchpin for success. This article delves deep into the strategies, tools, and insights that empower CPG companies to navigate the complexities of the market, optimize their sales processes, and drive revenue growth that is not only substantial but enduring. From leveraging data analytics to enhancing collaboration, we unveil the keys to unlocking a new era of commercial excellence, ensuring that CPG businesses not only thrive but lead in today's fiercely competitive landscape.
Importance of Sales Execution & Commercial Excellence for Revenue Growth Management in CPG:
In the contemporary business landscape, new-age digital brands are rapidly reshaping consumer preferences and eroding market share for traditional players. Simultaneously, fierce competition continually drives shifts in market strategies across diverse digital platforms. In this dynamic and challenging environment, sustaining and accelerating business growth demands meticulous planning and precise execution in the realm of revenue management.
To navigate this complex landscape successfully, organizations must adopt a systematic approach to revenue management and growth. This involves leveraging data-driven insights to identify emerging market trends and consumer behaviors, enabling agile adjustments to strategies. It also necessitates the optimization of sales execution through technology-driven solutions, ensuring efficiency and responsiveness. Collaboration across functional areas, from marketing to supply chain, is vital to create a holistic and customer-centric approach. Additionally, nurturing a culture of innovation and adaptability is essential for continuous improvement and staying ahead of the competition.
In sum, thriving in the age of digital disruption and dynamic market strategies requires a structured commitment to revenue management and growth, underpinned by strategic planning, data intelligence, and a relentless pursuit of excellence.
Challenges/Problems faced while implementing Sales Execution & Commercial Excellence for Revenue Growth Management in CPG:
In today's intricate business landscape, comprehending revenue performance and its underlying causes is a multifaceted challenge. This task encompasses a complex data ecosystem, encompassing variables such as Sales, Channel, Product, Pricing, Promotions, and competitive activities. These factors interact in intricate ways, leading to periods of both growth spikes and revenue dips. To elucidate the reasons behind these fluctuations, sophisticated analytics are indispensable. One approach involves directly linking data points, allowing for a straightforward analysis of cause-and-effect relationships. This method is effective in identifying clear correlations between specific actions, such as promotional campaigns or product launches, and their impact on revenue.
However, given the intricacy of modern markets, more advanced techniques are often required. Algorithmic attribution, for instance, leverages complex algorithms to unravel the intricate web of causal relationships. By assigning value to various touchpoints along the customer journey, this approach precisely identifies the factors contributing to revenue variations.
In summary, achieving a holistic understanding of revenue performance and its causalities demands a blend of data-driven analysis techniques, whether through direct data linkage or algorithmic attribution. These methods yield accurate insights, enabling businesses to optimize their strategies and navigate the dynamic landscape effectively.
Benefits of implementing Sales Execution & Commercial Excellence for Revenue Growth Management in CPG:
Revenue Growth Management (RGM) Solutions serve as indispensable tools for business leaders, providing them with intelligent decision support. These solutions are strategically engineered to facilitate not only the formulation of sound strategic plans but also the precise execution of tactical actions in revenue operations. By harnessing data-driven insights, RGM Solutions empowers organizations to navigate their markets effectively, optimizing pricing, promotions, and product strategies. This, in turn, fosters commercial excellence, enabling businesses to adapt swiftly to dynamic market conditions, maximize revenue opportunities, and sustain profitable growth in today's competitive landscape.
Quantzig's RGM Solutions suite is meticulously crafted to address the intricate challenges posed by data complexities. It excels in delivering actionable reporting that equips decision-makers with powerful advanced analytics capabilities. Our suite offers a wide range of tailored solutions, from user-friendly cockpits for straightforward insights to sophisticated simulators for in-depth analysis. These products are designed to cater to the diverse needs of hundreds of RGM solution users across various markets, brands, and levels of consumption. With Quantzig, organizations can harness the full potential of their data, enabling them to make informed decisions, optimize strategies, and achieve unparalleled success in today's competitive business landscape.
Success Story
"Elevating Revenue Growth: A CPG Success Story with Quantzig's Sales Execution & Commercial Excellence Solutions"
Client Details:
A leading CPG company located in the UK.
The challenges faced by the Client:
The client grappled with significant challenges in their sales execution process. Their manual approach, relying on a field sales force for compliance and communication with retail outlets, was labor-intensive and lacked efficiency. Without a centralized system, data-driven decision-making was virtually non-existent, leading to a lack of visibility into sales performance and execution compliance. This decentralized approach hindered real-time tracking, hindered rapid response to market changes, and made it difficult to ensure consistent messaging and brand representation at retail partners. Overall, these challenges were impeding their ability to optimize sales strategies, monitor performance, and maintain effective communication within their retail network.
Solutions offered by QZ:
Quantzig played a pivotal role in transforming the client's sales execution process. Leveraging our Sales Execution Light House Solution, we established real-time monitoring for approximately 2500 stores across the UK daily. This provided the client with a proactive means of identifying potential execution challenges related to Pricing, Promotion, and Stock availability, allowing for timely interventions rather than relying on corrective measures.
Furthermore, our Virtual Field Sales Execution (VFSE) Framework was designed to offer five key benefits. First, it enabled proactive actions, ensuring that issues were addressed before they escalated. Second, it allowed for the prioritization and minimization of audit expenses, optimizing resource allocation. Third, the framework maximized the effectiveness of promotions in the final mile of execution. Fourth, it facilitated valuable execution feedback for promo and fulfillment planning, enhancing strategic decision-making. Lastly, our solution effectively plugged revenue leaks by addressing execution gaps.
Overall, Quantzig's comprehensive approach revolutionized the client's sales execution, enhancing efficiency, effectiveness, and revenue performance.
Impact Delivered:
The results of implementing these solutions were remarkable: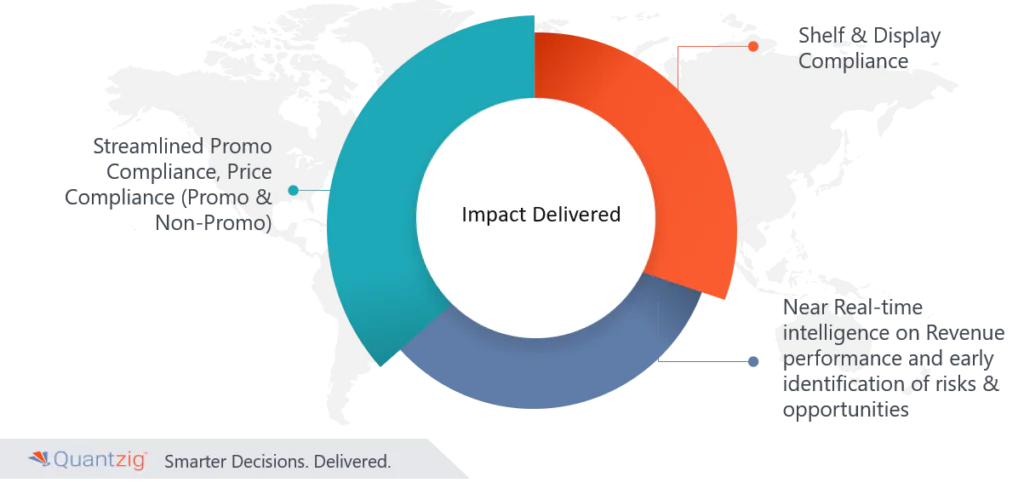 Streamlined Promo Compliance, Price Compliance (Promo & Non-Promo),
Shelf & Display Compliance
Near Real-time intelligence on Revenue performance and early identification of risks & opportunities.
"Learn how Quantzig transformed a leading CPG client's sales execution, driving remarkable revenue growth and commercial excellence. Read the full case study to discover the strategies that can empower your business for success."