Introduction
In a world of rapidly evolving consumer preferences and an increasingly competitive market, the ability to innovate is the cornerstone of success for Consumer-Packaged Goods (CPG) companies. This article serves as a compass, guiding industry leaders, aspiring entrepreneurs, and all those in between through the intricate labyrinth of CPG product development. It unveils the essential principles that underpin the triumph of CPG innovation, dissecting the fusion of consumer insights, market trends, and cutting-edge strategies. By drawing inspiration from the experiences of industry titans and illuminating case studies, this article equips readers with the knowledge and tools needed to not only survive but thrive in the dynamic world of CPG. Whether you seek to redefine your existing products or embark on the creation of groundbreaking innovations, this article promises to empower you with the expertise required to navigate the complex terrain of CPG product innovation successfully. Join us on this transformative journey, where innovation is the compass, and success is the destination.
Importance of CPG product innovation:
The CPG industry is undergoing a major transformation due to Digital Native Vertical Brands (DNVBs) taking advantage of easy online entry. These nimble disruptors swiftly grasp emerging consumer trends and accelerate product innovations. Their online presence enables direct consumer connections, bypassing traditional retail channels. This direct engagement empowers them to rapidly identify and respond to evolving consumer preferences. In the era of DNVBs, agility is paramount, propelling these brands to the forefront of CPG, while traditional players must adapt swiftly to avoid falling behind in this digital revolution.
Consumers are increasingly interacting with brands and their associated services and experiences through digital channels. This shift reflects a growing demand for specialized products and brand offerings that align with individual needs and values. The digital sphere allows consumers to explore and connect with brands that resonate with their unique preferences and beliefs. As a result, companies must pivot towards delivering tailored solutions and meaningful experiences in the digital realm to cater to this evolving consumer behavior, fostering stronger brand loyalty and engagement in an increasingly interconnected world.
Product trends and consumer behaviors are no longer confined to specific categories or local markets; they now transcend traditional boundaries. This cross-category and cross-market movement signifies a fundamental shift in how consumers perceive and engage with products. To thrive in this dynamic landscape, businesses must go beyond category-specific insights and gain a comprehensive understanding of the broader consumer lifestyle and behaviors. Recognizing these broader patterns allows companies to spot emerging trends, anticipate changing preferences, and create innovative, multi-faceted strategies that cater to the holistic needs and aspirations of today's consumers. This approach fosters adaptability and agility, essential qualities in an environment where consumer expectations are shaped by a multitude of factors that extend far beyond traditional industry silos.
Challenges due to a lack of successful CPG product innovation:
Optimized Innovation Processes and Decision Support:
Traditional CPG companies face significant challenges in keeping pace with the rapid product innovations driven by Digital Native Vertical Brands (DNVBs). To compete effectively, these companies need to overhaul their innovation processes. This entails streamlining product development pipelines, reducing bureaucratic hurdles, and fostering a culture of innovation. Additionally, they must invest in decision support systems powered by data analytics and AI to make informed, real-time decisions. These systems can help match the speed at which DNVBs bring products to market, ensuring that larger companies remain agile and responsive to changing consumer demands.
Consumer Insights at Granular Levels:
In the digital age, understanding consumer lifestyles and behaviors is essential for successful product innovation. However, gathering and analyzing data at a granular level across multiple platforms is a daunting task. Traditional methods may fall short in capturing the voice of the customer comprehensively. Moreover, processing the vast amount of unstructured data from consumer conversations using text analytics poses a substantial challenge. Companies must invest in advanced AI and machine learning tools to sift through this data effectively, extracting meaningful insights that inform product development and marketing strategies.
Functional Understanding and Specialization:
Effective analytics for innovation necessitate more than technical proficiency. It requires a deep functional understanding of the innovation process and specialization in the respective category. Each product category has its unique dynamics, market trends, and consumer preferences. Companies must not only possess the technical capabilities to analyze data but also the industry-specific knowledge to interpret findings in a meaningful context. This level of expertise is vital for making informed decisions, identifying white spaces in the market, and crafting products that resonate with consumers.
In essence, the challenges stemming from the lack of successful CPG product innovation demand a holistic transformation. It involves reengineering internal processes, harnessing the power of data analytics, and cultivating specialized knowledge within the organization to navigate the evolving landscape and remain competitive in the face of DNVB disruption.
Benefits of successful CPG product innovation:
In today's fast-paced business environment, the ability to innovate rapidly and validate concepts swiftly is a critical competitive advantage. This is particularly true in the Consumer-Packaged Goods (CPG) industry, where consumer preferences can change on a dime, and brands must adapt to stay relevant. New-age innovation solutions have emerged as a powerful ally for CPG companies, enabling them to expedite their innovation cycles, often accomplishing concept validation in less than 100 days. This agility allows brands to not only keep pace with shifting market needs but also to proactively calibrate their strategies to stay ahead of the curve.
One such innovative solution is the Quantzig innovation framework, a battle-tested and fully automated system designed to scale quickly across diverse platforms. This framework leverages data from various sources, including standardized firehose solutions like Brandwatch and Sprinklr, as well as customized crawling solutions that delve into category-specific boutique sources. By accessing this wealth of data, the framework identifies emerging trends and insights within the market.
What sets the Quantzig framework apart is its meticulous approach to ensuring the functional validity of the identified trends. It assesses marketplace maturity, evaluates consumer acceptance, and analyzes the volume versus velocity of trends. This comprehensive evaluation allows CPG companies to accurately quantify the real opportunities presented by these trends, guiding them toward informed decision-making and targeted innovation efforts. In essence, the Quantzig innovation framework empowers CPG brands to not only innovate rapidly but also to do so strategically, enhancing their ability to thrive in a constantly evolving market landscape.
Conclusion
In the ever-evolving landscape of Consumer-Packaged Goods, successful product innovation is the linchpin of sustained growth and relevance. To thrive, brands must embrace the fundamentals: a deep understanding of consumer behaviors, an agile approach to development, and an unwavering commitment to excellence. By fusing market insights with cutting-edge strategies, companies can chart a course toward innovation that transcends convention. In this dynamic arena, the fundamentals are not just guidelines but imperatives, and those who grasp their essence will not only survive but lead, reshaping the CPG industry, and delivering products that resonate profoundly with the consumers of tomorrow.
Success Story
Revolutionizing CPG Product Innovation: How Quantzig Unlocked Success for a Leading Brand
Client Details:
A multinational chocolate manufacturer headquartered in Europe with annual revenue of $450 Mn+.
Challenges
The client's Product Innovation Team grappled with formidable challenges in identifying potential future trends and product white spaces. Firstly, they struggled to sift through the vast and dynamic landscape of consumer data and market insights, making it difficult to spot emerging trends accurately. Secondly, distinguishing between fleeting fads and long-term trends posed a significant hurdle. Additionally, the team needed a solution that could help them navigate the ever-evolving consumer preferences and rapidly changing market dynamics, ensuring their product development efforts were aligned with future demands. Overcoming these challenges was essential to staying competitive and strategically planning for the future of their product portfolio.
Solutions
Quantzig came to the client's rescue by efficiently managing their daunting task of analyzing an enormous volume of diverse consumer data, including conversations, blogs, and influencer discussions, totaling around 1.6 million interactions. To streamline this process, we initiated a comprehensive research effort to identify potential keywords, pinpointing key conversational platforms where consumers, influencers, and manufacturers are engaged in discussions about the client's product category.
Building on this foundation, our team developed a state-of-the-art Machine Learning-based Natural Language Processing (NLP) solution. This innovative system categorized the massive dataset into distinct innovation areas, such as ingredients, value propositions, and utility, offering the client a structured view of the conversational landscape.
Quantzig's support extended further by identifying key innovation terms, which were cross-validated against major marketplaces like Amazon for robustness. Moreover, customized drill-down reports were created, enabling effortless navigation and insight identification, catering to various stakeholder levels and customer types.
Quantzig empowered the client by identifying trending discussion topics among their consumers. By analyzing consumer conversations and trends, we pinpointed the most relevant and hotly debated subjects within the industry. This actionable intelligence enabled them to strategically align their product innovation efforts with consumer demands and emerging market needs. In essence, our insights guided the client in identifying the optimal areas for future product innovation, ensuring their offerings remained relevant and competitive in the marketplace.
In sum, Quantzig's data-driven approach and advanced NLP solution not only helped the client effectively manage and harness their vast dataset but also empowered them with actionable insights, facilitating informed decision-making and strategic planning across the organization.
Impact Delivered:
The results were impressive: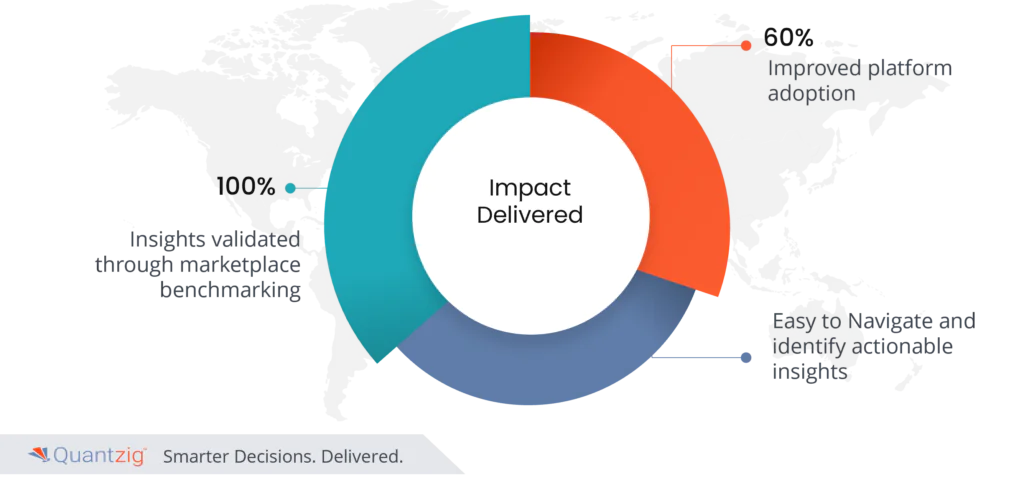 100% insights validated through marketplace benchmarking
60% Improved platform adoption
Easy to Navigate and identify actionable insights
Discover the Secrets to CPG Success – Download the Case Study Now!