Introduction
In the ever-evolving Consumer Packaged Goods (CPG) sector, achieving sustainable revenue growth is a formidable challenge. To thrive in this competitive landscape, businesses must embrace Revenue Growth Management (RGM) strategies that go beyond traditional sales tactics. This article delves into the core principles of RGM, offering insights into key strategies for achieving sales execution and commercial excellence in cpg sector. By understanding and implementing these strategies, companies can not only drive top-line growth but also adapt to the shifting consumer preferences and market dynamics, ultimately ensuring their long-term success in this dynamic retail and CPG industry.
Importance of Revenue Growth Management in the CPG Sector:
Managing the commercial operations of globalized companies across diverse markets and channels is essential for success, but it's a complex challenge. Without data-driven methods, overseeing this vast landscape becomes nearly impossible. Data provides the critical insights needed to understand market nuances, consumer behavior, and performance metrics across regions. It empowers decision-makers to identify growth opportunities, streamline operations, optimize resource allocation, and fine-tune pricing strategies. In today's hyper-competitive business environment, relying on data-driven methods is not just an advantage – it's a necessity to achieve commercial excellence, maximize revenue, and ensure long-term profitability in a globalized and ever-changing marketplace.
Commercial excellence teams are the driving force behind business efficiency and profitability. They constantly seek ways to streamline operations, eliminating bottlenecks and providing excellent commercial products. By optimizing resources strategically, they enhance cost-effectiveness and productivity. Moreover, these teams employ data-driven insights to fine-tune pricing strategies and identify revenue-boosting opportunities. This holistic approach ensures that every aspect of the value chain, from supply chain management to customer engagement, is finely tuned for maximum performance. Their unwavering commitment to efficiency and revenue generation makes commercial excellence teams indispensable for modern businesses aiming to thrive in a competitive marketplace.
Challenges due to a lack of commercial excellence in the CPG Sector:
Analytics solutions that underpin Revenue Growth Management (RGM) are pivotal for businesses seeking sustainable growth. Firstly, these solutions must excel at identifying risks and opportunities at an early, actionable stage. By leveraging advanced data analytics, they can spot market fluctuations, changing consumer preferences, and emerging competitive threats. This early warning system empowers businesses to swiftly implement corrective actions and remediations, preventing potential revenue losses or capitalizing on growth prospects.
Secondly, different companies exhibit varying degrees of maturity and adoption speed in their analytics capabilities. Effective analytics solutions should recognize this diversity. They should start by mastering fundamental reporting and providing accurate and timely data on key performance indicators. Then, they should progress to delivering derivative insights, extracting valuable patterns and trends from the data. Finally, these solutions should evolve into predictive tools, offering actionable recommendations and foresight into future market dynamics. This graduated approach ensures that companies of all readiness levels can harness the power of analytics to drive their revenue growth strategies effectively, aligning with their specific needs and pace of development.
Benefits of commercial excellence in the CPG Sector: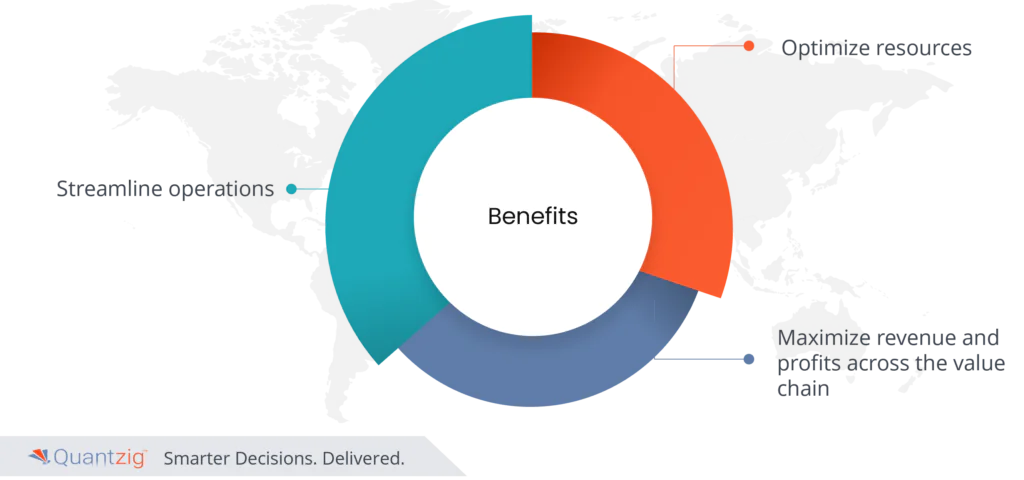 Revenue Growth Management (RGM) solutions are indispensable for businesses navigating today's data complexities. They provide a comprehensive toolkit that empowers decision-makers with advanced analytics capabilities across the entire value chain.
Firstly, RGM solutions excel at simplifying intricate data landscapes. They ingest, process, and analyze vast volumes of data, making sense of the complexities within markets, customer behaviors, and internal operations. This data-driven clarity is crucial for making informed decisions.
Secondly, RGM solutions enable actionable reporting. They distill the wealth of data into actionable insights, presenting information in a user-friendly manner. This empowers commercial experts with the right information at the right time, facilitating quick and well-informed decision-making.
Moreover, these solutions offer a holistic perspective of sales excellence development. They answer critical questions about the current state of affairs, market trends, and performance metrics. They provide a granular level of detail that allows commercial experts to pinpoint precisely what needs to be done to drive CPG industry growth.
Quantzig's RGM Framework is a notable example. It encompasses three essential phases:
RGM Core: This phase lays the foundation with integrated data. It ensures data accuracy, consistency, and accessibility, which are fundamental for any effective sales excellence strategy.
RGM Insights: This module handles diagnostics and reporting, offering a deeper understanding of market dynamics and internal operations. It helps in identifying trends and areas for improvement.
RGMx Module: Focusing on advanced solutions, this phase addresses critical aspects like pricing, promotion, forecasting, planning, and execution. It leverages cutting-edge analytics to optimize these vital areas, ensuring businesses can extract maximum value from their RGM initiatives.
In summary, RGM solutions, such as Quantzig's framework, are a game-changer for businesses seeking to drive revenue growth. They bring clarity to complex data, offer actionable insights, and guide decision-makers in their pursuit of commercial excellence across the value chain.
Conclusion
In the dynamic world of the Consumer-Packaged Goods (CPG) sector, the pursuit of revenue growth management through key strategies for commercial excellence and sales execution has emerged as the linchpin for success. This article has underscored the critical importance of data-driven insights, streamlining operations, and optimizing resources. As businesses adapt to ever-changing market landscapes, they must embrace these principles to not only survive but thrive. In doing so, CPG companies can position themselves for sustained growth, enhance their competitive edge, and offer excellent commercial products. and meet the evolving demands of consumers. By focusing on these strategies, the CPG sector is poised for a future marked by resilience, innovation, and commercial excellence.
Success Story
Revolutionizing CPG Revenue Growth Management: A Success Story with Quant zig's Expertise
Client Details:
A leading CPG company headquartered in the UK.
Challenges
The client faced a myriad of challenges in their sales execution processes. Firstly, their existing manual approach was incredibly labor-intensive and time-consuming. Field sales teams were required to make frequent visits to 2,500 stores across the UK to verify retail compliance, pricing, promotion adherence, and product placement. This exhaustive manual oversight not only consumed substantial resources but also hindered efficiency.
Secondly, the sheer scale of operations posed a significant challenge. Managing compliance and execution across such a vast number of stores was prone to human error and inconsistencies. It made it difficult to maintain uniform standards and ensure that the brand's image and strategies were effectively implemented at every location.
Furthermore, the manual nature of the process limited the client's ability to gather real-time data and insights, hindering their agility in responding to market changes and consumer trends. In this context, the client urgently needed a data-driven, digital, and automated solution to optimize sales execution while reducing manual intervention and ensuring consistent compliance across their extensive retail network.
Solutions
Quantzig's innovative solutions significantly transformed the client's sales execution processes, enhancing intelligence and compliance monitoring across a vast retail landscape. The integration of the Sales Execution Lighthouse and the Virtual Field Sales Execution (VFSE) framework delivered tangible benefits.
VFSE's boutique solutions enabled the client to shift from a reactive approach to a proactive one. The framework offers actionable recommendations, optimizing audit expenses, and prioritizing tasks effectively. It maximizes promotional effectiveness, aids in feedback integration for promotional and fulfillment planning, and addresses revenue leakages, thereby ensuring streamlined sales execution.
The Sales Execution Lighthouse further ensures compliance with stock levels, display standards, and promotional and non-promotional pricing across diverse retail channels. This comprehensive approach empowered the client with faster and more efficient compliance monitoring, resulting in enhanced brand consistency and customer satisfaction.
Overall, Quantzig's tailored solutions have equipped the client with the tools and insights needed to thrive in the complex landscape of different categories and brands across physical and online retail stores and platforms, ultimately driving improved sales execution and profitability.
Impact Delivered:
The results were impressive: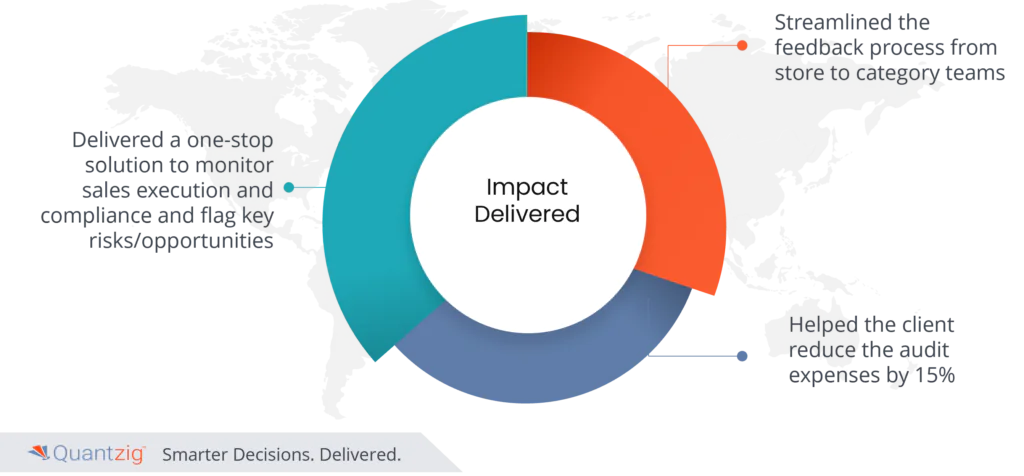 Delivered a one-stop solution to monitor sales execution and compliance and flag key risks/opportunities (revenue leaks, fulfillment issues, cost reduction opportunities, price/promo feedback) within the commercial operations.
Streamlined the feedback process from store to category teams thereby enabling a quicker call to action.
Helped the client reduce the audit expenses by 15%
Discover how Quantzig transformed a CPG client's revenue growth with data-driven strategies. Read the case study now and unlock your path to commercial excellence!