Introduction
In today's fiercely competitive business landscape, harnessing the transformative potential of data has become paramount for organizations striving to thrive and lead. The advent of Customer Analytics 3.0 represents a seismic shift in how companies understand, engage, and satisfy their customers. This article delves deep into the dynamic realm of Success Strategies for Implementing Customer Analytics 3.0 in Organizations. From deciphering the intricacies of cutting-edge analytics tools to navigating the challenges of data privacy and ethical considerations, we embark on a journey that promises to unlock unparalleled insights and redefine the very fabric of customer-centric business strategies. Join us as we unravel the secrets to not just surviving but excelling in the age of data-driven decision-making.
Importance of Customer Analytics 3.0 in Organization:
Achieving success in today's data-driven business landscape hinges on two fundamental aspects: the adoption of next-gen customer analytics solutions and the execution of winning customer strategies.
Next-Gen Customer Analytics Adoption:
To harness the full potential of next-gen customer analytics, organizations must cultivate key capabilities. This involves investing in advanced data infrastructure to efficiently collect, store, and process large datasets. Skilled data scientists and analysts are essential to extract actionable insights, requiring expertise in statistical analysis and machine learning. Embracing cutting-edge analytics tools and technologies further enhances an organization's analytical prowess. However, the successful institutionalization of these solutions depends on enablers such as fostering a data-centric culture, securing executive buy-in, and promoting cross-functional collaboration.
Execution of Winning Customer Strategies:
Effective customer strategies require precision at scale. This means developing action plans that can be implemented at granular levels, encompassing individual customer profiles, specific interaction sessions, and the timing of events. Achieving this level of granularity allows organizations to tailor their approaches, ensuring personalized customer experiences. By leveraging insights gained through analytics, companies can optimize engagement, drive customer satisfaction, and ultimately attain a competitive edge in the marketplace.
In summary, the synergy between advanced analytics adoption and precise strategy execution empowers organizations to thrive in the era of data-driven decision-making, fostering long-term customer relationships and sustainable business growth.
Challenges/Problems faced while implementing Customer Analytics 3.0:
In the realm of modern business, the complexity of customer data is undeniable. To derive effective recommendations and formulate winning strategies, this data must be meticulously curated, structured, and accurately attributed across the entire omnichannel ecosystem.
Effective recommendations hinge on the availability of comprehensive and high-quality customer data. This entails ensuring that data is not only collected from various touchpoints but also harmonized into a cohesive, unified form. Accurate attribution of customer interactions, behaviors, and preferences is paramount, allowing businesses to create a 360-degree view of each customer.
In this data-rich environment, businesses can leverage advanced analytics and machine learning to gain profound insights into customer behavior. These insights, in turn, fuel the development of personalized recommendations and winning strategies that resonate with individual customers, regardless of the channel or platform they engage with.
In essence, the transformation of complex customer data into actionable insights forms the foundation of customer-centric strategies in today's omnichannel landscape, enabling businesses to drive engagement, foster loyalty, and ultimately achieve competitive advantage.
Benefits of implementing Customer Analytics 3.0: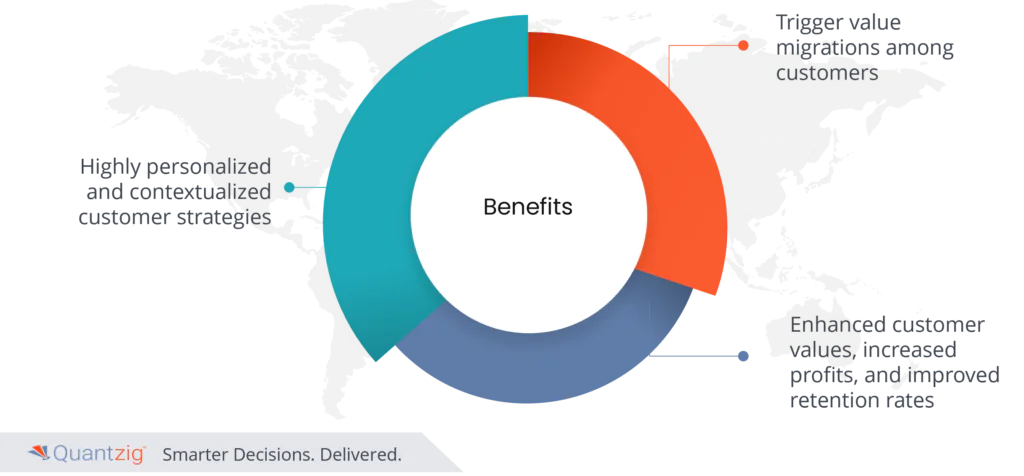 Highly personalized and contextualized customer strategies represent a strategic approach that can yield remarkable results for businesses. By tailoring interactions and offerings to individual customer preferences, behaviors, and needs, organizations can encourage high Return on Investment (ROI) behaviors. Customers are more likely to engage, spend more, and remain loyal when they feel that a company truly understands and caters to their unique requirements.
Moreover, personalized strategies can trigger value migrations among customers. This means that customers who initially engage with a brand at a lower value tier may migrate to higher-value segments due to the relevance and satisfaction derived from personalized interactions. This not only increases their customer value but also contributes to overall profitability.
Enhanced customer values, increased profits, and improved retention rates are the natural outcomes of such strategies. Satisfied and loyal customers become brand advocates, promoting organic growth through referrals and positive word-of-mouth. Thus, personalized and contextualized strategies create a virtuous cycle that fortifies an organization's competitive position and long-term success in the market.
What our capability does: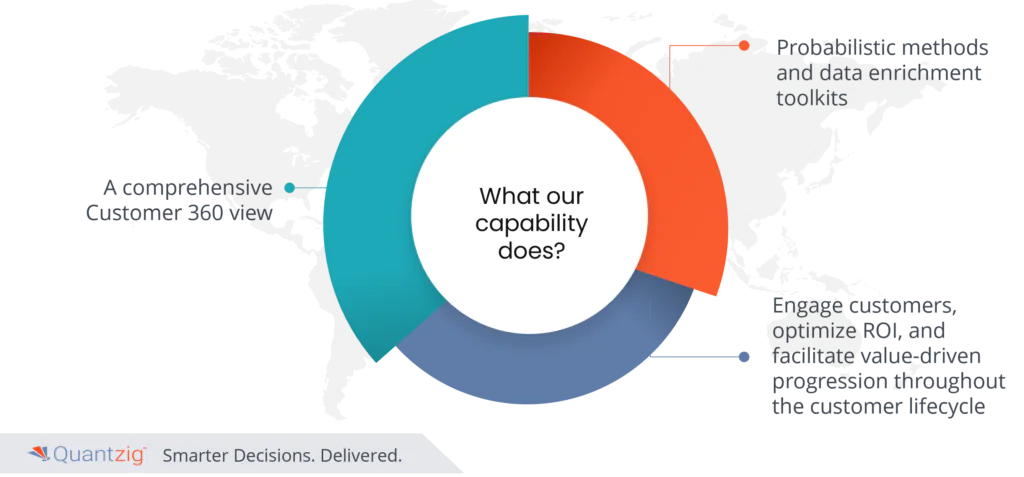 Our quest to construct a comprehensive Customer 360 view involves the assimilation of multifaceted customer signals, encompassing profiles, behaviors, motivations, and lifecycle stages. This holistic understanding serves as the foundation for crafting tailored next-best actions that stimulate high Return on Investment (ROI) behaviors and facilitate upward value migration.
However, not all customer data can be readily linked or attributed deterministically. To bridge this gap, our innovative solution framework employs probabilistic methods and data enrichment toolkits. These techniques enhance our ability to associate customers more effectively with additional information, even when deterministic connections are elusive. This approach ensures that our customer 360 view remains dynamic and adaptive, allowing us to continuously refine our strategies and recommendations. In doing so, we empower businesses to engage customers more meaningfully, optimize ROI, and facilitate value-driven progression throughout the customer lifecycle.
Why should a client opt for our offering?
Our comprehensive solution encompasses the entire spectrum of analytics maturity, providing clients with an end-to-end framework that unlocks the full potential of their data. It begins by establishing a solid foundation, including the creation of a robust Customer Data Platform (CDP) and Data Quality Management (DQM) infrastructure. This foundational layer ensures that data is not only accessible but also reliable, setting the stage for advanced analytics.
Simultaneously, we initiate the process of deriving actionable insights. From the foundational layer, we seamlessly progress toward the other end of the spectrum, where Next Best Action (NBA) strategies and session-level recommendations are developed. This allows for real-time, data-driven decision-making at the granular level, ensuring that each customer interaction is optimized for maximum impact.
The parallel execution of all these streams empowers our clients to achieve full-scale analytics maturity. It means that from data management and quality assurance to personalized recommendations and strategic insights, our solution covers the entire analytics journey. This integrated approach enables organizations to harness the power of data for informed decision-making, enhanced customer engagement, and ultimately, sustainable business growth.
Conclusion:
In the relentless pursuit of excellence, organizations must embrace the transformative force of Customer Analytics 3.0. As we conclude this exploration of success strategies for its implementation, we find ourselves at the precipice of a new era. The fusion of cutting-edge technology, data mastery, and customer-centricity promises unprecedented opportunities. The power to understand, predict, and engage with customers on a deeply personal level is within reach. Those who seize this moment, unlocking the true potential of their data, will not merely succeed; they will redefine the very essence of business excellence. The journey towards Customer Analytics 3.0 is not an option but an imperative for those who aspire to lead, innovate, and thrive in the dynamic landscape of tomorrow.