Introduction
In an era of unprecedented technological advancements and evolving consumer behavior, the Consumer-Packaged Goods (CPG) industry finds itself at a crossroads, navigating a landscape where traditional marketing strategies are no longer sufficient for sustainable growth. The future of marketing in the CPG sector is undergoing a profound transformation, where innovative approaches are not just an option but a necessity. As brands seek to maximize their Marketing Return on Investment (MROI), the convergence of Marketing Mix Modeling (MMM) and Multi-Touch Attribution (MTA) stands as a beacon of hope. This article delves deep into the cutting-edge strategies that promise to revolutionize the CPG industry, redefining how brands connect with consumers, optimize their marketing efforts, and ultimately thrive in a dynamic marketplace. Welcome to the future of marketing, where data-driven insights and technology-driven solutions are poised to reshape the CPG landscape like never before.
Importance of Innovative Strategies for MROI Optimization, MMM, and MTA in the CPG Industry:
The Consumer-Packaged Goods (CPG) industry is currently experiencing a profound paradigm shift in its approach to marketing. This transformation is primarily driven by the evolving dynamics between strategic planning and investment allocation, as well as the increasing demand for real-time decision intelligence, particularly in Search Engine Optimization (SEO) and Direct-to-Consumer (D2C) channels.
Traditionally, CPG marketing has been characterized by long-term strategic planning, where brands meticulously allocate resources across various channels, often based on historical data and conventional marketing models. However, with the rise of digital and e-commerce platforms, real-time decision-making has become imperative. SEO and D2C channels, in particular, require brands to adapt swiftly to changing consumer preferences and market trends.
Efficient marketing management solutions that bridge the gap between these two contrasting demands have become a critical strategic asset for brand marketers in the CPG sector. These solutions integrate data analytics, artificial intelligence, and real-time monitoring, allowing brands to make agile and data-driven decisions, allocate resources dynamically, and maximize their ROI.
In essence, CPG marketers must strike a delicate balance between long-term planning and real-time adaptability to navigate the modern marketing landscape successfully. Those who invest in such efficient management solutions are better equipped to thrive in this ever-evolving industry, ensuring their brands remain competitive and responsive to the needs of today's consumers.
Challenges/Problems faced while implementing Innovative Strategies for MROI Optimization, MMM, and MTA in the CPG Industry:
In the Consumer-Packaged Goods (CPG) industry, achieving incremental growth requires a multifaceted approach that involves several revenue excellence strategies operating in concert. This harmonious synergy of strategies, such as product innovation, pricing optimization, effective marketing, and distribution enhancements, contributes to incremental volumes and revenue. Consequently, measuring the impact of these concurrent efforts should also be unified for accurate attribution.
However, attaining a holistic measurement approach in the CPG sector is a complex endeavor. It demands a substantial investment in data collection and analysis, as the data required for accurate measurement is extensive. Furthermore, the analytical methods involved must be nuanced to account for the interplay of various strategies and their cumulative effects on sales and revenue. Additionally, achieving a unified measurement framework necessitates streamlined change management processes to ensure that the entire organization can adapt to the new measurement paradigm effectively.
In summary, driving incremental volumes within CPG through multiple revenue excellence strategies demands a holistic and unified approach to measurement. This requires data-intensive efforts, sophisticated analytics, and meticulous change management to accurately attribute success and inform future strategy development.
Benefits of implementing Innovative Strategies for MROI Optimization, MMM, and MTA in the CPG Industry:
Our Marketing Decision Management (MDM) framework represents a comprehensive solution designed to empower brands in quantifying and optimizing the impact of their marketing activities. In today's complex marketing landscape, understanding the true ROI of marketing efforts is crucial for strategic decision-making. Our MDM framework achieves this through a multi-faceted approach. We utilize a laddered mode of measurement, combining both top-down and bottom-up perspectives. The top-down analysis allows us to extract commercial insights by examining the macro-level impact of marketing campaigns on overall brand performance. This approach provides a holistic view of how marketing investments affect business outcomes.
In contrast, our bottom-up approach delves into the granular details of digital attributions and consumer behavioral impact. This perspective enables a deep understanding of how individual marketing touchpoints, channels, and campaigns influence consumer behavior and drive conversions. By merging these two approaches, we create a 360-degree view of the marketing impact, from high-level business metrics to the micro-level intricacies of consumer interactions.
Moreover, our framework leverages data-driven simulations to virtually measure the returns on media plans. This empowers brands to optimize their strategies, ensuring that marketing resources are allocated to the most effective channels and campaigns. By incorporating advanced analytics and modeling, we provide brands with the tools to make informed decisions, maximize ROI, and adapt swiftly to the ever-changing marketing landscape.
In conclusion, our MDM framework is a powerful tool that quantifies marketing impact, layers result for multiple brands, and allows brands to simulate, measure, and optimize their media plans. By offering both top-down and bottom-up perspectives, it caters to commercial insights, digital attributions, and consumer behavioral impacts, enabling brands to make data-driven decisions that yield significant marketing ROI improvements.
Conclusion
In a rapidly evolving consumer landscape, the future of marketing within the Consumer-Packaged Goods industry demands innovative strategies for MROI optimization, embracing both Marketing Mix Modeling (MMM) and Multi-Touch Attribution (MTA). This visionary path offers the promise of unprecedented insights, efficiency, and growth. As CPG brands embrace data-driven decision-making, harnessing technology to understand consumer behavior, and refining their marketing investments, they position themselves to thrive in the digital era. The fusion of traditional wisdom with cutting-edge analytics paves the way for a brighter, more profitable future. The CPG industry's transformation is not an option; it's imperative for those who aspire to remain competitive and relevant.
Success Story:
"Revolutionizing CPG Marketing: Unleashing ROI Potential with Innovative Strategies"
Client Details:
A multinational CPG giant headquartered in the USA with annual revenue of $1Bn+.
Challenges faced by the client:
The client's challenge stemmed from their investment in both personal and non-personal marketing channels, as they sought to drive revenue growth. However, the client noticed that the revenue increase did not align proportionally with the increased budget allocation. This disconnect prompted the need for a comprehensive analysis of the various marketing channels to ascertain their individual impacts on revenue.
To address this issue effectively, the client aimed to optimize budget allocation, ensuring that resources were channeled into strategies and channels with the highest potential for revenue generation. Such an analysis involved a deep dive into the performance of each marketing channel, both personal (such as sales representatives, and direct interactions) and non-personal (like digital advertising, social media, and other automated touchpoints). By understanding the specific contribution of each channel and its return on investment, the client could make data-driven decisions to allocate resources more efficiently, thus maximizing revenue growth while maintaining budgetary discipline. This analytical approach is crucial for achieving a balanced and optimized marketing strategy that drives the desired revenue outcomes.
Solutions offered by Quantzig:
Quantzig, recognizing the leadership team's need for data-driven decision-making, embarked on a comprehensive project that addressed five critical business questions. The project involved the creation of a sophisticated model capable of accounting for marketing activities across various channels, allowing for cross-channel comparisons and insightful correlations.
The culmination of this effort was a dynamic dashboard that offered the leadership team immediate access to answers for their key business inquiries with just a few clicks. This dashboard acted as a centralized hub, providing a holistic view of marketing impact and financial outcomes, empowering stakeholders to analyze data across different variables and explore multiple business scenarios.
The ability to slice data across various levers and simulate scenarios streamlined the decision-making process significantly. This not only expedited the decision-making process but also improved operational efficiency by ensuring that resources were allocated optimally based on data-driven insights. By providing a user-friendly interface to explore and simulate diverse scenarios, Quantzig's solution transformed the leadership team's approach to strategy and decision-making, enabling them to make informed, impactful choices swiftly and effectively.
Impact Delivered: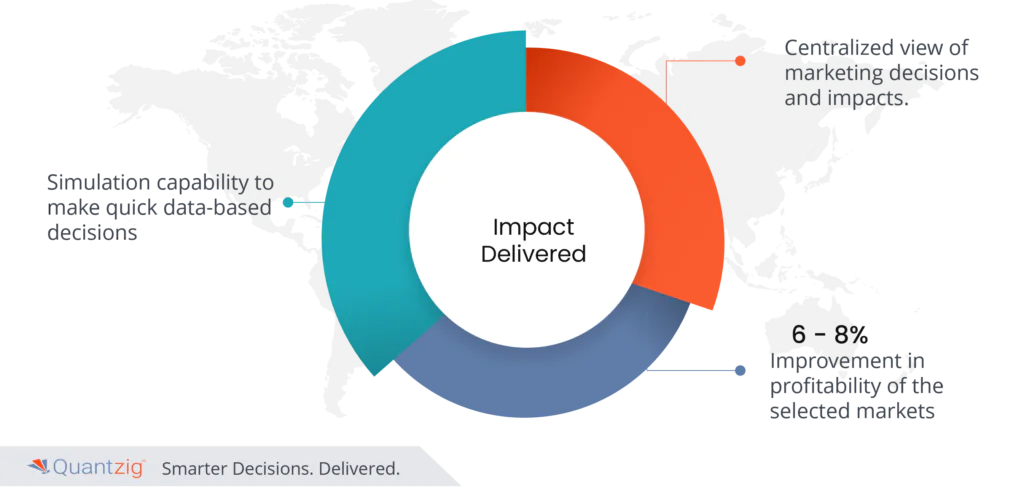 6 – 8% improvement in profitability of the selected markets.
Simulation capability to make quick data-based decisions
Centralized view of marketing decisions and impacts.
"Discover How Quantzig Transformed CPG Marketing – Read the Case Study Now!"