Introduction
In the era of Supply Chain 5.0, where complexity and interconnectivity reign supreme, the ability to harness the full potential of supply chain intelligence has become the linchpin of success. As businesses navigate an environment characterized by rapid technological advancements, global volatility, and ever-evolving customer demands, the need for a proactive and data-driven approach to supply chain management has never been more critical. In this article, we delve deep into the transformative impact of Supply Chain Intelligence, exploring how it not only drives operational efficiency but also unlocks strategic insights, fosters resilience, and empowers organizations to navigate the intricate web of modern supply chains with precision and foresight. Join us on this journey as we illuminate the path to Supply Chain 5.0 excellence through the prism of intelligence.
Importance of Supply Chain Intelligence in Supply Chain 5.0:
In the landscape of new-age market ecosystems, Supply Chain strategies have undeniably emerged as foundational pillars and key determinants of success. Today's customers demand more than just products; they seek enhanced transparency, impeccable traceability, unyielding resilience, and swifter fulfillment, even in the face of the complexities posed by a long tail of diverse products.
Investing in robust and forward-thinking supply chain solutions has become imperative for businesses seeking to thrive in this evolving marketplace. Such investments not only ensure operational efficiency but also lay the groundwork for meeting and exceeding customer expectations.
Transparency and traceability provide a sense of trust and accountability to customers, enhancing brand reputation. Resilience enables businesses to weather disruptions and crises, ensuring continuity of operations. Speed and efficiency in fulfillment cater to the instant gratification desires of today's consumers.
In essence, businesses that prioritize healthy, future-oriented, and streamlined supply chain strategies are better positioned to navigate the intricate challenges of modern market ecosystems. They meet customer demands and seize opportunities for growth, innovation, and sustainable success in a dynamic and competitive environment.
Challenges/Problems faced while implementing Supply Chain Intelligence in Supply Chain 5.0:
In the realm of new-age digital business models, the cost associated with customer experience and satisfaction has surged significantly, primarily due to reduced native brand loyalties across customer segments. In this dynamic landscape, consumers are more empowered than ever, frequently shifting their preferences and choices. This decreased brand loyalty means businesses must continually invest in delivering exceptional customer experiences to retain and attract customers.
Furthermore, while businesses can plan for contingencies to mitigate the impact of unforeseen events, the exact nature and specifics of such events are often challenging to simulate accurately. This unpredictability necessitates the implementation of continuous learning systems. These systems leverage real-time data processing to adapt and respond swiftly to changing circumstances. By continuously analyzing data, they uncover patterns, identify emerging trends, and make informed decisions, ultimately enhancing agility and preparedness in the face of unforeseen challenges. Thus, in the digital age, businesses must strike a delicate balance between cost management and the imperative of providing outstanding customer experiences while embracing data-driven, continuous learning strategies to remain competitive and resilient.
Benefits of implementing Supply Chain Intelligence in Supply Chain 5.0: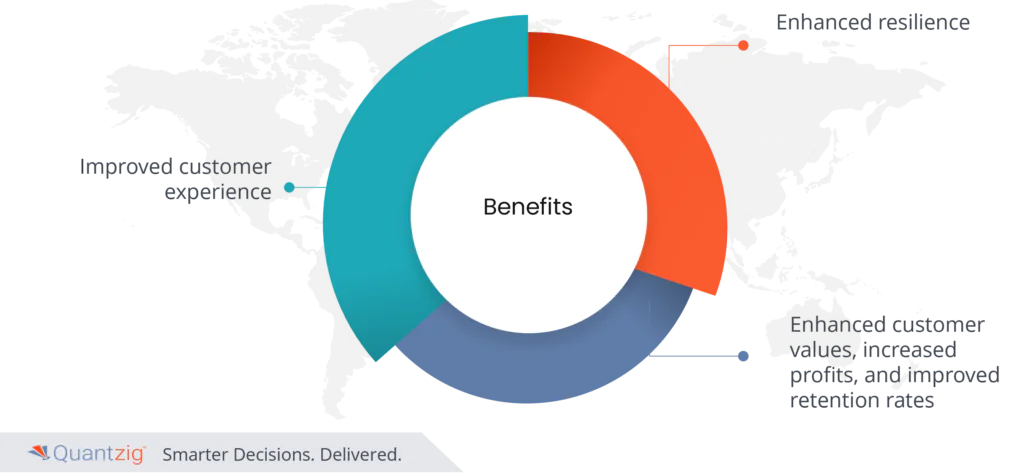 Improved customer experience:
Improving customer experience in the modern business landscape hinges on two crucial aspects: streamlined fulfillment processes and effective information sharing. To enhance customer satisfaction, businesses must ensure that products are consistently delivered punctually and in optimal condition. Timely and intact deliveries not only meet customer expectations but also foster trust and loyalty. Streamlining fulfillment operations through optimized logistics and inventory management systems is essential to achieve this goal. Simultaneously, transparent information sharing throughout the supply chain ensures customers are kept informed about their order's progress, further elevating their experience.
Enhanced resilience:
Enhancing resilience is equally critical in today's volatile environment. To effectively manage disruptions, businesses need comprehensive contingency planning. This planning should be underpinned by real-time information and intelligent decision support systems. Such systems provide timely insights into potential disruptions, enabling proactive responses and minimizing the impact on operations. By harnessing real-time data and intelligence, businesses can make informed decisions, adapt swiftly to unforeseen challenges, and maintain a robust supply chain that can withstand disruptions, ultimately safeguarding their reputation and customer satisfaction.
Conclusion
In the era of Supply Chain 5.0, the article has illuminated the transformative potential of Supply Chain Intelligence as the cornerstone of modern success. As businesses confront an ever-evolving landscape, characterized by complexity and interconnectedness, harnessing this intelligence becomes not just an option but a necessity. It is the key to unlocking operational excellence, strategic foresight, resilience, and customer-centricity. The journey through this article has revealed that intelligence is the guiding light, illuminating the path towards a future where supply chains are not just efficient but agile, not just reactive but proactive, and not just transactional but truly transformative. Embracing Supply Chain Intelligence, we stand on the threshold of a new era, poised to reshape industries, exceed expectations, and drive innovation in the relentless pursuit of excellence.
Success Story
"Revolutionizing Supply Chain 5.0: How Quantzig Empowered a Client with Supply Chain Intelligence"
Client Details:
A European spirits manufacturer with revenue of around $1Bn.
The challenges faced by the Client:
The client faced significant challenges due to their distribution strategy split between an in-house fleet and 3PL (third-party logistics) vendors. Their allocation approach relied on partial cost calculations, which resulted in cost leakages at various levels. These challenges included inefficient cost management, lack of visibility into true expenses, and difficulties in accurately assessing the overall distribution expenditure. This fragmented strategy not only hindered cost control but also impeded their ability to optimize operations, leading to suboptimal resource allocation and potentially compromising their competitiveness in the market.
Solutions offered by QZ:
Quantzig's approach to addressing the client's distribution challenges was both comprehensive and strategic. Firstly, they established a robust framework for calculating the total cost of shipments associated with self-deliveries. This step was crucial in gaining a comprehensive understanding of the financial implications of their in-house distribution operations. By factoring in all relevant costs, including transportation, labor, and overhead, this framework provided a more accurate view of the true expenses incurred in the delivery process.
Subsequently, we leveraged the data generated by the client's delivery management system to enhance the efficiency of their distribution operations. They used this data to prioritize deliveries based on various parameters such as location, urgency, and capacity. By identifying order consolidation opportunities, they could optimize routes and schedules, leading to cost savings and improved delivery timelines. This data-driven approach enabled the client to make informed decisions about the most efficient way to fulfill customer orders.
To further streamline decision-making, our team developed a comparative platform. This platform allowed for quick and data-driven assessments of whether deliveries should be handled by the client's fleet or outsourced to 3PL vendors. By considering factors like cost, capacity, and delivery speed, the client could make informed choices that aligned with their distribution strategy and financial objectives.
For self-deliveries specifically, we implemented advanced order dicing algorithms. These algorithms were designed to identify the optimal order delivery routes and sequencing to minimize costs while meeting customer delivery commitments. By breaking down orders into smaller, manageable units and optimizing their delivery, the client could reduce transportation expenses and enhance overall operational efficiency.
In summary, Quantzig's multi-faceted approach addressed the client's distribution challenges by introducing data-driven decision-making, cost optimization, and operational efficiency enhancements across their self-delivery and 3PL vendor operations. This holistic strategy not only reduced cost leakages but also positioned the client for greater competitiveness and improved customer satisfaction in their market.
Impact Delivered: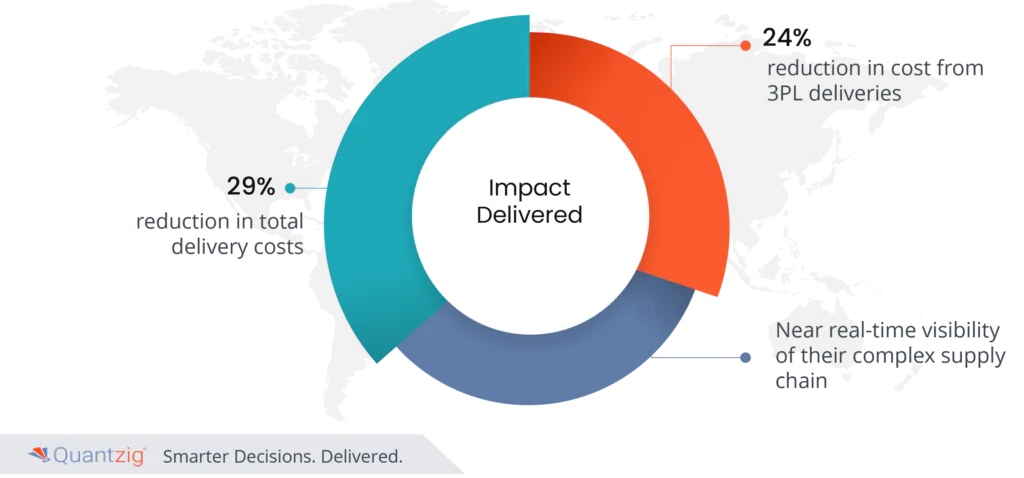 29% reduction in total delivery costs.
24% reduction in cost from 3PL deliveries
Near real-time visibility of their complex supply chain.
"Discover how Quantzig's expertise transformed our client's supply chain in the age of Supply Chain 5.0. Explore the case study now to unlock the potential of Supply Chain Intelligence for your business!"