Introduction
AI-powered capacity planning provides holistic and local views of capacity to all enterprises. It includes all the relevant production aspects including production schedules, workforce facilities, supplies, and budgets. With these effective strategies, all manufacturers improve their productivity and keep a close eye on their production costs, particularly during recession and growth periods. By automating capacity planning using machine learning and artificial intelligence, decision-makers maintain a balance in their supply chain and view their capacity at various operational levels.
This article delves into the pivotal role that AI plays in redefining traditional manufacturing paradigms, as well as its capacity to empower manufacturers with predictive insights, streamlined processes, and a competitive edge in an ever-evolving market. Join us as we unravel the nuances of this game-changing synergy between AI and capacity planning, and its profound implications for the future of manufacturing enterprises.
Importance of scaling AI in manufacturing Operations
AI in production planning can help predict future demand accurately using historical data and external market factors and it can generate prebuilt capacity & production plans. This forecast empowers manufacturers to optimize inventory levels, reduce holding costs, and meet customer demand more effectively. AI-generated prebuilt capacity and production plans optimize resource allocation and streamline operations. This dynamic approach enhances efficiency, minimizes downtime, and improves overall responsiveness to market fluctuations. The result is a manufacturing process that aligns seamlessly with demand, reduces costs, and cultivates a competitive edge. Through these capabilities, AI transforms traditional models into agile, data-driven strategies, positioning businesses to thrive in a rapidly changing market landscape.
AI's integration in manufacturing brings transformative benefits by proactively identifying and averting potential disruptions. Through predictive analytics, AI accurately anticipates equipment failures and issues, that enable timely preventive maintenance to prevent costly downtime. This predictive approach optimizes asset lifecycle, reduces maintenance costs, and enhances operational efficiency. AI's ability to generate diverse scenarios and contingency plans empowers manufacturers to strategize for unforeseen challenges, minimize production bottlenecks, and maintain continuity. Additionally, its data-driven insights refine decision-making and facilitate data-backed choices in resource allocation and process optimization. The result is an agile, resilient manufacturing ecosystem that minimizes disruptions, reduces expenses, and maximizes output quality, solidifying AI's role as a pivotal ally in ensuring sustained success within the manufacturing process.
Challenges present in manufacturing organizations due to a lack of AI capacity planning:
Predicting future demand and modeling against market factors may not be accurate hindsight. Without the implementation of successful capacity planning, the manufacturers may face multifaced challenges. Firstly, predicting future demand, despite AI assistance, remains susceptible to unexpected market shifts which render forecasts less accurate in hindsight. Moreover, integrating historical data and market variables requires robust data collection and management systems, often necessitating significant investments. If the manufacturers want to balance their production levels with uncertain demand, it can lead to overstocking or underutilization of resources which also impacts cost efficiency. Generating contingency plans and scenarios can be intricate and demand a deep understanding of complex production dynamics. Additionally, ensuring the seamless alignment of production plans with capacity constraints necessitates real-time monitoring and adjustments, which can be operationally complex.
The high cost of failures associated with capacity management makes human oversight relevant & necessary for validations. While AI and automation enhance efficiency, human intervention ensures contextual understanding, nuanced decision-making, and adaptation to unforeseen circumstances. Human oversight provides a critical layer of expertise to validate AI-generated recommendations, considering factors beyond data, such as market trends, qualitative insights, and strategic considerations. This validation process mitigates the risks of blindly following automated suggestions that may not capture complex real-time dynamics. Ultimately, the combination of AI's predictive capabilities and human judgments results in a balanced approach that minimizes the likelihood of costly errors, optimizes capacity planning, and safeguards against detrimental consequences.
Key benefits of AI Capacity planning in the manufacturing industry:
Automate demand prediction, lesser material waste, and optimal portfolio:
AI Capacity Planning revolutionizes the manufacturing industry by offering three core benefits. Firstly, automated demand prediction, fueled by AI's data-driven insights, ensures accurate forecasts, enabling manufacturers to produce what's needed, and reducing overproduction and shortages. Secondly, by fine-tuning production based on accurate predictions, AI minimizes material waste, optimizes resource utilization, and bolsters sustainability efforts. Lastly, AI-generated optimal portfolio plans align production capacities with varying demands, enhancing operational efficiency, and reducing downtime. This synergy of automation, waste reduction, and optimal resource allocation maximizes profitability, minimizes costs, and supports environmentally conscious practices. Overall, AI Capacity Planning transforms manufacturing processes and fosters adaptive, efficient, and sustainable operations in an evolving market landscape. 
Consistent and continuous production lines can be set up for a steadier market supply:
AI capacity planning plays a pivotal role in establishing consistent and continuous production lines for a steady market supply in the manufacturing industry. By analyzing historical data, market trends, and external factors, AI accurately predicts future demand patterns. This foresight enables manufacturers to align their production levels with market requirements, reducing the likelihood of production bottlenecks or excessive inventory. AI-generated prebuilt capacity and production plans optimize resource allocation, ensuring that the right number of materials and workforce are available at the right time. The result is a more agile and responsive manufacturing process that minimizes disruptions, maintains product availability, and enhances customer satisfaction. Ultimately, AI capacity planning enables manufacturers to strategically balance production with demand, fostering stable and reliable market supply.
Conclusion:
In conclusion, the implementation of AI Capacity Planning ushers in a new era of efficiency and adaptability within the manufacturing industry. Through automated demand prediction, manufacturers can align production levels with market needs, preventing wasteful overproduction and frustrating shortages. The reduction of material waste not only optimizes resource utilization but also aligns with sustainability goals. Moreover, AI's ability to generate optimal portfolio plans enables manufacturers to operate with precision, reducing downtime and enhancing productivity. These collective benefits contribute to a more streamlined, cost-effective, and environmentally conscious manufacturing process. By harnessing AI's predictive prowess and data-driven insights, the manufacturing industry stands to achieve heightened operational efficiency, enhanced customer satisfaction, and a strengthened competitive edge in the dynamic global market landscape.
Success Story:
Revolutionizing Manufacturing Operations: A Case Study on How Quantzig's AI Capacity Planning Transformed Production Efficiency and Market Responsiveness
Client Details: In a dynamic manufacturing landscape, our client, a leading Global Manufacturing Corporation located in the USA, sought to enhance their production planning processes to align capacity with market demand. The lack of accurate demand forecasts, coupled with inefficient resource allocation, led to production bottlenecks, excess inventory, and unplanned downtimes. To address these challenges, the client partnered with Quantzig to harness the potential of AI capacity planning.
Challenges: 
Demand aggregation and line planning was becoming a challenge:
The client encountered significant challenges in demand aggregation and line planning. Without effective coordination, demand data from various sources remained disjointed, leading to inaccurate forecasts and resource misallocation. This resulted in production inefficiencies, including overstocking or underproduction, impacting operational costs and customer satisfaction. Additionally, without streamlined line planning, production scheduling was erratic, leading to bottlenecks and delays. This disrupted supply chains, causing missed delivery deadlines and potential revenue loss. The absence of a cohesive approach to demand aggregation and line planning hindered the client's ability to respond swiftly to market changes and meet customer demands, undermining competitiveness, and eroding profit margins.
It was a manually intensive process.
The manual-intensive process posed several adverse consequences for the client. Firstly, it led to inefficiencies, consuming excessive time and labor, and hindering productivity. Manual handling of data increased the likelihood of errors, resulting in inaccurate demand forecasts and production schedules. This inconsistency often led to overproduction, surplus inventory, and increased carrying costs. Moreover, the lack of real-time insights hampered the client's ability to promptly adapt to changing market dynamics, impacting responsiveness and customer satisfaction. The absence of automation hindered scalability, limiting the client's potential for growth. Ultimately, the manually intensive approach resulted in elevated operational costs, suboptimal resource utilization, and a diminished competitive edge in an industry that demands agility and efficiency.
The client had lost more than $2Mn for machine replacements and unplanned downtimes:
The client's situation of losing over $2 million due to machine replacements and unplanned downtimes had significant repercussions. These financial losses strained the company's bottom line, impacting profitability and financial stability. Unplanned downtimes disrupted production schedules, causing missed deadlines and potential customer dissatisfaction, which in turn affected the company's reputation. Moreover, the frequent need for machine replacements resulted in increased maintenance costs and reduced operational efficiency. The client's competitiveness suffered as resources were diverted towards reactive measures rather than strategic growth initiatives. The financial strain, operational inefficiencies, and reputational damage collectively hindered the client's ability to innovate, expand, and maintain a strong market presence, underscoring the urgent need for a more reliable and predictive approach to maintenance and production planning.
Solutions:
Quantzig's analysis of capacity utilization, demand, and planned capacity at the site-technology level introduced a transformative approach to the client's production planning. By leveraging demand allocation algorithms, the technology enabled precise matching of production capabilities with market needs. This optimization ensured maximum efficiency by preventing overproduction and underutilization of resources. The granular analysis allowed for proactive adjustments to production schedules, minimizing downtime and enhancing resource allocation. The technology's data-driven insights empowered the client to swiftly adapt to changing demand patterns, reduce operational costs, and improve customer satisfaction through consistent supply. Overall, this approach revolutionized production planning, maximizing resource efficiency, optimizing inventory management, and bolstering the client's competitive position in the market.
The development of an AI-based simulator by our team marked a transformative leap for the client's operational efficiency. By predicting available capacity at asset and technology levels, the technology provided unparalleled visibility into production capabilities. This empowered the client to optimize capacity dynamically, adjusting run rates and maintenance schedules in response to changing demand patterns. The simulator's predictive prowess enabled proactive decision-making, mitigating production bottlenecks and downtime risks. By aligning capacity with demand requirements, the client achieved optimal resource allocation, reduced overproduction, and minimized underutilization. This technology not only enhanced operational agility but also optimized costs by preventing unnecessary run rates and maintenance activities. Ultimately, the AI-based simulator propelled the client towards sustained growth, improved profitability, and enhanced customer satisfaction through consistent and adaptive production capabilities.
Impact Delivered: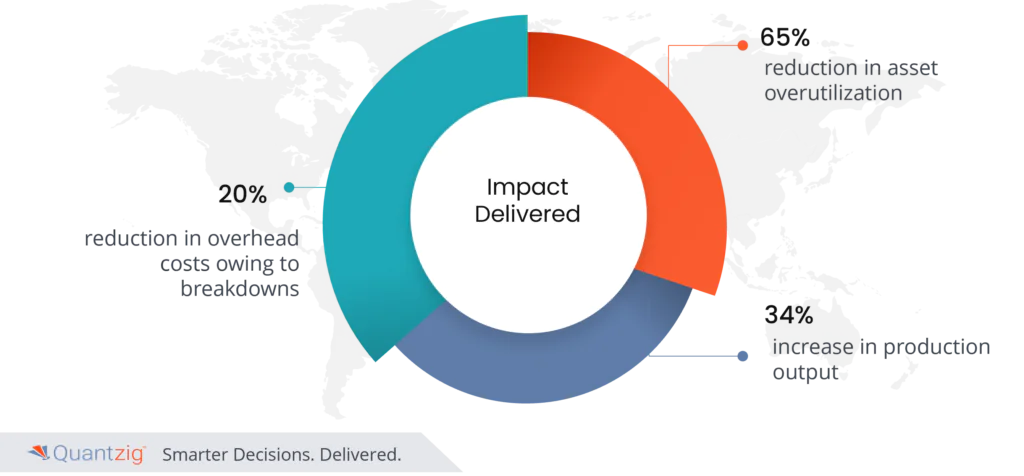 20% reduction in overhead costs owing to breakdowns.
65% reduction in asset overutilization
34% increase in production output 
Discover how Quantzig's AI-driven solutions can transform your manufacturing operations and drive optimal efficiency. Contact us today to schedule a personalized consultation.