Introduction
As businesses grapple with the ever-changing demands of the market, optimizing resourcing costs becomes imperative for sustainable growth. On-premises data management demands dedicated personnel for maintenance, monitoring, security, and troubleshooting. These operational costs can accumulate over time and divert valuable resources from core business activities. Cloud migration shifts the burden of infrastructure management to cloud service providers. This includes automated updates, security patches, and round-the-clock monitoring, reducing the need for in-house IT staff and associated expenses.
In this article, we delve into the transformative realm of cloud Migration Solutions – a strategic approach to streamline data transfer and integration processes. By eliminating manual interventions and automating data migration, businesses can achieve remarkable cost savings while maintaining optimal productivity.
Make the most of your data!
Connect with us for tailor-made solutions
Benefits of Cloud Migration Solutions:
Reduce data management costs
With the dynamic shift of cloud migration, costs are revolutionized across many critical business areas. For example, by replacing the traditional on-premise resource costs with cloud infrastructure, resources are allocated efficiently, optimized expenses, and reduced costs. The era of hefty upfront investments in full-on servers comes to an end, as the pay-as-you-go model enables businesses to pay only for what they use. Storage costs can also be reduced by 20-30% as scalable cloud storage eliminates the need for costly hardware upgrades. This strategic transition not only liberates businesses from fixed expenses but also empowers them with flexible, scalable, and cost-effective solutions for the future.
Cross-functional integration of data systems
Cloud Migration seamlessly integrates sales and inventory systems and revolutionized service level planning. Real-time data sharing enhances demand forecasting accuracy, optimizes excessive inventory levels, and reduces excess stock. The result is heightened productivity, reduced operational expenses, and increased cost-effectiveness. Embrace Cloud Migration Solutions to optimize data management, elevate collaboration, and drive unparalleled savings in resourcing costs.
Higher ROI from data architecture
Studies revealed that a cutting-edge cloud-based architecture empowers concurrent data access, revolutionized decision-making, and ROI. Through shared cloud repositories, multiple users access and analyze data in real time, fostering collaborating insights. With the cloud's cost-effectiveness, enterprises heavily invest in data utilization rather than infrastructure maintenance. Enhanced security protocols safeguard data integrity and privacy.
Challenges in a lack of Cloud Migration Solutions:
Large-scale architecture set up
The large-scale architecture setup can be complex and resource intensive. Implementing Data Migration Solutions for such setups requires meticulous planning and expertise. It is necessary to craft a comprehensive migration roadmap, encompassing discovery, assessment, and execution phases. Moreover, large-scale architectures involve massive datasets, necessitating robust infrastructure and scalable solutions to handle data effectively. Rigorous testing ensures seamless transitions. Choosing the right solution provider becomes crucial to navigate complex challenges and achieving a streamlined and cost-effective architecture setup.
High run costs during the transition
During the transition to Cloud Migration Solutions, one of the key challenges lies in the high run costs incurred. While these solutions are designed to lower resourcing costs in the long term, the initial implementation phase may require substantial investments in technology, tools, and skilled personnel. Cloud migration itself can be a resource-intensive process, leading to short-term spikes in operational expenses. Additionally, ensuring data integrity and seamless integration across systems demands meticulous planning and execution, contributing to the transitional costs. Despite these challenges, businesses must recognize the long-term benefits of reduced resourcing costs and improved efficiency that Data Migration Solutions bring to optimize their data management processes.
Migration of legacy systems
The migration of legacy systems presents a formidable challenge when implementing Data Migration Solutions to lower resourcing costs. Legacy systems often hold a vast amount of critical data, making the transition complex and resource intensive. Ensuring data compatibility, integrity, and security between old and new systems requires meticulous planning and skilled expertise. Data mapping and transformation processes are time-consuming and demand significant human resources. Additionally, legacy systems might lack modern APIs and integrations, necessitating custom development, which adds to the cost. Despite these challenges, leveraging Data Migration Solutions strategically can streamline the migration process, resulting in long-term cost savings, enhanced data accessibility, and improved operational efficiency.
Importance of Data Migration Solutions:
Improved operational efficiency of BI solutions
Implementing governance solutions with cloud-migrated data streamlines operational efficiency in the business processes. Robust data governance frameworks mainly establish a clear roadmap, access controls, and compliance protocols and ensure data integrity. On the other hand, automated workflows enforce consistent data quality and security standards, and auditing mechanisms track data usage. These governance layers optimize data utilization, minimize errors, and redundancies, and foster a more efficient operational landscape.
Access to insight-rich data across the organization
Data marketplaces and cataloging systems revolutionize cross-organizational data access. By centralizing metadata and descriptions, data cataloging facilitates swift discovery and understanding of available datasets. Cloud experts revealed that cloud-based data marketplaces elevate accessibility by enabling users to explore, select, and leverage insight-rich data sources seamlessly. The synergy of these tools paves the way for self-serve analytics, and empowered teams to unlock actionable insights independently.
Faster turnaround time for solutions
Data Migration Solutions offer a faster turnaround time for solutions, empowering businesses to stay ahead in today's fast-paced world. By streamlining data transfer and integration, organizations gain real-time access to critical information, leading to quicker decision-making and problem-solving. Automation and efficient workflows reduce manual efforts, accelerating the deployment of solutions. This speed and agility result in increased productivity and improved operational efficiency, enabling businesses to respond rapidly to market demands. With faster solution deployment, businesses can gain a competitive edge, seize new opportunities, and achieve their goals on time.
Conclusion:
In conclusion, Cloud Migration Solutions prove to be the catalyst for achieving unprecedented cost efficiency and streamlining data management processes. By leveraging cutting-edge technologies and seamless data integration, businesses can optimize resource allocation, reduce operational expenses, and gain a decisive competitive edge. Embrace the power of data-driven efficiency to elevate your organization's productivity and profitability. With Data Migration Solutions, lower resourcing costs become more than just a possibility; they become a transformative reality. So, leap and unlock substantial cost savings while propelling your business toward success in today's data-centric world.
Success Story:
Achieving Cost Efficiency through Cloud Migration Solutions: A Quantzig Case Study
Client Details: A leading IT company headquartered in the UK
Client Details:
A leading retail and e-commerce giant operating business in 22 global markets
Challenges: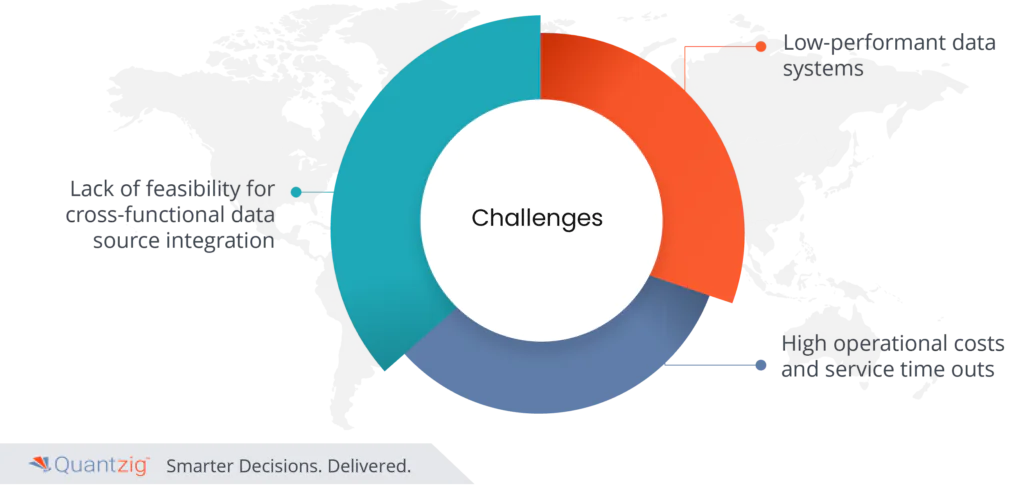 Lack of feasibility for cross-functional data source integration
The client faced the daunting challenge of lack of feasibility for cross-functional data source integration. Integrating diverse data sources across functions proved to be complex and resource-intensive, hindering the seamless flow of information. The absence of a unified data ecosystem resulted in data silos, limiting the client's ability to gain a comprehensive view of their operations. This fragmentation obstructed effective decision-making, impeding the client's ability to respond promptly to market demands and seize opportunities. The client recognized the need for a robust Data Migration Solution to overcome this obstacle, streamlining data integration and achieving a unified, insight-rich data environment for better decision-making and enhanced competitiveness.
Low-performant data systems
The client grappled with the challenge of low-performant data systems, impeding operational efficiency and hindering growth. Inadequate data systems resulted in sluggish data processing, causing delays in accessing critical information. This bottleneck affected decision-making and hindered the client's ability to respond promptly to market changes. The subpar performance of data systems limited data accessibility and analysis, hindering the client's ability to gain valuable insights for strategic planning. Recognizing the urgent need for a transformative solution, the client sought Data Migration Services to upgrade and optimize their data infrastructure, unleashing the potential for better performance, enhanced productivity, and improved competitiveness.
High operational costs and service time outs
They grappled with the challenge of high operational costs and frequent service time-outs, impeding their business efficiency and customer satisfaction. Inefficient data systems led to resource-intensive operations and increased maintenance expenses, elevating operational costs significantly. Frequent service time-outs disrupted critical business processes, causing delays in delivering products and services, leading to dissatisfied customers.
Make the most of your data!
Connect with us for tailor-made solutions
Solutions:
Cloud data architecture design and implementation
Quantzig delivered cutting-edge Cloud Data Architecture design and implementation solutions to the client, revolutionizing their data management practices. Leveraging advanced cloud technologies, our team crafted a scalable and secure data ecosystem, ensuring seamless data integration and accessibility. Our bespoke solutions enabled the client to optimize resource allocation, reducing operational costs and elevating efficiency. By implementing real-time data processing and analytics, the client gained valuable insights for data-driven decision-making. Additionally, our robust security measures safeguarded sensitive information, instilling trust among customers and stakeholders. The Cloud Data Architecture empowered the client with enhanced data performance, streamlined workflows, and a competitive edge in the market.
Redesign of ETL systems and data pipelines
Quantzig spearheaded a transformative redesign of ETL systems and data pipelines, delivering top-notch solutions that propelled our client's data management to new heights. Our expert team optimized the Extract, Transform, Load (ETL) processes, enhancing data flow and integration across the organization. By implementing cutting-edge technologies, we streamlined data pipelines, ensuring real-time data updates and reduced data latency. This revamp significantly improved data accuracy, enabling data-driven decision-making. Our tailored solutions minimized manual interventions, accelerating data processing and analytics, while mitigating errors and ensuring data quality. The redesigned ETL systems and data pipelines empowered the client with enhanced operational efficiency, rapid insights, and a competitive advantage in their industry.
Optimized data models for BI systems
Our expert team delivered unparalleled solutions by optimizing data models for BI systems, revolutionizing our client's data-driven decision-making capabilities. We carefully analyzed the client's business requirements and data sources, designing a tailored data model that streamlined information flow and minimized redundancy. By leveraging advanced data modeling techniques, we ensured efficient data retrieval and processing, leading to rapid insights and improved analytical capabilities. Our solutions enhanced data accuracy, empowering the client to make strategic decisions with confidence. With optimized data models, the client experienced heightened BI system performance, reduced data processing time, and a competitive edge in their industry, cementing their position as a market leader.
Medallion architecture-based cloud data warehouse design
Quantzig's expertise in Medallion architecture-based cloud data warehouse design revolutionized our client's data management strategy. Our team crafted a scalable and robust data warehouse architecture, leveraging Medallion's cutting-edge capabilities to optimize data storage, processing, and retrieval. By harnessing the power of the cloud, we ensured seamless data integration from diverse sources, driving real-time analytics and insights. Our tailored solutions enhanced data security, safeguarding sensitive information, and complying with industry regulations. The Medallion architecture-based cloud data warehouse empowered the client with unparalleled data performance, rapid data processing, and enhanced data governance. With our transformative solutions, the client gained a competitive edge, accelerating growth and success in their market.
Impact Delivered:
70% reduction in monthly maintenance costs
Freed up the bandwidth of 20 data engineering resources through automated governance
Reduced solution development time by 50%
Ready to revolutionize your data management and lower resourcing costs?
Embrace the power of data-driven efficiency and unlock unparalleled cost savings with Quantzig's Cloud Migration Solutions.