Introduction
In today's rapidly changing business landscape, harnessing the power of data and cloud technologies is paramount for organizations to achieve sustainable growth and maintain a competitive edge. Nowadays, businesses realize that developing a cloud strategy is an essential component for an effective growth trajectory because, from app deployment, virtual machine management, and data storage, the cloud is the main data center in this digital era. This article delves into the critical aspects of devising a data strategy roadmap that navigates through the complexities of data management and cloud adoption. In this article, we'll shed light on best practices, innovative technologies, and emerging trends that pave the way for the successful implementation of the cloud engineering roadmap, enabling businesses to harness the full potential of their data while embracing the transformative capabilities of cloud computing.
Make the most of your data!
Connect with us for tailor-made solutions
Importance of Data Strategy Roadmap for Cloud:
As organizations experience growth, they often face a significant increase in data complexity, accompanied by the adoption of multiple tools and solutions to address evolving business needs. Gartner Cloud Strategy estimates that nowadays less than one-third of small and medium-size enterprises have a cloud strategy document. While experimentation is essential for innovation, it can inadvertently lead to a culmination of inefficiencies within the data environment. This multifaceted landscape, comprising various data sources, storage systems, and analytical tools, often lacks cohesion and standardization. Consequently, data silos emerge, hindering data accessibility, consistency, and collaboration among teams. As a result, the decision-making process becomes cumbersome and time-consuming, impeding agility and responsiveness to market changes. Additionally, managing this complex data infrastructure incurs exorbitant operational costs, draining millions of dollars in resources annually.
Challenges or problems faced while implementing Data Strategy Roadmap for Cloud:
Over time, data can become redundant and fragmented, resulting in governance challenges and uncertainties regarding its usefulness. Redundant data refers to repeated or duplicated information, which can lead to inaccuracies and inefficiencies in data management. Additionally, scattered data, spread across various sources or systems, hinders effective analysis and decision-making. Consequently, organizations may struggle to maintain data integrity, hindering their ability to derive valuable insights and make informed decisions.
Businesses that don't consider the best tools, practices, and services required to make an effective cloud roadmap risk driving up their business costs and impacting their potential customers negatively. Proper data governance practices, including regular data cleansing and integration efforts, are crucial to mitigate these challenges, ensuring data remains accessible, accurate, and pertinent for organizational success. Your organization may need to upgrade the network software and hardware to support the extra demand that arises with supporting cloud services.
Besides, moving to the effective data and cloud strategy roadmap requires your IT team to have a different expertise level and learn new skills. If your existing team doesn't have enough bandwidth to take on the challenges of moving to the cloud implementation strategy, you can wait until your team has more capacity to manage additional work.
Benefits of Implementing a Data Strategy Roadmap for the Cloud:
Implementing a data roadmap and solutions process can lead to significant performance improvements ranging from 50-90%. This structured approach ensures streamlined data collection, integration, and analysis, eliminating redundancies and enhancing data quality. By identifying and prioritizing data needs aligned with business objectives, organizations can derive more valuable insights from their data. Additionally, efficient data strategy and roadmaps enhance data accessibility, reducing the time spent searching for information. Ultimately, this strategic approach empowers businesses to leverage data as a powerful asset, optimizing operations, driving innovation, and gaining a competitive edge in the marketplace. A well-thought-out cloud security strategy roadmap fulfills critical business milestones, saves costs, and achieves the organization's digital transformation objectives in an effective cloud setup.
Conclusion:
In conclusion, the cloud implementation strategy is a pivotal undertaking for any forward-thinking organization seeking to harness the full potential of its data and cloud capabilities. By establishing a clear and well-defined cloud platform roadmap, businesses can align their data and cloud initiatives with their overall strategic objectives, fostering efficiency, innovation, and agility. This comprehensive approach ensures optimized data management, seamless integration of cloud technologies, and enhanced data security. Embracing this strategic roadmap empowers businesses to unlock the true value of their data and cloud, propelling them toward sustained success and future readiness.
Success Story:
How Quantzig Helped a Leading IT Company Achieve Data and Cloud Transformation: A Strategic Roadmap Case Study
Client Details:
A leading IT company in New York, USA
Challenges: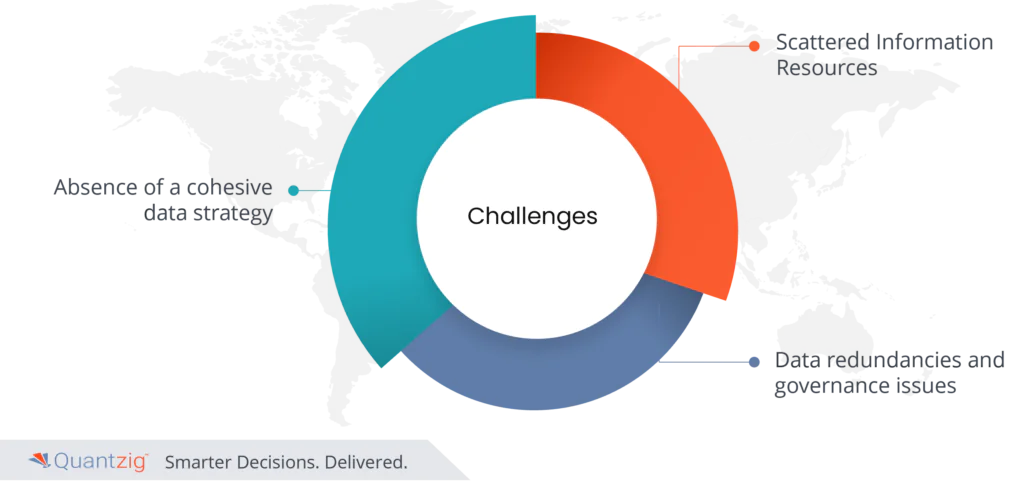 The client was facing significant challenges in harnessing the potential of their data and developing a cloud strategy effectively. As their business expanded rapidly, data volumes grew exponentially, leading to data redundancy, scattered information, and governance issues. The absence of a cohesive data and cloud implementation strategy hindered their ability to make data-driven decisions, resulting in missed opportunities and operational inefficiencies. Furthermore, the client lacked a clear roadmap to integrate cloud solutions into their existing infrastructure. This led to a fragmented cloud road map, making it difficult for them to optimize cloud resources and fully leverage its benefits. The lack of a coherent data and cloud computing implementation strategy impeded their competitiveness in the fast-paced market and threatened to undermine their growth prospects.
Facing similar challenges?
Connect with us for tailor-made solutions
Solutions:
Data Assessment and Governance Framework:
Quantzig conducted an in-depth assessment of the client's existing data infrastructure and identified gaps in data governance. They formulated a robust governance framework to ensure data integrity, security, and accessibility, reducing data redundancies by 60%.
Advanced Analytics Solutions:
Leveraging cutting-edge analytics, our team deployed advanced analytical models to process and analyze their data comprehensively. This facilitated data-driven decision-making, leading to a 90% improved data performance, and enhanced predictive maintenance capabilities.
Cloud migration and integration strategy:
Our team formulated a phased cloud migration and integration strategy, considering scalability, security, and cost-effectiveness. This approach led to a seamless adoption of cloud technologies, reducing infrastructure costs by 30% while improving cross-departmental collaboration.
Impact Delivered: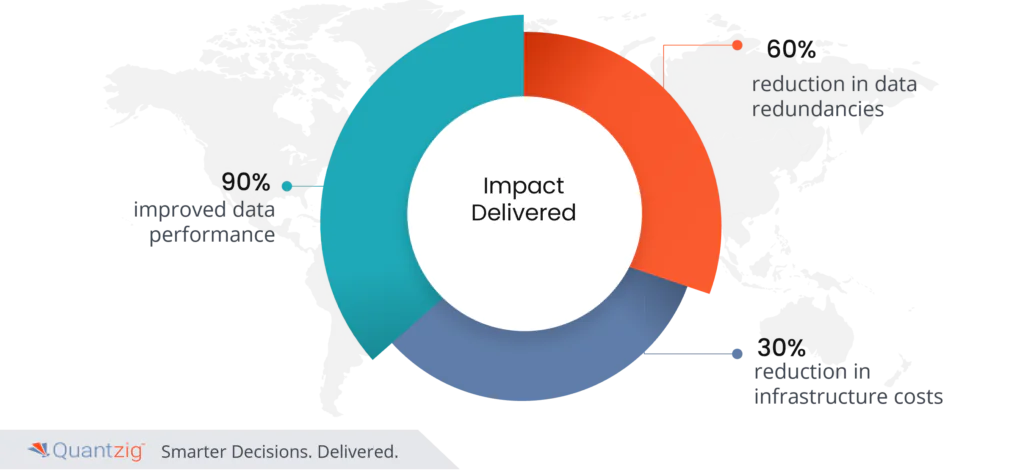 90% improved data performance
60% reduction in data redundancies
30% reduction in infrastructure costs
Do you also need guidance on Strategic Roadmap development for Data and Cloud? Connect with Quantzig to bring digital transformation to your business!