Introduction
In Industry 4.0, technological advancement is continually evolving and improving the productivity, efficiency, and safety of operations for all the manufacturing industries and even our daily home lives. Keeping up to date with the latest technological trends gives organizations the edge over the competition, but more importantly, improves traceability, and reduces risk. The recent COVID-19 pandemic situation has been a catalyst in accelerating changes, especially in healthcare industries; staying safe means more patients need remote support and more people need to work from home. In recent decades, AI, machine learning, and predictive analytics have opened a new world of opportunities for clinical data management and analysis. 
The data pipeline mainly sets up the connections to pull in essential information and standardize it in a consumable form. Then, it can be shared with end users who are making real-time decisions and collaborating around the same insights under clinical data management systems. Creating and implementing a clinical data pipeline strategy can automate that process. You just need to set your clinical architecture to reap the advantages of it across many places in your clinical development process.
 The article delves into the essential components of such a strategy, addressing data source integration, quality assurance, security, and interoperability. It explores the critical role of data management in clinical research, clinical trial data management, real-world case studies, highlighting successful implementations and lessons learned. With an emphasis on aligning the pipeline strategy with organizational objectives, industry standards, and compliance requirements, this article offers a concise yet comprehensive guide for healthcare professionals, administrators, and data practitioners venturing to architect a streamlined clinical data pipeline.
Importance of creating and implementing a clinical data pipeline strategy:
Enable real-world evidence-based line of therapy management: A clinical data pipeline strategy serves as the essential conduit for harnessing real-world evidence (RWE) to enhance the line of therapy management. By seamlessly collecting, integrating, and processing data from various sources such as electronic health records, wearables, and patient-reported outcomes, the strategy ensures a steady flow of accurate and diverse information. This dynamic pipeline facilitates the generation of comprehensive, real-time insights into patient outcomes, treatment efficacy, and adverse events in real-world settings. Clinicians and researchers can make informed decisions, tailor therapies, and adjust interventions based on this robust evidence. Moreover, data pipeline strategies uphold data integrity, security, and compliance, bolstering trust in RWE. Ultimately, a well-structured clinical data pipeline strategy empowers healthcare practitioners to optimize their line of therapy management, advancing patient-centric care through evidence-based practices.
Improvement in drug efficacy: Drug development and discovery is a costly, high-risk, and long process that may take approx. 10-15 years with an estimated cost of approx. $ 1-2 billion for each new drug to be approved for new usage. Clinical Research showed that 90% of clinical drug development fails due to poor strategic planning, lack of commercial needs, unmanageable toxicity, lack of clinical efficacy, and poor drugs.  A clinical data pipeline strategy facilitates enhanced drug efficacy by seamlessly collating, validating, and analyzing patient data from diverse sources. This approach enables swift identification of treatment responses, adverse reactions, and patient characteristics. Real-time insights derived from the pipeline aid in tailoring therapies, optimizing dosages, and identifying personalized interventions. This iterative feedback loop, supported by robust data management and analysis, accelerates the development of more effective medications, ultimately leading to improved drug outcomes and patient well-being.
Improved drug marketing effectiveness: In the pharmaceutical field, sometimes patients attempt to purchase drugs alone to avoid the consultancy charges, and chemists or retail store owners sell those drugs to them without any prescriptions. That's why pharma marketers conduct drug marketing campaigns to educate their audience about the consequences of prescribed and non-prescribed drugs and increase their sales volumes.  A clinical data pipeline strategy significantly amplifies drug marketing effectiveness by orchestrating a seamless flow of pertinent patient insights. This approach transforms raw clinical data into actionable intelligence which enables pharmaceutical companies to tailor their marketing endeavors more precisely. By analyzing patient demographics, treatment outcomes, and adverse events, companies can identify target patient populations, refine messaging, and tailor promotional activities to align with actual patient needs.  Moreover, the strategy's real-time analytics enable swift adaptation to emerging trends and evolving patient preferences. This data-driven approach fosters more personalized interactions between pharmaceutical companies, healthcare providers, and patients. By substantiating marketing claims with real-world evidence, the strategy bolsters credibility and trust and enhances clinical data management.
Key benefits of a clinical data pipeline strategy: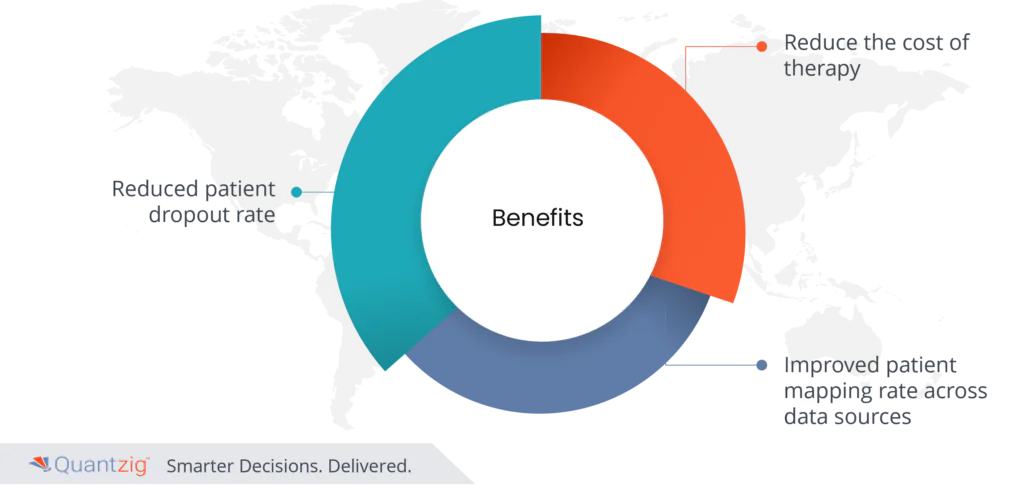 Reduced patient dropout rate
 In most healthcare organizations, the patient dropout rate increases due to a lack of understanding and engagement, scheduling and time conflicts, financial costs, long-distance traveling, and stress. A clinical data pipeline strategy plays a pivotal role in curbing patient dropout rates by fostering proactive engagement and personalized interventions. By integrating data from electronic health records, wearables, and patient-reported outcomes, healthcare providers gain real-time insights into patient progress and challenges. This enables timely interventions and personalized care adjustments, enhancing patient satisfaction and adherence.
The strategy's data-driven insights also facilitate targeted communication which allows healthcare teams to address concerns, provide relevant information, and offer support promptly. Predictive analytics from the pipeline help identify patients at risk of dropping out and enable proactive outreach and tailored interventions to mitigate barriers.
Reduce the cost of therapy
A clinical data pipeline strategy offers a multifaceted approach to diminishing therapy costs through data-driven optimization. By integrating data from various sources like electronic health records, treatment outcomes, and patient demographics, healthcare providers can identify cost-effective interventions and tailor therapies to individual patient profiles. Real-time monitoring and predictive analytics enable early detection of treatment inefficiencies or adverse events, allow timely adjustments, and prevent costly complications.
Furthermore, the strategy enhances resource allocation by providing insights into therapy effectiveness, enabling informed decisions on treatment modalities, medications, and interventions. By leveraging these insights, healthcare organizations can streamline workflows, reduce unnecessary procedures, and minimize trial-and-error approaches, all of which contribute to cost reduction. Overall, the clinical data pipeline strategy empowers healthcare providers to implement evidence-based, cost-efficient therapies that prioritize patient well-being and financial sustainability.
Improved patient mapping rate across data sources
Though difficult, effective patient journey mapping is an invaluable procedure for health systems. Having an entire picture of how a patient accesses and moves through the health system allows healthcare administrators to understand how an organization is successfully performing at each touch point. For the patients, it leads to better-informed patient outreach efforts, enhanced patient experience, and a higher-quality patient care experience overall. If all essential patient data lived together on a well-crafted unified platform instead of disparate data silos, it could be easy for health systems to better connect all data points to map the entire patient journey, from referrals to scheduling and beyond.
In this case, a clinical data pipeline strategy serves as a vital tool in enhancing patient mapping rates across disparate data sources. By unifying data from electronic health records, claims, wearable devices, and more, the strategy facilitates clinical data management, accurate patient identification, and matching. Robust data cleansing, normalization, and integration processes ensure consistency and quality, mitigating errors in mapping. This strategy also leverages advanced algorithms and machine learning techniques to resolve discrepancies and create reliable patient identifiers, reducing duplication and enhancing cross-referencing. Additionally, real-time updates and continuous synchronization between data sources contribute to maintaining accurate patient records.
Conclusion:
In the dynamic landscape of healthcare, the creation and implementation of a robust clinical data pipeline strategy stands as a cornerstone for realizing the full potential of data-driven innovation. By seamlessly orchestrating data acquisition, validation, integration, and analysis, this strategy empowers healthcare institutions to make informed decisions, drive evidence-based practices, and advance patient care. The strategy's role in enhancing interoperability, security, and data quality cannot be understated, fostering collaboration, trust, and compliance. As healthcare evolves, a well-executed data pipeline strategy serves as a catalyst for transformative outcomes that enable healthcare professionals to optimize therapies, streamline operations, and ultimately improve patient well-being.
Success Story:
Streamlining Healthcare Insights: How Quantzig Revolutionized Clinical Data Pipeline Strategy Implementation
Client Details: A prominent healthcare institution located in the United States faced challenges in harnessing its vast troves of patient data to drive informed decision-making, streamline operations, and enhance patient outcomes. They sought to implement a robust clinical data pipeline strategy to address data silos, ensure data accuracy, and facilitate clinical data management.
Challenges: 
Low patient map rate across EHR, claims, and drug databases
The client encountered challenges with a low patient mapping rate across electronic health records (EHR), claims, and drug databases. Inaccuracies in patient identification and matching led to fragmented data, hindering comprehensive insights and patient-centric care. Discrepancies in data formats, naming conventions, and data entry errors exacerbated the issue. This fragmented view impeded research accuracy, care coordination, and treatment optimization. 
Siloed planning of drug development based on uni-dimensional patient data
Besides, they grappled with challenges stemming from siloed planning of drug development relying on uni-dimensional patient data. Isolated data from disparate sources hindered holistic patient insights and accurate treatment evaluation. Lack of integration obscured potential interactions, adverse effects, and real-world efficacy. This fragmented approach prolonged development cycles, inflated costs, and risked inadequate patient outcomes.
Low initial adoption due to poor marketing effectiveness
The client faced challenges related to the poor initial adoption of their product attributed to poor marketing effectiveness. Their messaging failed to resonate with the target audience resulting in limited awareness and engagement. They struggled to communicate the product's unique value proposition which also led to misconceptions about its benefits. Additionally, inadequate market research hindered their understanding of customer needs and preferences, causing misalignment between the product and its intended users. The absence of a coherent marketing strategy, including digital presence and customer engagement, exacerbated the issue.
Solutions:
A unified patient registry database that combines drug, EHR, and claims data
The implementation of a unified patient registry database, amalgamating drugs, electronic health records (EHR), and claims data, profoundly benefitted the client. This integrated repository eliminated data silos and enabled comprehensive patient profiles. The synergy of drug data facilitated insights into treatment outcomes, adverse events, and drug interactions, enhancing drug development and safety monitoring. EHR integration enriched patient histories, allowing personalized care decisions. Claims data integration provided cost and reimbursement insights, optimizing resource allocation. The unified database streamlined research endeavors improved patient matching accuracy, and empowered evidence-based decision-making. 
Setup OMOP schema to report real-world patient data
The establishment of the OMOP (Observational Medical Outcomes Partnership) schema for reporting real-world patient data brought significant advantages to the client. By adhering to this standardized data model, the client gained the ability to transform diverse and complex patient information into a structured format, promoting interoperability and cross-study analysis. This facilitated streamlined data aggregation from various sources such as electronic health records, claims, and clinical trials. The OMOP schema enabled the client to perform robust analytics, uncover hidden insights, and identify trends across different patient populations and therapeutic areas. Furthermore, this approach fostered collaboration with research networks and regulatory bodies, accelerating regulatory submissions and expediting drug development.
Our team implemented a patient journey database that captured the entire healthcare experience of patients, from initial interactions with healthcare providers to treatment outcomes. By consolidating data from various touch points such as appointments, diagnoses, treatments, and follow-up visits, the client gained holistic insights into patient pathways. This allowed for the identification of bottlenecks, inefficiencies, and areas for improvement in care delivery. The database enabled data-driven decision-making, enhancing care coordination, personalized treatments, and patient satisfaction. Additionally, it facilitated research by providing a comprehensive view of patient cohorts, aiding in the design of clinical trials and real-world evidence studies. Ultimately, the patient journey database empowered the client to optimize patient care, streamline operations, and drive evidence-based healthcare improvements.
Impact Delivered: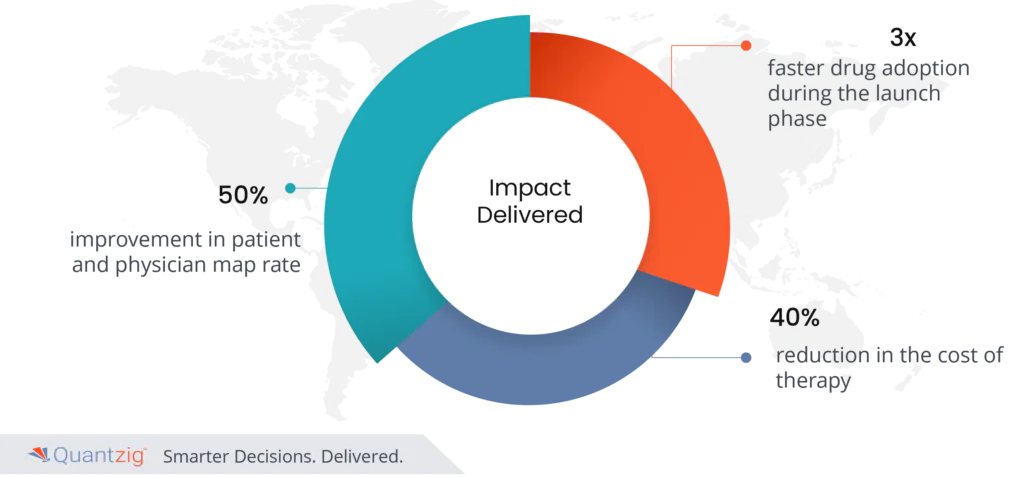 50% improvement in patient and physician map rate
3x faster drug adoption during the launch phase
40% reduction in the cost of therapy 
Ready to Transform Your Data Strategy? 
Contact Quantzig today to discover how our expertise can help your organization unlock the true potential of your data, drive innovation, and gain a competitive edge.