In this ever-evolving landscape of modern business, effective cloud strategy roadmaps can be driven by the need to improve visibility or monetize data while providing new innovative products to customers. This visionary article delves into the critical symbiosis between data and cloud computing strategy, unraveling the transformative potential they hold for organizations worldwide. By embracing a well-structured cloud strategy roadmap, businesses can unleash the true power of their data assets, driving efficiency, innovation, and competitive advantage. In this article, we'll explore how data-driven decision-making, empowered by seamless cloud integration, becomes the cornerstone for sustainable growth and success in today's data-driven era.
Introduction
Make the most of your data!
Connect with us for tailor-made solutions
Importance of data and cloud strategy roadmap
A data and cloud engineering roadmap plays a crucial role in shaping an organization's success by addressing several key aspects.
Long-term capability development to solve complex analytics problems: Long-term capability development to solve complex problems requires a comprehensive and forward-thinking roadmap that aligns data and cloud strategies with specific business objectives. By identifying the critical decisions that data should drive, organizations can make strategic investments in data infrastructure and cloud technologies. A well-defined data and cloud strategy roadmap ensures that resources are optimally allocated to support data-driven decision-making processes, foster innovation, and adapt to evolving analytical requirements, ultimately driving the organization's long-term success.
Mitigation of long-term technical debt: Mitigating long-term technical debt is essential to maintain the health and efficiency of a software system by addressing accumulated inefficiencies and reducing potential risks in the future. A data and cloud strategy roadmap plays a critical role in guiding organizations to make informed decisions about data management, utilization, and migration to cloud infrastructure, ensuring optimized operations, increased flexibility, and improved innovation capabilities for sustained business growth.
Democratize and socialize insight rich data across organization: The roadmap promotes data accessibility and establishes self-service analytics capabilities across the organization. This empowers employees from various departments to access relevant data and gain valuable insights independently, promoting a data-driven culture and improving decision-making.
Improvement of data literacy: Improvement of data literacy is crucial in enabling individuals and organizations to effectively understand, analyze, and derive meaningful insights from data, empowering data-driven decision-making and fostering a culture of innovation. A well-crafted data and cloud strategy roadmap provides a structured approach for enhancing data literacy by identifying relevant data sources, implementing appropriate tools and technologies, and promoting data-driven practices.
Challenges present in a lack of data and cloud strategy roadmap:
Neglecting a long-term view in favor of short-term gains can be detrimental to businesses, especially when it comes to cloud adoption. Without a well-defined cloud strategy roadmap, organizations face several critical challenges.
Firstly, a short-term focus may drive them to make hasty cloud-related decisions that lack a coherent long-term vision, leading to inefficient resource allocation and missed opportunities for sustainable growth and innovation.
Secondly, the high cost of off-the-shelf solutions becomes a significant financial burden when there is no clear roadmap in place. Without a strategic plan, businesses may invest in expensive solutions that do not align with their future needs, resulting in wasted resources and reduced financial flexibility.
Thirdly, lacking a strong foundation in change management process knowledge, organizations may struggle to implement cloud solutions effectively. This can lead to employee resistance, inadequate integration with existing processes, and difficulties in realizing the full benefits of cloud adoption strategies.
Benefits of data and cloud strategy roadmap:
A well-defined data and cloud strategy roadmap plays a crucial role in achieving faster go-to-the-market time, reducing manual data management needs, and reaping cost savings by clearing technical debt.
Faster go-to-market time: Firstly, an effective data and cloud adoption strategy enables organizations to streamline data collection, storage, and analysis processes. By leveraging cloud-based solutions and technologies, businesses can access real-time data and insights, accelerating decision-making and product development cycles. This agility allows them to swiftly respond to market demands and gain a competitive edge.
Reduction in manual data management needs: Secondly, transitioning to a cloud infrastructure strategy reduces the burden of manual data handling. Manual data management is often error-prone, time-consuming, and resource-intensive. Moving to the cloud strategy automates data integration, cleansing, and transformation processes, freeing up valuable human resources to focus on more strategic tasks.
Cost savings due to clearance of technical debt: Thirdly, addressing technical debt through a well-structured roadmap result in cost savings. Outdated and inefficient legacy systems require frequent maintenance and lack the scalability needed for future growth. A cloud migration roadmap eliminates these maintenance costs and provides a scalable infrastructure, enabling businesses to optimize their IT spending and allocate resources more efficiently.
Conclusion:
In conclusion, the study of the "Power of Data and Strategy Roadmap Development" underscores the indispensable role that data-driven approaches play in shaping effective business strategies. Through a comprehensive analysis of the benefits and implications of data utilization, the research has demonstrated that organizations leveraging data-driven insights are better equipped to navigate the complexities of the modern business landscape. By integrating data analytics and intelligence into the strategy roadmap development process, businesses can make well-informed decisions, optimize resource allocation, and capitalize on emerging opportunities with precision and agility. As data continues to fuel the engine of progress, this study serves as a compelling reminder that harnessing the power of data is not only a competitive advantage but an imperative for sustainable growth and long-term success.
Success Story:
How Quantzig transformed the business of a leading multinational technology company with expert cloud strategy
Client Details:
Our esteemed client, a leading multinational technology company, sought our expertise in devising a robust cloud strategy to transform their business operations. With a diverse workforce of over 40,000 employees across 15 global markets, they faced challenges in optimizing data management and collaboration among teams.
Challenges: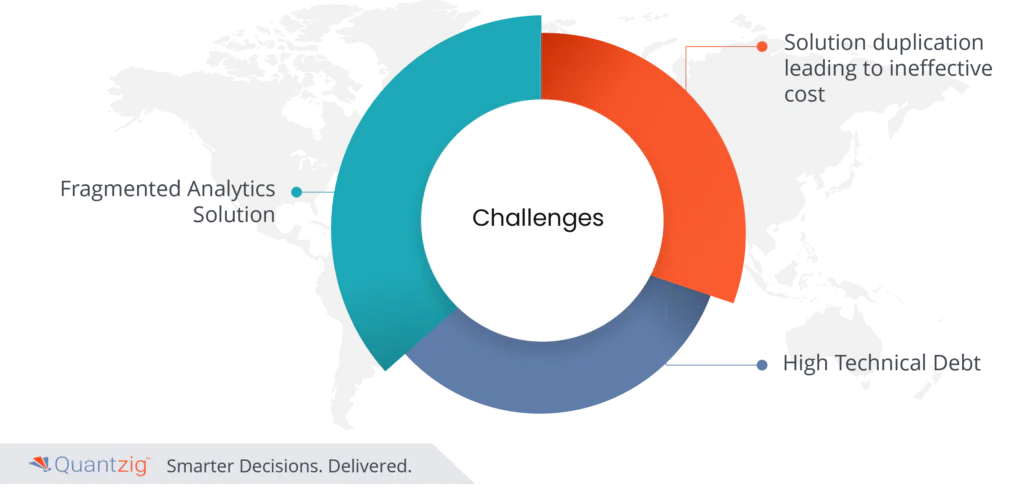 The client was confronted with the following formidable challenges:
Fragmented analytics solution:
The client was facing challenges with fragmented analytics solutions, where they were using various small, specialized tools for different aspects of data analysis. This approach became time-consuming due to the need to manage multiple tools, learn different interfaces, and maintain separate data pipelines. It also led to data silos as each tool operated independently, making it difficult to integrate insights from different sources. Ultimately, this time-consuming process hindered their ability to get a comprehensive and cohesive view of their data, impeding effective decision-making, and potentially missing out on valuable business opportunities.
Solution duplication leading to ineffective cost:
The company was facing challenges with solution duplication and ineffective cost management because of a lack of governance infrastructure. Without proper guidelines and oversight, each team or department within the organization developed its own solution for similar problems, leading to redundant efforts and resources being allocated to replicate solutions, ultimately resulting in increased costs and inefficiencies.
High Technical Debt:
They were facing challenges with high technical debt due to a lack of roadmap in the first place. An architecture designed for short-term objectives caused the accumulation of high technical debt, undermining the organization's adaptability to future changes, and posing a persistent obstacle to technological advancements.
Facing similar challenges?
Connect with us for tailor-made solutions
Solutions:
Quantzig delivered a set of sophisticated solutions to the client, leveraging a centralized data mesh architecture, a roadmap for data acquisition to boost data maturity, and a federated governance model with an enhanced data organization architecture:
Centralized Data Mesh Architecture: Adopting a scalable and decentralized data mesh architecture, the client dismantled data silos, promoting cross-functional collaboration and seamless data sharing.
Data Acquisition Roadmap: A tailored roadmap for data acquisition was devised, ensuring consistent, high-quality data integration, enrichment, and validation, thereby advancing data maturity.
Federated Governance Model: Implementing a federated governance model, we decentralized data ownership while maintaining a cohesive framework for governance, streamlining data management.
Improved Data Organization Architecture: The Federated model led to increased agility, reduced bottlenecks, and improved accessibility of data for stakeholders, enhancing overall data organization efficiency.
Impact Delivered: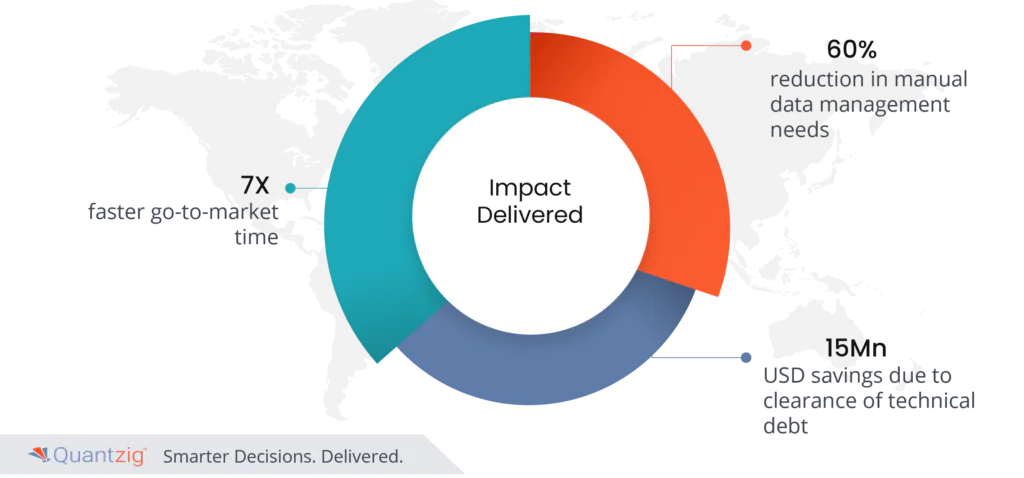 7X faster go-to-market time
60% reduction in manual data management needs
15Mn USD savings due to clearance of technical debt
Embrace the future of business with our cloud strategy expertise. Contact us now to embark on a transformative cloud journey that drives success in the digital age!