Introduction
In today's dynamic competitive business landscape, leveraging various customized business applications to drive long-term business growth is significantly becoming a game-changer for all organizations all around the world. From targeting a broad customer base to making new revenue channels, creating business innovation, and transforming end-user experiences- Customized Business applications have become the single most essential element within organizations. As a result, application development and maintenance services are a strategic requirement for all those individuals who are looking to add more value and improve their business outcomes. From this article, you will gain a deeper understanding of the advantages of our business application development and maintenance, its best practices, and what the upcoming future holds. 
Make the most of your data!
Connect with us for tailor-made solutions
Importance of Customized Business Application Development and Maintenance for Enterprises 
In today's rapidly evolving business landscape, the importance of application development and maintenance cannot be overstated. Custom applications offer enterprises the opportunity to build purpose-specific solutions within weeks, significantly reducing conceptualization and implementation time. By streamlining processes and enhancing efficiency, these applications empower businesses to stay agile and competitive. Moreover, the seamless integration and regular maintenance of these apps ensure optimal performance and adaptability to changing needs, providing a sustainable foundation for continued growth and success. Embracing application development and maintenance is the key to unleashing the full potential of enterprises and staying ahead in the dynamic market.
Robust cutting-edge application development and maintenance enable organizations to effectively manage the application portfolio with customized solutions. We provide you with custom made business applications that automate your processes, simplify workflows, and reduce manual efforts significantly. By leveraging industry best practices and proven deployment techniques to bring improvements to IT solutions, enterprises can improve the application throughput and ensure long-term value and business continuity. End-to-end application development and maintenance services across various engagement models help in QA/testing, development, maintenance, deployment, and enhancement of new IT and legacy systems. 
Challenges the enterprises can face due to a lack of Application Development and Maintenance:
In the fast-paced digital era, enterprises that overlook the significance of application development and maintenance services may face formidable challenges. Without purpose-built applications, businesses risk losing precious time and resources and struggle to keep up with competitors who leverage technology for efficiency gains. The absence of tailored solutions can lead to disjointed processes, hindering collaboration and communication between departments. Moreover, with no regular maintenance, applications can become outdated and vulnerable to security breaches, exposing the enterprise to potential data breaches and compliance issues.
Furthermore, enterprises may grapple with a lack of scalability and adaptability, unable to respond swiftly to changing market demands. As a result, customer experiences may suffer, causing reduced satisfaction and loyalty. Embracing robust application development and proactive maintenance is essential to overcoming these hurdles. By doing so, enterprises can enhance operational excellence, optimize resources, elevate their position in the market, and ensure a future of resilience, innovation, and sustainable growth.
Advantages of rapid application development model for Enterprises:
With today's dynamic ever-changing technology, an organization's IT team is expected to pivot efficiently and quickly to perform their daily jobs. Nowadays, customers are becoming more demanding, and most businesses are moving their business operations online. IT teams are expected to deploy, maintain, and develop applications more efficiently and faster than ever. They must be responsive and agile to match the ever-growing demands for apps and make sure they are reliable and secure. Application development and maintenance can ease the burdens on the organization's IT team by successfully reducing their workload. The efforts involved in deploying and developing applications can be cut down, making sure they are secure, up-to-date, and compatible with existing systems. The key benefits that enterprises can get from application development and maintenance have been mentioned below: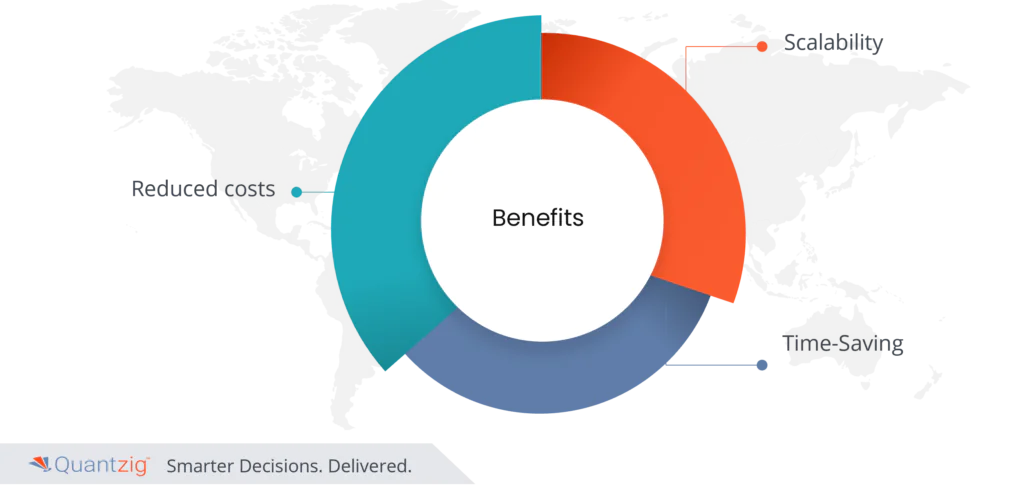 The biggest advantage of today's custom application development and maintenance is that it helps to reduce the costs related to maintaining the existing applications. Unlike traditional Application development, custom application development takes just about 8 to 10 weeks and with the applications being no-code based, the maintenance of the same is 10 time cheaper. With fast turnaround times, automated testing, and the ability to test again against multiple software versions before releasing the new version, the IT team can lower the overall costs.
Application development and maintenance methodology play a pivotal role in fostering scalability for enterprises. Purpose-built applications are designed to grow alongside the organization, accommodate increased user demands, and expand business requirements. Through regular maintenance and updates, these applications remain adaptable to technological advancements and evolving market trends. Scalability ensures that enterprises can seamlessly handle increased workloads, support a growing customer base, and rapidly respond to market opportunities. Embracing robust application development and maintenance paves the way for enterprises to stay agile, meet future challenges head-on, and unlock a world of limitless possibilities for sustainable growth.
Custom business Application development and maintenance using no-code platforms are a time-saving boon for enterprises. With automated robust data management, you can reduce the time spent on manual processes and data entry to a great extent. The same goes for reporting and analysis as well. If there are any manual tasks related to your website or application development such as creating reports and updating them when required, then these also get simplified with the automated data management process in place. By eliminating bottlenecks, employees can focus on strategic initiatives, and drive productivity and efficiency. Moreover, the use of rapid application development and maintenance enables seamless data integration and real-time insights, empowering faster and more informed decision-making. Through regular maintenance, potential issues are preemptively addressed, reducing downtime, and ensuring uninterrupted operations. Time-saving benefits translate to quicker product development, faster customer service, and accelerated go-to-market strategies, that give enterprises a competitive edge. 
Conclusion:
In conclusion, the benefits of application development and maintenance are paramount for enterprises seeking a competitive edge. Purpose-built applications streamline processes, optimize resources, drive efficiency, save valuable time, and reduce operational costs. Proactive maintenance ensures application reliability, security, and adaptability to ever-changing market demands. Seamlessly integrated data and real-time insights empower agile decision-making, propelling businesses ahead in the dynamic landscape. Embracing robust application development and maintenance is not only a strategic investment but a necessity for sustainable growth. The time and resources saved, coupled with enhanced scalability and agility, position enterprises to thrive, innovate, and lead in their respective industries.
Success Story:
Empowering Industrial Excellence: A Transformative Application Development and Maintenance Journey with Quantzig
Client Details: Our recent client was a US-based leading global manufacturer and distributor of industrial machinery. With a vast network of customers and suppliers, they faced challenges in streamlining their internal business operations and enhancing customer interactions. The client sought to develop a user-friendly application to streamline processes, improve customer services, and enhance overall business performance.
Challenges: 
The client was facing significant challenges during the business process, as it took close to three business weeks to complete the transition from data requisition to orchestration across 30 regional sales managers and finalization of forecasts. The prolonged lead times hindered their operational efficiency, and responsiveness, and caused delays in their decision-making and execution. The data integration and analysis process became complicated due to inconsistent data-gathering methodologies and decentralized systems. Furthermore, their team was facing hurdles to coordinate with multiple stakeholders across regions which led to communication gaps and potential misalignment.
Make the most of your data!
Connect with us for tailor-made solutions
Solutions:
Canvas Application Development: We build custom apps that can be built using a drag-and-drop interface. By incorporating interactive elements and dynamic features, the apps facilitated seamless content creation and user engagement. The intuitive nature of the drag-and-drop interface reduced development time and enabled rapid prototyping and iterative improvements.
Web Hosted Applications: Using PowerPages, we helped them build external-facing web applications using a drag-and-drop interface. It was a good choice for building apps that need to be hosted on the web, such as marketing websites or knowledge bases.
Workflow Automation Applications: Using PowerAutomate, we created workflow automation tools that can be used to automate tasks, such as sending emails, updating records, or triggering other apps. Automated workflows ensured prompt responses and timely updates, and enhanced communication, and customer service.
Conversational Apps: Using Power Virtual Agents, we build conversational chatbots that can be used to engage with customers and employees. It automated their customer support process as well as business intelligence.
Model-Driven Apps: We build Model-driven apps that were built on top of their data models such as CRM or ERP. We added additional features such as forecasting deep dive, manufacturing schedule optimization, etc. to their existing enterprise applications.
Impact Delivered: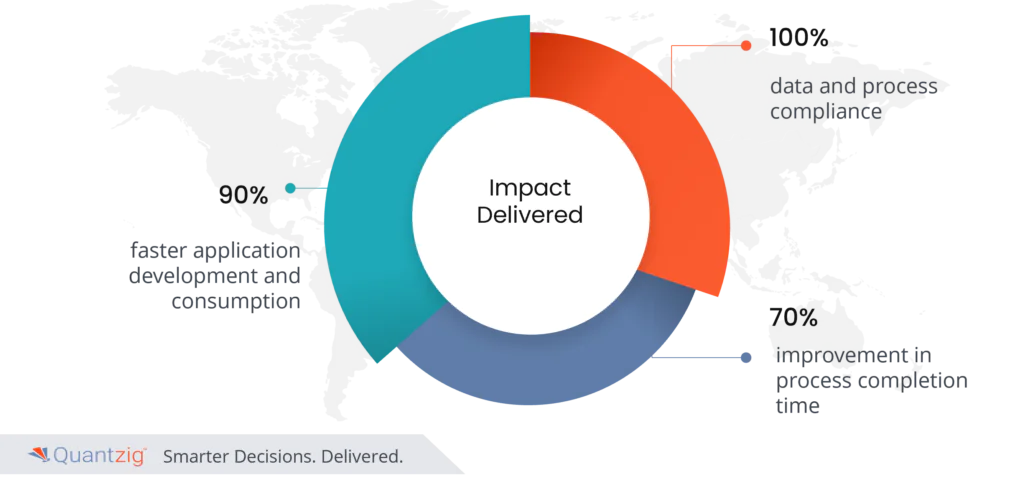 90% faster application development and consumption
100% data and process compliance
70% improvement in process completion time
Unlock your competitive advantage today! Partner with Quantzig for tailor-made application solutions and transform your business!