Introduction
Business intelligence is frequently equated with data visualization, which is a fundamental component of analytical solutions. Given that BI processes heavily rely on analytical tools, understanding the significant impact of data visualization on a company's intelligent reporting for improved business performance is crucial. Data visualization involves the presentation of information in graphical formats, effectively conveying data and providing context to highlight critical transformations, patterns, and trends. This is typically achieved through various visual elements such as maps, graphs, plots, and charts, making data more readily understandable. When utilized correctly, data visualization greatly enhances the outcomes of business intelligence, empowering companies to achieve superior business performance. It enables enterprises to draw more meaningful conclusions, simplify the interpretation of complex data sets, identify intricate correlations, and expedite informed decision-making. In this article, we will explore how the utilization of data visualization within business intelligence contributes to elevating business performance for enterprises.
Key benefits of BI Data Visualization in Improving Business Performance: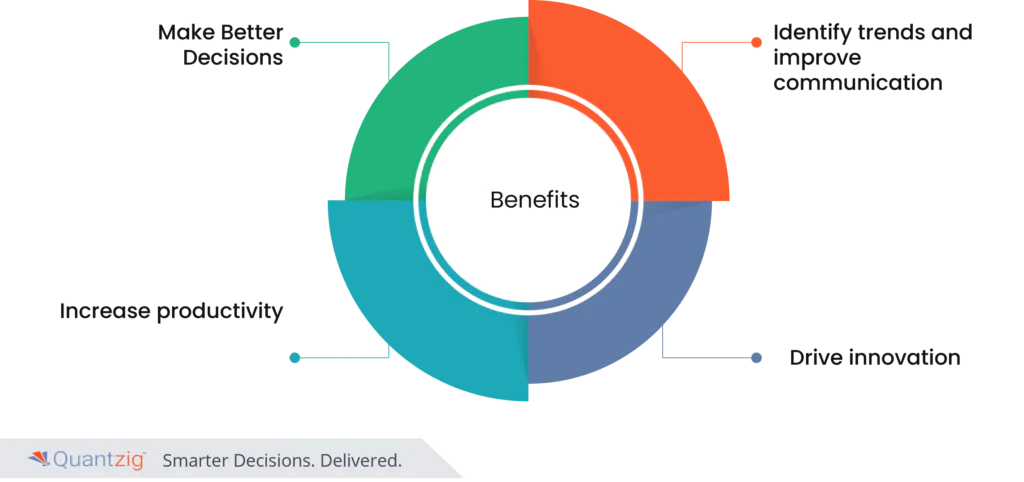 Business Intelligence (BI) data visualization plays a pivotal role in enhancing decision-making processes within organizations. By converting raw data into visually intuitive representations, it simplifies complex information, making it more accessible and comprehensible to a wider audience, including non-technical stakeholders. This accessibility to data empowers decision-makers to make more informed and strategic choices for their businesses. The visual nature of BI data visualization facilitates the identification of patterns, trends, and outliers that might otherwise go unnoticed in a spreadsheet or textual report. This deeper understanding of data enables businesses to uncover insights, anticipate market shifts, and respond promptly to emerging opportunities or threats. Moreover, data visualization fosters data-driven discussions within teams and across departments, promoting collaboration and alignment of objectives. When decision-makers can easily share and communicate insights derived from visualized data, it leads to a more cohesive and informed decision-making culture within the organization.
Business Intelligence (BI) data visualization serves as a powerful tool for trend identification within organizational data. This capability is essential for organizations seeking to gain a competitive advantage by staying ahead of market shifts and evolving customer preferences. By representing data in visual formats such as charts, graphs, and dashboards, BI data visualization allows decision-makers to discern patterns and trends that might otherwise remain obscured in raw data. These visualizations make it easier to track historical data, observe emerging patterns, and predict future trends. Identifying trends early on is invaluable for businesses as it enables proactive decision-making. Organizations can seize emerging opportunities, optimize their strategies, and mitigate potential challenges before they escalate into critical issues. For instance, spotting a rising trend in customer demand for a specific product allows a company to adjust production and marketing efforts accordingly.
Business Intelligence (BI) data visualization is an indispensable tool for business leaders aiming to convey data-driven insights effectively to stakeholders. Transforming complex data into visually appealing charts, graphs, and dashboards, data visualization streamlines the communication of critical information. This visual clarity eliminates ambiguity and reduces the time and effort needed to grasp intricate data sets, making it accessible to a broader audience, including those without specialized data expertise. The broader accessibility of data through visualization fosters a culture of transparency and data-driven decision-making within organizations. When insights are presented in a format that is easy to understand, it encourages collaboration and informed discussions across teams and departments. This, in turn, leads to better-informed decision-making and alignment of objectives. 
Moreover, BI data visualization empowers stakeholders to quickly identify key trends, anomalies, or performance metrics, enabling them to react promptly to emerging opportunities or challenges. In essence, it enhances overall understanding, facilitates collaboration, and ultimately contributes to improved organizational efficiency and effectiveness.
Business Intelligence (BI) data visualization serves as a catalyst for increased productivity within organizations by automating processes and enhancing operational efficiency. BI tools automate data extraction, transformation, and loading (ETL) processes that reduce the manual effort required to gather and prepare data for analysis. It enables the scheduling of automated reports, ensuring that key stakeholders receive timely insights without manual intervention. Besides, Data visualization empowers non-technical users to create their reports and dashboards, reducing the reliance on IT teams for routine data inquiries. Interactive dashboards provide real-time updates, enabling employees to monitor performance metrics and make quick, data-driven decisions without delays. BI systems can be configured to issue automated alerts when predefined thresholds are met or anomalies detected, allowing for swift response to critical events.
By automating these tasks and processes, BI data visualization optimizes workflow efficiency, eliminates manual errors, and liberates employees from time-consuming data-related chores. This newfound time can then be directed towards strategic initiatives, problem-solving, and other value-added activities, ultimately contributing to enhanced productivity and organizational success.
BI data visualization fuels innovation by unlocking valuable insights from complex data. It enables organizations to identify emerging market trends, customer preferences, and unmet needs through visualized patterns and data analysis. These insights serve as a foundation for the development of innovative products and services that directly address evolving demands. By leveraging BI data visualization, companies can stay ahead of the competition, discover untapped markets, and make data-driven decisions that spark creativity and drive the creation of solutions tailored to their target audience. This proactive approach to innovation positions organizations to adapt to changing business landscapes and consistently deliver products and services that meet the evolving expectations of their customers, ultimately fostering growth and competitive advantage. 
Conclusion:
Effective data visualization offers a unique approach to business intelligence by revealing potential connections, in addition to existing ones, through visually appealing representations. It harnesses the power of engaging visuals to enable business leaders to discern patterns, correlations, and actionable insights beyond the conventional, significantly influencing business outcomes. Data visualizations bring previously unnoticed patterns to light, unveiling new trends, correlations, and data points. Furthermore, they enhance data comprehension and interpretation, all of which contribute to exceptional business intelligence. Data visualization in business intelligence offers numerous ways for enterprises to elevate their business performance.
While this article has outlined key points, it's important to note that the benefits are not limited to those mentioned here. Visualizing the sales pipeline and monitoring performance empowers employees and drives growth. As the landscape of big data, business intelligence, and data visualization evolves due to market changes, organizations must carefully select the most suitable technologies for their operations. The choice of BI and data visualization tools can have a profound impact, influencing areas from cost management to operational efficiency. 
For expert guidance on leveraging BI data visualization Solutions for agile decision-making, reach out to Team Quantzig!
Success Story:
Revolutionizing Cost Management in Distribution: A BI Data Visualization Success Story
Client Details: A leading distribution company located in the USA.
Challenges: 
A large distribution company wanted to identify the cost leakages within their distribution services and identify potential solutions to contain any cost escalations. 
Firstly, the sheer complexity and scale of their operations posed a challenge. Managing a vast network of warehouses, transportation routes, and distribution centers meant that tracking costs across numerous touchpoints was intricate and time-consuming.
Secondly, data fragmentation was a significant hurdle. The client's data was dispersed across various systems which made it difficult to consolidate and analyze the information cohesively. This lack of centralized data hindered their ability to gain a holistic view of cost leakages.
Thirdly, the evolving nature of the logistics industry brought uncertainties. Fluctuating fuel prices, changing regulations, and shifting market dynamics meant that cost leakages could emerge from unexpected sources, necessitating constant monitoring and adaptability.
Solutions:
Quantzig created a 3-click enterprise BI visualization that identified the patterns behind the cost escalation, categorized the cost escalation into different parts of the value chain, and identified which component of the value chain contributes to a significant part of cost escalation.
Firstly, it simplified complex data analysis by condensing the process into just three clicks. This user-friendly interface made it exceptionally easy for the client's team to access and interpret critical information swiftly. Secondly, the BI visualization tool identified intricate patterns within the cost escalation data, offering insights that were previously difficult to discern. This enabled the client to pinpoint the root causes of cost increases effectively.
Furthermore, the tool categorized the cost escalations, breaking them down into different segments of the value chain. This granularity allowed for a precise understanding of where cost issues were originating, facilitating targeted interventions. Lastly, the solution identified the specific components of the value chain that were contributing significantly to cost escalation, enabling the client to prioritize cost containment efforts efficiently.
Impact Delivered: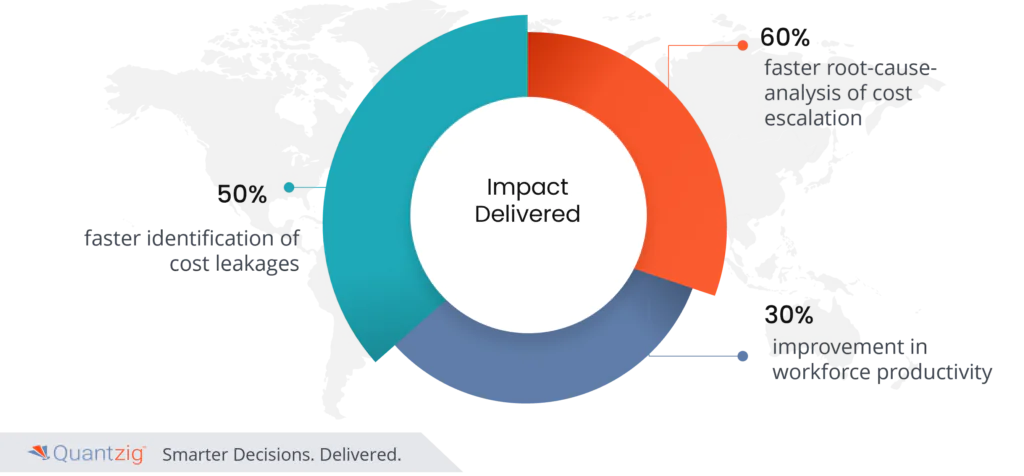 50% faster identification of cost leakages. 
60% faster root-cause-analysis of cost escalation 
30% improvement in workforce productivity 
Ready to transform your distribution business with cutting-edge BI data visualization? Contact Quantzig today for a personalized consultation and discover how we can help you gain deeper insights, reduce costs, and drive operational excellence. Let's embark on a journey to elevate your distribution performance together!