Introduction
In today's dynamic and competitive business landscape, the consumer electronics industry stands at a pivotal juncture, where strategic revenue management has become imperative for sustained growth and profitability. In this insightful article, we delve into the intricacies of constructing an effective strategic revenue management framework tailored specifically to the unique challenges and opportunities within the consumer electronics sector. By examining key industry trends, market dynamics, and proven strategies, we aim to equip industry professionals, executives, and decision-makers with the knowledge and tools necessary to navigate this rapidly evolving landscape. Join us on a journey to unlock the potential for revenue optimization and sustainable success in the ever-evolving world of consumer electronics.
Importance of Effective Strategic Revenue Management for the Consumer Electronics Industry: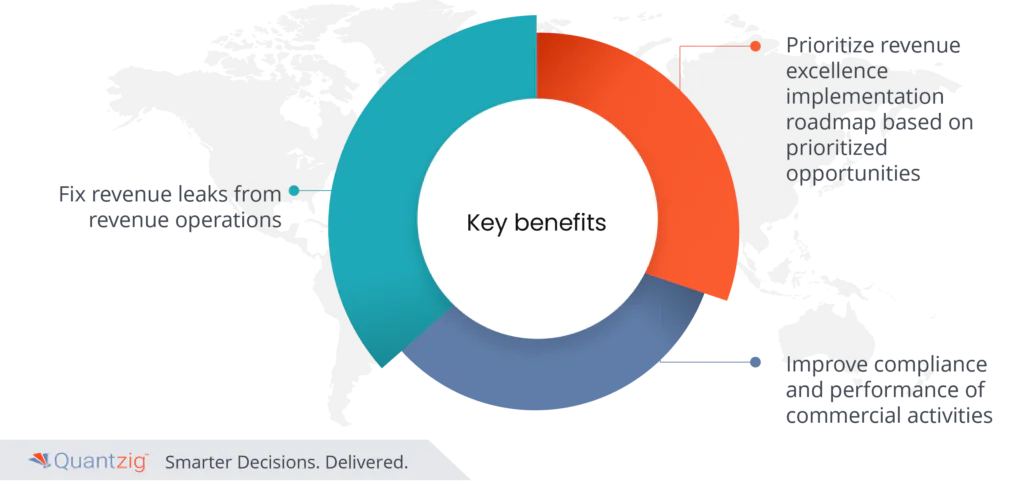 Fix revenue leaks from revenue operations:
Addressing revenue leaks (such as inaccurate pricing, or ineffective discounting) in revenue operations is crucial for the consumer electronics industry due to its highly competitive nature and price-sensitive customers. A meticulously designed strategic revenue management integrates data-driven insights and market analysis to establish optimal pricing strategies. This allows companies to charge competitive prices while maximizing revenue. Similarly, by eliminating inefficiencies, such as lengthy order processing or underutilized sales channels, organizations can reduce operational costs and enhance the overall customer experience.
Prioritize revenue excellence implementation roadmap based on prioritized opportunities:
Prioritizing the implementation roadmap for revenue excellence is pivotal in the consumer electronics industry, where effective strategic revenue management can be the differentiator between success and stagnation. This prioritization process is essential as it directs resources towards opportunities that promise maximum returns. By identifying and prioritizing opportunities, companies can fine-tune pricing strategies, product offerings, and customer experiences. For instance, recognizing that a specific product category or geographical market presents significant revenue potential allows businesses to allocate resources strategically, such as marketing investments or product development.
Improve compliance and performance of commercial activities:
Elevating compliance and performance within commercial activities is an imperative within the consumer electronics industry, underscored by the critical role of effective strategic revenue management. This dual focus ensures that businesses not only meet regulatory standards but also optimize revenue generation and foster sustainable success. In this industry, stringent regulations govern product safety, intellectual property rights, and environmental sustainability. Failing to adhere to these standards can result in costly legal penalties and reputational damage. Effective revenue management strategies incorporate compliance into its framework, ensuring that commercial activities align with legal and ethical guidelines. Simultaneously, revenue management identifies areas where improvements can be made, whether through streamlined sales processes, enhanced marketing strategies, or better inventory management.
Challenges due to a lack of effective strategic revenue management:
Data quality issues from raw sources
Ineffective strategic revenue management often grapples with data quality issues stemming from raw sources. Inaccurate, incomplete, or inconsistent data can lead to misguided business decisions. For instance, faulty sales data can result in pricing errors or ineffective marketing campaigns, ultimately impacting revenue. These challenges hinder the ability to derive meaningful insights, forecast accurately, and identify revenue-boosting opportunities. Without dependable data, companies risk making costly mistakes, compromising customer satisfaction, and losing their competitive edge.
Master data management challenges across sales, financial, and supply systems
A lack of effective revenue growth management strategies exacerbates master data management challenges across various systems. Discrepancies in customer, product, and financial data across departments can lead to misalignment and inefficiencies. These disparities hinder holistic revenue management efforts, making it challenging to devise coherent strategies. Without synchronized master data, businesses struggle to optimize pricing, streamline operations, and identify cross-selling opportunities. This lack of cohesion impacts revenue, increases operational costs, and erodes customer trust.
Multi-dimensional requirements from different stakeholder group
Revenue management strategies need to address the multi-dimensional requirements of diverse stakeholder groups effectively. Sales, marketing, finance, and supply chain teams often have conflicting demands and objectives. Without a unifying revenue strategy, it becomes challenging to balance these diverse needs and priorities. This can lead to suboptimal decision-making, missed revenue opportunities, and internal friction. An effective revenue management strategy should harmonize these demands, ensuring that all stakeholders work towards common revenue-boosting goals, ultimately driving sustainable growth and success.
Conclusion
In conclusion, constructing an Effective Strategic Revenue Management framework is paramount for the Consumer Electronics Industry. This demands meticulous pricing strategies, streamlined sales processes, and comprehensive data-driven insights. By aligning pricing precision with market demands, optimizing sales operations, and fostering data-driven decision-making, businesses can maximize revenue while maintaining competitiveness. Furthermore, strategic revenue management empowers organizations to adapt swiftly to market fluctuations, enhance customer experiences, and fortify their financial foundations. In this fiercely competitive sector, the integration of such a framework is not a choice but a strategic necessity, ensuring sustainable growth, profitability, and enduring market relevance.
Success Story
Unlocking Profit Potential: How Quantzig Transformed Revenue Management for a Leading Client
Client Details:
Client: A Leading Global Consumer Electronics Conglomerate
Industry: Consumer Electronics
Geographic Reach: 22 International Markets
Challenges
Data quality issues from raw sources
The client's data sources were plagued by data quality issues. Raw data, whether originating from internal systems or external channels, suffered from inaccuracies, incompleteness, and inconsistencies. This compromised the reliability of the data used for critical decision-making processes. Pricing errors, marketing missteps, and inaccurate forecasting became frequent occurrences, hindering the client's ability to maximize revenue effectively.
Master data management challenges across sales, financial, and supply systems
The client grappled with master data management challenges across sales, financial, and supply systems. Discrepancies and disparities in customer, product, and financial data across various departments created a chaotic data landscape. This lack of synchronization disrupted strategic revenue management efforts, affecting pricing strategies, sales optimizations, and cross-functional collaboration. It led to inefficiencies, increased operational costs, and suboptimal decision-making.
Multi-dimensional requirements from different stakeholder group
The client faced the intricate task of reconciling multi-dimensional requirements from diverse stakeholder groups. Sales, marketing, finance, and supply chain teams had distinct objectives and priorities, often conflicting with one another. Balancing these varied demands and aligning them towards common revenue-centric goals posed significant internal challenges. Failure to harmonize these stakeholder requirements impeded the client's ability to execute the cohesive revenue cycle management strategies, risking revenue leakage and organizational discord.
Collectively, these challenges underscored the pressing need for a successful revenue management strategy to streamline operations, enhance data quality, and align stakeholder groups for the client's sustainable growth and success.
Solutions
Quantzig played a pivotal role in revolutionizing our client's revenue growth management strategy with their innovative solutions and expertise. Here's how they helped:
RGM Foundation platform for data management and integration across sources
Quantzig introduced the RGM Foundation platform, which became the cornerstone of our client's data management and integration efforts. It seamlessly amalgamated data from various sources and addressed the long-standing challenge of data quality issues. By centralizing and cleansing data, it provided a reliable foundation for decision-making and ensured accurate and consistent insights.
RGM Insights platform for reporting and opportunity management
To empower the client with real-time insights and revenue-boosting opportunities, Quantzig implemented the RGM Insights platform. This platform enabled comprehensive reporting and opportunity management. It allowed them to monitor and analyze key performance indicators, track market trends, and identify revenue optimization prospects swiftly. The result was more informed decision-making and a proactive approach to revenue management.
RGMx platform based on ML and simulations for planning process optimization
Leveraging advanced Machine Learning and simulations, Quantzig introduced the RGMx platform. This cutting-edge solution transformed the client's planning processes. By harnessing predictive analytics and scenario modeling, it optimized revenue management pricing strategies, demand forecasting, and inventory management. The client could now adapt quickly to market fluctuations and ensure pricing precision, minimizing revenue leakage.
Impact Delivered:
The results were impressive:
15% improvement in monthly opportunity recovery
3X faster adoption of RGM tools in the organization
Optimized pricing strategies, demand forecasting, and inventory management
Discover how Quantzig's expertise in strategic revenue management transformed a global consumer electronics leader's profitability and competitiveness. Explore the full case study to learn how we can help your business thrive in today's dynamic markets. Contact us for a personalized consultation.