Introduction
In the relentless pursuit of excellence in industrial manufacturing procurement, the compass guiding organizations toward efficiency, cost reduction, and strategic decision-making are firmly set on spend analytics. This article serves as a beacon, illuminating the ever-evolving landscape of spend analytics, revealing the latest trends, dissecting critical processes, and shedding light on real-world examples. As industries become increasingly interconnected and competition escalates, the power of data-driven insights cannot be underestimated. From harnessing cutting-edge technologies to deciphering intricate supplier networks, this article delves into the transformative potential of spend analytics. Through concrete examples and practical insights, we navigate the complex terrain of industrial procurement, where data is the key to unlocking not just cost savings, but also resilience and agility in the face of dynamic challenges. Join us on this journey as we unveil the roadmap to procurement excellence in the industrial manufacturing realm.
The Benefits of Spend Analytics in Industrial Manufacturing Procurement: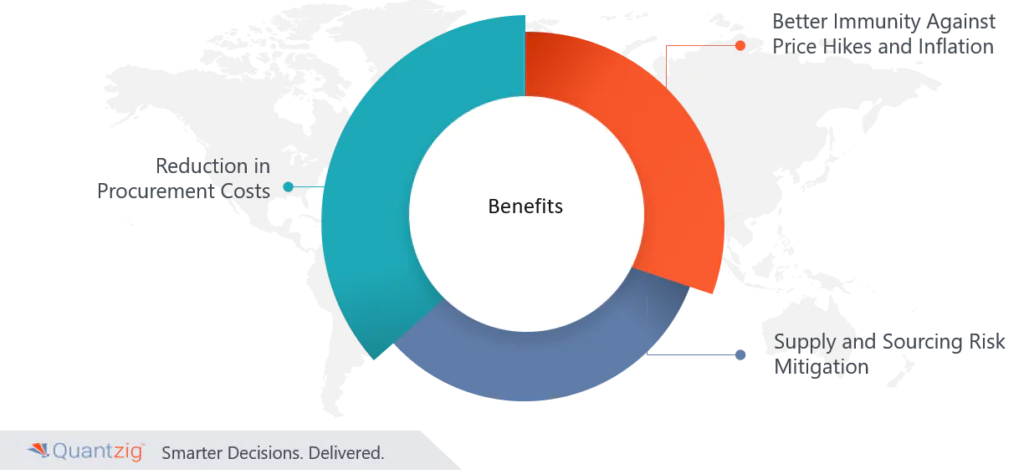 Reduction in Procurement Costs
Analyzing spending patterns within industrial manufacturing enables organizations to pinpoint cost-saving opportunities and enhance procurement efficiency. By closely examining historical expenditure data, companies can identify areas where excessive spending occurs and take corrective action. This insight also strengthens negotiating positions with suppliers, facilitating the creation of more favorable contracts and pricing terms. Additionally, the optimization of procurement strategies through spend analysis allows for streamlining processes, reducing redundancies, and improving overall resource allocation. In sum, this data-driven approach not only curtails immediate costs but also cultivates a culture of continuous improvement within the procurement function, driving long-term savings and enhanced competitiveness in the industrial manufacturing sector.
Better Immunity Against Price Hikes and Inflation
Proactive spending data analysis equips manufacturers with the tools to anticipate and navigate price hikes and inflationary pressures effectively. By closely monitoring historical expenditure patterns and market dynamics, organizations can identify early warning signs of price fluctuations. This insight enables them to implement strategies such as forward purchasing or negotiating fixed-price contracts to hedge against inflation and secure stable costs. Informed decision-making, driven by spend analytics, empowers manufacturers to adapt swiftly to changing economic conditions, ensuring financial stability and resilience in the face of uncertainties. Ultimately, this strategic approach not only protects against immediate financial risks but also fosters long-term sustainability and competitiveness in the ever-evolving business landscape.
Supply and Sourcing Risk Mitigation
Spend analytics serves as a potent tool in mitigating supply and sourcing risks within industrial manufacturing. By meticulously assessing spending data, organizations can pinpoint vulnerabilities within their supply chains, and identify critical dependencies on specific suppliers or regions. This insight empowers companies to diversify their sourcing options, spreading risk across multiple suppliers or geographies. In doing so, they become more resilient in the face of disruptions, geopolitical uncertainties, or unforeseen events. By proactively addressing these vulnerabilities through data-driven decision-making, manufacturers can bolster their supply chain robustness, minimize the impact of disruptions, and ensure a more reliable and secure flow of materials, ultimately safeguarding their operations and reputation.
Challenges Faced While Implementing Spend Analytics in Industrial Manufacturing Procurement:
High Costs Due to Ad-Hoc Procurement
Ad-hoc procurement practices pose a significant risk of inflating costs within an organization. These practices involve sporadic, unplanned purchases that bypass the advantages of bulk ordering or consolidated sourcing. Without the leverage of volume discounts, organizations often end up paying higher prices for goods and services. Furthermore, ad-hoc procurement can result in inefficiencies, as it lacks strategic planning and may lead to redundant or non-standardized purchases. To optimize cost efficiency, organizations should transition towards a more structured procurement approach that centralizes purchasing, leverages economies of scale and fosters better supplier relationships. This shift ultimately helps mitigate the financial drawbacks associated with ad-hoc procurement.
Longer Tail Spends and Poor Spend Categorization
Long-tail spends, characterized by numerous low-value, high-volume transactions, coupled with poor spend categorization, present significant obstacles to effective cost management. The sheer volume and diversity of long-tail transactions can overwhelm procurement analysis efforts, making it challenging to identify cost-saving opportunities or inefficiencies. Additionally, inadequate categorization obscures spending patterns, hindering data-driven decision-making. To combat these challenges, organizations must invest in robust spend categorization systems and technologies that facilitate clear visibility into all procurement activities. This enables more accurate analysis, streamlines cost optimization efforts, and empower organizations to proactively address hidden cost drivers, ultimately enhancing overall financial efficiency and strategic procurement decision-making.
Poor Spend Traceability Leading to Financial Compliance Failure
Insufficient spend traceability poses a grave risk of non-compliance, financial penalties, and broader financial consequences. When spending lacks transparency, it becomes challenging to track and document expenses, exposing organizations to compliance violations. Regulatory bodies may impose fines, legal actions, or contractual penalties for such breaches. Robust spend analytics plays a crucial role in ensuring spend traceability by providing a clear audit trail of procurement activities. This empowers organizations to maintain compliance with regulations and contractual obligations, reducing the risk of financial fallout. In essence, the ability to trace spending meticulously is not just a best practice; it is a safeguard against potentially costly compliance failures.
Conclusion
In the ever-evolving realm of industrial manufacturing procurement, the role of spend analytics stands as an indisputable game-changer. As we conclude this exploration of spend analytics trends, processes, and real-world examples, it becomes abundantly clear that data-driven insights have emerged as the linchpin of success. The ability to navigate cost-saving opportunities, mitigate risks, and enhance operational efficiency through meticulous analysis is no longer a luxury but a strategic imperative. The path forward demands a steadfast commitment to harnessing the power of data, leveraging cutting-edge technologies, and adopting best practices. In doing so, industrial manufacturers can position themselves not just to survive but to thrive in an increasingly complex and competitive landscape, reaping the rewards of sustainable growth and enduring profitability.
Success Story
"Revolutionizing Industrial Manufacturing Procurement: How Quantzig Transformed Spend Analytics Trends, Processes, and Examples for a Client"
Client Details:
A leading manufacturing company located in the Europe.
The challenges faced by the Client:
The client in the industrial manufacturing sector encountered a series of daunting challenges within their procurement processes. First and foremost, they grappled with high costs resulting from ad-hoc procurement practices. The sporadic and unplanned nature of these purchases prevented the company from capitalizing on volume discounts and consolidated sourcing opportunities. Consequently, they were consistently paying elevated prices for goods and services, straining their financial resources.
Furthermore, the client faced the issue of longer tail spending, characterized by numerous low-value, high-volume transactions. This situation not only overwhelmed their procurement analysis efforts but also hindered their ability to identify cost-saving opportunities and inefficiencies within their spending patterns. Coupled with poor spend categorization, which obscured the nature and purpose of various transactions, the client's ability to make data-driven decisions was severely compromised.
Additionally, their poor spending traceability posed a grave risk of financial compliance failure. Without a clear audit trail of procurement activities, they were vulnerable to compliance violations, potentially resulting in fines, legal actions, or contractual penalties.
In summary, these challenges collectively undermined the client's procurement efficiency, cost-effectiveness, and compliance with financial regulations, highlighting the urgent need for a comprehensive overhaul of their procurement practices and the implementation of robust spend analytics solutions.
Solutions offered by QZ:
Quantzig, in response to the client's formidable procurement challenges, implemented a comprehensive suite of solutions that revolutionized their procurement practices, ushering in a new era of efficiency and cost-effectiveness.
Automated Spend Categorization Using Machine Learning
By leveraging state-of-the-art machine learning algorithms, the client's spending data was meticulously categorized with a high degree of accuracy. This automation eliminated the ambiguity and inefficiency associated with manual categorization, providing the client with a crystal-clear view of their expenditure patterns. This newfound clarity enabled the client to identify areas of overspending, curtail unnecessary costs, and refine their procurement strategies for optimal efficiency.
Supplier Selection Recommendation to Optimize Costs and Minimize Supply Risk
Quantzig's data-driven recommendations took into account critical factors such as cost-effectiveness, reliability, and risk mitigation when selecting suppliers. As a result, the client was empowered to make strategic decisions regarding supplier partnerships, ensuring not only cost optimization but also a robust and resilient supply chain.
Tail Spend Optimization Solutions
Through consolidation and strategic procurement, Quantzig streamlined the client's tail spend, significantly reducing inefficiencies stemming from numerous low-value, high-volume transactions. This optimization not only translated into cost savings but also simplified the procurement process, freeing up valuable resources for more strategic endeavors.
In summary, Quantzig's holistic approach, underpinned by advanced analytics and machine learning, propelled the client towards procurement excellence. Through automated spend categorization, intelligent supplier selection, and tail spend optimization, Quantzig empowered the client to unlock substantial cost savings, enhance procurement efficiency, and fortify their supply chain resilience. This comprehensive transformation positioned the client for sustainable growth and success in the industrial manufacturing sector.
Impact Delivered:
The results of implementing these solutions were remarkable: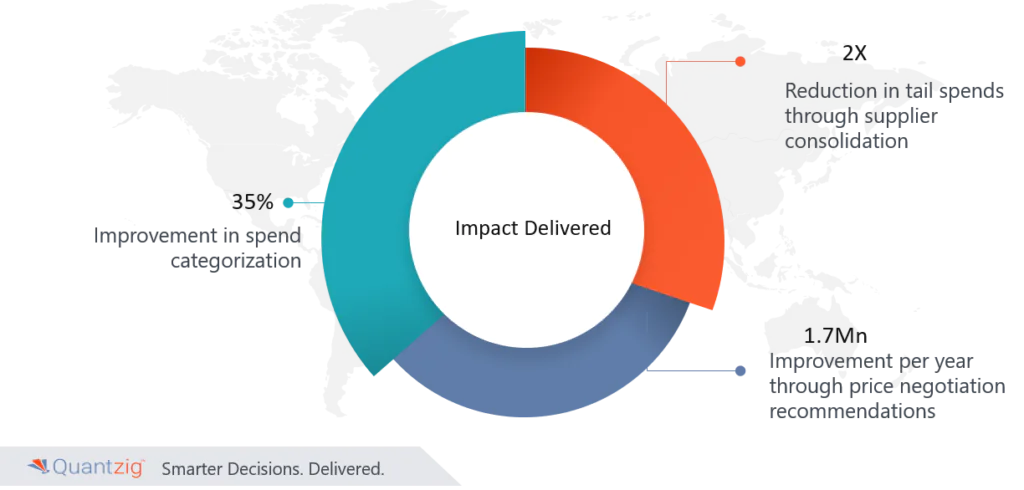 A significant 35% improvement in spend categorization demonstrated the accuracy and efficiency of machine learning-driven automation.
A remarkable 2X reduction in tail spending showcased the success of supplier consolidation efforts.
An impressive 1.7 million euros improvement per year was achieved through price negotiation recommendations, highlighting the financial gains of data-driven decision-making.
In conclusion, the utilization of spend analytics in industrial manufacturing procurement is pivotal for achieving cost reduction, resilience against market fluctuations, and supply chain risk mitigation. With the right strategies and solutions, European manufacturers can unlock the transformative potential of spend analytics, positioning themselves for sustained success and profitability.
"Unlock Your Procurement Potential Today! Discover how Quantzig can empower your organization with data-driven insights and transform your procurement processes. Contact us for a personalized consultation."