Introduction
In today's dynamic and fiercely competitive business landscape, mastering the art of marketing and sales operations is no longer a choice; it's imperative for sustainable success. To navigate this ever-evolving terrain, organizations must employ strategies that not only captivate their target audience but also streamline internal processes for maximum efficiency. Welcome to the world of Strategies for Optimizing Marketing and Sales Operations, where we delve deep into the transformative tactics, cutting-edge technologies, and proven methodologies that empower businesses to not just survive but thrive in the digital age. In this exploration, we uncover the keys to unlocking growth, profitability, and lasting customer relationships through a harmonious fusion of marketing and sales excellence.
Benefits of Optimizing Marketing and Sales Operations: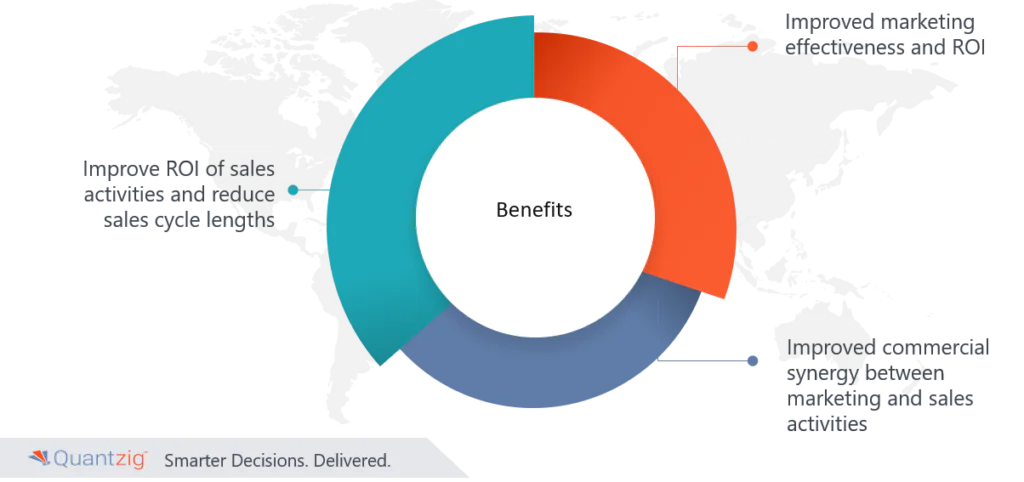 Improve ROI of sales activities and reduce sales cycle lengths
Optimizing marketing and sales operations yields multifaceted benefits crucial for business success. Firstly, it significantly enhances the Return on Investment (ROI) of sales activities. By aligning marketing efforts with sales strategies, businesses can pinpoint and target high-potential leads more effectively, resulting in increased conversion rates and revenue generation. Additionally, streamlining operations reduces sales cycle lengths, enabling quicker responses to customer needs. This agility not only fosters customer satisfaction but also allows sales teams to focus on nurturing relationships and closing deals, ultimately boosting overall productivity. In essence, optimizing marketing and sales operations is the cornerstone of profitability, efficiency, and sustained growth in the competitive marketplace.
Improved marketing effectiveness and ROI
Optimizing marketing and sales operations delivers a powerful one-two punch of improved marketing effectiveness and enhanced Return on Investment (ROI). By leveraging data-driven insights and strategic alignment, businesses can tailor their marketing efforts more precisely to target audiences, ensuring messages resonate and drive higher engagement. This increased effectiveness translates directly into a boosted ROI, as marketing resources are allocated more efficiently, leading to reduced costs and greater revenue generation. Moreover, optimized operations enable quicker adaptation to market changes, ensuring marketing strategies remain agile and responsive. In essence, this synergy between marketing and sales optimization empowers organizations to achieve superior results and a stronger competitive edge in their industry.
Improved commercial synergy between marketing and sales activities
Optimizing marketing and sales operations fosters a seamless and highly productive synergy between these two critical business functions. By aligning their efforts and strategies, organizations can ensure that marketing campaigns generate high-quality leads that seamlessly transition into the sales funnel. This collaboration enhances the overall customer experience, as prospects receive consistent messaging and tailored solutions throughout their journey. Improved communication and shared insights empower sales teams to better understand customer needs, enabling them to provide more effective solutions. Ultimately, this synergy results in faster sales cycles, increased conversion rates, and higher revenue, establishing a solid foundation for sustained business growth and success in a competitive market.
Challenges/Problems faced while implementing Marketing and Sales Operations:
Poor Deal Win Rate in B2B Scenarios:
In the realm of marketing and sales operations, one of the most prevalent challenges faced by businesses in the B2B sector is a consistently low deal-win rate. This problem arises due to several interconnected factors. Firstly, misalignment between marketing and sales teams often results in leads being passed to sales prematurely or without sufficient nurturing, leading to missed opportunities. Secondly, inadequate lead qualification processes can inundate sales teams with unqualified leads, diverting their focus from high-potential opportunities. Additionally, insufficient understanding of client needs and competition can hinder the formulation of compelling value propositions and tailored solutions, causing potential clients to seek alternatives. Moreover, protracted sales cycles and complex decision-making structures in B2B environments can further exacerbate the challenge, making it difficult to close deals swiftly.
Ineffective Marketing Campaigns Leading to Revenue Leaks:
Another significant challenge in optimizing marketing and sales operations is the prevalence of ineffective marketing campaigns that result in revenue leaks. This issue stems from a variety of issues, including suboptimal targeting, misallocated resources, and the failure to measure and adapt campaign performance. Ineffective targeting occurs when marketing efforts do not reach the right audience or adequately address their pain points and needs. This can lead to wasted resources on uninterested or unqualified leads, causing revenue leaks. Misallocation of marketing budgets and resources can also dilute the impact of campaigns, as vital resources are spread too thin across multiple channels or initiatives.
Poor Customer Acquisition and Retention Rates:
A common challenge in marketing and sales operations is the struggle to achieve and maintain robust customer acquisition and retention rates. This problem often arises from a disconnect between customer expectations and the value delivered by a business, leading to dissatisfaction and churn. Inadequate lead nurturing and a lack of personalized engagement can result in lost opportunities and diminished acquisition rates. Additionally, failing to prioritize customer retention can lead to a leaky sales funnel, where existing customers are not nurtured or upsold effectively.
In conclusion, addressing challenges such as poor deal win rates in B2B scenarios, ineffective marketing campaigns, and poor customer acquisition and retention rates is essential for optimizing marketing and sales operations. These issues require a holistic approach that combines data-driven insights, effective collaboration between teams, and a customer-centric mindset to ultimately achieve improved business performance and sustainable growth.
Conclusion
In the ever-evolving landscape of business, the art of optimizing marketing and sales operations emerges as the linchpin for sustainable success. These strategies, explored with depth and insight, unveil a transformative path toward efficiency, profitability, and customer-centric excellence. As organizations align their marketing and sales efforts, they unlock the potential for greater ROI, shorter sales cycles, and a harmonious synergy between these vital functions. In conclusion, the journey of optimizing marketing and sales operations is not just a choice; it's a strategic imperative that paves the way for businesses to not only survive but thrive in the dynamic and competitive marketplace of today and tomorrow.
Success Story
"Revolutionizing Revenue: How Quantzig Supercharged Marketing and Sales Operations for an E-commerce Client"
Client Details:
An e-commerce retailer operating business activity in Europe
The challenges faced by the Client:
The client grappled with a trifecta of formidable challenges within their B2B operations. Firstly, they struggled with a persistently poor deal win rate, characterized by missed opportunities and protracted sales cycles. This issue stemmed from a lack of synchronization between marketing and sales teams, resulting in the premature handoff of leads and inadequate lead qualification. Complex B2B decision-making structures compounded the problem, making it arduous to secure conversions swiftly.
Secondly, their marketing endeavors were plagued by ineffectiveness, leading to revenue leaks. The client often found their resources misallocated across campaigns that failed to resonate with their target audience. Suboptimal targeting, messaging, and an absence of real-time performance measurement rendered their marketing efforts inefficient and costly.
Lastly, the client grappled with subpar customer acquisition and retention rates. Inadequate lead nurturing, an absence of personalized engagement, and a failure to prioritize existing customers left them struggling to attract and retain clientele effectively.
These interconnected challenges demanded a comprehensive approach to optimize their marketing and sales operations, requiring improved collaboration, refined targeting, and a stronger focus on customer relationship management to ultimately drive profitability and growth.
Solutions offered by QZ:
Quantzig, as a trusted partner, provided an array of strategic solutions to address the challenges faced by the client effectively.
Marketing budget planning tool
Firstly, our team introduced a cutting-edge Marketing Budget Planning Tool. This tool leveraged data analytics and market insights to enable the client to allocate resources more efficiently, ensuring that marketing efforts were directed toward high-potential leads and campaigns. By optimizing budget allocation, the client achieved cost savings and improved ROI on their marketing initiatives.
Sales activity planner for deal win rate optimization
Secondly, we developed a Sales Activity Planner specifically tailored for deal win rate optimization. This planner incorporated advanced analytics to streamline the client's sales processes, enhancing lead qualification, and facilitating more targeted engagement. By aligning marketing and sales strategies, it ensured that leads were nurtured effectively, leading to shorter sales cycles and improved deal closure rates.
Overall, Quantzig's solutions helped the client overcome their challenges by providing data-driven tools and insights that harmonized marketing and sales operations. The result was enhanced efficiency, increased revenue, and a more customer-centric approach that strengthened customer acquisition and retention rates, ultimately propelling the client toward sustainable growth and success in the competitive B2B landscape.
Impact Delivered:
The results of implementing these solutions were remarkable: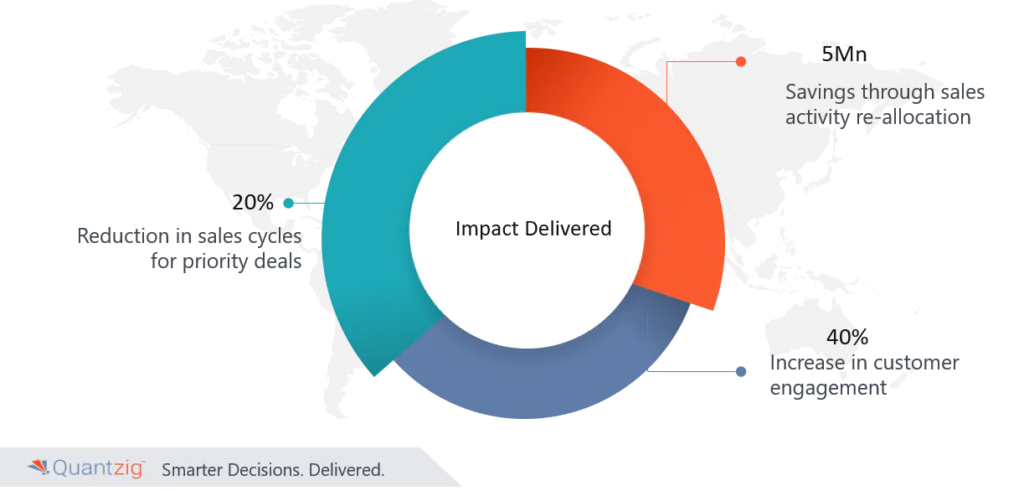 20% reduction in sales cycles for priority deals
5Mn savings through sales activity re-allocation
40% increase in customer engagement
"Ready to Optimize Your Success? Let's Talk!"