Introduction
In an age where the world is becoming increasingly interconnected, the hospitality industry stands on the cusp of a digital revolution, where every guest interaction, preference, and operational detail can be transformed into a strategic advantage. Data analytics has emerged as the compass guiding this transformation, offering the means to uncover profound insights, streamline operations, and deliver unparalleled guest experiences. In this article, we delve into the compelling landscape of data analytics within the hospitality sector, exploring its potential to revolutionize the way hotels, restaurants, and travel services operate. From personalizing guest experiences to optimizing pricing strategies and resource allocation, data analytics is the linchpin that propels the industry forward. Join us on this journey as we unravel the limitless possibilities and game-changing benefits that data analytics brings to the ever-evolving world of hospitality.
Importance of Data Analytics in The Hospitality Industry:
Personalization of the customer experience has become a pivotal strategy in the hospitality industry, yielding tangible benefits in terms of increased guest satisfaction and enhanced customer loyalty. By understanding and addressing individual guest preferences, such as room type, amenities, and activities, hotels can offer a tailor-made experience that resonates with each guest on a personal level.
This tailored approach, combined with traditional customer data, allows establishments to go beyond the one-size-fits-all model, creating a more engaging and memorable stay for their guests. It empowers hotels to deliver an experience that aligns with the specific desires and expectations of each guest, which can range from room décor preferences to dietary restrictions or leisure activities. As a result, personalized experiences lead to a deeper emotional connection between the guest and the brand, fostering a sense of being truly valued.
Moreover, this personalization extends beyond the duration of the stay; it influences post-visit engagement, encouraging guests to return and become loyal patrons. Over time, the accumulation of data-driven insights enables hotels to refine their offerings continually, adapt to evolving customer preferences, and ultimately, boost their competitive edge in an industry defined by guest satisfaction and loyalty. In sum, the personalization of customer experience is not merely a trend but a powerful tool for hotels to differentiate themselves and thrive in the highly competitive hospitality landscape.
Challenges/Problems faced while implementing Data Analytics in The Hospitality Industry:
In an industry traditionally renowned for its high levels of personalization and the human touch, the rapid shift towards digital channels as the primary mode of customer interaction presents a unique set of challenges. Hospitality and service-oriented businesses have long thrived on face-to-face interactions, intuitive service, and the ability to anticipate and respond to the individual needs of guests.
As the industry increasingly operates within a fully digital ecosystem, the challenge lies in replicating and enhancing these personalized experiences through virtual means. While digital setups offer tremendous efficiency, convenience, and scalability, the risk is that differentiation can become elusive. It's not enough to merely offer a booking platform or automated check-in; true differentiation in this context demands innovation in the form of premium, tailored services that go beyond the transactional.
Hotels and service providers must harness data-driven insights to understand customer preferences deeply, leverage artificial intelligence to predict and cater to individual needs and integrate technology seamlessly into every guest touchpoint. The key is to create a digital environment that not only replicates but also elevates the traditional human touch, offering bespoke, memorable experiences that resonate with customers in this evolving, fully digital landscape. Achieving this delicate balance is the new frontier for the hospitality industry.
Benefits of implementing Data Analytics in The Hospitality Industry:
Customer Analytics 3.0 represents a paradigm shift in the way businesses understand and engage with their customers. It revolves around the concept that true personalization begins with an in-depth comprehension of individual customers, encompassing not only their preferences but also recognizing potential risks and opportunities. By tailoring the "next best action" at the individual customer level, businesses can foster more meaningful and productive interactions.
This advanced approach involves the collection and analysis of customer signals from every touchpoint in the consumer journey, continuously generating additional intelligence at each stage of the sales funnel. It operates in an omni-channel environment, which means it's not limited to a single platform but spans across various digital and physical channels.
At its core, Customer Analytics 3.0 involves creating and updating comprehensive customer profiles in real time. These profiles are enriched with the latest customer activities as they happen, providing marketers with valuable insights into customer behaviors and intents. This real-time information empowers businesses to personalize their targeting strategies, enabling them to offer relevant products, services, and messages that resonate with each customer individually. Ultimately, this approach helps build stronger customer relationships, enhance engagement, and drive business growth by delivering what customers truly want and need.
What our capability does?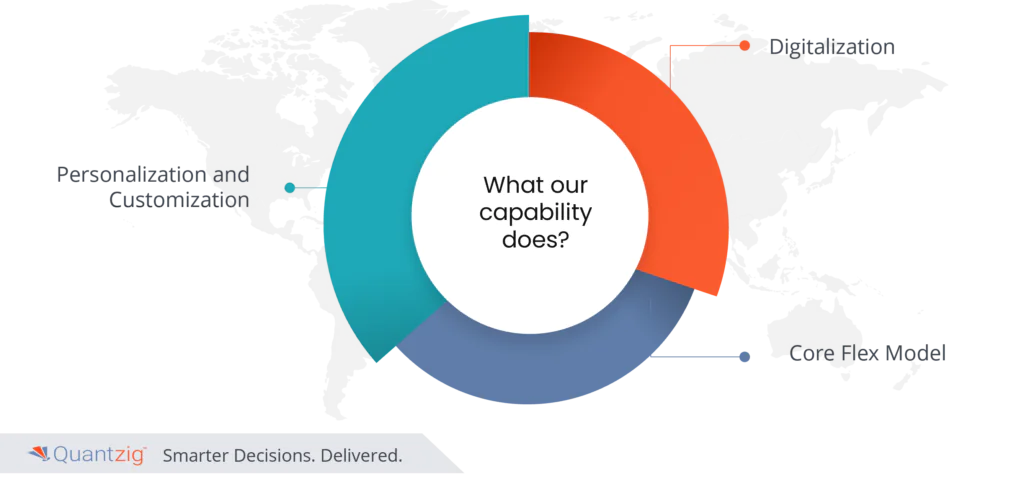 Personalization and Customization:
Personalization and customization are fundamental aspects of our services, allowing businesses to connect with their consumers on a deeper level. We specialize in dynamic personalization and mass customization, ensuring that every customer persona is addressed uniquely and with tailored experiences. This approach enhances customer satisfaction, loyalty, and engagement by delivering products and services that align with individual preferences.
Digitalization:
Digitalization is another cornerstone of our offerings. We equip clients with essential toolkits for digital marketing, e-commerce, and other cutting-edge technologies. This enables them to expand their digital presence, reach a wider audience, and engage consumers effectively in the digital realm. In an increasingly digital landscape, our solutions empower businesses to thrive and remain competitive.
Core Flex Model:
Our unique Core Flex Model combines solutions and services, allowing clients to maintain a lean operational structure while receiving support for their evolving needs throughout the year. This adaptable framework ensures that businesses can scale their operations up or down as necessary, responding to market dynamics and optimizing their resources for maximum efficiency. It's a versatile approach that offers a strategic advantage in today's ever-changing business environment.
Why should a client opt for our offering?
Our RevOps toolkits represent a departure from conventional off-the-shelf solutions. We pride ourselves on delivering tailored, co-created, and bespoke tools that are meticulously crafted in collaboration with commercial functions and excellence teams. This approach ensures that our solutions are highly specific, actionable, intelligent, and future-proofed to align seamlessly with the internal enterprise roadmap.
One of our distinguishing features is the diversity of consumption mechanisms we provide. We understand that businesses have unique needs and requirements, so we offer a range of solutions. These encompass measurement tools that provide insights into key performance indicators, planning solutions to help organizations strategize effectively, lighthouse and control tower solutions that act as guiding beacons in the decision-making process, and fully automated sales execution frameworks. Our flexibility allows us to cater to different types of business requirements and the complexities of various functional landscapes.
By co-creating with our clients and tailoring our solutions, we ensure that they are not only aligned with immediate objectives but also built to adapt and thrive in the ever-evolving business landscape. Our commitment to providing intelligence and actionable tools sets us apart as a partner in driving commercial excellence and achieving long-term success.
Conclusion
In conclusion, data analytics has emerged as a transformative force in the hospitality industry, propelling it into a new era of personalized, data-driven excellence. By harnessing the power of data, hotels, and hospitality providers can optimize guest experiences, streamline operations, and unlock the full potential of their businesses. As the digital landscape continues to evolve, data analytics serves as a compass, guiding the industry toward enhanced guest satisfaction, operational efficiency, and sustained growth. It's not just a tool; it's the key to unlocking a more profitable and customer-centric future in the dynamic world of hospitality. Embracing data analytics is no longer an option but a necessity to remain competitive and thrive in this evolving landscape.