Introduction
In the dynamic landscape of pharmaceuticals and life sciences, the key to success lies in harnessing the transformative power of data. This article ventures into the realm of possibilities, exploring how Salesforce Analytics serves as the catalyst for revolutionizing sales force effectiveness within these industries. As the demands of healthcare evolve and competition intensifies, the need for actionable insights has never been more pressing. Join us on a journey through the cutting-edge intersection of technology and life-saving innovation, where data-driven strategies are reshaping the future of pharma and life sciences. Discover how analytics is the compass guiding these industries toward unprecedented growth and impact.
Importance of Salesforce Analytics in the pharma and life science industry:
In the pharmaceutical industry, the ultimate measure of a drug's success extends beyond its medical efficacy; it hinges on the revenue it can generate for the parent pharmaceutical company. Within this context, the effectiveness of the salesforce plays a pivotal role. Salesforce, as a dynamic tool, possesses the unique capability to establish direct and personalized communication with the primary end targets in this ecosystem – the physicians. This direct interaction can significantly influence their prescribing behavior, a critical factor in pharmaceutical sales. Compared to other marketing channels, such as mass advertising or digital campaigns, which often lack the personal touch required in the medical field, the salesforce's ability to build relationships and provide tailored information is unparalleled. Physicians value these interactions as they can receive in-depth insights into a drug's benefits, side effects, and clinical data.
Furthermore, it's noteworthy that the investment in the salesforce team typically represents the highest marketing expenditure among pharmaceutical companies. Consequently, ensuring maximum impact through this channel is imperative to justify and optimize this substantial investment.
In summary, the effectiveness of the salesforce remains paramount in the pharmaceutical industry. Its unique capacity to directly engage with physicians, offering personalized information, and its status as the most substantial marketing investment underscore its critical role in driving pharmaceutical revenue and success.
Challenges/Problems faced while implementing Salesforce Analytics in the pharma and life science industry:
The challenge of poor and inconsistent data capture in the context of Salesforce interactions within the pharmaceutical industry presents a multifaceted issue. While quantitative metrics like visit frequency and product discussions are relatively easier to capture, the deficiency lies in the nuanced qualitative aspects of these interactions.
Qualitative metrics, such as the content of discussions, physician reactions, questions posed, and the level of persuasion achieved, are often left unrecorded due to a lack of standardized mechanisms. This gap in data capture is a significant limitation, as these qualitative insights are invaluable for understanding the effectiveness of sales strategies and tailoring them to individual physicians' needs.
Furthermore, even when qualitative data is captured, the analysis of unstructured data presents its own set of challenges. Extracting meaningful insights from unstructured text requires advanced natural language processing (NLP) and data analysis techniques, which may not always be readily available within a Salesforce environment.
Addressing these issues is essential for optimizing salesforce effectiveness and driving informed decision-making. Implementing structured data capture mechanisms and leveraging NLP and analytics tools can help bridge this gap, enabling pharmaceutical companies to gain deeper insights from their interactions with physicians and make more informed strategic choices.
Benefits of implementing Salesforce Analytics in the pharma and life science industry: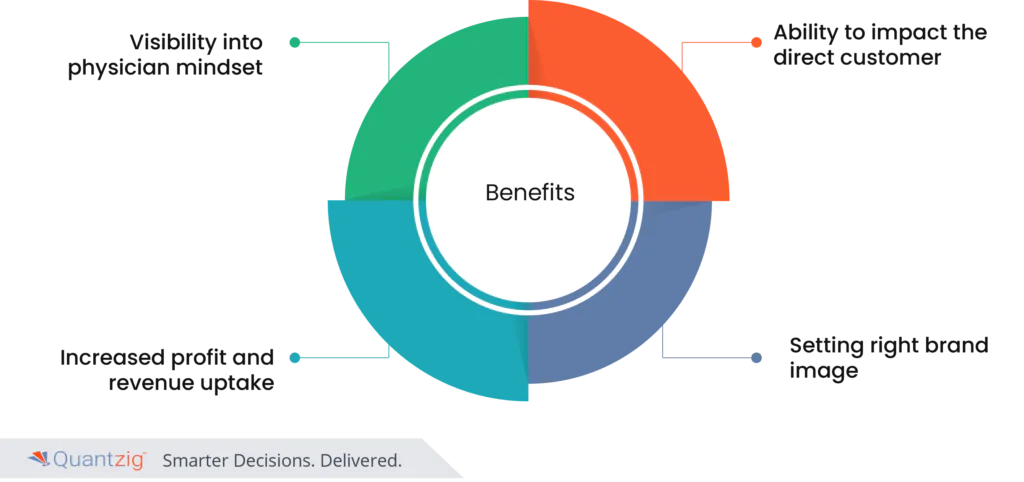 Obtaining visibility into the physician's mindset through direct, in-person interactions is paramount for pharmaceutical companies. These interactions allow sales representatives to understand physician preferences, concerns, and clinical needs, enabling tailored communication and product positioning. This personalized approach enhances the ability to influence the physician's prescribing decisions positively, ultimately maximizing profit and revenue uptake. Moreover, building a strong, trust-based relationship in these interactions helps set the right brand image, positioning the pharmaceutical company as a reliable partner in healthcare. In essence, the in-person connection with physicians serves as a strategic cornerstone for achieving financial success and a positive brand reputation in the pharmaceutical industry.
Conclusion
In conclusion, the integration of Salesforce Analytics within the pharmaceutical and life sciences sectors represents a transformative leap toward optimizing sales force effectiveness. By harnessing the power of data-driven insights, these industries can enhance their engagement with physicians, personalize their marketing strategies, and make informed decisions that lead to improved revenue and brand reputation. Analytics not only unlocks the potential for more efficient resource allocation but also ensures a more profound and lasting impact on healthcare professionals. In an era where knowledge is power, Salesforce Analytics emerges as the beacon guiding pharmaceutical and life sciences companies toward a brighter, more prosperous future.
Success Story
"Revolutionizing Pharma Sales with Salesforce Analytics: A Quantzig Success Story"
Client Details:
A leading pharmaceutical company located in the USA
The challenges faced by the Client:
The client faced significant challenges in their sales force management. Despite substantial investments, they struggled to attain the expected Return on Investment (ROI). Frequent vacancies and slow decision-making processes for territory restructuring or refilling positions hampered operational efficiency. Compounding the issue, decisions were often based on intuition rather than data, historical insights, or measurable impacts. These challenges highlighted the need for a more data-driven and streamlined approach to sales force management to optimize resource allocation and maximize RoI.
Solutions offered by QZ:
Quantizg played a pivotal role in addressing the client's sales force management challenges by developing a comprehensive Vacancy Management Framework. This innovative framework introduced a data-driven approach to evaluate the risks and business impact associated with ongoing vacancies within the sales force.
First and foremost, the framework meticulously assessed the potential risks and consequences of maintaining a vacancy, considering factors such as lost revenue, customer relationships, and market share. This risk analysis allowed for a more informed decision-making process. Furthermore, the framework introduced a priority system for refilling vacant positions. It assigned priorities based on the severity of the vacancy's impact, ensuring that critical territories were addressed promptly.
To enhance efficiency, the framework also offered insights into potential strategies for refilling territories. It considered factors like the minimum viable workload for a territory, the workload of adjacent territories, the existing relationships between Healthcare Professionals (HCPs) and sales representatives, and the financial implications of replacements. This holistic approach ensured that refilling decisions were not only timely but also strategically aligned with maximizing RoI.
In summary, Quantizg's Vacancy Management Framework revolutionized the client's sales force management by introducing data-backed decision-making, risk assessment, and prioritization strategies. It offered a roadmap for efficient territory refilling, ultimately helping the client optimize resource allocation and achieve their desired RoI.
Impact Delivered: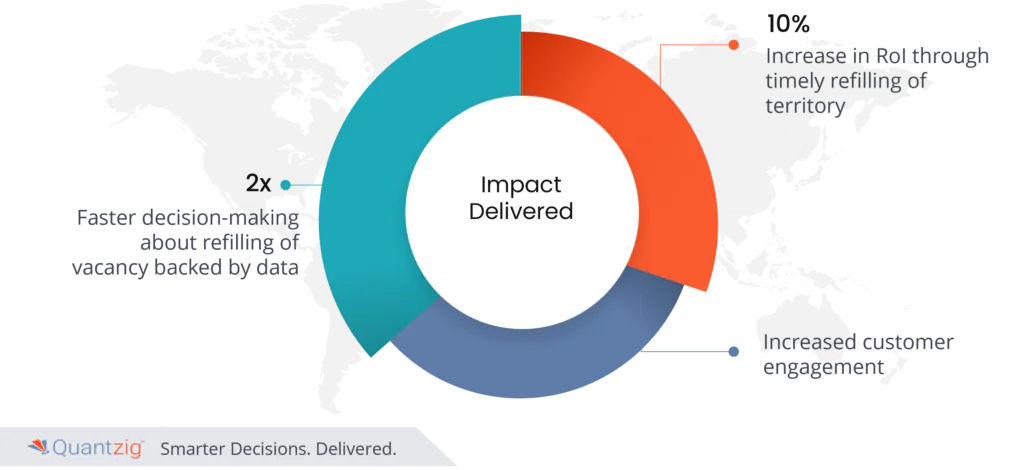 2x faster decision-making about refilling of vacancy backed by data;
10% increase in RoI through timely refilling of territory;
Increased customer engagement
"Ready to transform your pharma sales force and maximize revenue with data-driven insights? Contact us today to learn how Quantzig can help you leverage Salesforce Analytics for unparalleled success in the pharmaceutical and life sciences industry."