Introduction
In the realm of life sciences, the convergence of digital technologies and advanced analytics is heralding a transformative era. The article, "Exploring Life Sciences' Key Observations in the Realm of Digital and Analytics," embarks on an illuminating journey through the dynamic landscape of this industry. As technology continues to shape the way we approach healthcare, this exploration unveils the pivotal role of digital and analytics in redefining patient care, drug discovery, and operational excellence. From the personalization of treatment to the acceleration of clinical trials and the enhancement of healthcare delivery, these key observations underscore the profound impact of digital and analytics in revolutionizing the life sciences. As we delve deeper into this evolving landscape, it becomes evident that these advancements hold the promise of a healthier, more efficient, and patient-centric future for all.
Importance of Exploring Life Sciences' Key Observations in the Realm of Digital and Analytics:
Pharmaceutical companies indeed allocate substantial resources to the pre-drug launch phase, where R&D, clinical trials, and regulatory processes dominate. In contrast, the operational income typically becomes more recurring post-launch, often overshadowing the digital transformation efforts. While it's crucial to digitize operational aspects for efficiency and compliance, the untapped potential lies in the largely unexplored pre-drug launch areas.
The application of digital technologies in early-stage drug development, clinical trial planning, and market analysis can significantly reduce costs, accelerate time-to-market, and enhance overall process transparency. Advanced analytics and data-driven insights can optimize patient recruitment for clinical trials, streamline regulatory submissions, and improve the identification of promising drug candidates.
Moreover, digitization in these early phases can enable pharmaceutical companies to make more informed, data-backed decisions, ultimately leading to higher success rates for drug development programs. Embracing digital transformation across the entire pharmaceutical value chain, especially in the underexplored pre-launch stages, represents an opportunity to revolutionize the industry by driving cost-efficiency and innovations in life sciences.
Challenges/Problems faced while Exploring Life Sciences' Key Observations in the Realm of Digital and Analytics:
The pharmaceutical industry grapples with extensive data collection at various levels, including manual processes for some pre-launch and commercial activities. Multiple manual approvals are often required for regular operational tasks, creating inefficiencies. Resistance to shifting from entrenched, time-consuming processes hampers progress. Additionally, the absence of a unified business objective across various business units and a reluctance to adopt and scale digital initiatives pose significant challenges. Overcoming these obstacles demands a holistic approach, emphasizing streamlined data management, process automation, and a cohesive strategic vision, thereby enabling the pharmaceutical sector to realize the full potential of digital transformation.
Benefits of Exploring Life Sciences' Key Observations in the Realm of Digital and Analytics: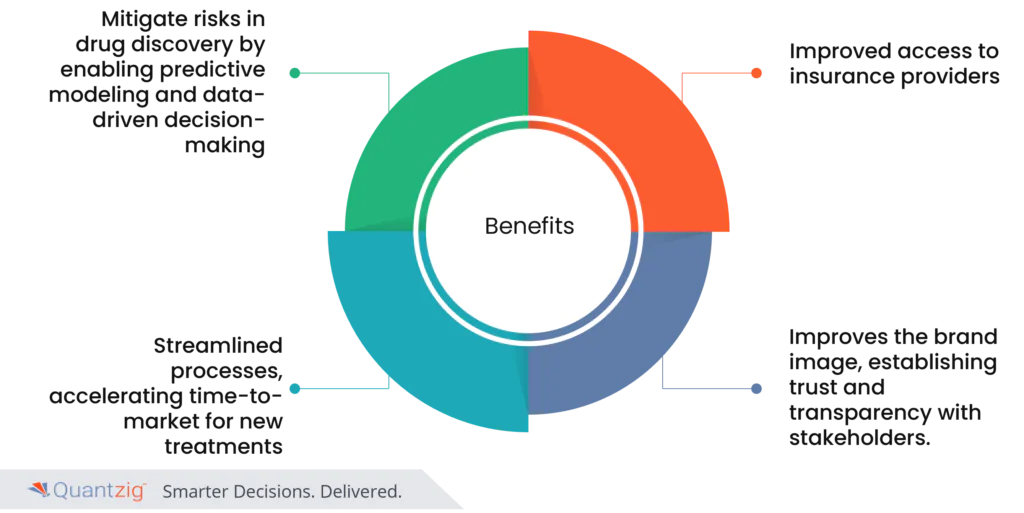 Digitizing the pharmaceutical value chain carries a multitude of benefits. It mitigates risks in drug discovery by enabling predictive modeling and data-driven decision-making. Clinical trials benefit from streamlined processes, accelerating time-to-market for new treatments. Improved access to insurance providers can be facilitated through data-sharing and analytics. Engagement with healthcare providers (HCPs) can be reinvented through digital tools, enhancing communication and collaboration. Furthermore, a robust digital presence improves the brand image, establishing trust and transparency with stakeholders. In essence, pharma's digital transformation represents a catalyst for innovation, efficiency, and a more patient-centric, responsive industry.
Conclusion
In the realm of life sciences, our journey through the key observations in the realm of digital and analytics unveils a future brimming with unprecedented possibilities. The convergence of data-driven technologies and healthcare holds the promise of revolutionizing patient care, drug development, and operational excellence. As we conclude this exploration, it is clear that harnessing the transformative potential of digital and analytics is not merely an option but a necessity for life sciences organizations. The path to a healthier, more personalized, and efficient future is illuminated by the insights we've uncovered, driving the industry towards a patient-centric, innovative, and data-driven horizon that will reshape the face of healthcare as we know it.
Success Story
"Data-Driven Health Revolution: How Quantzig Ignited Success in Life Sciences"
Client Details:
A leading pharmaceutical company located in the USA.
Challenges faced by the Client:
The client's significant investment in a rare disease drug's clinical trials over three years yielded unexpected delays and lackluster progress. Manual processes hindered efficiency, and the inability to pinpoint bottlenecks hampered support for expedited drug discovery. This situation highlighted the need for a comprehensive evaluation of the trial processes, digital transformation, and data-driven insights to identify and resolve the obstacles. By harnessing advanced technologies and strategic analysis, the client aimed to not only accelerate the discovery process but also maximize their investment in research and development, ultimately leading to innovative treatments for patients in need.
Solutions offered by QZ:
The client's approach to clinical trials was rooted in traditional, subjective methods that lacked a systematic consideration of patient-specific parameters and the wealth of data from historical clinical trials. This approach hindered the optimization of treatment protocols and the ability to tailor therapies to individual patient needs. To address this challenge, we developed an innovative in-silico clinical trial optimization framework. This framework harnessed advanced machine learning and data analytics in life sciences to analyze patient characteristics and incorporate insights from historical clinical trials. It effectively personalized the selection of treatment protocols for each patient participating in the clinical trials, optimizing their chances of a positive outcome. By leveraging data-driven recommendations, the client aimed to enhance treatment efficacy, minimize adverse effects and contribute to more efficient, patient-centric clinical trial processes, ultimately advancing the development of new therapies for various medical conditions.
Impact Delivered: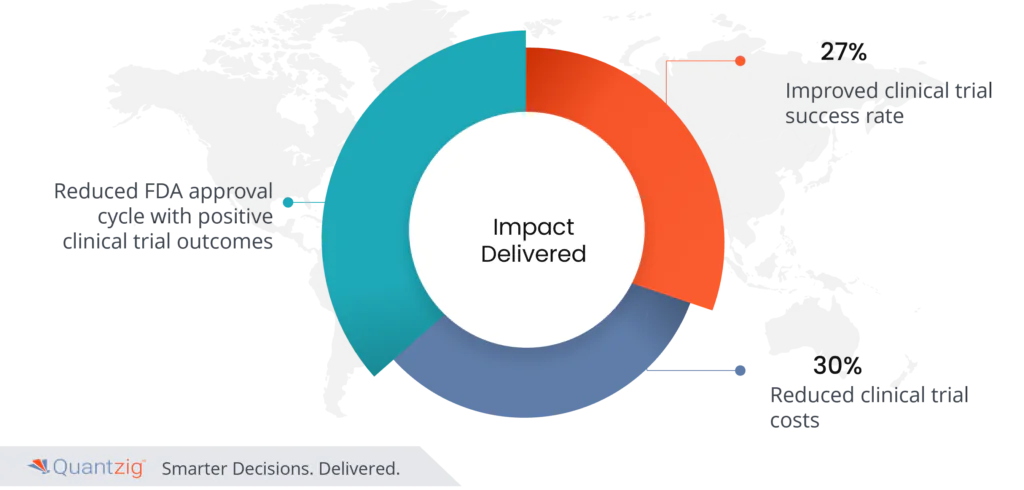 Improved clinical trial success rate by 27%,
Reduced clinical trial costs by 30%,
Reduced FDA approval cycle with positive clinical trial outcomes
"Ready to Transform Your Life Sciences Journey? Learn How Quantzig Revolutionized Digital and Analytics in Pharma. Contact Us for Your Path to Success!"