Introduction
In an ever-evolving pharmaceutical landscape, where the pursuit of innovative solutions and patient-centric approaches is paramount, the convergence of branding optimization, analytics, and artificial intelligence represents the industry's next transformative frontier. This article delves into the dynamic trends that are reshaping the world of pharmaceutical branding, introducing a paradigm shift that extends far beyond traditional marketing strategies. From understanding patient sentiment and behavior to leveraging the power of data analytics for real-time insights, the marriage of branding, analytics, and ai and healthcare is poised to usher in a new era of pharmaceutical success.
As we navigate this exciting frontier, we uncover how pharmaceutical companies are not only redefining their brand identities but also harnessing the potential of advanced analytics and AI to revolutionize drug development, marketing, and patient engagement. Join us on this journey to explore the future of pharma branding in a data-driven, AI-enhanced world.
Importance of Trends in Branding Optimization, Analytics, and ai and healthcare as the Next Frontier for Pharma:
AI's transformative potential in the pharmaceutical industry lies in its ability to swiftly ingest and analyze vast datasets, yielding near-real-time insights. Moreover, it empowers companies to conduct numerous simulations using historical data, facilitating data-driven decision-making and predictive modeling. This technology serves as a powerful differentiator, setting adopters apart from their peers in the highly competitive pharmaceutical landscape. By leveraging ai and healthcare, companies can optimize drug discovery, streamline clinical trials, and enhance patient engagement. Those who embrace AI effectively not only gain a competitive edge but also pave the way for innovative breakthroughs, ultimately shaping the future of pharmaceuticals.
Challenges/Problems faced while implementing Trends in Branding Optimization, Analytics, and AI for Pharma:
The pharmaceutical industry faces several formidable challenges in harnessing the full potential of machine learning (ML), artificial intelligence and health care. Firstly, it grapples with the availability of relevant, high-quality data, a crucial element for training and deploying AI models effectively. Many pharmaceutical processes generate complex and specific data that may not always be readily accessible or structured for AI applications.
Secondly, there is often a lack of in-house capabilities to implement advanced ML and AI models, creating a reliance on external expertise and resources. This can lead to delays and increased costs in the adoption of AI technologies.
Furthermore, the specialized nature of pharma nomenclature and terminologies presents another obstacle. Training AI/ML models to understand and work with this unique language is a complex and time-consuming task.
Lastly, the substantial initial effort and investment required for successful AI implementation can deter business stakeholders from looking for quicker, short-term solutions. Overcoming these challenges necessitates a holistic approach that combines data acquisition, skill development, and a clear understanding of AI's long-term value in pharmaceuticals.
Benefits of implementing Trends in Branding Opti
mization, Analytics, and AI for Pharma: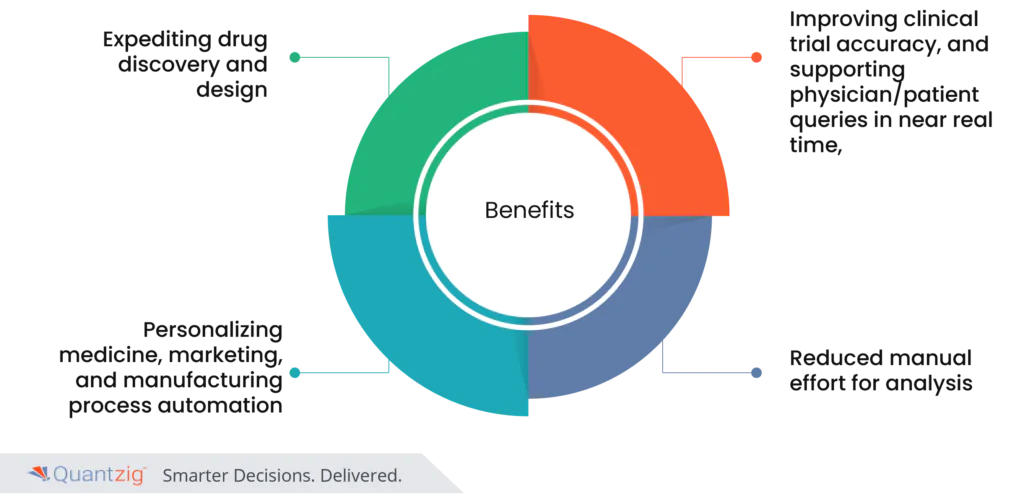 AI's pervasive impact in the pharmaceutical industry is revolutionary, as it offers end-to-end applications across the entire value chain. Starting with drug discovery and design, AI expedites the identification of potential compounds, significantly reducing research timelines. It enhances the selection of clinical trial candidates by analyzing patient data, optimizing trial protocols, and improving the overall accuracy of trials. Furthermore, AI supports near real-time responses to physician and patient queries by extracting insights from vast datasets, elevating healthcare delivery and patient engagement.
In personalized medicine, artificial intelligence in health care tailors treatment plans to individual patient profiles, optimizing efficacy and minimizing side effects. Marketing efforts benefit from AI-driven campaigns, ensuring that the right message reaches the right audience. Moreover, AI automates manufacturing processes, enhancing production efficiency and quality control. This comprehensive integration of AI transforms the pharmaceutical landscape, fostering innovation, cost reduction, and, most importantly, better healthcare outcomes for patients.
Conclusion
In the dynamic world of pharmaceuticals, the fusion of branding optimization, analytics, and artificial intelligence in healthcare sector represents a pivotal frontier. These trends offer an unparalleled opportunity for pharmaceutical companies to redefine their brand identities, harness data-driven insights, and enhance patient-centric approaches. As we conclude this exploration of the next wave in pharmaceutical innovation, it becomes evident that the industry is on the cusp of a transformative era. By embracing branding optimization, analytics, and AI, pharma companies can not only gain a competitive edge but also unlock the potential for groundbreaking discoveries, more effective treatments, and a future where healthcare is more personalized and efficient. This marks a new horizon where success in pharma is not just about the medicines but the entire healthcare experience.
Success Story
"Revolutionizing Pharma Branding: How Quantzig Spearheaded AI and Analytics Transformation"
Client Details
A leading pharmaceutical company located in the US.
The challenge faced by the Client:
The client faced significant challenges in the discovery of rare disease drugs, with substantial investments yielding suboptimal results. Eager to expedite the drug discovery process and improve outcomes, the client sought to leverage advanced AI and machine learning techniques. These technologies provide the capacity to analyze complex biological data, identify potential drug candidates, and predict their efficacy, significantly accelerating the drug discovery timeline. By harnessing the power of ML and artificial intelligence in patient care, the client aimed to streamline the research process, enhance precision, and optimize their investments, ultimately increasing the chances of successfully bringing innovative therapies to patients suffering from rare diseases.
Solutions offered by QZ:
Quantzig spearheaded the creation of an innovative edge computing platform that harnessed the power of AI and advanced machine learning techniques to revolutionize the drug discovery process. The platform, driven by cutting-edge algorithms, was designed to ingest and analyze complex Biologics data, with a specific focus on modeling the crystal structure of data to unveil critical insights into virus behavior. By deciphering the nuances of B-cell and T-cell isotopes, the platform was able to explore countless drug composition scenarios, aiding in the identification of potential drug candidates. This comprehensive approach was further strengthened by integrating data from animal trials and historical human trials, allowing for the prediction of potential clinical trial outcomes. In essence, this solution redefined the drug discovery landscape, offering an accelerated, data-driven approach to identifying novel therapeutics and improving patient outcomes.
Impact Delivered: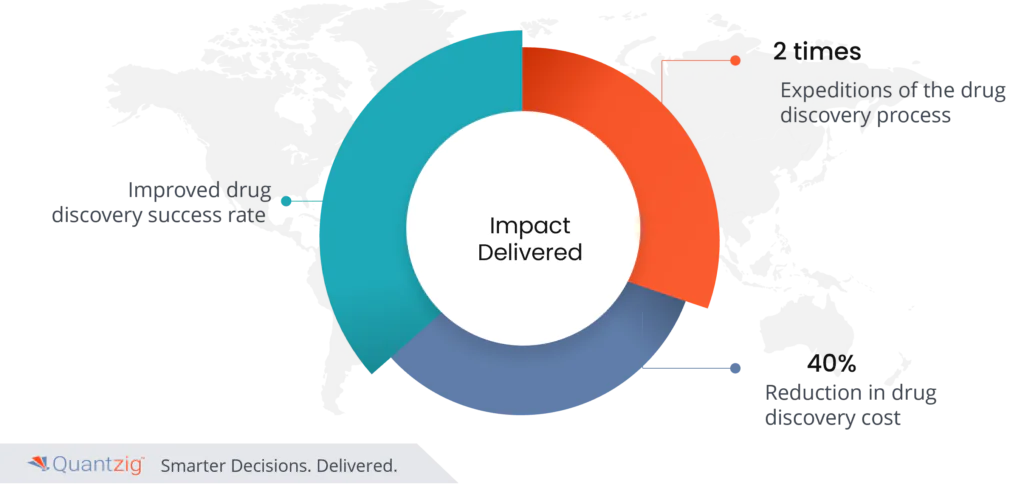 2 times expeditions of the drug discovery process,
improved drug discovery success rate,
40% reduction in drug discovery cost
"Unlock the Future of Pharma Branding Today! Learn How Quantzig Transformed Branding Optimization with AI and intelligent health analytics. Contact Us to Redefine Your Pharmaceutical Brand Strategy."