Introduction
In a rapidly evolving digital landscape, businesses stand at a critical juncture where embracing digital transformation isn't just an option; it's a survival imperative. This article delves into the realm of effective strategies that propel organizations into the digital age. From reshaping operational paradigms to fostering innovation and enhancing customer engagement, the journey towards digital transformation is fraught with both challenges and opportunities. Join us as we unravel the digital transformation trends and tactics that empower businesses to not only adapt but thrive in this era of technological disruption, where staying ahead of the curve is the key to enduring success.
Importance of effective strategies for embracing digital transformation:
The global business landscape is undergoing a profound transformation characterized by increasing complexity. In this dynamic environment, the ability of businesses to thrive hinges on their capacity to make swift and precise decisions. Traditional siloed approaches to work, where departments operate independently, are no longer effective in this context. Collaboration and seamless information sharing have become paramount.
Moreover, today's customers are more connected and informed than ever before. They interact with brands across multiple channels, from social media and websites to physical stores. To ensure a consistent and coherent brand message across these diverse touchpoints, organizations must break down internal information barriers. This is where digital transformation plays a pivotal role.
By adopting a digital transformation strategy, businesses create a unified information ecosystem. This fosters collaboration among different departments, enabling them to access and share information seamlessly. As a result, organizations can respond more effectively to market changes, deliver a consistent brand experience, and remain competitive in an increasingly interconnected and complex marketplace. Digital transformation isn't just an option; it's a necessity for businesses aiming to adapt and excel in this evolving landscape.
Challenges/Problems faced while implementing Effective Strategies for Digital Transformation: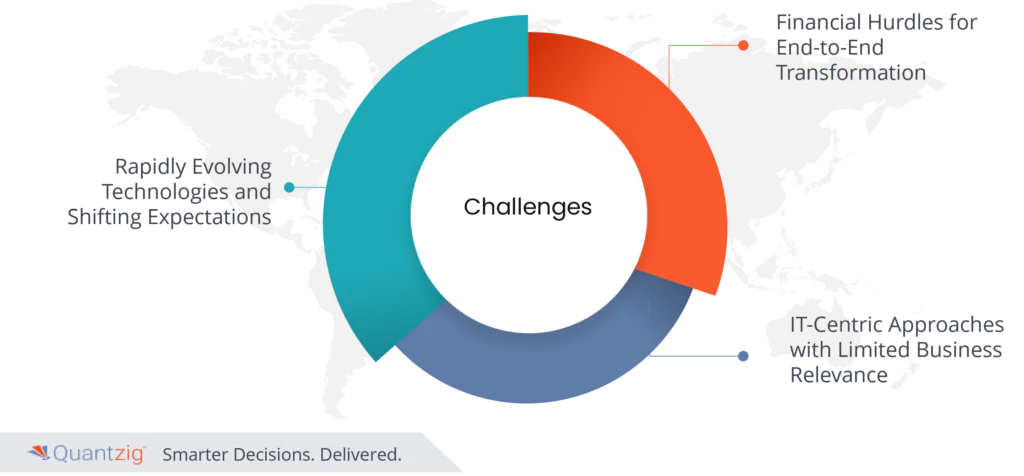 Rapidly Evolving Technologies and Shifting Expectations:
The ever-evolving technological landscape presents a persistent challenge during digital transformation initiatives. Newer and improved technologies continuously emerge, and customer expectations evolve accordingly. Keeping up with these changes while ensuring that the digital transformation aligns with current and future needs can be a daunting task, often requiring frequent adjustments to strategies and investments.
Financial Hurdles for End-to-End Transformation:
Comprehensive digital transformation often demands a substantial financial investment. Establishing the necessary infrastructure, acquiring technology and talent, and implementing new processes can strain an organization's financial resources. This financial hurdle may be a barrier for some businesses, particularly smaller ones, in kick-starting and completing a holistic digital transformation.
IT-Centric Approaches with Limited Business Relevance:
Another challenge arises when digital transformations are primarily driven by IT departments. While IT plays a crucial role, overlooking business relevance can lead to suboptimal outcomes. Despite investing in cutting-edge tools and resources, projects may fail to address actual business needs or align with strategic goals. This misalignment can result in poor adoption rates among non-technical staff, ultimately hindering the transformation's success. A balanced approach that integrates IT with broader business objectives is essential to overcome this challenge.
Benefits of implementing digital transformation solutions:
Centralized Information for Wholesome Decision-Making:
One of the foremost benefits of implementing digital transformation is the establishment of a centralized information repository that transcends departmental silos. In traditional setups, departments often operate with fragmented data, leading to disjointed decision-making processes. Digital transformation integrates data from various sources into a centralized platform or database, providing a holistic view of the organization's operations. This empowers decision-makers with comprehensive insights into various facets of the business, from finance and sales to customer interactions and supply chain management. With this centralized information at their disposal, leaders can make informed decisions that consider the broader impact on the organization, fostering alignment and synergy among departments.
Quicker and More Accurate Decisions Backed by Data and Trends:
Digital transformation equips organizations with standardized tools and platforms that enable data-driven decision-making. With consistent access to the same information across departments, decision-makers can analyze data, identify trends, and gain valuable insights swiftly. This empowers them to respond promptly to changing market conditions, customer preferences, or emerging opportunities. Moreover, the use of standardized tools ensures data accuracy and reliability, reducing the risk of errors in decision-making. Ultimately, organizations can pivot with agility, capitalize on emerging trends, and make well-informed choices that drive efficiency, competitiveness, and growth. Digital transformation's integration of data and standardized tools is the cornerstone of quicker, more accurate, and future-ready decision-making.
Conclusion
In the dynamic landscape of the digital age, the article has unveiled a blueprint for success through effective strategies in embracing digital transformation. It's clear that mere adaptation is no longer sufficient; instead, it is the relentless pursuit of innovation and customer-centricity that will define a business's trajectory. As we conclude this exploration, one thing remains abundantly clear: the organizations that dare to embrace change, foster a culture of agility, and leverage data as their compass will chart a course toward enduring relevance and sustained growth in this ever-evolving digital landscape. The journey of transformation is not an option; it's imperative for a prosperous future.
Success Story
"Unlocking Digital Transformation Success: A Journey with a Spirit Manufacturer"
Client Details:
A leading spirit manufacturing company located in Europe.
Challenges
The client encountered a series of formidable challenges in their quest for digital transformation. First and foremost, the significant investments made in newer, cutting-edge tools underscored the high expectations for technological advancement. However, the primary challenge lay in the resistance from business stakeholders to embrace these tools. This resistance stemmed from several sources, including a comfort zone with established methods, a lack of understanding of the new tools, and concerns about disruptions to familiar workflows.
Furthermore, the poor adoption rate highlighted a crucial gap in change management. The client faced difficulties in effectively communicating the value of these tools to the stakeholders and providing adequate training and support for their implementation. The disconnect between the envisioned benefits of digital transformation roadmaps and the actual utilization of these tools became a significant obstacle.
Ultimately, this mismatch between technological investments and stakeholder adoption not only hindered the expected benefits but also posed a risk of wasted resources. Overcoming these challenges necessitated a comprehensive digital transformation strategy that addressed change management, user education, and effective communication to align the organization's goals with the practical needs and preferences of its stakeholders.
Solutions
Quantzig collaborated with the client to discern the root causes of low adoption rates. It was revealed that the new tools either inadequately addressed key business queries for decision-making or that business stakeholders struggled with their proficient utilization due to limited experience with the technology, resulting in minimal usage.
To address this, we embarked on a comprehensive journey that began with an in-depth analysis of the company's historical and current technology landscape. We also conducted a thorough assessment of employee preferences, requirements, and the available data resources within the organization. This data was then benchmarked against industry trends, disruptions, and future potentialities, laying the foundation for a robust digital transformation framework that not only augmented the current business setup but also allowed for seamless scalability.
Quantzig assisted the client in identifying and prioritizing high-value use cases to instill confidence among business stakeholders. To enhance adoption rates, we collaboratively developed digital talent plans to augment the skills of the existing workforce. Our Agile implementation methodology fostered cross-cultural and cross-departmental collaboration, facilitating rapid transformation. Additionally, we provided recommendations for the ideal tool and technology stacks, considering factors such as data type, volume, digital requirements, and budget constraints. Lastly, we implemented change management strategies to ensure value delivery throughout the stakeholder value chain.
Impact Delivered: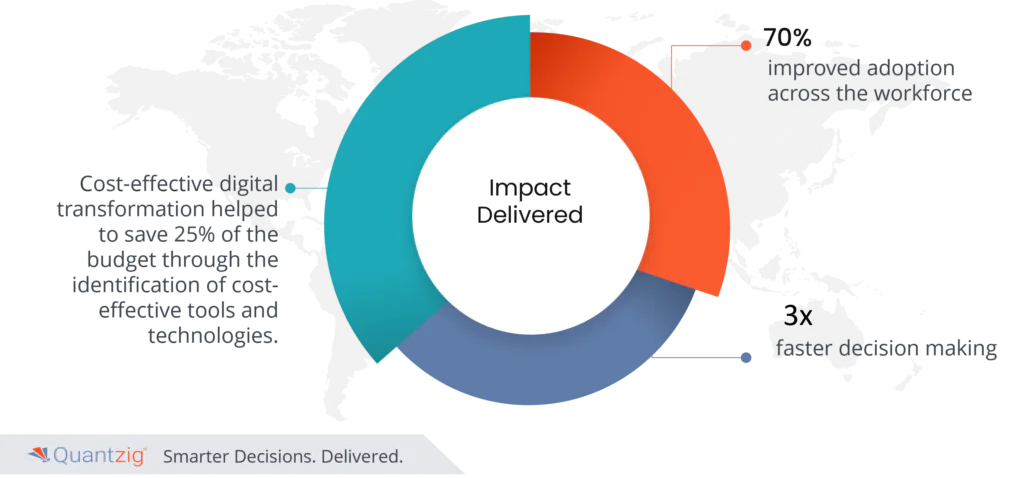 70% improved adoption across the workforce.
3x faster decision-making.
Cost-effective digital transformation helped to save 25% of the budget through the identification of cost-effective tools and technologies.
Discover how Quantzig empowered the spirit manufacturer to conquer the challenges of digital transformation. Read the full case study to uncover insights that can accelerate your digital journey!