Introduction
In the contemporary landscape of business, the intertwining of application development and maintenance serves as the engine driving the relentless march of business process automation. It is a union that wields the power to reshape entire industries and redefine the way organizations operate. As businesses strive for greater efficiency, agility, and cost-effectiveness, understanding the profound synergy between application development and maintenance is paramount. This article embarks on a journey to unravel the intricacies of this symbiotic relationship, illuminating how it catalyzes automation, empowers enterprises, and charts a course toward a future where innovation and optimization are the cornerstones of success.
Importance of Application Development & Maintenance to Drive Business Process Automation:
No-code application development has emerged as a transformative force in the realm of business process automation. It represents a powerful tool that offers numerous advantages to organizations seeking to expedite their automation initiatives. One of its most significant advantages is the reduction of dependency on traditional coding skills. By eliminating the need for extensive coding expertise, no-code platforms empower a broader range of professionals, including subject matter experts and non-technical personnel, to actively participate in the development and deployment of automated solutions.
Furthermore, no code accelerates the development process itself. It streamlines the creation of applications, workflows, and automation sequences, enabling businesses to bring their automation projects to fruition in a fraction of the time required by traditional development methods. This newfound speed is critical in today's fast-paced business environment where agility and rapid response to market changes are imperative.
Flexibility is another hallmark of no-code development. It allows for iterative adjustments and quick adaptations, ensuring that automated processes remain aligned with evolving business needs. This agility is crucial in an era where change is constant, and businesses must continuously refine their operations to stay competitive.
Improved collaboration is yet another benefit. No-code platforms often come equipped with collaborative features that facilitate teamwork among various stakeholders. This fosters cross-functional communication and knowledge sharing, ultimately enhancing the quality and efficiency of the automation projects.
Moreover, no-code substantially reduces the risk of errors in the development process. By providing intuitive visual interfaces and pre-built components, it minimizes the potential for coding mistakes, ensuring the reliability and accuracy of automated processes.
In conclusion, no-code application development has become an indispensable asset for businesses aiming to expedite and enhance their automation efforts. It democratizes the development process, accelerates project timelines, offers flexibility, promotes collaboration, and mitigates the risk of errors, all of which are vital in achieving automation goals swiftly and effectively in the modern business landscape.
Challenges/Problems faced while implementing Application Development & Maintenance Services:
Transitioning from older platforms to incorporate no-code application development management solutions often encounters resistance due to several factors. Users may be accustomed to familiar workflows and hesitant about adopting new technologies. Fear of change, potential disruptions, and a learning curve can contribute to resistance. Additionally, legacy systems may contain valuable data, making users reluctant to migrate. Effective change management, clear communication, and showcasing the benefits of no-code, such as increased efficiency and reduced complexity, are crucial to mitigating this resistance. Over time, as users witness the advantages, their apprehension tends to diminish, paving the way for successful integration.
Benefits of implementing Application Development & Maintenance:
No-code platforms offer a myriad of benefits that are reshaping the landscape of application development and process automation: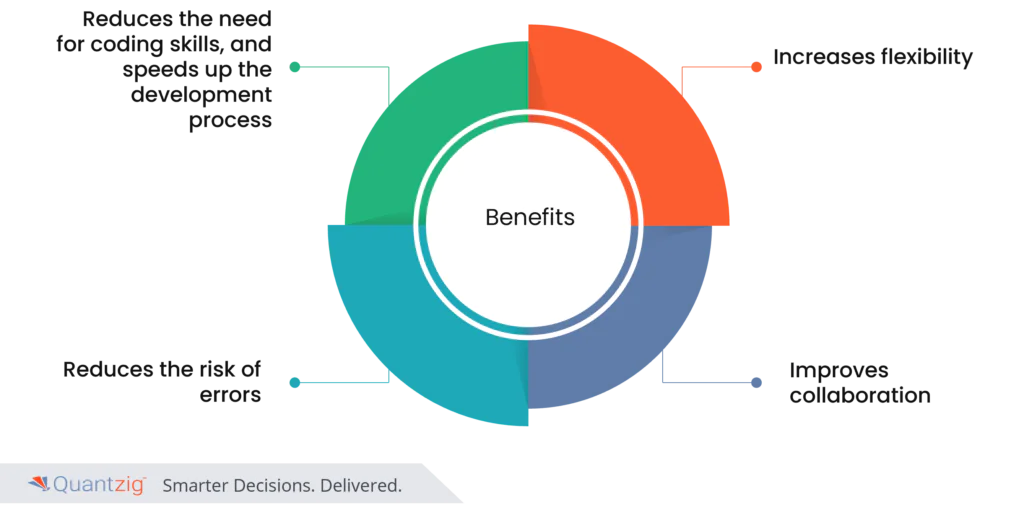 Reduces the need for coding skills:
No-code application development software democratizes the development process by enabling individuals with diverse skill sets, not just specialized developers, to create applications. This eliminates the need for extensive coding expertise, reducing hiring and training costs for businesses.
Speeds up the development process:
With intuitive drag-and-drop interfaces and pre-built templates, no-code platforms expedite application development. This agility translates to quicker project delivery, saving both time and money. Businesses can respond promptly to changing market demands and gain a competitive edge.
No-code solutions excel in adaptability. Users can modify applications and workflows without delving into complex code, making it easier to accommodate evolving business requirements. This flexibility is invaluable in an era marked by constant change and the need for agile processes.
No-code application development process fosters collaboration among diverse stakeholders, from business analysts to IT professionals and end-users. This inclusive approach enhances communication, ensures that automation aligns with business objectives, and leverages collective expertise.
Reduces the risk of errors:
No-code platforms incorporate error-prevention mechanisms, reducing the likelihood of coding mistakes. This minimizes costly errors and downtime associated with traditional coding methods, enhancing the reliability and accuracy of automated processes.
In summary, no-code platforms revolutionize the way businesses approach automation. They empower a broader workforce, expedite development, adapt to changing needs, promote collaboration, and enhance the overall quality and efficiency of automation projects. These advantages position no-code as a pivotal tool in the quest for streamlined and cost-effective business processes.
Conclusion
In conclusion, the rise of no-code application development software represents a paradigm shift in the world of business process automation. By reducing the reliance on coding skills, expediting development, enhancing flexibility, promoting collaboration, and reducing errors, no-code solutions are driving rapid and transformative change in organizations. They empower a wider spectrum of professionals to actively participate in automation initiatives, enabling businesses to adapt swiftly to evolving market dynamics. As we move forward, embracing no-code technologies will not only expedite automation but also empower businesses to innovate, stay agile, and thrive in an increasingly competitive landscape. The future of automation is no-code, and its potential is boundless.
Success Story
Transforming Business Operations: A Case Study on How Quantzig Revolutionized Application Development & Maintenance Services for a Retail Client
Client Details:
An e-commerce retailer located in the US.
Challenges
The client's imperative to automate the product dilution process is a compelling example of the pressing need for agile and cost-effective solutions in today's business landscape. Facing challenges related to batch expiry and damaged packaging, the client sought a rapid and efficient system that could make critical decisions swiftly. This scenario underscores the essence of business process automation – to streamline operations, reduce human intervention, and ensure timely and informed actions.
The urgency of the client's request, with a requirement for deployment in a matter of weeks, highlights the critical role of no-code or low-code solutions. Such platforms empower businesses to create customized, efficient, and highly responsive applications without the need for extensive coding and development cycles. By choosing this approach, the client not only met their tight timeline but also minimized ongoing maintenance costs, ensuring a sustainable and cost-efficient solution for managing batch dilution and disposal while optimizing resources and reducing risks associated with product expiry and damaged packaging.
Solutions
Quantzig's development of an end-to-end product dilution solution using Microsoft Power platforms exemplifies a modern, integrated approach to business process automation. Leveraging PowerApps, they designed an intuitive application interface, ensuring user-friendliness and accessibility. The integration with PowerBI enabled real-time data visualization and insightful analytics, empowering data-driven decision-making.
Furthermore, PowerAutomate was harnessed for backend processes and automation, streamlining, and expediting critical tasks in the product dilution workflow. This comprehensive utilization of Microsoft Power platforms signifies a synergy of cutting-edge technologies, offering a seamless and efficient solution to the client's needs.
By combining these powerful application development technologies, Quantzig not only ensured the rapid development and deployment of the solution but also facilitated ongoing maintenance and scalability. This software application development service approach represents a prime example of harnessing technology to optimize business processes, enhance decision-making, and achieve operational excellence.
Impact Delivered: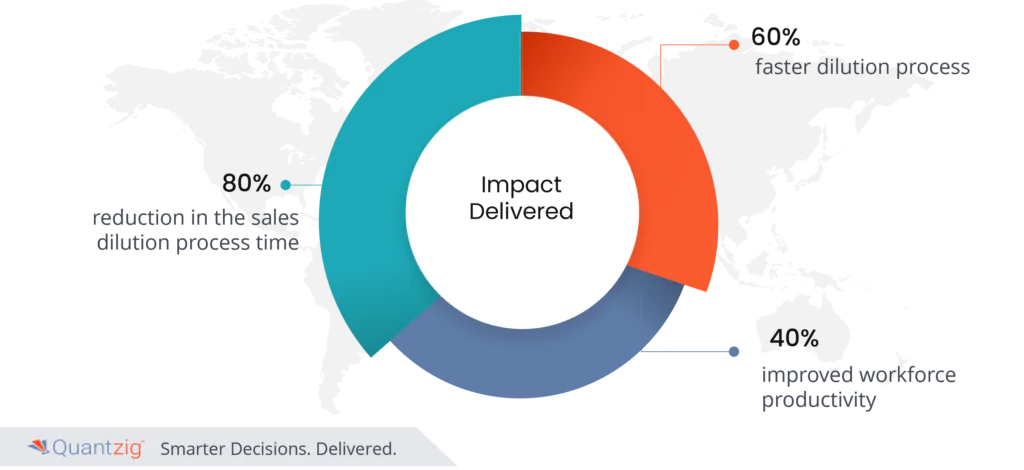 80% reduction in the sales dilution process time.
60% faster dilution process
40% improved workforce productivity.
Discover how Quantzig's innovative approach to application development practices transformed the retail client's business operations. Explore the full case study to learn how we helped them overcome challenges, boost efficiency, and drive growth. Don't miss this opportunity to gain valuable insights into the future of your business. Read the case study now!