Introduction
In today's data-driven business landscape, the effective data management approach has emerged as a critical factor in fostering organizational growth and success. As organizations increasingly recognize the potential of their data assets, developing a comprehensive data management plan has become paramount. In our article, we delve into the essential strategies and best practices that empower enterprises to harness the full potential of their data resources. This insightful guide navigates through the intricate process of conceptualizing, designing, and implementing a data management strategy that not only ensures data integrity, security, and compliance but also strategically leverages data assets to fuel business expansion.
From defining data governance principles to selecting the right technologies and fostering a culture of data-driven decision-making, our article provides actionable insights that cater to organizations of all sizes and industries. By following these guidelines, businesses can unlock hidden opportunities, streamline operations, enhance customer experiences, and ultimately drive sustainable growth through a well-structured data management strategy. Join us on this informative journey, as we explore the transformative power of effective enterprise data management strategy in today's competitive business environment.
Importance of data management plan to drive business growth:
In the contemporary business landscape, the abundance of data is no longer sufficient in itself; it is the strategic utilization of data that distinguishes successful enterprises from their competitors. To harness the true potential of data, organizations must develop a comprehensive data management plan that comprises four critical components:
Identify Business Objectives: The foundation of any effective data management plan is a clear understanding of the organization's strategic goals. Identifying precise business objectives ensures that data initiatives align with overarching strategies. By defining key performance indicators (KPIs) and objectives, companies can pinpoint the data necessary to drive decision-making and growth.
Build Strong Data Processes: Data quality and accessibility are paramount. Robust data processes involve data collection, storage, and integration methods that ensure data is available in the right format, with the right quality, and at the right granularity. This includes data cleaning, transformation, and validation processes that guarantee data accuracy and reliability.
Identify the Right Tool Stack: Choosing the appropriate tools and technologies is crucial. Organizations must assess their data requirements and select tools for data storage, analytics, and visualization that align with their objectives. This involves evaluating software, hardware, and cloud solutions to create an efficient data ecosystem.
Establish Data Governance and Quality Management Framework: Data governance sets the rules and guidelines for data management, including data ownership, access controls, and compliance measures. Concurrently, a robust data quality management framework ensures that data remains accurate, consistent, and up to date. Data governance and quality management together form the bedrock of data reliability and trustworthiness.
By incorporating these four components into their data management strategy, businesses can effectively leverage data as a strategic asset, making informed decisions that drive growth, enhance operational efficiency, and maintain a competitive edge in an increasingly data-driven world.
Potential challenges in implementing a data management plan:
Developing a cohesive data strategy within an organization can indeed be a complex endeavor, often hindered by technological and bureaucratic roadblocks. These challenges can make it difficult to achieve a unified consensus on the best approach to data management. Technological hurdles may involve the integration of existing systems, compatibility issues, or the need for substantial investments in new infrastructure and tools. Additionally, bureaucratic obstacles may include organizational silos, varying departmental priorities, and resistance to change.
Furthermore, the initial cost investments required to establish and implement a comprehensive data management plan can create additional barriers. These costs encompass not only the acquisition of data technologies but also the resources needed for data governance, quality assurance, and skilled personnel. For many organizations, budget constraints or the perceived financial risks associated with these investments can deter progress.
However, it's crucial to recognize that while these challenges are significant, they are not insurmountable. Overcoming technological and bureaucratic roadblocks demands a strategic, cross-functional approach that involves top-level leadership commitment, clear communication, and a phased implementation plan. Demonstrating the long-term benefits of a robust data strategy, including improved decision-making, cost efficiencies, and competitive advantages, can help alleviate concerns about initial costs and foster the necessary consensus for successful data management plan implementation. Ultimately, organizations that navigate these challenges effectively stand to gain a substantial competitive edge in today's data-driven business landscape.
Key benefits of a successful data management plan in today's business: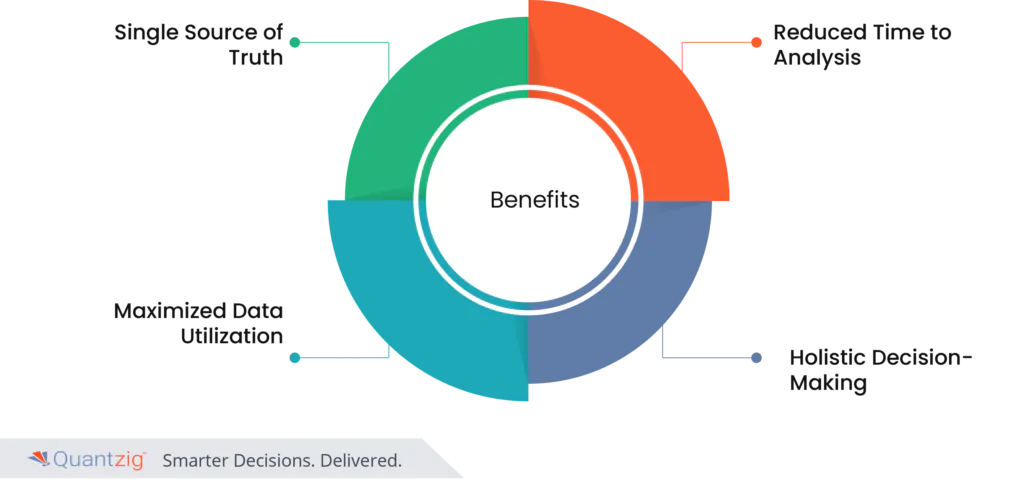 An effective data management plan yields a multitude of key benefits that are invaluable to organizations in today's data-centric world:
Single Source of Truth: By implementing a data management plan, organizations establish a centralized repository of data that serves as a single source of truth. This consistency and reliability in data ensure that decision-makers across the organization are working with accurate and up-to-date information, minimizing the risk of conflicting data interpretations.
Reduced Time to Analysis: Efficient data management strategies streamline the process of accessing, cleaning, and transforming data, reducing the time it takes to derive meaningful insights. This accelerated data-to-insight cycle enables faster decision-making, providing a competitive edge in dynamic markets.
Maximized Data Utilization: A well-executed data management plan ensures that all available data sources are effectively harnessed. This means that no valuable information goes untapped, leading to a more comprehensive understanding of business operations, customer behaviors, and market trends.
Holistic Decision-Making: Insights derived from multiple data sources create a holistic and well-rounded picture of an organization's operations and environment. This comprehensive perspective allows for more accurate and informed decision-making, as it considers various factors that may impact the business.
In essence, an effective data management plan not only enhances data integrity and accessibility but also accelerates analytical processes, maximizes data utility, and empowers organizations to make well-informed decisions based on a complete and accurate understanding of their data landscape. This strategic advantage is instrumental in achieving sustainable growth and competitive success.
Conclusion:
In conclusion, developing a robust data management plan is paramount in today's data-driven business landscape. It serves as the foundation for achieving sustainable growth and competitive advantage. By aligning data management strategies with business objectives, organizations can unlock the transformative power of data. This involves establishing data processes, selecting the right tools, and implementing governance frameworks to ensure data reliability. The initial investments required are outweighed by the benefits: a single source of truth, reduced analysis time, maximized data utilization, and holistic decision-making. Embracing effective data management is not just a best practice; it's a strategic imperative for businesses seeking to thrive in a data-centric world.
Success Story:
Unlocking Business Potential: An End To End Data Management Transformation
Client Details: A leading manufacturer in the USA faced significant challenges in managing and utilizing their data effectively for informed decision-making. Siloed data sources, data quality issues, and a lack of centralized governance hindered their growth and competitiveness. They sought a data management solution that would streamline their data processes and harness the full potential of their data assets.
Challenges: 
The client faced significant delays in decision-making due to the time-consuming process of organizing fundamental data for analytics. This bottleneck not only hindered their operational efficiency but also resulted in revenue losses. Recognizing the urgency for improvement, the client aimed to establish a centralized data ecosystem. This strategic move aimed to expedite data access for analysis, reduce the time to insights, and propel the organization forward on the analytical maturity curve. Such a transformation not only enhances data-driven decision-making but also positions the client to harness the full potential of their data assets for sustainable growth and competitive advantage.
Solutions:
In our engagement with the client, we undertook a comprehensive approach to address their data management challenges and drive data-driven decision-making.
First and foremost, we initiated by assessing the client's existing data maturity level. This critical step provided a clear understanding of their current data landscape, identifying strengths and weaknesses that formed the basis for our strategic recommendations.
To create an effective data strategy roadmap, we meticulously mapped multiple data sources, ensuring that no valuable data went untapped. Simultaneously, we collaborated with the client to quantify specific business objectives, aligning data initiatives with their strategic goals. These steps in data management were pivotal in ensuring that data efforts directly contributed to revenue growth and operational efficiency.
Our expertise led us to recommend an ideal tool and technology roadmap for building a Data Lake, enabling efficient data storage, retrieval, and analytics. Once the plan was approved, we deployed our data engineering skills to implement an end-to-end data management roadmap. This involved seamlessly integrating various data sources into a unified ecosystem, allowing the entire organization to leverage it for reporting and downstream analytics.
Centralized data governance and data quality management frameworks were established to ensure the reliability and accuracy of the data. Automated machine learning-based rules and custom workflows were created to proactively identify and rectify errors, guaranteeing that high-quality, business-ready data was consistently available to stakeholders.
In essence, our approach not only addressed the client's immediate data challenges but also positioned them for sustainable growth by optimizing data utilization, enhancing decision-making capabilities, and fostering a culture of data-driven excellence throughout their organization.
Impact Delivered: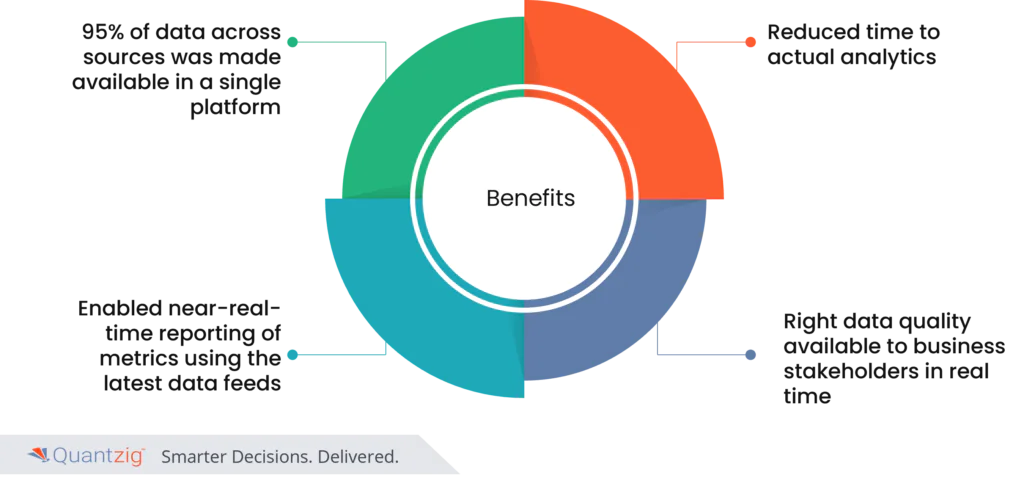 95% of data across sources was made available in a single platform.
Reduced time to actual analytics
Enabled near-real-time reporting of metrics using the latest data feeds.
Right data quality available to business stakeholders in real time without much dependency on IT or data management team
Discover How Quantzig Enhanced Data Management for Sustainable Growth. Contact Us for a Consultation.