Introduction
Price benchmarking is an effective process of comparing your products or services prices against those of your competitors within a particular market segment. This comparison involves numerous factors such as product features, quality, and values to make sure a fair comparison. By using the price benchmarking process, businesses can optimize costs, and gauge their market position, thereby making more strategic pricing decisions. Pricing benchmarks are an essential aspect of crafting a well-designed pricing structure for any business. This strategy provides relevant data and pertinent insights that can be helpful in various scenarios. By understanding and implementing the entire process, your businesses can make more informed pricing decisions that drive profitability and growth.
In this article, we delve into the pivotal role that price benchmarking plays in fostering strategic decision-making and ensuring the financial health and viability of your organization in a rapidly evolving marketplace.
Importance of price benchmarking in your organization:
To remain competitive and adaptable in the ever-evolving and saturated market environment, price benchmarking emerges as a critical practice applicable across all phases of a product's lifecycle. During the initial product or service launch, it plays a pivotal role in shaping the right brand perception. Setting prices too low may inadvertently convey a message of compromised quality while overpricing can restrict the potential customer base. Furthermore, when venturing into new markets, a comprehensive understanding of regional industry pricing dynamics is essential to position the product effectively for success.
Post-launch, ongoing price benchmarking and analysis of promotional campaigns become imperative. This allows organizations to fine-tune their pricing strategies based on real-time market feedback, ultimately maximizing campaign conversions, and gaining a competitive edge. In essence, price benchmarking is not merely a tool for pricing optimization but a strategic compass guiding organizations toward sustained competitiveness and market relevance.
Challenges/Problems faced while implementing price benchmarking:
Frequently, pricing decisions are rendered in a vacuum, devoid of critical insights into the ever-evolving market dynamics and competitor strategies. This tunnel vision approach can lead to suboptimal pricing structures that fail to adapt to the latest trends or competitive maneuvers. Moreover, such decisions often disregard regional disparities, ignoring the nuances of pricing acceptance in diverse markets.
Overreliance on competitor pricing as the sole benchmark for competitiveness can be detrimental. It may result in a myopic focus on rivals' actions, neglecting other crucial factors that should shape pricing, such as production costs, value-added features, and customer perception. This imbalance can lead to pricing decisions that are skewed and potentially unsustainable in the long term. To make sound pricing choices, businesses must adopt a holistic approach that incorporates a broader market perspective, accounting for both competitive dynamics and regional intricacies.
Benefits of implementing price benchmarking for your organization:
Implementing price benchmarking within your organization offers several compelling benefits, two of which are: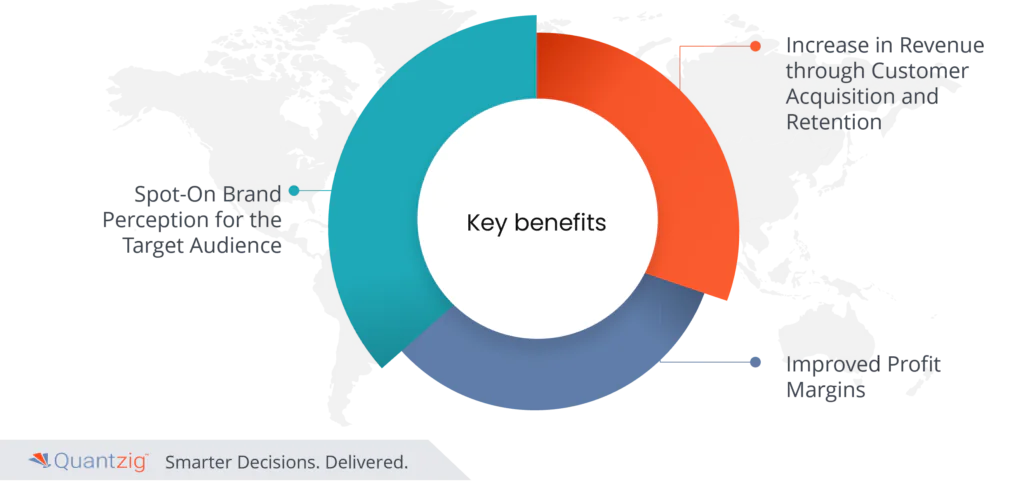 Spot-On Brand Perception for the Target Audience: Price benchmarking ensures that your products or services are priced appropriately to convey the desired brand image to your target audience. Setting prices too low may inadvertently suggest inferior quality while overpricing can deter potential customers. By benchmarking against industry peers and market leaders, you gain insights into the competitive pricing landscape, allowing you to position your offerings effectively. This not only helps establish trust and credibility but also resonates with your intended customer base, fostering a spot-on brand perception that aligns with your strategic goals.
Increase in Revenue through Customer Acquisition and Retention, Improved Profit Margins: Effective price benchmarking enables you to strike the right balance between competitiveness and profitability. By aligning your prices with market norms and customer expectations, you can attract more customers while retaining existing ones. Increased customer acquisition and retention translate into a higher revenue stream. Additionally, optimized pricing strategies lead to improved profit margins, as you avoid underpricing that erodes profits and overpricing that repels potential buyers. Ultimately, price benchmarking catalyzes revenue growth and enhanced profitability, vital for your organization's sustained success in a competitive market landscape.
Conclusion
In conclusion, the advantages of implementing price benchmarking for your organization are indisputable. It not only cultivates a spot-on brand perception aligned with your target audience but also paves the way for increased revenue through customer acquisition and retention, coupled with improved profit margins. By harnessing the power of data-driven pricing strategies, your organization can navigate the complex market terrain with confidence, ensuring competitiveness, profitability, and long-term success. Price benchmarking isn't merely a strategic choice; it's a fundamental driver of sustainable growth and resilience in an ever-evolving business landscape. Embracing this practice is, without a doubt, an investment that yields substantial dividends.
Success Story
"Revolutionizing Retail Profitability: Quantzig's Price Benchmarking Transformation"
Client Details:
Our recent client was a well-established nationwide retail chain with over 300 stores across the United States. As a player in the highly competitive retail market, they faced mounting challenges in maintaining competitive pricing while safeguarding profit margins.
Challenges
The retail client faced several significant challenges with their traditional approach to price benchmarking. Their exclusive reliance on competitor activities for pricing decisions had several adverse consequences:
Profit Margin Erosion: By basing prices solely on competitors, the client often engaged in price wars, driving down profit margins to unsustainable levels. This erosion of profit margins directly impacted their financial health and long-term sustainability.
Ineffective Customer Acquisition: While attempting to compete solely on price, the client struggled to differentiate themselves in the market. This resulted in suboptimal customer acquisition rates, as they failed to offer unique value propositions beyond pricing.
Lack of Pricing Strategy: The absence of a comprehensive pricing strategy meant the client couldn't consider essential factors like production costs, market demand, and customer perception, leaving them vulnerable to sudden market shifts and customer dissatisfaction.
Brand Image Concerns: Continuous price reductions might have conveyed a perception of lower quality to customers, potentially damaging the brand's reputation and customer trust.
Profitability and Brand Confidence: These issues raised concerns among brand leadership about long-term profitability and the need for a more holistic and data-driven approach to pricing decisions.
To address these challenges, the client recognized the necessity of transitioning to a more strategic and comprehensive pricing model that considered a broader array of factors beyond mere competitor pricing.
Solutions
Quantzig delivered a robust solution to the retailer that revolutionized their pricing and promotional strategies. This comprehensive solution enabled the retailer to:
Identify Regional Preferences and Competitor Penetration: By leveraging data analytics, the retailer gained insights into regional customer preferences and the extent of competitor penetration. This knowledge allowed them to identify untapped potential and growth opportunities in specific areas, thereby optimizing their expansion efforts.
Real-Time Market and Competitor Monitoring: The solution provided the capability to track market trends and competitor activities in near-real time. Armed with the latest data, the retailer can make informed decisions swiftly, responding proactively to market dynamics and staying ahead of the competition.
Promotion Analysis and Profit Margin Evaluation: Through careful analysis of past promotional campaigns and their impact on profit margins, the retailer could fine-tune their promotional strategies. This data-driven approach ensured that promotions were not only effective but also financially sustainable.
Promotion Planner and Recommendations: The solution included a promotion planner that factored in various metrics and data points, offering recommendations for upcoming weeks and months. This streamlined the planning process, enhancing the precision of promotional campaigns.
Simulation Module for Informed Decision-Making: The incorporation of a simulation module empowered the retailer to run real-time scenarios, considering business and budget constraints. This feature enabled them to make swift decisions without relying on external vendors, enhancing agility and adaptability.
In essence, Quantzig's solution empowered the retailer with data-driven insights and tools, enabling them to optimize pricing, promotions, and expansion strategies, ultimately driving profitability and competitiveness in a dynamic market environment.
Impact Delivered: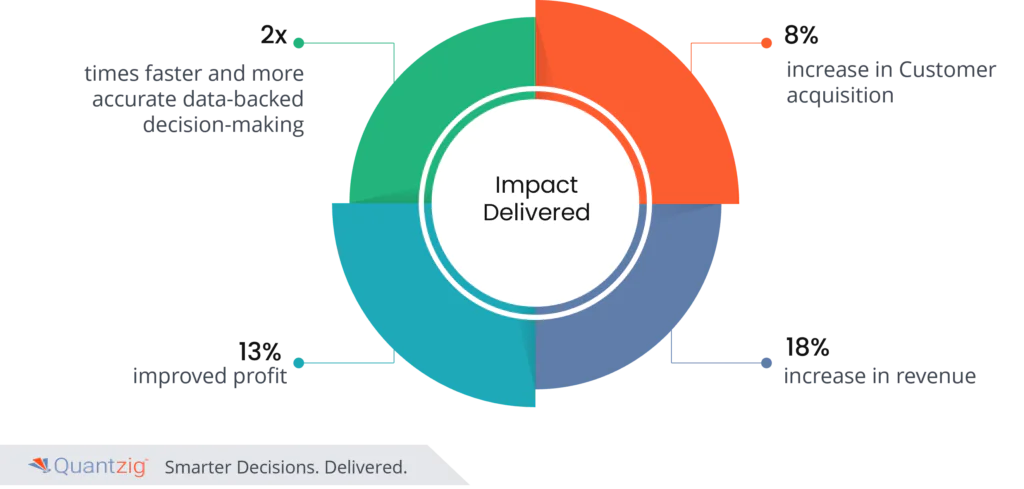 2x times faster and more accurate data-backed decision-making.
8% increase in Customer acquisition.
13% improved profit and an 18% increase in revenue.
Are you ready to transform your retail business and supercharge your profitability? Contact Quantzig today to discover how our data-driven solutions can help you thrive in a competitive market.